Abstract
Insecticidal seed treatments are increasingly being applied to soybeans in North America, and several recent studies question what they add to current pest management. Here, we examine the effects of two neonicotinoid insecticidal seed treatments on insect populations (pest and natural enemies) in SD soybeans over 2 years. Moreover, we conducted laboratory experiments to determine the duration that seed treatments remained effective against the soybean aphid (Aphis glycines, Hemiptera: Aphididae) and how thiamethoxam affected survival of one of the aphid's predators, Orius insidiosus (Hemiptera: Anthocoridae) on soybean. Soybean aphids, thrips, and grasshopper populations were unaffected by the insecticidal seed treatments in the field. The laboratory trial revealed that all bioactivity of the seed treatments against soybean aphids was gone within 46 days after planting, prior to aphid populations damaging the crop. Bean leaf beetles, a sporadic pest in our area, were reduced by the seed treatments. But, there were no yield benefits of insecticidal seed treatments over the 2 years of the study at this location. Natural enemy communities were significantly reduced by thiamethoxam seed treatments relative to the untreated control, particularly populations of Nabis americoferus (Hemiptera: Nabidae). Chrysoperla (Neuroptera: Chrysopidae) adults were reduced in the imidacloprid-treated plots. In the laboratory, rearing O. insidiosus on soybean plants treated with thiamethoxam resulted in higher mortality for both the nymphs and the adult stage. Offering the predator insect prey on the thiamethoxam-treated plants improved survival of the adult stage, but not the nymphal stage. This work confirms that insecticidal seed treatments offer little benefit to soybean producers of the Northern Great Plains and adds to the discussion by suggesting that generalist predators are adversely affected by the insecticides.
Access options
Buy single article
Instant access to the full article PDF.
USD 39.95
Price excludes VAT (USA)
Tax calculation will be finalised during checkout.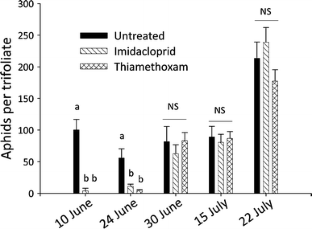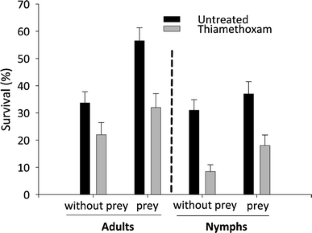 References
Albajes R, Lopez C, Pons X (2003) Predatory fauna in cornfields and response to imidacloprid seed treatment. J Econ Entomol 96(6):1805–1813

Al-Deeb MA, Wilde GE, Zhu KY (2001) Effect of insecticides used in corn, sorghum, and alfalfa on the predator Orius insidiosus (Hemiptera: Anthocoridae). J Econ Entomol 94(6):1353–1360

Bradshaw JD, Rice ME, Hill JH (2008) Evaluation of management strategies for bean leaf beetles (Coleoptera: Chrysomelidae) and bean pod mottle virus (Comoviridae) in soybean. J Econ Entomol 101:1211–1227

Canard M (2001) Natural food and feeding habits of lacewings. In: McEwen PK, New TR, Whittington AE (eds) Lacewings in the crop environment. Cambridge University Press, Cambridge, pp 116–129

Cox WJ, Shields E, Cherney JH (2008) Planting date and seed treatment effects on soybean in the Northeastern United States. Agron J 100:1662–1665

Desneux N, O'Neil RJ, Yoo HJS (2006) Suppression of population growth of the soybean aphid, Aphis glycines Matsumura, by predators: the identification of a key predator, and the effects of prey dispersion, predator density and temperature. Environ Entomol 35:1342–1349

Elbert A, Haas M, Springer B, Thielert W, Nauen R (2008) Applied aspects of neonicotinoid uses in crop protection. Pest Manag Sci 64:1099–1105

Feese H, Wilde GE (1975) Planting time applications of systemic insecticides on grain sorghum for greenbug control: interactions with herbicides and effect on predators (Hemiptera (Homoptera): Aphididae). J Kansas Entomol Soc 48(3):396–402

Girolami V, Mazzon L, Squartini A, Mori N, Marzaro M, Di Bernardo A, Greatti M, Giorio C, Tapparo A (2009) Translocation of neonicotinoid insecticides from coated seeds to seedling guttation drops: a novel way of intoxication for bees. J Econ Entomol 102:1808–1815

Gore J, Cook D, Catchot A, Leonard R, Lorenz G, Stewart S (2010) Bioassays and management of cotton aphids with neonicotinoids and sulfoxaflor. Proceedings of the 2010 Beltwide cotton conference: 1207–1210

Harwood JD, Desneux N, Yoo HJS, Rowley DL, Greenstone MH, Obrycki JJ, O' Neil RJ (2007) Tracking the role of alternative prey in soybean aphid predation by Orius insidiosus: a molecular approach. Mol Ecol 16:4390–4400

Hutchins SH (2010) Indifference analysis: a practical method to assess uncertainty in IPM decision making. J Integr Pest Manag 1:doi:10.1603/IPM10002

Johnson KD, O'Neal ME, Bradshaw JD, Rice ME (2008) Is preventative, concurrent management of the soybean aphid (Hemiptera: Aphididae) and bean leaf beetle (Coleoptera: Chrysomelidae) possible? J Econ Entomol 101(3):801–809

Johnson KD, O'Neal ME, Ragsdale DW, DiFonzo CD, Swinton SM, Dixon PM, Potter BD, Hodgson EW, Costamagna AC (2009) Probability of cost-effective management of soybean aphid (Hemiptera: Aphididae) in North America. J Econ Entomol 102(6):2101–2108

Krischik VA, Landmark AL, Heimpel GE (2007) Soil-applied imidacloprid is translocated to nectar and kills nectar-feeding Anagyrus pseudococci (Girault)(Hymenoptera: Encyrtidae). Environ Entomol 36(5):1238–1245

Lundgren JG (2009) Relationships of natural enemies and non-prey foods. Springer International, Dordrecht

Lundgren JG, Fergen JK (2006) The oviposition behavior of the predator Orius insidiosus: acceptability and preference for different plants. BioControl 51:217–227

Lundgren JG, Riedell WE (2008) Soybean nitrogen relations and root characteristics after Cerotoma trifurcata (Coleoptera: Chrysomelidae) larval feeding injury. J Entomol Sci 43(1):107–116

Lundgren JG, Fergen JK, Riedell WE (2008) The influence of plant anatomy on oviposition and reproductive success of the omnivorous bug, Orius insidiosus. Anim Behav 75:1495–1502

McCornack BP, Ragsdale DW (2006) Efficacy of thiamethoxam to suppress soybean aphid populations in Minnesota soybean. Pest Manag Netw. doi:10.1094/CM-2006-0915-01-RS

Moser SE, Obrycki JJ (2009) Non-target effects of neonicotinoid seed treatments; mortality of coccinellid larvae related to zoophytophagy. Biol Control 51(3):487–492

Mullin CA, Saunders MC II, Leslie TW, Biddinger DJ, Fleischer SJ (2005) Toxic and behavioral effects to Carabidae of seed treatments used on Cry3Bb1- and Cry1Ab/c-protected corn. Environ Entomol 34(6):1626–1636

Nault BA, Taylor AG, Urwiler M, Rabaey TL, Hutchison WD (2004) Neonicotinoid seed treatments for managing potato leafhopper infestations in snap bean. Crop Prot 23:147–154

Ohnesorg WJ, Johnson KD, O'Neal ME (2009) Impact of reduced-risk insecticides on soybean aphid and associated natural enemies. J Econ Entomol 102(5):1816–1826

Ragsdale DW, McCornack BP, Venette RC, Potter BD, MacRae IV, Hodgson EW, O'Neal ME, Johnson KD, O'Neil RJ, DiFonzo CD, Hunt TE, Glogoza PA, Cullen EM (2007) Economic threshold for soybean aphid (Hemiptera: Aphididae). J Econ Entomol 100(4):1258–1267

Riedell WE, Lundgren JG, Osborne SL, Pikul JL Jr (2005) Effects of soil nitrogen management on soybean nitrogen relations and bean leaf beetle biology. J Agric Urban Entomol 22(3 & 4):181–190

Rogers MA, Krischik VA, Martin LA (2007) Effect of soil application of imidacloprid on survival of adult green lacewing, Chrysoperla carnea (Neuroptera: Chrysopidae), used for biological control in greenhouse. Biol Control 42:172–177

Ruppel RF (1983) Cumulative insect-days as an index of crop protection. J Econ Entomol 76:375–377

Seagraves MP, Lundgren JG (2010) Oviposition response by Orius insidiosus (Hemiptera: Anthocoridae) to plant and prey availability. Biol Control 55(3):174–177

Smith SF, Krischik VA (1999) Effects of systemic imidacloprid on Coleomegilla maculata (Coleoptera: Coccinellidae). Environ Entomol 28(6):1189–1195

Stapel JO, Cortesero AM, Lewis WJ (2000) Disruptive sublethal effects of insecticides on biological control: altered foraging ability and life span of a parasitoid after feeding on extrafloral nectar of cotton treated with systemic insecticides. Biol Control 17:243–249

Stoner A (1972) Plant feeding by Nabis, a predaceous genus. Environ Entomol 1(5):557–558

Strausbaugh CA, Eujayl IA, Foote P (2010) Seed treatments for the control of insects and diseases in sugarbeet. J Sugar Beet Res 47:105–125

Taylor AG, Eckenrode CJ, Straub RW (2001) Seed coating technologies and treatments for onion: Challenges and progress. HortScience 36:199–205
Acknowledgments
We thank Janet Fergen, Michael Bredeson, Mallory Johnson, Chloe Kruse, and Ryan Schmid for technical assistance on this project. Matt O'Neal, Kelley Tilmon, and Walter Riedell gave helpful suggestions on earlier drafts of this manuscript. This research was supported in part by the South Dakota Soybean Research and Promotion Council. Mention of any proprietary products does not constitute endorsement by the USDA.
Additional information
Communicated by M. Traugott.
About this article
Cite this article
Seagraves, M.P., Lundgren, J.G. Effects of neonicitinoid seed treatments on soybean aphid and its natural enemies. J Pest Sci 85, 125–132 (2012). https://doi.org/10.1007/s10340-011-0374-1
Received:

Accepted:

Published:

Issue Date:

DOI: https://doi.org/10.1007/s10340-011-0374-1
Keywords