Abstract
Olive mill wastewater (OMW) is a rich source of antifungal agents and has a merit as alternative to synthetic fungicides. To develop disease control agents against Botrytis cinerea, a hydroxytyrosol-rich (29.27% weight:dry weight) olive mill wastewater (HROMW) and a hydroxytyrosol-rich (52.67% weight:dry weight) extract (HRE) were prepared from fresh OMW using hydrolysis and post-hydrolysis purification processes. The HROMW and HRE showed strong fungicidal activity against B. cinerea with minimal fungicidal concentrations (MFCs) of 14.36–28.72 and 28.72–57.44 mg l−1 (dry weight), respectively. According to EN 1275: 1997 standard method, HROMW and HRE at 1.25% (dry weight:volume) showed powerful disinfectant properties resulting in a reduction in the viability of B. cinerea spores by >4 log units after 30 min of contact time. The HROMW or HRE foliar spray treatments, of the B. cinerea inoculated tomato plants, resulted in disease control percentage of 95 and 91%, respectively, whereas 70% was conferred by benomyl treatment. Although, HRE possessed a similar disease severity reduction than HROMW, it showed great advantage by fortifying plants and by improving their growth and healthy aspect. Indeed, HRE-treated plants showed significantly better: (i) plant height (146.2 and 130.5%), (ii) average stem diameter (135% and 110%), (iii) leaf number (163.6 and 128.5%), and (iv) leaf colour (chlorophyll a content) (144.4 and 103%) than benomyl-treated and non-treated plants, respectively. This study revealed that HRE offers a natural and effective extract to control grey mould.
Access options
Buy single article
Instant access to the full article PDF.
USD 39.95
Price excludes VAT (USA)
Tax calculation will be finalised during checkout.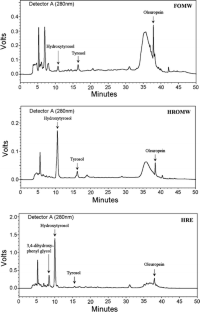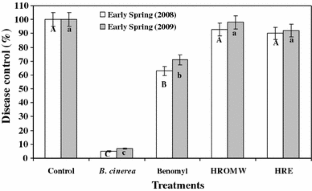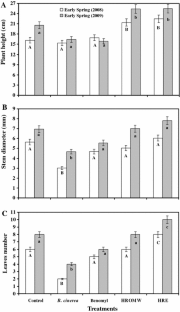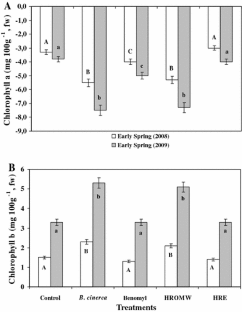 Abbreviations
OMW:

Olive mill wastewater

FOMW:

Fresh olive mill wastewater

HROMW:

Hydroxytyrosol-rich OMW

HRE:

Hydroxytyrosol-rich extract

GAE:

Gallic acid equivalent

CE:

Catechin equivalent

RE:

Rutin equivalent
References
Agalias A, Magiatis P, Skaltounis AL, Mikros E, Tsarbopoulos A, Gikas E, Spanos L, Manios T (2007) A new process for the management of olive mill waste water and recovery of natural antioxidants. J Agric Food Chem 55:2671–2676

Aliotta G, Fiorentino A, Oliva A, Temussi F (2002) Olive oil mill wastewater: isolation of polyphenols and their phytotoxicity in vitro. Allelopathy J 9:9–17

Arras G, Usai M (2001) Fungitoxic activity of 12 essential oils against four postharvest citrus pathogens: chemical analysis of Thymus capitatus oil and its effect in subatmospheric pressure conditions. J Food Protect 64:1025–1029

Aviani I, Raviv M, Hadar Y, Saadi I, Laor Y (2009) Original and residual phytotoxicity of olive mill wastewater revealed by fractionations before and after incubation with Pleurotus ostreatus. J Agric Food Chem 57:11254–11260

Ben Ahmed D, Hamada W (2005) Genetic diversity of some Tunisian Botrytis cinerea isolates using molecular markers. Phytopathol Mediterr 44:300–306

Bilter C, Bitler M, Tiffany M, Viale M, Bassam D, Crea R (2005) Hydrolyzed olive vegetation water in mice has anti-inflammatory activity. Am Soc Nutr Sci 9:1475–1479

Bonanomi G, Giorgi V, Giovanni DS, Neri D, Scala F (2006) Olive mill residues affect saprophytic growth and disease incidence of foliar and soilborne plant fungal pathogens. Agric Ecosyst Environ 115:194–200

Bouaziz M, Chamkha M, Sayadi S (2004) Comparative study on phenolic content and antioxidant activity during maturation of the olive cultivar chemlali from Tunisia. J Agric Food Chem 52:5476–5481

Bouaziz M, Fki I, Jemai H, Ayadi M, Sayadi S (2007) Effect of storage on refined and husk olive oil composition: stabilization by addition of natural antioxidants from Chemlali olive leaves. Food Chem 108:253–262

Bouchra C, Achouri M, Hassani LMI, Hmamouchi M (2003) Chemical composition and antifungal activity of essential oils of seven Moroccan Labiatae against Botrytis cinerea Pers: Fr. J Ethnopharmacol 89:165–169

Brenes M, García A, García P, Garrido A (2001) Acid hydrolysis of secoiridoid aglycons during storage of virgin olive oil. J Agric Food Chem 49:5609–5614

Eden MA, Hill RA, Beresford R, Stewart A (1996) The influence of inoculum concentration, relative humidity, and temperature on infection of greenhouse tomatoes by Botrytis cinerea. Plant Pathol 45:795–806

European Standard EN 1275 (Mars 1997) Chemical disinfectants and antiseptics. Basic fungicidal activity. Test method and requirements (phase 1). Document ICS: 11.080. Comité Européen De Normalisation, Secrétariat Central, Bruxelles

Feki M, Allouche N, Bouaziz M, Gargoubi A, Sayadi S (2006) Effect of storage of olive mill wastewaters on hydroxytyrosol concentration. Eur J Lipid Sci Technol 108:1021–1027

Fiorentino A, Gentili A, Isidori M, Monaco P, Nardelli A, Parrella A (2003) Environmental effects caused by olive mill wastewaters: toxicity comparison of low- molecular-weight phenol components. J Agric Food Chem 51:1005–1009

Greco JG, Colarieti ML, Toscano G, Iamarino G, Rao MA, Gianfreda L (2006) Mitigation of olive mill wastewater toxicity. J Agric Food Chem 54:6776–6782

Holden A (1976) Chlorophylls. ln: Goodwin TW (eds) Chemistry and biochemistry of plant pigments. Academic Press, London, pp 1–37

Iamarino G, Rao MA, Gianfreda L (2009) Dephenolization and detoxification of olive-mill wastewater (OMW) by purified biotic and abiotic oxidative catalysts. Chemosphere 74:216–223

Isidori M, Lavorgna M, Nardelli A, Parrella A (2005) Model study on the effect of 15 phenolic olive mill wastewater constituents on seed germination and vibrio fischeri metabolism. J Agric Food Chem 53:8414–8417

Kim YS, Kim HM, Chang C, Hwang IC, Oh H, Ahn JS, Kim KD, Hwang BK, Kim BS (2007) Biological evaluation of neopeptins isolated from a Streptomyces strain. Pest Manage Sci 63:1208–1214

Kotsou M, Ioanna M, Katia L, Iordanis C, Costas B, Adamantini K (2004) The effect of olive oil mill wastewater (OMW) on soil microbial communities and suppressiveness against Rhizoctonia solani. Appl Soil Ecol 26:113–121

Li GQ, Huang HC, Acharya SN, Erickson RS (2004) Biological control of blossom blight of alfalfa caused by Botrytis cinerea under environmentally controlled and field conditions. Plant Dis 88:1246–1251

Lopez Mas JA, Streitenberger SA, Penalver Mellado M, Martinez Ortiz P (2008) Process and apparatus for the production of hydroxytyrosol from olive oil extraction residues. European Patent Application EP 1 953 133 A1

Mekki A, Dhouib A, Aloui F, Sayadi S (2006a) Olive wastewater as an ecological fertiliser. Dev Sus Agron 6:61–67

Mekki A, Dhouib A, Sayadi S (2006b) Changes in microbial and soil properties following amendment with treated and untreated olive mill wastewater. Microbiol Res 161:93–101

Miliauskas G, Venskutonis PR, Van Beek TA (2004) Screening of radical scavenging activity of some medicinal and aromatic plant extracts. Food Chem 85:231–237

NCCLS National Committee for Clinical Laboratory Standards (1998) Reference method for broth dilution antifungal susceptibility testing of conidium-forming filamentous fungi; proposed standard. NCCLS document M38-P. National Committee for Clinical Laboratory Standards, Wayne

O'Neill TM, Shtienberg D, Elad Y (1997) Effect of some host and microclimate factors on infection of tomato stems by Botrytis cinerea. Plant Dis 81:36–40

Obied HK, Allen MS, Bedgood DR, Prenzler PD, Robards K, Stockmann R (2005) Bioactivity and analysis of biophenols recovered from olive mill waste. J Agric Food Chem 53:823–827

Ouzounidou G, Asfia M, Sotirakis N, Papadopoulou P, Gaitis F (2008) Olive mill wastewater triggered changes in physiology and nutritional quality of tomato (Lycopersicon esculentum Mill.) depending on growth substrate. J Hazard Mater 158:523–530

S'Habou R, Zairi M, Ben Dhia H (2005) Caractérisation et impact environnementaux du stockage des eaux résiduaires d'extraction d'huile d'olive. Environ Technol 26:35–45

Singleton VL, Rossi JA (1965) Colorimetry of total phenolics with phosphomolybdic phosphotungstic acid reagents. Am J Enol Vitic 16:144–158

Tejada M, Gonzalez JL (2004) Effects of foliar application of a by-product of the two-step olive oil mill process on rice yield. Eur J Agron 21:31–40

Visioli F, Wolfram R, Richard D, Abdullah MICB, Crea R (2009) Olive phenolics increase glutathione levels in healthy volunteers. J Agric Food Chem 57:1793–1796

Winkelhausen E, Pospiech R, Laufenberg G (2005) Antifungal activity of phenolic compounds extracted from dried olive pomace. Bull Chem Technol Macedonia 24:41–46

Yangui T, Rhouma A, Gargouri K, Triki MA, Bouzid J (2008a) Efficacy of olive mill waste water and its derivatives in the suppression of crown gall disease of bitter almond. Eur J Plant Pathol 122:495–504

Yangui T, Rhouma A, Triki MA, Gargouri K, Bouzid J (2008b) Control of damping-off caused by Rhizoctonia solani and Fusarium solani using olive mill waste water and some of its indigenous bacterial strains. Crop Protection 27:189–197

Yangui T, Dhouib A, Rhouma A, Sayadi S (2009) Potential of hydroxytyrosol-rich composition from olive mill wastewater as a natural disinfectant and its effect on seeds vigour response. Food Chem 117:1–8

Yourman LF, Jeffers SN (1999) Resistance to benzimidazole and dicarboximide fungicides in greenhouse isolates of Botrytis cinerea. Plant Dis 83:569–575

Zhishen J, Mengcheng T, Jimming W (1999) The determination of flavonoid contents in mulberry and their scavenging effects on superoxide radicals. Food Chem 64:555–559
Acknowledgements
This research study was supported by the MESRST of Tunisia under Contract Program of the Bioprocesses Laboratory, ASTF project and AUF, (PER-LBP).
Additional information
Communicated by J. Gross.
About this article
Cite this article
Yangui, T., Sayadi, S., Rhouma, A. et al. Potential use of hydroxytyrosol-rich extract from olive mill wastewater as a biological fungicide against Botrytis cinerea in tomato. J Pest Sci 83, 437–445 (2010). https://doi.org/10.1007/s10340-010-0314-5
Received:

Accepted:

Published:

Issue Date:

DOI: https://doi.org/10.1007/s10340-010-0314-5
Keywords