Abstract
Biological and other alternative control methods were tested against the woolly beech aphid (Phyllaphis fagi). Field applications of mineral oil to the egg stage reduced initial aphid population by 75%, but only when the eggs were exposed to oil close to the time of hatching. Earlier oil treatments had no effect. Bioassays with the insect pathogenic fungus Lecanicillium lecanii (Verticillium lecanii) in the commercial formulation Vertalec® were conducted using different dosages, i.e. 1 × 106 ml−1 (recommended dosage) and 2 × 107 ml−1. Both nymphs and adults were susceptible to fungal infection at both dosages. The existence of a dense wax-covering in adult P. fagi had no protective effect against fungal infection. In bioassays where leaves were treated with the recommended dosage of Vertalec, there was no difference in mortality measured after 14 days between adult P. fagi with an intact wax-layer and adult P. fagi where the wax-layer had been removed. In semi-field trials with two L. lecanii treatments at the recommended dosage, the aphid population was reduced. There was no enhanced effect with the addition of an additive to the fungal suspension or from covering the plants with a polypropylene cover. The results reveal potential alternative control methods against P. fagi populations. However, adequate control with L. lecanii probably requires several treatments as opposed to the two that were tested in the present experiment. Furthermore, efficiency may depend on summer temperatures and humidity.
Access options
Buy single article
Instant access to the full article PDF.
USD 39.95
Price includes VAT (USA)
Tax calculation will be finalised during checkout.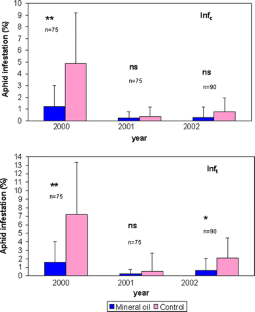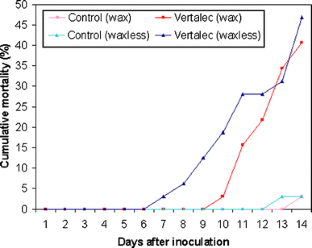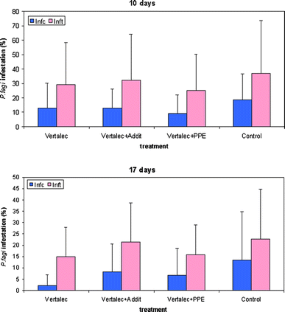 References
Askary H, Carrière Y, Bélanger RR, Brodeur J (1998). Pathogenicity of the fungus Verticillium lecanii to aphids and powdery mildew. Biocontrol Sci Technol 8:23–32

Blackman RL, Eastop VF (1994). Phyllaphis Koch. In: Blackman RL, Eastop VF (eds) Aphids on the world's trees. CAB International, Wallingford, pp 821–822

Börner C, Heinze K (1957) Callaphididae, Zierläuse. In: Appel O, Blunck H, Richter H (eds) Tierische Schädlinge an Nutzpflanzen. Homoptera. 2. Teil. Paul Parey, Berlin, pp 75–88

Burschel P, Vité P (1951) Neue Beobachtungen über die Buchenblattbaumlaus Phyllaphis fagi L. (Hem., Aphididae). Fortsch Centralbl 181–186

Chapman RF (1969) Metabolic changes and control of organ development. In: Chapman RF (ed) The insects. Structure and function. The English University Press Ltd, London, pp 366–367

Drummond J, Heale JB, Gillespie AT (1987) Germination and effect of reduced humidity on expression of pathogenicity in Verticillium lecanii against the glasshouse whitefly Trialeurodes vaporariorum. Ann Appl Biol 111:193–201

Fournier V, Brodeur J (1999) Biological control of lettuce aphids with the entomopathogenic fungus Verticillium lecanii in greenhouses. IOBC Bull 22:77–80

Gardner WA, Oetting RD, Storey GK (1984). Scheduling of Verticillium lecanii and benomyl applications to maintain aphid (Homoptera: Aphidae) control on chrysanthemums in greenhouses. J Econ Entomol 77:514–518

Gora V, König J, Lunderstädt J (1994) Physiological defence reactions of young beech trees (Fagus sylvatica) to attack by Phyllaphis fagi. For Ecol Manage 70:245–254

Hall RA (1981) The fungus Verticillium lecanii as a microbial insecticide against aphids and scale. In: Burges HD (ed) Microbial control of pests and plant diseases 1970–1980. Academic, London, pp 483–498

Hall RA, Burges HD (1979) Control of aphids in glasshouses with the fungus, Verticillium lecanii. Ann Appl Biol 93:235–246

Harper AM, Huang HC (1986) Evaluation of the entomophagous fungus Verticillium lecanii (Moniliales: Moniliaceae) as a control agent for insects. Environ Entomol 15:281–284

Häseli A, Wyss E, Weibel F, Zingg FD (2000) Regulierung der Blutlaus im biologischen Apfelbau. Erfahrung aus drei Versuchsjahren mit direkten und indirekten Verfahren. Schweiz Z Obst Weinbau 9:176–179

Heie O (1982) Phyllaphis fagi. In: Andersen NM, Hedqvist K-J, Kauri H, Krogerus H, Lyneborg L, Nielsen ES (eds) The Aphidoidea (Hemiptera) of Fennoscandia and Denmark. The family Drepanosiphidae. Scandinavian Science Press Ltd, Klampenborg, pp 30–32

Hinton HE (1969) Respiratory systems of insect egg shells. Ann Rev Entomol 14:343–368

Inglis CD, Goettel MS, Butt TM, Strasser H (2001). Use of hyphomycetous fungi for managing insect pests. In: Butt TM, Jackson C, Magan N (eds) Fungi as biocontrol agents. Progress, Problems and Potential. CABI Publishing, Wallingford, pp 23–70

Koch CL (1857) Die Pflanzenläuse Aphiden, getreu nach dem Leben abgebildet und beschrieben. J.L. Lotzbeck, Nürnberg, pp 248–250

Lange K (1986). Zur Chemischen Bekämpfung der Buchenblatt-Baumlaus. Dtsch Baumschule 38:416

Lawson DS, Weires W (1991) Management of European red mite (Acari: Tetranychidae) and several aphid species on apple with petroleum oils and insecticidal soap. J Econ Entomol 84:1550–1557

Liu T-X, Stansley PA (1995) Toxicity of biorational insecticides to Bemisia argentifolii (Homoptera: Aleyrodidae) on tomato leaves. J Econ Entomol 88:564–568

Liu T-X, Stansley PA (1996) Toxicological effects of selected insecticides on Nephaspis oculatus (Col., Coccinellidae), a predator of Bemisia argentifolii (Hom., Aleyrodidae). J Appl Entomol 120:369–373

Lösing H (1993) Bekämpfung der Buchenblatt-Baumlaus. Allgemeine Forst Zeitschrift 48:356–357

McCoy CW, Samson RA, Boucias DG (1988) Entomogenous fungi. In: Ignoffo CM (ed) Handbook of natural pesticides. CRC, Boca Raton, pp 151–235

Nef L, Duhoux F (1993) Damage and estimating populations of Phyllaphis fagi L. in forest nurseries. Diseases and insects in forest nurseries. INRA, Paris, pp 129–136

Nef L, Perrin R (1999). Damaging agents in the European forest nurseries. Practical handbook. European Union, Office for the Official Publications of The European Community, Luxembourg, AIR 2-CT93-1694 Project 1999

Ravensberg WJ, Malais M, Van der Schaaf DA (1990) Verticillium lecanii as a microbial insecticide against glasshouse whitefly. Brighton crop protection conference. Pest Dis 265–268

Riedl H, Halaj J, Kreowski WB, Hilton RJ, Westigard PH (1995) Laboratory evaluation of mineral oils for control of codling moth (Lepidoptera: Tortricidae). J Econ Entomol 88:140–147

Rovesti L, Grazzi G, Viccinelli R (1997) Use of entomopathogenic fungi for pest control in protected crops in Italy. IOBC Bull 20:285–292

Schmutterer H (1952) Zur Kenntnis der Buchenblattlaus Phyllaphis fagi (L.) (Homoptera, Aphidoidea), einer wichtigen Honigtauerzeugerin auf Buche. Anz Schädlingskunde 25:1–5

Secsher B, Ruzette MA, Engelhardt M (1989) Dormant and post blossom application of OP insecticides: a comparison of their effect on pests and beneficials in apple orchards. Z Pflanzenkr Pflanzenschutz 96:81–88

Smith RG (1999) Wax glands, wax production and the functional significance of wax use in three aphid species (Homoptera: Aphididae). J Nat Hist 33:513–530

Wobst B (1990) Biologie von Phyllaphis fagi (L.) in Buchensämlingsquartieren (Homoptera: Callaphididae). Mitt Dtsch Ges Allg Ang Ent 7:686–689
Acknowledgements
We would like to thank E. Lund-Andersen's nursery for hosting the field experiments, Mette Pernille Mathisen for technical assistance and Jørgen Eilenberg for comments on an earlier draft of this manuscript. The research was funded by The Danish Tree Improvement Station (The National Forest and Nature Agency) and The Danish Nursery Stock Association.
About this article
Cite this article
Iversen, T., Harding, S. Biological and other alternative control methods against the woolly beech aphid Phyllaphis fagi L. on beech Fagus sylvatica seedlings in forest nurseries. J Pest Sci 80, 159 (2007). https://doi.org/10.1007/s10340-007-0168-7
Received:

Revised:

Accepted:

Published:
Keywords
Biological control

Lecanicillium lecanii (Verticillium lecanii)

Mineral oil

Nursery pests

Phyllaphis fagi