Abstract
Possible differences in the size and dynamics of the appearance of particular generations of Cameraria ohridella were studied at two city sites of different size and character. The differences in the degree of infestation of Aesculus hippocastanum by the horse chestnut leafminer in the two towns are interpreted as a result of the differences in the size of food resources. The greater degree of infestation of trees in Mosina relative to trees in Poznań is most probably a result of the difficulty of aerial dispersion and thereby much stronger competition for food. This conclusion confirms a positive correlation of the distance between localities with the degree of tree infestation in a small town and the lack of such a correlation in a big city. The presence of refuges in the city outskirts at which no raking and removal of leaves is performed does not seem to have a significant effect on the degree of horse chestnut infestation in the centre.
Access options
Buy single article
Instant access to the full article PDF.
US$ 39.95
Tax calculation will be finalised during checkout.
Subscribe to journal
Immediate online access to all issues from 2019. Subscription will auto renew annually.
US$ 79
Tax calculation will be finalised during checkout.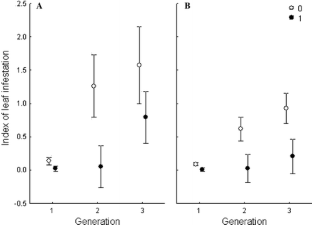 References
Baraniak E, Walczak U, Tryjanowski P, Zduniak P (2004) Effect of distance between host trees and leaf litter removal on population density of Cameraria ohridella Deschka & Dimic, 1986 (Lepidoptera, Gracillariidae): pest of chestnut (Aesculus sp.) trees. Pol J Ecol 52:569–574

Blumel A, Hausdorf H (1997) Tests for the control of Cameraria ohridella Deschka & Dimic by synthetic chitin synthesis inhibitors. Forstsch Aktuel 21: 16–18

Bowmann J, Cappuccino N, Fahrig L (2002) Patch size and population density: the effect of immigration behaviour. Conserv Ecol 6:9

Buchberger W (1997) Effects and non target effects of Dimilin. Forstsch Aktuel 21:19–20

Denno RF, Peterson MA (1995) Density-dependent dispersal and its consequences for population dynamics. In: Cappuccino N, Price PW (ed) Population dynamics: new approaches and synthesis. Academic, San Diego, pp 113–130

Deschka G (1995) Schmetterlinge als Einwanderer. (Einwanderer—Neue Tierarten erobern Österreich, Stapfia 37 zugleich Kataloge des Ö. Landesmuseum N.F.) Österreich Landesmuseum 84:77–128

Deschka G, Dimic N (1986) Cameraria ohridella n. sp. aus Macedonien, Jugoslavien (Lepidoptera, Lithocolletidae). Acta Entomol Jugosl 22:11–23

Feemers M (1997) Cameraria control with tree injections with Confidor. Forstsch Aktuel 21:24–25

Gilbert M, Svatos A, Lehmann M, Bacher S (2003) Spatial patterns and infestation processes in the horse chestnut leafminer Cameraria ohridella: a tale of two cities. Entomol Exp Appl 107:25–37

Grabenweger G, Grill R (2000) On the place of origin of Cameraria ohridella Deschka & Dimic (Lepidoptera: Gracillariidae). Beitr Entomofaun 1:9–17

Grabenweger G, Lethmayer C (1999) Occurrence and phenology of parasitic Chalcidoidea on the horse chestnut leafminer, Cameraria ohridella Deschka & Dimic (Lep., Gracillariidae). J Appl Entomol 123:257–260

Gregor F, Lastuvka Z, Mrkva R (1998) Horse-chestnut leafminer also found on maple. Ochrona Roslin 32:67–68

Herzig AL (1995) Effects of population density on long-distance dispersal in the goldenrod beetle Trirhabda virgata. Ecology 76:2044–2054

Jackowiak B (1998) Struktura przestrzenna flory dużego miasta. Studium metodyczno-problemowe (in Polish). Pr Zakł Taksonomii Roślin UAM 8:1–228

Kepel A (2002a) Naprawianie natury i co z tego wynikło. Jak historia miasta wpłynęła na przyrodę Poznania (in Polish). In: Wiesiołowski J (ed) Kronika miasta Poznania, vol 3. Wśród Zwierząti Roślin, pp 7–16

Kepel A (2002b) Poznańskie tereny zieleni (in Polish). In: Wiesiołowski J (ed) Kronika miasta Poznania, vol 3. Wśród Zwierząti Roślin, pp 17–24

Krehan H (1997) First experiences with tree infusions against the horse chestnut mining moth Cameraria ohridella. Forstsch Aktuel 21:2–7

Lambin X, Aars J, Piertney SB (2001) Dispersal, intraspecific competition, kin competition and kin facilitation: a review of the empirical evidence. In: Clobert J, Danchin E, Dhondt AA, Nichols JD (eds) Dispersal. Oxford University Press, New York, pp 110–122

Lethmayer C, Grabenweger G (1997) Natural parasitoids of the chestnut mining moth. Forstsch Aktuel 21:30

Mierzejewska L (2001) Tereny zielone w strukturze przestrzennej Poznania (in Polish). Pr Kom Geogr Geolog PTPN 29

Pavan F, Barro P, Bernardinelli I, Gambon N, Zandigiacomo P (2003) Cultural control of Cameraria ohridella on horsechestnut in urban areas by removing fallen leaves in autumn. J Arbor 29:253–258

Sefrova H, Lastuvka Z (2001) Disperal of the horse-chestnut leafminer, Cameraria ohridella in Europe: its course, ways and causes. Entomol Zeit Stuttgart 111:195–198

Seneta W (1991) Dendrologia. PWN, Warsaw

Sokal RR, Rohlf FJ (1995) Biometry. Freeman, New York

Stolz M (1997) Investigation on larval- and pupal-parasitoids of Cameraria ohridella with regard to laboratory-cultures. Forstsch Aktuel 21:31

Zar JH (1999) Biostatistical analysis. Prentice Hall, New Jersey
Acknowledgement
We thank Dobrosława Andersz for assistance in the preparation of the database.
About this article
Cite this article
Baraniak, E., Walczak, U. & Zduniak, P. Appearance and migration of the horse-chestnut leafminer Cameraria ohridella in relation to city size and leaf-raking, using the example of two cities in Western Poland. J Pest Sci 78, 145–149 (2005). https://doi.org/10.1007/s10340-005-0085-6
Received:

Published:

Issue Date:
Keywords
Aesculus sp.
Cameraria ohridella

Dispersion

Litter removal

Non-raked refuges

Urban agglomerations