Abstract
Updating is an important executive function that is vital for the attainment of goals such as cognitive tasks, daily activities, and the regulation of emotion. The ability to update affective content in working memory is said to be influenced by mood. However, little is known regarding the influences of mood on the valence of affective content. We hypothesized that first, a negative mood would impair the updating of affective information. Second, this impeding impact would be weaker for the updating of negative information due to the mood congruence effect. Sixty-three Russian-speaking participants were recruited for the experiment. Half of the participants were induced into a negative mood by negative pictures; the other half were presented with neutral pictures. All participants performed the affective 2-back task before and after mood induction. The results showed that negative mood impaired the accuracy rates of updating. However, the mood congruence effect was not observed in the updating of positive and negative materials. We recommend that more experiments be conducted with varied affective stimuli.
Access options
Buy single article
Instant access to the full article PDF.
USD 39.95
Price includes VAT (USA)
Tax calculation will be finalised during checkout.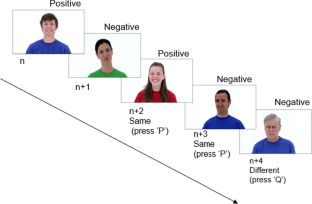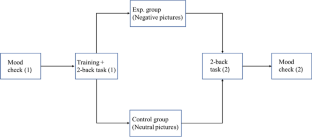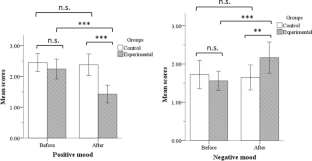 Notes
1.

The IAPS codes of the negative pictures were 9301, 9322, 3213, 2352, 3101, 3150, 3130, 3051, 3060, 3069, 3261, and 3100; the neutral pictures were 7185, 2840, 7183, 7190, 1670, 7187, 2190, 2850, 7705, 5390, 7186, and 7025.
References
Alpert M, Rosen A (1990) A semantic analysis of the various ways that the terms "affect", "emotion", and "mood" are used. J Commun Disord. https://doi.org/10.1016/0021-9924(90)90002-G

Baddeley A (2003) Working memory: looking back and looking forward. Nat Rev Neurosci 4(10):829–839. https://doi.org/10.1038/nrn1201

Baddeley A (2007) Working memory, thought, and action, vol 45. OuP Oxford

Baddeley A (2013) Working memory and emotion: ruminations on a theory of depression. Rev Gen Psychol 17(1):20–27. https://doi.org/10.1037/a0030029

Baddeley A, Banse R, Huang YM, Page M (2012) Working memory and emotion: detecting the hedonic detector. J Cogn Psychol 24:6–16. https://doi.org/10.1080/20445911.2011.613820

Bistricky SL, Atchley RA, Ingram R, O'Hare A (2014) Biased processing of sad faces: an ERP marker candidate for depression susceptibility. Cogn Emot. https://doi.org/10.1080/02699931.2013.837815

Bower GH (1981) Mood and memory. Am Psychol 36:129–148

Bower GH, Forgas JP (2000) Affect, memory, and social cognition. In: Eich E, Kihlstrom JF, Bower GH, Forgas JP, Niedenthal PM (eds) Cognition and emotion. Oxford University Press, New York, pp 87–168

Curci A, Lanciano T, Soleti E, Rimé B (2013) Negative emotional experiences arouse rumination and affect working memory capacity. Emotion (washington, DC) 13(5):867–880. https://doi.org/10.1037/a0032492

Ellis HC, Ashbrook PW (1988) Resource allocation model of the effects of depressed mood states on memory. In: Fiedler K, Forgas JP (eds) Affect, cognition, and social behaviour. Hogrefe, Toronto, pp 25–43

Figueira JS, Oliveira L, Pereira MG, Pacheco LB, Lobo I, Motta-Ribeiro GC, David IA (2017) An unpleasant emotional state reduces working memory capacity: electrophysiological evidence. Social Cognit Affect Neurosci 12(6):984–992. https://doi.org/10.1093/scan/nsx030

Fredrickson BL, Branigan C (2005) Positive emotions broaden the scope of attention and thought-action repertoires. Cogn Emot 19(3):313–332. https://doi.org/10.1080/02699930441000238

Gray J (2001) Emotional modulation of cognitive control: approach-withdrawal states double-dissociate spatial from verbal two-back task performance. J Exp Psychol Gen 130:436–452. https://doi.org/10.1037//0096-3445.130.3.436

Gray J, Braver T, Raichle M (2002) Integration of emotion and cognition in the lateral prefrontal cortex. Proc Natl Acad Sci 99:4115–4120. https://doi.org/10.1073/pnas.062381899

Habel U, Koch K, Pauly K, Kellermann T, Reske M, Backes V, Seiferth NY, Stöcker T, Kircher T, Amunts K, Jon Shah N, Schneider F (2007) The influence of olfactory-induced negative emotion on verbal working memory: individual differences in neurobehavioral findings. Brain Res 1152(1):158–170. https://doi.org/10.1016/j.brainres.2007.03.048

Jackson MC, Arlegui-Prieto M (2016) Variation in normal mood state influences sensitivity to dynamic changes in emotional expression. Emotion 16(2):145–149. https://doi.org/10.1037/emo0000126

Ivanova MV, Kuptsova SV, Dronkers NF (2017) A comparison of two working memory tasks in aphasia. Aphasiology 31:265–281. https://doi.org/10.1080/02687038.2016.1172699

Jaeggi SM, Buschkuehl M, Perrig WJ, Meier B (2010) The concurrent validity of the N-back task as a working memory measure. Memory 18(4):394–412. https://doi.org/10.1080/09658211003702171

Joormann J, Yoon KL, Zetsche U (2007) Cognitive inhibition in depression. Appl Prev Psychol 12(3):128–139. https://doi.org/10.1016/j.appsy.2007.09.002

Kirchner WK (1958) Age differences in short-term retention of rapidly changing information. J Exp Psychol 55(4):352–358. https://doi.org/10.1037/h0043688

Klein K, Boals A (2001) The relationship of life event stress and working memory capacity. Appl Cogn Psychol 15(5):565–579. https://doi.org/10.1002/acp.727

Lang PJ, Bradley MM, Cuthbert BN (1997) International affective picture system (IAPS): technical manual and affective ratings. NIMH Center Study Emotion Attention. https://doi.org/10.1027/0269-8803/a000147

Levens SM, Gotlib IH (2010) Updating positive and negative stimuli in working memory in depression. J Exp Psychol 139(4):654–664. https://doi.org/10.1037/a0020283

Levens SM, Gotlib IH (2015) Updating emotional content in recovered depressed individuals: evaluating deficits in emotion processing following a depressive episode. J Behav Ther Exp Psychiatry 48:156–163. https://doi.org/10.1016/j.jbtep.2015.03.009

Lyusin D (2019) EmoS-15: A self-report measure of core affect. Psikhologicheskii Zhurnal 40(5):97–106

Miranda R, Kihlstrom J (2005) Mood congruence in childhood and recent autobiographical memory. Cogn Emot 19(7):981–998. https://doi.org/10.1080/02699930500202967

Miyake A, Friedman NP, Emerson MJ, Witzki AH, Howerter A, Wager TD (2000) The unity and diversity of executive functions and their contributions to complex "frontal lobe" tasks: a latent variable analysis. Cogn Psychol 41(1):49–100. https://doi.org/10.1006/cogp.1999.0734

Morris N, Jones DM (1990) Memory updating in working memory: the role of the central executive. Br J Psychol 81(2):111–121. https://doi.org/10.1111/j.2044-8295.1990.tb02349.x

O'Reilly H, Lundqvist D, Pigat D, Baron K, Fridenson S, Tal S, Meir N, Berggren S, Lassalle A, Golan O, Bolte S, Piana S, Rotman C, Coletta P, Marchi E, Davies I, Sullings N, Baranger A, Gauvain C, Schuller B, Newman S, Camurri A, Robinson P, Baron-Cohen S (2012) The EU-Emotion Stimulus Set. Autism Research Centre, University of Cambridge, Cambridge

O'Reilly H, Pigat D, Fridenson S, Berggren S, Tal S, Golan O, Bölte S, Baron-Cohen S, Lundqvist D (2015) The EU-emotion stimulus set: a validation study. Behav Res Methods 48(2):567–576. https://doi.org/10.3758/s13428-015-0601-4

Osaka M, Yaoi K, Minamoto T, Osaka N (2013) When do negative and positive emotions modulate working memory performance? Sci Rep 3:1375. https://doi.org/10.1038/srep01375

Pe ML, Koval P, Kuppens P (2013) Executive well-being: Updating of positive stimuli in working memory is associated with subjective well-being. Cognition 126(2):335–340. https://doi.org/10.1016/j.cognition.2012.10.002

Peirce JW, Gray JR, Simpson S, MacAskill MR, Höchenberger R, Sogo H, Kastman E, Lindeløv J (2019) PsychoPy2: experiments in behavior made easy. Behav Res Methods 1:1. https://doi.org/10.3758/s13428-018-01193-y

Rączy K, Orzechowski J (2019) When working memory is in a mood: combined effects of induced affect and processing of emotional words. Curr Psychol. https://doi.org/10.1007/s12144-019-00208-x

Ribeiro FS, Santos FH, Albuquerque PB (2019) How does allocation of emotional stimuli impact working memory tasks? an overview. Adv Cognit Psychol 15(2):155. https://doi.org/10.5709/acp-0265-y

Ribeiro FS, Albuquerque PB, Santos FH (2018) Relations between emotion and working memory: evidence from behavioural and psychophysiological studies. Psicologia Em Estudo. https://doi.org/10.4025/psicolestud.v23i0.35734

Russell JA (2003) Core affect and the psychological construction of emotion. Psychol Rev 110(1):145–172. https://doi.org/10.1037/0033-295X.110.1.145

Schweizer S, Satpute AB, Atzil S, Field AP, Hitchcock C, Black M, Barrett LF, Dalgleish T (2019) The impact of affective information on working memory: a pair of meta-analytic reviews of behavioral and neuroimaging evidence. Psychol Bull 145(6):566. https://doi.org/10.1037/bul0000193

Segal A, Kessler Y, Anholt GE (2015) Updating the emotional content of working memory in social anxiety. J Behav Ther Exp Psychiatry 48:110–117. https://doi.org/10.1016/j.jbtep.2015.02.012

Siedlecka E, Denson TF (2019) Experimental methods for inducing basic emotions: a qualitative review. Emot Rev 11(1):87–97. https://doi.org/10.1177/1754073917749016

Storbeck J (2012) Performance costs when emotion tunes inappropriate cognitive abilities: implications for mental resources and behavior. J Exp Psychol Gen 141:411–416. https://doi.org/10.1037/a0026322

Storbeck J, Maswood R (2016) Happiness increases verbal and spatial working memory capacity where sadness does not: emotion, working memory and executive control. Cogn Emot 30(5):925–938. https://doi.org/10.1080/02699931.2015.1034091

Tamm G, Kreegipuu K, Harro J (2020) Updating facial emotional expressions in working memory: differentiating trait anxiety and depressiveness. Acta Physiol (oxf) 209:103117. https://doi.org/10.1016/j.actpsy.2020.103117

Tamm G, Kreegipuu K, Harro J, Cowan N (2017) Updating schematic emotional facial expressions in working memory: response bias and sensitivity. Acta Physiol (oxf) 172:10–18. https://doi.org/10.1016/j.actpsy.2016.11.002

Van Dillen LF, Koole SL (2007) Clearing the mind: a working memory model of distraction from negative mood. Emotion 7(4):715. https://doi.org/10.1037/1528-3542.7.4.715

Westermann R, Spies K, Stahl G, Hesse FW (1996) Relative effectiveness and validity of mood induction procedures: a meta-analysis. Eur J Soc Psychol 26(4):557–580. https://doi.org/10.1002/(SICI)1099-0992(199607)26:4%3c557::AID-EJSP769%3e3.0.CO;2-4

Yang H, Yang S, Isen AM (2013) Positive affect improves working memory: implications for controlled cognitive processing. Cogn Emot. https://doi.org/10.1080/02699931.2012.713325
Acknowledgements
The study was implemented in the framework of the Basic Research Program at the National Research University Higher School of Economics (HSE) in 2021.
Ethics declarations
Conflict of interest
The authors declare that the research was conducted in the absence of any commercial or financial relationships that could be construed as a potential conflict of interest.
Ethical approval
The study was approved by the Institutional Review Board of the National Research University Higher School of Economics.
Additional information
Publisher's Note
Springer Nature remains neutral with regard to jurisdictional claims in published maps and institutional affiliations.
Handling editors: Katsumi Watanabe (Waseda University), Mario Dalmaso (Padova University); Reviews: Arianna Schiano (Denmark Technical University) and a second researcher who prefers to remain anonymous.
About this article
Cite this article
Mohammed, AR., Lyusin, D. The effect of an induced negative mood on the updating of affective information. Cogn Process (2021). https://doi.org/10.1007/s10339-021-01060-3
Received:

Accepted:

Published:
Keywords
Negative mood

Affective updating

Mood congruence

Mood induction

n-back task