Abstract
Reciprocal interactions require memories of social exchanges; however, little is known about how we remember social partner actions, especially during childhood when we start forming peer-to-peer relationships. This study examined if the expectation-violation effect, which has been observed in adults' source memory, exists among 5–6-year-old children. Forty participants played a coin collection game where they either received or lost coins after being shown an individual with a smiling or angry expression. This set-up generated congruent (smiling-giver and angry-taker) versus incongruent (smiling-taker and angry-giver) conditions. In the subsequent tasks, the children were asked to recall which actions accompanied each individual. The children considered the person with incongruent conditions as being stranger than the person with congruent conditions, suggesting that the former violated the children's emotion-based expectations. However, no heightened source memory was found for the incongruent condition. Instead, children seem to better recognise the action of angry individuals than smiling individuals, suggesting that angry facial expressions are more salient for children's source memory in a social exchange.
Access options
Buy single article
Instant access to the full article PDF.
US$ 39.95
Tax calculation will be finalised during checkout.
Subscribe to journal
Immediate online access to all issues from 2019. Subscription will auto renew annually.
US$ 79
Tax calculation will be finalised during checkout.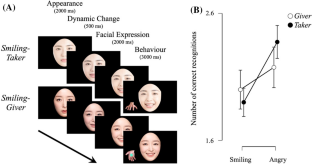 Data availability
The data that support the findings of this study are available from the corresponding authors upon reasonable request.
References
Baker A, ten Brinke L, Porter S (2013) The face of an angel: Effect of exposure to details of moral behavior on facial recognition memory. J Appl Res MemCogn 2:101–106. https://doi.org/10.1016/j.jarmac.2013.03.004

Balconi M, Vanutelli ME, Finocchiaro R (2014) Multilevel analysis of facial expressions of emotion and script: Self-report (arousal and valence) and psychophysiological correlates. Behav Brain Funct 10:1–14. https://doi.org/10.1186/1744-9081-10-32

Baltazar NC, Shutts K, Kinzler KD (2012) Children show heightened memory for threatening social actions. J Exp Child Psychol 112:102–110. https://doi.org/10.1016/j.jecp.2011.11.003

Barclay P (2008) Enhanced recognition of defectors depends on their rarity. Cognition 107:817–828. https://doi.org/10.1016/j.cognition.2007.11.013

Bell R, Buchner A (2012) How adaptive is memory for cheaters? CurrDirPsycholSci 21:403–408. https://doi.org/10.1177/0963721412458525

Bell R, Buchner A, Kroneisen M, Giang T (2012) On the flexibility of social source memory: A test of the emotional incongruity hypothesis. J ExpPsychol Learn MemCogn 38:1512–1529. https://doi.org/10.1037/a0028219

Bell R, Mieth L, Buchner A (2015) Appearance-based first impressions and person memory. J ExpPsychol Learn MemCogn 41:456–472. https://doi.org/10.1037/xlm0000034

Bourne KA, Boland SC, Arnold GC, Coane JH (2020) Reading the news on Twitter: Source and item memory for social media in younger and older adults. Cogn Res PrincImplic 5:11. https://doi.org/10.1186/s41235-020-0209-9

Caulfield F, Ewing L, Bank S, Rhodes G (2016) Judging trustworthiness from faces: Emotion cues modulate trustworthiness judgments in young children. Br J Psychol 107:503–518. https://doi.org/10.1111/bjop.12156

Cogsdill EJ, Todorov AT, Spelke ES, Banaji MR (2014) Inferring character from faces. PsycholSci 25:1132–1139. https://doi.org/10.1177/0956797614523297

Cohen J (1992) A power primer. Psychol Bull 112:155–159. https://doi.org/10.1037/0033-2909.112.1.155

Cook GI, Marsh RL, Hicks JL (2003) Halo and devil effects demonstrate valenced-based influences on source-monitoring decisions. Conscious Cogn 12:257–278. https://doi.org/10.1016/S1053-8100(02)00073-9

Cosmides L, Tooby J (1989) Evolutionary psychology and the generation of culture, part II. EtholSociobiol 10:51–97. https://doi.org/10.1016/0162-3095(89)90013-7

Cosmides L, Tooby J, Fiddick L, Bryant GA (2005) Detecting cheaters. Trends CognSci 9:505–506. https://doi.org/10.1016/j.tics.2005.09.005

Cycowicz YM, Friedman D, Snodgrass JG, Duff M (2001) Recognition and source memory for pictures in children and adults. Neuropsychologia 39:255–267. https://doi.org/10.1016/S0028-3932(00)00108-1

Davachi L, Mitchell JP, Wagner AD (2003) Multiple routes to memory: Distinct medial temporal lobe processes build item and source memories. ProcNatlAcadSci 100:2157–2162. https://doi.org/10.1073/pnas.0337195100

Duarte A, Ranganath C, Winward L et al (2004) Dissociable neural correlates for familiarity and recollection during the encoding and retrieval of pictures. Cogn Brain Res 18:255–272. https://doi.org/10.1016/j.cogbrainres.2003.10.010

Fehr E (2004) Don't lose your reputation. Nature 432:449–450. https://doi.org/10.1038/432449a

Ferguson SA, Hashtroudi S, Johnson MK (1992) Age differences in using source-relevant cues. Psychol Aging 7:443–452. https://doi.org/10.1037/0882-7974.7.3.443

Fujimura T, Umemura H (2018) Development and validation of a facial expression database based on the dimensional and categorical model of emotions. CognEmot 32:1663–1670. https://doi.org/10.1080/02699931.2017.1419936

Gallese V (2003) The roots of empathy: The shared manifold hypothesis and the neural basis of intersubjectivity. Psychopathology 36:171–180. https://doi.org/10.1159/000072786

Gathercole SE, Pickering SJ, Ambridge B, Wearing H (2004) The structure of working memory from 4 to 15 years of age. Dev Psychol 40:177–190. https://doi.org/10.1037/0012-1649.40.2.177

Hechler S, Neyer FJ, Kessler T (2016) The infamous among us: Enhanced reputational memory for uncooperative ingroup members. Cognition 157:1–13. https://doi.org/10.1016/j.cognition.2016.08.001

Heron-Delaney M, Quinn PC, Damon F et al (2018) Development of preferences for differently aged faces of different races. Soc Dev 27:172–186. https://doi.org/10.1111/sode.12253

House B, Henrich J, Sarnecka B, Silk JB (2013) The development of contingent reciprocity in children. Evol Hum Behav 34:86–93. https://doi.org/10.1016/j.evolhumbehav.2012.10.001

Jackson MC, Linden DEJ, Raymond JE (2014) Angry expressions strengthen the encoding and maintenance of face identity representations in visual working memory. CognEmot 28:278–297. https://doi.org/10.1080/02699931.2013.816655

Jackson MC, Wolf C, Johnston SJ et al (2008) Neural correlates of enhanced visual short-term memory for angry faces: An fMRI study. PLoS ONE 3:e3536. https://doi.org/10.1371/journal.pone.0003536

Jackson MC, Wu CY, Linden DEJ, Raymond JE (2009) Enhanced visual short-term memory for angry faces. J ExpPsychol Hum Percept Perform 35:363–374. https://doi.org/10.1037/a0013895

JASP T JASP (Version 0.10.2)[Computer software]. 2019

Johansson M, Mecklinger A, Treese AC (2004) Recognition memory for emotional and neutral faces: An event-related potential study. J CognNeurosci 16:1840–1853. https://doi.org/10.1162/0898929042947883

Johnson MK, Hashtroudi S, Lindsay DS (1993) Source monitoring. Psychol Bull 114:3–28. https://doi.org/10.1037/0033-2909.114.1.3

Kensinger EA (2007) Negative emotion enhances memory accuracy. CurrDirPsycholSci 16:213–218. https://doi.org/10.1111/j.1467-8721.2007.00506.x

Kinzler KD, Shutts K (2008) Memory for "mean" over "nice": The influence of threat on children's face memory. Cognition 107:775–783. https://doi.org/10.1016/j.cognition.2007.09.005

Kroneisen M, Woehe L, Rausch LS (2014) Expectancy effects in source memory: how moving to a bad neighborhood can change your memory. Psychon Bull Rev 22:179–189. https://doi.org/10.3758/s13423-014-0655-9

Marquis AR, Sugden NA (2019) Meta-analytic review of infants' preferential attention to familiar and unfamiliar face types based on gender and race. Dev Rev 53:100868. https://doi.org/10.1016/j.dr.2019.100868

Massol S, Vantaggio S, Chainay H (2020) Emotional modulation of episodic memory in school-age children and adults: Emotional items and their associated contextual details. J ExpPsychol Gen 149:1684–1703. https://doi.org/10.1037/xge0000744

Mather M (2007) Emotional arousal and memory binding: An object-based framework. PerspectPsycholSci 2:33–52. https://doi.org/10.1111/j.1745-6916.2007.00028.x

Meng X, Ishii T, Sugimoto K et al (2019) Smiling enemies: Young children better recall mean individuals who smile. J Exp Child Psychol 188:104672. https://doi.org/10.1016/j.jecp.2019.104672

Meng X, Murakami T, Hashiya K (2017) Phonological loop affects children's interpretations of explicit but not ambiguous questions: Research on links between working memory and referent assignment. PLoS ONE 12:1–14. https://doi.org/10.1371/journal.pone.0187368

Niedenthal PM (2007) Embodying emotion. Science 80(316):1002–1005. https://doi.org/10.1126/science.1136930

Nishi A, Christakis NA, Evans AM et al (2016) Social environment shapes the speed of cooperation. Sci Rep 6:29622. https://doi.org/10.1038/srep29622

Nowak MA, Sigmund K (1998) Evolution of indirect reciprocity by image scoring. Nature 393:573–577. https://doi.org/10.1038/31225

Phelps EA, Ling S, Carrasco M (2006) Emotion facilitates perception and potentiates the perceptual benefits of attention. PsycholSci 17:292–299. https://doi.org/10.1111/j.1467-9280.2006.01701.x

R Core Team (2016) R: A language and environment for statistical computing. Austria, Vienna

Ranganath C, Rainer G (2003) Neural mechanisms for detecting and remembering novel events. Nat Rev Neurosci 4:193–202. https://doi.org/10.1038/nrn1052

Riggins T (2014) Longitudinal investigation of source memory reveals different developmental trajectories for item memory and binding. Dev Psychol 50:449–459. https://doi.org/10.1037/a0033622

Rothermund K (2011) Counter-regulation and control-dependency. SocPsychol (Gott) 42:56–66. https://doi.org/10.1027/1864-9335/a000043

Rothermund K, Voss A, Wentura D (2008) Counter-regulation in affective attentional biases: A basic mechanism that warrants flexibility in emotion and motivation. Emotion 8:34–46. https://doi.org/10.1037/1528-3542.8.1.34

Schmidt SR (1991) Can we have a distinctive theory of memory? MemCognit 19:523–542. https://doi.org/10.3758/BF03197149

Sergerie K, Lepage M, Armony JL (2005) A face to remember: Emotional expression modulates prefrontal activity during memory formation. Neuroimage 24:580–585. https://doi.org/10.1016/j.neuroimage.2004.08.051

Song R, Over H, Carpenter M (2016) Young children discriminate genuine from fake smiles and expect people displaying genuine smiles to be more prosocial. Evol Hum Behav 37:490–501. https://doi.org/10.1016/j.evolhumbehav.2016.05.002

Süssenbach P, Gollwitzer M, Mieth L et al (2016) Trustworthy tricksters: Violating a negative social expectation affects source memory and person perception when fear of exploitation is high. Front Psychol 7:2037. https://doi.org/10.3389/fpsyg.2016.02037

Suzuki A, Honma Y, Suga S (2013) Indelible distrust: Memory bias toward cheaters revealed as high persistence against extinction. J ExpPsychol Learn MemCogn 39:1901–1913. https://doi.org/10.1037/a0033335

Suzuki A, Suga S (2010) Enhanced memory for the wolf in sheep's clothing: Facial trustworthiness modulates face-trait associative memory. Cognition 117:224–229. https://doi.org/10.1016/j.cognition.2010.08.004

Tang Y, Harris PL, Zou H, Xu Q (2018) The impact of emotional expressions on children's trust judgments. CognEmot 33:318–331. https://doi.org/10.1080/02699931.2018.1449735

Trivers RL (1971) The evolution of reciprocal altruism. Q Rev Biol 46:35–57. https://doi.org/10.1086/406755

van Kesteren MTR, Ruiter DJ, Fernández G, Henson RN (2012) How schema and novelty augment memory formation. Trends Neurosci 35:211–219. https://doi.org/10.1016/j.tins.2012.02.001

Wentura D, Voss A, Rothermund K (2009) Playing TETRIS for science counter-regulatory affective processing in a motivationally "hot" context. ActaPsychol (Amst) 131:171–177. https://doi.org/10.1016/j.actpsy.2009.05.008

Yovel G, Paller KA (2004) The neural basis of the butcher-on-the-bus phenomenon: When a face seems familiar but is not remembered. Neuroimage 21:789–800. https://doi.org/10.1016/j.neuroimage.2003.09.034
Acknowledgements
We would like to thank our research participants for all their help in this study, as well as the staff and volunteers at Miraikan for their advice and support.
Funding
This work was supported by a Grant-in-Aid for the Japan Society for the Promotion of Science (JSPS) Research Fellow (18F18999), Japan Science and Technology Agency Core Research for Evolutional Science and Technology (JST CREST) (JPMJCR14E4), and JSPS Grants-in-Aid for Scientific Research (KAKENHI) (17H00753, 17H06344, 19K14370, 15H01846, 20K20156).
Ethics declarations
Conflicts of interest
The authors certify that they have NO affiliations with or involvement in any organisation or entity with any financial interest, or non-financial interest in the subject matter or materials discussed in this manuscript.
Ethical approval
The study was approved by the ethics committee of Waseda University and conducted in accordance with the American Psychological Association's ethical standards (2017) and the Declaration of Helsinki (2001). Written informed consent was obtained from the children's caregivers before the experiment.
Additional information
Publisher's Note
Springer Nature remains neutral with regard to jurisdictional claims in published maps and institutional affiliations.
Handling editor: Simonetta D'Amico (University of L'Aquila); Reviewers: Kartini Abdul Ghani (University of Malaysia Sarawak), Massimiliano Palmiero (University of Bergamo).
About this article
Cite this article
Meng, X., Ishii, T., Sugimoto, K. et al. Source memory and social exchange in young children. Cogn Process (2021). https://doi.org/10.1007/s10339-021-01028-3
Received:

Accepted:

Published:
Keywords
Expectation-violation

Facial expression

Children

Negativity bias

Memory

Social development