Abstract
The main research question of this study is how the processing of information relates to different contextual characteristics. More specifically, how the context is associated with efficiency of information processing (success and speed), size of chunks, speed of chunk processing and the recall of a chunk. The research domain was the game of chess. The efficiency of information processing and the chunk characteristics were defined with the reconstruction of sequences of chess moves. Context variables were defined using a slightly adapted chess program. Variables on information dispersion, deviation, complexity and positivity were extracted in each chess position. Overall, the results showed that higher dispersion and complexity and lower positivity of information in a context lead to less efficient information processing. The results support the assumptions of the cognitive load theory about the negative effects of external factors burden on information processing and working memory. Our results also support the ACT-R theory, which suggests that more frequent information has a higher activation level and can therefore be retrieved more easily and quickly. The results are also congruent with the positivity effect, which proposes that it is easier to remember positive information than negative information. The findings of our study can be beneficial for the development of intelligent tutoring systems and the design of human–computer interaction systems.
Access options
Buy single article
Instant access to the full article PDF.
US$ 39.95
Tax calculation will be finalised during checkout.
Subscribe to journal
Immediate online access to all issues from 2019. Subscription will auto renew annually.
US$ 79
Tax calculation will be finalised during checkout.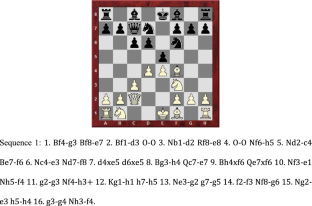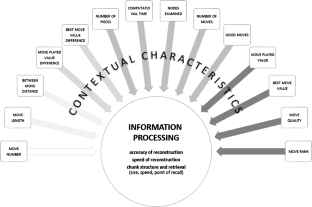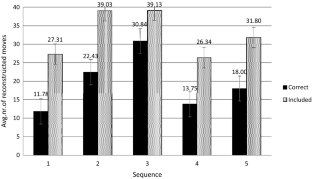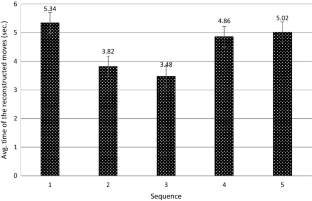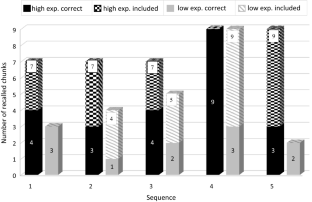 Availability of data and materials
The datasets supporting the conclusions of this article are included within the article and its additional files. All additional data are available upon request from the author.
Notes
1.

The best rank is marked with the lowest number, i.e., 1.
References
Anderson JR, Lebiere C (1998) The atomic components of thought. Lawrence Erlbaum Associates, Hillsdale

Anderson JR, Schooler LJ (1991) Reflections of the environment in memory. Psychol Sci 2:396–408

Anderson JR, Reder LM, Lebiere C (1996) Working memory: activation limitations on retrieval. Cogn Psychol 30(3):221–256

Bachman T, Oit M (1992) Stroop-like interference in chess players' imagery. Psychol Res 54:27–31

Baddeley AD, Hitch GJL (1974) Working memory. In: Bower GA (ed) The psychology of learning and motivation: advances in research and theory, vol 8. Academic Press, New York, pp 47–89

Baddeley AD, Logie RH (1999) Working memory: the multiple-component model. In: Miyake A, Shah P (eds) Models of working memory. Cambridge University Press, New York, pp 28–61

Baddeley AD, Eysenck MW, Anderson MC (2009) Memory. Psychology Press, New York

Beatty J (1982) Task-evoked pupillary responses, processing load, and the structure of processing resources. Psychol Bull 91:276–292

Borenstein E, Ullman S (2008) Combined top-down/bottom-up segmentation. IEEE Trans Pattern Anal Mach Intell 30(12):2109–2125

Bourdeau J, Grandbastien M (2010) Modeling tutoring knowledge. In: Nkambou R, Bourdeau J, Mizoguchi R (eds) Advances in intelligent tutoring system. Studies in computational intelligence, vol 308. Springer, Berlin, Heidelberg, pp 123–143

Brennan JF, Houde KA (2017) History and systems of psychology. Cambridge University Press, Cambridge

Campbell DJ (1988) Task complexity: a review and analysis. Acad Manag Rev 13(1):40–53

Carstensen LL (1993) Motivation for social contact across the life span: a theory of socioemotional selectivity. In: Nebraska symposium on motivation vol 40, pp 209–254

Carstensen LL (2006) The influence of a sense of time on human development. Science 312(5782):1913–1915

Carstensen LL, Isaacowitz DM, Charles ST (1999) Taking time seriously. A theory of socioemotional selectivity. Am Psychol 54(3):165–181

Chandler P, Sweller J (1992) The split-attention effect as a factor in the design of instruction. Br J Educ Psychol 62:233–246

Chase WG, Simon HA (1973) Perception in chess. Cogn Psychol 4(1):55–81

Conrad R, Hul AJ (1964) Information, acoustic confusion and memory span. Br J Psychol 55:429–432

Crosby ME, Iding M, Chin DN (2003) Research on task complexity as a foundation for augmented cognition. In: Proceedings of the 36th Hawaii international conference on system science (HICSS-36). IEEE Computer Society 2003, Koloa, Kauai, p 132

Ebbinghaus H (1913) A contribution to experimental psychology. Teachers College, Columbia University, New York

Elo AE (1978) The rating of chess players past and present. Arco, New York

Fredericks TK, Choi SD, Hart J, Butt SE, Mital A (2005) An investigation of myocardial aerobic capacity as a measure of both physical and cognitive workloads. Int J Ind Ergon 35(12):1097–1107

Gill TG, Hicks RC (2006) Task complexity and informing science: a synthesis. Inf Sci 9:1

GNU Operating System (2008) GNU operating system. http://www.gnu.org. Accessed 12 May 2008

Gobet F, Lane PCR, Croker S, Cheng PCH, Jones G, Oliver I, Pine JM (2001) Chunking mechanisms in human learning. Trends Cognit Sci 5(6):236–243

Godden D, Baddeley AD (1975) Context dependent memory in two natural environments. Br J Psychol 66(3):325–331

Granholm E, Asarnow RF, Sarkin AJ, Dykes KL (1996) Pupillary responses index cognitive resource limitations. Psychophysiology 33(4):457–461

Guérard K, Tremblay S (2012) The effect of path length and display size on memory for spatial information. Exp Psychol 59:147–152

Guérard K, Tremblay S, Saint-Aubin J (2009) The processing of spatial information in short-term memory: insights from eye tracking the path length effect. Acta Physiol (Oxf) 132(2):136–144

Guid M, Mozina M, Bohak C, Sadikov A, Bratko I (2013) Building an intelligent tutoring system for chess endgames. In: Proceedings of the 5th international conference on computer supported education (CSEDU), pp 263–266

Hair JF, Anderson RE, Tatham RL, Black WC (1998) Multivariate data analysis, 5th edn. Prentice-Hall International, Upper Saddle River

Halford GS, Maybery MT, Bain JD (1986) Capacity limitations in children's reasoning: a dual-task approach. Child Dev 57:616–627

Halford GS, Wilson WH, Phillips S (1998) Processing capacity defined by relational complexity: implications for comparative, developmental, and cognitive psychology. Behav Brain Sci 21(6):803–831

Healy AF, Havas DA, Parker JT (2000) Comparing serial position effects in semantic and episodic memory using reconstruction of order tasks. J Mem Lang 42(2):147–167

Howard MW, Kahana MJ (2002) A distributed representation of temporal context. J Math Psychol 46(3):269–299

Hristova D, Guid M, Bratko I (2014) Assessing the difficulty of chess tactical problems. Int J Adv Intell Syst 7(3):728–738

Just MA, Carpenter PA (1992) A capacity theory of comprehension. Psychol Rev 99:122–149

Kalyuga S, Ayres P, Chandler P, Sweller J (2003) The expertise reversal effect. Educ Psychol 38(1):23–31

Koffka K (1935) Principles of gestalt psychology. Harcourt, Brace, New York, p 176

Köhler W (1971) [Original work published 1930] Human perception. In: Henle M (ed). The selected papers of Wolfgang Köhler. Liveright.: 145

Krivec J, Guid M, Bratko I (2009) Identification and characteristic descriptions of procedural chunks. In: Dini P (ed) Proceedings, computation world 2009, computation world: future computing, service computation, adaptive, content, cognitive, patterns. IEEE Coputer Society, New York, pp 448–453

Kundel HL, Nodine CF (1975) Interpreting chest radiographs without visual search. Radiology 116(3):527–532

Logan GD (1988) Toward an instant theory of automatization. Pyschol Rev 95:492–527

Mather M, Carstensen LL (2005) Aging and motivated cognition: the positivity effect in attention and memory. Trends Cogn Sci 9(10):496–502

Moreno R, Mayer R (1999) Cognitive principles of multimedia learning: the role of modality and contiguity. J Educ Psychol 91(2):358–368

Možina M, Guid M, Sadikov A, Groznik V, Bratko I (2012) Goal-oriented conceptualization of procedural knowledge. Intell Tutor Syst (ITS) 7315:286–291

Navon D, Miller JO (1987) Role of outcome conflict in dual task interference. J Exp Psychol Hum Percept Perform 13:438–448

Paas F (1992) Training strategies for attaining transfer of problem-solving skill in statistics: a cognitive-load approach. J Educ Psychol 84(4):429–434

Parmentier FBR, Elford G, Maybery MT (2005) Transitional information in spatial serial memory: path characteristics affect recall performance. J Exp Psychol Learn Mem Cognit 31:412–427

Rajlich V (2008) Rybkachess.com [Computer program]. http://www.rybkachess.com/. Accessed 22 Feb 2008

Reed AE, Carstensen LL (2012) The theory behind the age-related positivity effect. Front Psychol 3:339

Robinson P (2001) Task Complexity, task difficulty, and task production: exploring interactions in a componential framework. Appl Linguist 22(1):27–57

Roetzel PG (2018) Information overload in the information age: a review of the literature from business administration, business psychology, and related disciplines with a bibliometric approach and framework development. Bus Res 11:1–44

Saariluoma P, Laine T (2001) Novice construction of chess memory. Scand J Psychol 42:137–146

Sadikov A, Mozina M, Guid M, Krivec J, Bratko I (2006) Automated chess tutor. Comput Games 4630:13–25

Sharifian F (2002) Memory enhancement in language pedagogy: implications from cognitive research. TESL-EJ Electron J Engl Second Lang 6(2):1–9

Smith S, Vela E (2001) Environmental context-dependent memory: a review and meta-analysis. Psychon Bull Rev 8(2):203–220

Speck O, Ernst T, Braun J, Koch C, Miller E, Chang L (2000) Gender differences in the functional organization of the brain for working memory. NeuroReport 11:2581–2585

Stoiljkovikj S, Bratko I, Guid M (2015) A computational model for estimating the difficulty of chess problems. In: Proceedings of the third annual conference on advances in cognitive systems ACS, p 7

Strayer DL, Cooper JM, Turrill J, Coleman JR, Hopman RJ (2016) Talking to your car can drive you to distraction. Cognit Res Princ Implic. https://doi.org/10.1186/s41235-016-0018-3

Sweller J (1994) Cognitive load theory, learning difficulty and instructional design. Learn Instr 4:295–312

Sweller J, Chandler P (1994) Why is some material difficult to learn? Cognit Instr 12:185–233

Towse JN, Hitch GJ, Hutton U (2000) On the interpretation of working memory span in adults. Memory Cognit 28:341–348

Tulving E, Pearlstone Z (1966) Availability versus accessibility of information in memory for words. J Verbal Learn Verbal Behav 5(4):381–391

Von Restorff H (1933) Über die wirkung von bereichsbildungen im spurenfeld. Psychologische Forschung 18(1):299–342

Weaver W (1948) Science and Complexity. Am Sci 36(4):536–544

Wertheimer M (1923) Untersuchungen zur Lehre von der Gestalt. II. Psychol Res 4(1): 301–350 (Translated extract reprinted as "Laws of organization in perceptual forms". In Ellis WD (ed) (1938) A source book of Gestalt psychology. Routledge & Kegan Paul Ltd., London, pp 71–94)

Woolf BP (2010) Building intelligent interactive tutors: student-centered strategies for revolutionizing e-learning. Morgan Kaufmann, Burlington

Zacks RT, Hasher L, Li KZH (2008) The handbook of aging and cognition, 3rd edn. Psychology Press, East Sussex

Zoelch C, Schumann-Hengsteler R (2006) Aspects of complexity in visual-spatial working memory: indication for the application of strategies? Cognit Process 7(1):165
Acknowledgements
Contributions to the research should be acknowledged to Dr. Ivan Bratko, head of the Artificial Intelligence Laboratory of The Faculty of Computer and Information Science of Ljubljana University, the co-mentor of the doctoral dissertation in which the research was performed, or the scientific guidance. We would like to express my gratitude to all the chess players who cooperate in the research. We thank the anonymous reviewers for their careful reading of our manuscript and their many insightful comments and suggestions.
Ethics declarations
Conflict of interest
The authors declare that they have no conflict of interest.
Ethical approval
All procedures performed in studies involving human participants were in accordance with the ethical standards of the institutional research committee (Etična komisija FUDŠ) and with the 1964 Helsinki Declaration and its later amendments or comparable ethical standards.
Informed consent
Informed consent was obtained from all individual participants included in the study.
Additional information
Publisher's Note
Springer Nature remains neutral with regard to jurisdictional claims in published maps and institutional affiliations.
Handling editor: Luigia Carlucci Aiello (Sapienza University of Rome).
Reviewers: Tejaswinee Kelkar (University of Oslo) and a researcher who prefers to remain anonymous.
Electronic supplementary material
Below is the link to the electronic supplementary material.
About this article
Cite this article
Krivec, J., Guid, M. The influence of context on information processing. Cogn Process 21, 167–184 (2020). https://doi.org/10.1007/s10339-020-00958-8
Received:

Accepted:

Published:

Issue Date:
Keywords
Information processing

Contextual characteristics

Chess game

Cognitive load