Abstract
Among the brain regions involved in the aesthetic evaluation of paintings, the prefrontal cortex seems to play a pivotal role. In particular, consistent neuroimaging evidence indicates that activity in the dorsolateral prefrontal cortex (mainly in the left hemisphere) and in medial and orbital sectors of the prefrontal cortex is linked to viewing aesthetically pleasing images. In this study, we focused on the contribution of the medial prefrontal cortex (mPFC) in mediating aesthetic decisions about paintings. We found that enhancing excitability in this region via anodal tDCS led participants to judge paintings as more beautiful. Although significant, the effects were moderate, possibly due to the neutral affective value of the artworks we used, suggesting that activity in mPFC may be critically dependent on the affective impact of the paintings.
Access options
Buy single article
Instant access to the full article PDF.
US$ 39.95
Tax calculation will be finalised during checkout.
Subscribe to journal
Immediate online access to all issues from 2019. Subscription will auto renew annually.
US$ 79
Tax calculation will be finalised during checkout.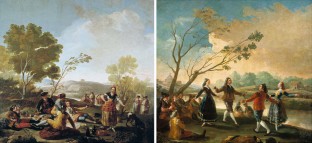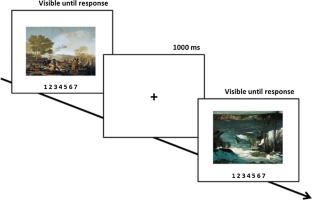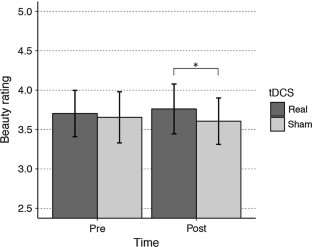 References
Alekseichuk I, Turi Z, Amador de Lara G, Antal A, Paulus W (2016) Spatial working memory in humans depends on theta and high gamma synchronization in the prefrontal cortex. Curr Biol 26(12):1513–1521

Baayen RH, Davidson DJ, Bates DM (2008) Mixed-effects modeling with crossed random effects for subjects and items. J Mem Lang 59(4):390–412

Barr DJ, Levy R, Scheepers C, Tily HJ (2013) Random effects structure for confirmatory hypothesis testing: keep it maximal. J Mem Lang 68(3):255–278

Bates D, Maechler M, Bolker B (2013) lme4: linear mixed-effects models using S4 classes, R package version 0.999999-2. http://cran.rproject.org/web/packages/lme4/index.html

Batt R, Palmiero M, Nakatani C, van Leeuwen C (2010) Style and spectral power: processing of abstract and representational art in artists and non-artists. Perception 39(12):1659–1671

Berridge KC, Kringelbach ML (2015) Pleasure systems in the brain. Neuron 86:646–664

Bertossi E, Peccenini L, Solmi A, Avenanti A, Ciaramelli E (2017) Transcranial direct current stimulation of the medial prefrontal cortex dampens mind-wandering in men. Sci Rep 7(1):16962

Boccia M, Barbetti S, Piccardi L, Guariglia C, Ferlazzo F, Giannini AM, Zaidel DW (2016) Where does brain neural activation in aesthetic responses to visual art occur? Meta-analytic evidence from neuroimaging studies. Neurosci Biobehav R 60:65–71

Brieber D, Nadal M, Leder H, Rosenberg R (2014) Art in time and space: context modulates the relation between art experience and viewing time. PLoS ONE 9(6):e99019

Brown S, Gao X, Tisdelle L, Eickhoff SB, Liotti M (2011) Naturalizing aesthetics: brain areas for aesthetic appraisal across sensory modalities. Neuroimage 58(1):250–258

Cattaneo Z (2019) Non-invasive brain stimulation: an overview of available approaches for research in neuroaesthetics. Empir Stud Arts 37(2):153–171

Cattaneo Z, Pisoni A, Papagno C (2011) Transcranial direct current stimulation over Broca's region improves phonemic and semantic fluency in healthy individuals. Neuroscience 183:64–70

Cattaneo Z, Lega C, Flexas A, Nadal M, Munar E, Cela-Conde CJ (2014a) The world can look better: enhancing beauty experience with brain stimulation. SCAN 9:1713–1721

Cattaneo Z, Lega C, Gardelli C, Merabet LB, Cela-Conde CJ, Nadal M (2014b) The role of prefrontal and parietal cortices in esthetic appreciation of representational and abstract art: a TMS study. Neuroimage 99:443–450

Cattaneo Z, Lega C, Ferrari C, Vecchi T, Cela-Conde CJ, Silvanto J, Nadal M (2015) The role of the lateral occipital cortex in aesthetic appreciation of representational and abstract paintings: a TMS study. Brain Cognit 95:44–53

Cattaneo Z, Schiavi S, Silvanto J, Nadal M (2017) A TMS study on the contribution of visual area V5 to the perception of implied motion in art and its appreciation. Cogn Neurosci 8:59–68

Cazzato V, Mele S, Urgesi C (2016) Different contributions of visual and motor brain areas during liking judgments of same-and different-gender bodies. Brain Res 1646:98–108

Cela-Conde CJ, Marty G, Maestú F, Ortiz T, Munar E, Fernández A, Roca M, Rossello J, Quesney F (2004) Activation of the prefrontal cortex in the human visual aesthetic perception. PNAS 101(16):6321–6325

Cela-Conde CJ, Ayala FJ, Munar E, Maestú F, Nadal M, Capó MA, del Río D, López-Ibor JJ, Ortiz T, Mirasso C, Marty G (2009) Sex-related similarities and differences in the neural correlates of beauty. PNAS 106(10):3847–3852

Cela-Conde CJ, García-Prieto J, Ramasco JJ, Mirasso CR, Bajo R, Munar E, Flexas A, del-Pozo F, Maestú F (2013) Dynamics of brain networks in the aesthetic appreciation. PNAS 110:10454–10461

Chalmers FG (1977) Women as art viewers: sex differences and aesthetic preference. Stud Art Educ 18(2):49–53

Chatterjee A, Vartanian O (2016) Neuroscience of aesthetics. Ann N Y Acad Sci 1369(1):172–194

Chudasama Y, Daniels TE, Gorrin DP, Rhodes SE, Rudebeck PH, Murray EA (2013) The role of the anterior cingulate cortex in choices based on reward value and reward contingency. Cereb Cortex 23(12):2884–2898

Cloutier J, Heatherton TF, Whalen PJ, Kelley WM (2008) Are attractive people rewarding? Sex differences in the neural substrates of facial attractiveness. J Cogn Neurosci 20(6):941–951

Csifcsák G, Boayue NM, Puonti O, Thielscher A, Mittner M (2018) Effects of transcranial direct current stimulation for treating depression: a modeling study. J Affect Disorders 234:164–173

Cupchik GC, Vartanian O, Crawley A, Mikulis DJ (2009) Viewing artworks: contributions of cognitive control and perceptual facilitation to aesthetic experience. Brain Cogn 70(1):84–91

De Pisapia N, Barchiesi G, Jovicich J, Cattaneo L (2018) The role of medial prefrontal cortex in processing emotional self-referential information: a combined TMS/fMRI study. Brain Imaging Behav 13(3):1–12

Dedoncker J, Brunoni AR, Baeken C, Vanderhasselt MA (2016) A systematic review and meta-analysis of the effects of transcranial direct current stimulation (tDCS) over the dorsolateral prefrontal cortex in healthy and neuropsychiatric samples: influence of stimulation parameters. Brain Stimul 9(4):501–517

Di Dio C, Ardizzi M, Massaro D, Di Cesare G, Gilli G, Marchetti A, Gallese V (2016) Human, nature, dynamism: the effects of content and movement perception on brain activations during the aesthetic judgment of representational paintings. Front Hum Neurosci 9:705

Etkin A, Egner T, Kalisch R (2011) Emotional processing in anterior cingulate and medial prefrontal cortex. Trends Cogn Sci 15(2):85–93

Everaert J, Koster EH, Derakshan N (2012) The combined cognitive bias hypothesis in depression. Clin Psychol Rev 32(5):413–424

Faria P, Hallett M, Miranda PC (2011) A finite element analysis of the effect of electrode area and inter-electrode distance on the spatial distribution of the current density in tDCS. J Neural Eng 8(6):066017

Ferrari C, Lega C, Tamietto M, Nadal M, Cattaneo Z (2015) I find you more attractive… after (prefrontal cortex) stimulation. Neuropsychologia 72:87–93

Ferrari C, Nadal M, Schiavi S, Vecchi T, Cela-Conde C, Cattaneo Z (2017) The dorsomedial prefrontal cortex mediates the interaction between moral and aesthetic valuation: a TMS study on the Beauty-is-Good stereotype. SCAN 12(5):707–717

Ferrari C, Schiavi S, Cattaneo Z (2018) TMS over the superior temporal sulcus affects expressivity evaluation of portraits. CABN 18(6):1188–1197

Filmer HL, Dux PE, Mattingley JB (2014) Applications of transcranial direct current stimulation for understanding brain function. Trends Cogn Nurosci 37(12):742–753

Freedberg D, Gallese V (2007) Motion, emotion and empathy in esthetic experience. Trends Cogn Sci 5:197–203

Furnham A, Walker J (2001) The influence of personality traits, previous experience of art, and demographic variables on artistic preference. Pers Individ Differ 31:997–1017

Gandiga PC, Hummel FC, Cohen LG (2006) Transcranial DC stimulation (tDCS): a tool for double-blind sham-controlled clinical studies in brain stimulation. Clin Neurophysiol 117(4):845–850

Geuzaine C, Remacle JF (2009) Gmsh: a 3-D finite element mesh generator with built-in pre- and post-processing facilities. Int J Numer Methods Eng 79(11):1309–1331

Heinrichs RW, Cupchik GC (1985) Individual differences as predictors of preference in visual art. J Pers 53:502–515

Hekkert P, van Wieringen PCW (1996) Beauty in the eye of expert and nonexpert beholders: a study in the appraisal of art. Am J Psychol 109:389–407

Hox JJ (2010) Multilevel analysis. Techniques and applications, 2nd edn. Routledge, New York

Ishizu T, Zeki S (2011) Toward a brain-based theory of beauty. PLoS ONE 6(7):e21852

Ishizu T, Zeki S (2013) The brain's specialized systems for aesthetic and perceptual judgment. Eur J Neurosci 37(9):1413–1420

Ishizu T, Zeki S (2017) The experience of beauty derived from sorrow. Hum Brain Mapp 38(8):4185–4200

Iyer MB, Mattu U, Grafman J, Lomarev M, Sato S, Wassermann EM (2005) Safety and cognitive effect of frontal DC brain polarization in healthy individuals. Neurology 64(5):872–875

Jacobs RH, Renken R, Cornelissen FW (2012) Neural correlates of visual aesthetics–beauty as the coalescence of stimulus and internal state. PLoS ONE 7(2):e31248

Jacobsen T, Schubotz RI, Höfel L, Cramon DYV (2006) Brain correlates of aesthetic judgment of beauty. Neuroimage 29(1):276–285

Jacobson L, Koslowsky M, Lavidor M (2012) tDCS polarity effects in motor and cognitive domains: a meta-analytical review. Exp Brain Res 216(1):1–10

Judd CM, Westfall J, Kenny DA (2012) Treating stimuli as a random factor in social psychology: a new and comprehensive solution to a pervasive but largely ignored problem. J Pers Soc Psychol 103:54–69

Judd CM, Westfall J, Kenny DA (2017) Experiments with more than one random factor: designs, analytic models, and statistical power. Annu Rev Psychol 68:601–625

Junghofer M, Winker C, Rehbein MA, Sabatinelli D (2017) Noninvasive stimulation of the ventromedial prefrontal cortex enhances pleasant scene processing. Cereb Cortex 27(6):3449–3456

Kajimura S, Kochiyama T, Nakai R, Abe N, Nomura M (2016) Causal relationship between effective connectivity within the default mode network and mind-wandering regulation and facilitation. Neuroimage 133:21–30

Karabanov AN, Saturnino GB, Thielscher A, Siebner HR (2019) Can transcranial electrical stimulation localize brain function? Front Psychol 10:213

Kawabata H, Zeki S (2004) Neural correlates of beauty. J Neurophysiol 91(4):1699–1705

Kirk U, Skov M, Christensen MS, Nygaard N (2009) Brain correlates of aesthetic expertise: a parametric fMRI study. Brain Cogn 69:306–315

Kirsch LP, Urgesi C, Cross ES (2016) Shaping and reshaping the aesthetic brain: emerging perspectives on the neurobiology of embodied aesthetics. Neurosci Biobehav R 62:56–68

Kühn S, Gallinat J (2012) The neural correlates of subjective pleasantness. Neuroimage 61:289–294

Kuznetsova A, Brockho PB, Christensen RHB (2012) lmerTest: tests for random and fixed effects for linear mixed effect models (lmer objects of lme4 package). Retrieved from http://www.cran.r-project.org/packagelmerTest/

Lang PJ, Bradley MM, Cuthbert BN (2008) International affective picture system (IAPS): affective ratings of pictures and instruction manual. Technical Report A-8. University of Florida, Gainesville, FL

Li LM, Violante IR, Leech R, Ross E, Hampshire A, Opitz A, Rothwell JC, Carmichael DW, Sharp DJ (2019) Brain state and polarity dependent modulation of brain networks by transcranial direct current stimulation. Hum Brain Mapp 40(3):904–915

Luke SG (2017) Evaluating significance in linear mixed-effects models in R. Behav Res Methods 49:1494–1502

Manuel AL, David AW, Bikson M, Schnider A (2014) Frontal tDCS modulates orbitofrontal reality filtering. Neuroscience 265:21–27

Mühlenbeck CA, Liebal K, Pritsch C, Jacobsen T (2015) Gaze duration biases for colours in combination with dissonant and consonant sounds: a comparative eye-tracking study with orangutans. PLoS ONE 10(10):e0139894

Nakamura K, Kawabata H (2015) Transcranial direct current stimulation over the medial prefrontal cortex and left primary motor cortex (MPFC-lPMC) affects subjective beauty but not ugliness. Front Hum Neurosci 114:11

Neperud RW (1986) The relationship of art training and sex differences to aesthetic valuing. Vis Arts Res 12:11–19

Nezlek JB (2001) Multilevel random coefficient analyses of event- and interval-contingent data in social and personality psychology research. Pers Soc Psychol Bull 27:771–785

Nitsche MA, Cohen LG, Wassermann EM, Priori A, Lang N, Antal A, Paulus W, Hummel F, Boggio P, Fregni F, Pascual-Leone A (2008) Transcranial direct current stimulation: state of the art 2008. Brain Stimul 1(3):206–223

Opitz A, Windhoff M, Heidemann RM, Turner R, Thielscher A (2011) How the brain tissue shapes the electric field induced by transcranial magnetic stimulation. Neuroimage 58:849–859

Opitz A, Falchier A, Yan C, Yeagle EM, Linn GS, Megevand P, Thielscher A, Deborah RA, Milham MP, Mehta AD, Schroeder CE (2016) Spatiotemporal structure of intracranial electric fields induced by transcranial electric stimulation in humans and nonhuman primates. Sci Rep 6:31236

Padoa-Schioppa C, Cai X (2011) The orbitofrontal cortex and the computation of subjective value: consolidated concepts and new perspectives. Ann NY Acad Sci 1239:130–137

Pearce MT, Zaidel DW, Vartanian O, Skov M, Leder H, Chatterjee A, Nadal M (2016) Neuroaesthetics: the cognitive neuroscience of aesthetic experience. Perspect Psychol Sci 11(2):265–279

Pegors TK, Kable JW, Chatterjee A, Epstein RA (2015) Common and unique representations in pFC for face and place attractiveness. J Cogn Neurosci 27:959–973

Perera T, George MS, Grammer G, Janicak PG, Pascual-Leone A, Wirecki TS (2016) The clinical TMS society consensus review and treatment recommendations for TMS therapy for major depressive disorder. Brain Stimul 9(3):336–346

Phan KL, Taylor SF, Welsh RC, Decker LR, Noll DC, Nichols TE, Britton J, Liberzon I (2003) Activation of the medial prefrontal cortex and extended amygdala by individual ratings of emotional arousal: a fMRI study. Biol Psychiatry 53(3):211–215

Pulzella DJ (2000) Differences in reactions to paintings by male and female college students. Percept Mot Skills 91(1):251–258

R Core Team (2018) R: a language and environment for statistical computing. R Foundation for Statistical Computing, Vienna, Austria. Version 3.5.0. https://www.R-project.org/

Renzi C, Ferrari C, Schiavi S, Pisoni A, Papagno C, Vecchi T, Antal A, Cattaneo Z (2015) The role of the occipital face area in holistic processing involved in face detection and discrimination: a tDCS study. Neuropsychology 29(3):409–416

Russell MJ, Goodman TA, Visse JM, Beckett L, Saito N, Lyeth BG, Recanzone GH (2017) Sex and electrode configuration in transcranial electrical stimulation. Front Psychol 8:147

Salkind L, Salkind NJ (1997) Gender and age differences in preference for works of art. Stud Art Educ 38(4):246–256

Seitz RJ, Nickel J, Azari NP (2006) Functional modularity of the medial prefrontal cortex: involvement in human empathy. Neuropsychology 20(6):743–751

Silveira S, Fehse K, Vedder A, Elvers K, Hennig-Fast K (2015) Is it the picture or is it the frame? An fMRI study on the neurobiology of framing effects. Front Hum Neurosci 9:528

Silvia PJ (2007) An introduction to multilevel modeling for research on the psychology of art and creativity. Empir Stud Arts 25:1–20

Skov M, Nadal M (2018) Art is not special: an assault on the last lines of defense against the naturalization of the human mind. Rev Neurosci 29(6):699–702

Snijders TAB, Bosker RJ (2012) Multilevel analysis. An introduction to basic and advanced multilevel modeling, 2nd edn. SAGE Publications, London

Thair H, Holloway AL, Newport R, Smith AD (2017) Transcranial direct current stimulation (tDCS): a beginner's guide for design and implementation. Front Neurosci 11:641

Thielscher A, Opitz A, Windhoff M (2011) Impact of the gyral geometry on the electric field induced by transcranial magnetic stimulation. Neuroimage 54:234–243

Thielscher A, Antunes A, Saturnino GB (2015) Field modeling for transcranial magnetic stimulation: a useful tool to understand the physiological effects of TMS? In: Annual international conference of the IEEE engineering in medicine and biology society 2015. Milan, Italy

Tsukiura T, Cabeza R (2011) Remembering beauty: roles of orbitofrontal and hippocampal regions in successful memory encoding of attractive faces. Neuroimage 54(1):653–660

Umemoto A, HajiHosseini A, Yates ME, Holroyd CB (2017) Reward-based contextual learning supported by anterior cingulate cortex. CABN 17(3):642–651

Vaidya AR, Sefranek M, Fellows LK (2017) Ventromedial frontal lobe damage alters how specific attributes are weighed in subjective valuation. Cereb Cortex 28:3857–3867

Valero-Cabré A, Amengual JL, Stengel C, Pascual-Leone A, Coubard OA (2017) Transcranial magnetic stimulation in basic and clinical neuroscience: a comprehensive review of fundamental principles and novel insights. Neurosci Biobehav Rev 83:381–404

van't Wout M, Silverman H (2017) Modulating what is and what could have been: the effect of transcranial direct current stimulation on the evaluation of attained and unattained decision outcomes. CABN 17(6):1176–1185

Vartanian O, Goel V (2004) Neuroanatomical correlates of aesthetic preference for paintings. NeuroReport 15(5):893–897

Vartanian O, Navarrete G, Chatterjee A, Fich LB, Leder H, Modroño C, Rostrup N, Skov M, Corradi G, Nadal M (2019) Preference for curvilinear contour in interior architectural spaces: evidence from experts and nonexperts. Psychol Aesthet Creat 13(1):110–116

Vessel EA, Starr GG, Rubin N (2012) The brain on art: intense aesthetic experience activates the default mode network. Front Hum Neurosci 6:66

Vessel EA, Starr GG, Rubin N (2013) Art reaches within: aesthetic experience, the self and the default mode network. Front Neurosci 7:258

Vogt S, Magnussen S (2007) Expertise in pictorial perception: eye-movement patterns and visual memory in artists and laymen. Perception 36(1):91–100

Wagner V, Menninghaus W, Hanich J, Jacobsen T (2014) Art schema effects on affective experience: the case of disgusting images. Psychol Aesthet Creat 8:120–129

Whitfield-Gabrieli S, Ford JM (2012) Default mode network activity and connectivity in psychopathology. Annu Rev Clin Psychol 8:49–76

Wilson TW, McDermott TJ, Mills MS, Coolidge NM, Heinrichs-Graham E (2018) tDCS modulates visual gamma oscillations and basal alpha activity in occipital cortices: evidence from MEG. Cereb Cortex 28(5):1597–1609

Yeh YC, Lin CW, Hsu WC, Kuo WJ, Chan YC (2015) Associated and dissociated neural substrates of aesthetic judgment and aesthetic emotion during the appreciation of everyday designed products. Neuropsychologia 73:151–160

Zhang W, Lai S, He X, Zhao X, Lai S (2016) Neural correlates for aesthetic appraisal of pictograph and its referent: an fMRI study. Behav Brain Res 305:229–238

Zilverstand A, Parvaz MA, Goldstein RZ (2017) Neuroimaging cognitive reappraisal in clinical populations to define neural targets for enhancing emotion regulation. A systematic review. Neuroimage 151:105–116
Acknowledgments
This work was supported by a PRIN Grant (2015WXAXJF) by Italian Ministry of Education, University and Research to Z.C and by Mondino Foundation "Ricerca Corrente" funds.
Additional information
Publisher's Note
Springer Nature remains neutral with regard to jurisdictional claims in published maps and institutional affiliations.
Handling editor: Joanna Ganczarek (Pedagogical University of Cracow).
Reviewers: Massimiliano Palmiero (Santa Lucia Foundation, L'Aquila), Alexander Denker (Emory University).
Appendix
Appendix
The two sets of equivalent paintings used in the experiment
| | |
| --- | --- |
| Santiago Alabert. Vase of Roses and other Flowers (1799) | Santiago Alabert. Vase of Roses and other Flowers (1799) |
| Ramon Martí Alsina. Catalan Landscape (1860) | Ramon Martí Alsina. Landscape with a flock of sheep (1870–1878) |
| Francis Alÿs. No title (2000-1) | Francis Alÿs. No title (2001) |
| Hermen Anglada Camarasa. The Gypsy way of Walking (1902) | Hermen Anglada Camarasa. The Gypsy of the Pomegranates (1904) |
| Juan de Arellano. Garland of Flowers with a Landscape (1652) | Juan de Arellano. Garland of Flowers with a Landscape (1652) |
| Eduardo Arroyo. Madrid-Paris-Madrid (1989) | Eduardo Arroyo. Madrid-Paris-Madrid (1989) |
| Ramón Bayeu y Subías. The Ham and Sausage Seller (ca. 1786) | Ramón Bayeu y Subías. The Rustic Offering (ca. 1786) |
| Ramón Bayeu y Subías. Boy with a Wicker Basket (ca. 1786) | Ramón Bayeu y Subías. The Blind Musician (ca. 1786) |
| George Bellows. North River (1908) | George Bellows. Easter Snow (1915) |
| Aureliano de Beruete y Moret. The Church of San Francisco from the Banks of the Manzanares (1907) | Aureliano de Beruete y Moret. View of Madrid from the River Manzanares (1907) |
| Albert Bierstadt. Merced River, Yosemite Valley (1866) | Albert Bierstadt. Canadian Rockies (Lake Louise) (ca. 1889) |
| Thomas Bromley Blacklock. Fisher Girls (ca. 1903) | Thomas Bromley Blacklock. Her First Catch (1902) |
| Francisco Bores. Still Life with Print (1937) | Francisco Bores. Untitled (ca. 1937) |
| Francisco Bores. Card Players (1942) | Francisco Bores. Untitled (Café) (1928) |
| Juan Martín Cabezalero. The Assumption of the Virgin (ca. 1665) | Juan Martín Cabezalero. The Assumption of the Virgin (mid 17th century) |
| José Camarón. Couples in a Park (ca. 1785) | José Camarón. A festival (ca. 1785) |
| Vicente Carducho. The Relief of Constance (1634) | Vicente Carducho. The Victory at Fleurs (1634) |
| Vicente Carducho. San Juan de Mata Renounces the Doctorate and Accepts it Later through Divine Inspiration (1634-5) | Vicente Carducho. Ordainment and First Mass of San Juan de Mata (1634-5) |
| Vicente Carducho. The Madonna and Child Appear to Pedro Faveiro (1632) | Vicente Carducho. The Annunciation (Late 16th–early 17th century) |
| José Manuel Cobo. Study of two Pears (1978-9) | José Manuel Cobo. Smoker (1980) |
| William Collins. Early Morning - Cromer (1845-6) | William Collins. Frost Scene (1827) |
| Joseph Crawhall. A Lincolnshire Pasture (1882-3) | Joseph Crawhall. Picketed Horses, Tangier (1888) |
| Salvador Dalí. Still Life (1923) | Salvador Dalí. Still Life (1923) |
| Thomas Doughty. Spring Landscape (ca. 1853–6) | Thomas Doughty. On the Hudson (1830–5) |
| Asher Brown Durand. River Scene (1854) | Asher Brown Durand. Landscape—Scene from "Thanatopsis" (1850) |
| Asher Brown Durand. High Point: Shandaken Mountains (1853) | Asher Brown Durand. Summer Afternoon (1865) |
| Juan Antonio de Frías y Escalante. Abraham and the three Angels (1667-8) | Juan Antonio de Frías y Escalante. Priest Ajimelec gives David the Bread and the Sword (1667-8) |
| Antonio María Esquivel y Suárez de Urbina. Contemporary Poets. A Reading by Zorilla in the Painter's Studio (1864) | Antonio María Esquivel y Suárez de Urbina. Ventura de la Vega Reading a Work in the Prince's Theater (1864) |
| Juan Fernández "El Labrador". Still Life with four Bunches of Grapes (ca. 1636) | Juan Fernández "El Labrador". Four Bunches of Hanging Grapes (ca. 1636) |
| Rafael Ferrer. Merengue en Boca Chica (1989) | Rafael Ferrer. Remembrance of an Afternoon on the Way (1983) |
| José Ferrer. Still Life with Grapes and Pomegranates (1781) | José Ferrer. Still Life with Fruit and a Crystal Vase (1781) |
| Albert Gleizes. Women sowing (1913) | Albert Gleizes. Landscape with Windmill (1913) |
| Mathias Goeritz. Under the sun (1948) | Mathias Goeritz. Under the moon (1948) |
| Isidro González Velázquez. View of the San Antonio square opposite the Aranjuez Royal Palace (1791) | Isidro González Velázquez. View of Aranjuez Royal Palace from the East (1791) |
| Francisco de Goya y Lucientes. Decoy Hunting (1775) | Francisco de Goya y Lucientes. Dogs on a Leash (1775) |
| Francisco de Goya y Lucientes. The Picnic (1776) | Francisco de Goya y Lucientes. Dance on the Banks of the Manzanares (1776-7) |
| Juan Gris. The guitar on the Table (1913) | Juan Gris. Violin and Guitar (1913) |
| Juan Gris. The Violin (1916) | Juan Gris. Jar and Glass (1916) |
| Juan Gris. Coffee Grinder (1920) | Juan Gris. Carafe and Book (1920) |
| Juan Gris. Guitar and Newspaper (1925) | Juan Gris. The Musician's Paper (1926) |
| Carlos de Haes. Remains of a Shipwreck (San Juan de Luz) (ca. 1882) | Carlos de Haes. A Wrecked Boat (1883) |
| Carlos de Haes. Rocks (Pajares Pass) (1874) | Carlos de Haes. Picos de Europa (ca. 1874) |
| Carlos de Haes. Breaking waves (Lequeitio) (ca. 1872) | Carlos de Haes. Shoals (Lequeitio) (ca. 1872) |
| Childe Hassam. The Brush House (1916) | Childe Hassam. Street in Portsmouth (1916) |
| Edward Hopper. The Lighthouse at Two Lights (1929) | Edward Hopper. Coast Guard Station, Two Lights (1927) |
| John Frederick Kensett. A Foggy Sky (1872) | John Frederick Kensett. Newport Rocks (1872) |
| William Henry Knight. Knuckle Down (1857) | William Henry Knight. The Young Artist (1861) |
| Mariano Salvador Maella. Pescadores (1785) | Mariano Salvador Maella. The Embarkation (1784) |
| Mariano Salvador Maella. Spring (1805-6) | Mariano Salvador Maella. Autumn (1805-6) |
| Fray Juan Bautista Maíno. Saint John the Evangelist in Patmos (1612–4) | Fray Juan Bautista Maíno. Saint John the Baptist in a Landscape (1612–4) |
| Fray Juan Bautista Maíno. Pentecost (1615–20) | Fray Juan Bautista Maíno. The Pentecost (1612–4) |
| Maruja Mallo. Figures (1937) | Maruja Mallo. Acrobats Macro and Microcosms (1937) |
| John Marin. Motive, Telephone Building, New York (recto); Downtown Manhattan (verso) (1936) | John Marin. Lower Manhattan from the River, No. 1 (1921) |
| Juan Bautista Martínez del Mazo. The Arch of Titus in Rome (1657) | Juan Bautista Martínez del Mazo. Landscape with Mercury and Herse (1660) |
| Joan Massanet. Birth of Venus (1927) | Joan Massanet. Surrealist Composition (1927) |
| Luis Egidio Meléndez. Still Life with Apples, Nuts, Boxes of Sweets and Vessels (1759) | Luis Egidio Meléndez. Still Life with Limes, Box of Jelly, Butterfly and Vessels (Third quarter of the 18th century) |
| Luis Egidio Meléndez. Still Life with Oysters, Garlic, Eggs, Pot and Pan (1759) | Luis Egidio Meléndez. Still Life with Sausages, Ham and Vessels (1759) |
| William Henry Midwood. At the Crofter's Wheel (1876) | William Henry Midwood. The Music Lesson (1872) |
| Jerome Myers. The Mission Tent (1906) | Jerome Myers. A North River recreation Pier (1905) |
| Pedro de Orrente (Workshop). Jacob in the Well (First half of the 17th century) | Pedro de Orrente (Workshop). Jacob and Rachel at the Well (First half of the 17th century) |
| Godofredo Ortega Muñoz. Castile. Summer (1957) | Godofredo Ortega Muñoz. The Hill of White Stones (1963) |
| Godofredo Ortega Muñoz. White Grapevines (1974) | Godofredo Ortega Muñoz. Fields in Lanzarote (1969) |
| Godofredo Ortega Muñoz. Bread and Cheese Still Life (1940) | Godofredo Ortega Muñoz. Pine Still Life (1950) |
| Benjamín Palencia. Still Life (1927) | Benjamín Palencia. Still Life (White Glass, Jar and White Fruits on a Blue Background) (1927) |
| Benjamín Palencia. Frozen Smoke (1930) | Benjamín Palencia. Composition (1930) |
| Benjamín Palencia. My Mill (1949) | Benjamín Palencia. The Millrace. Landscape of the Molina (1950) |
| Benjamín Palencia. Still Life with Siphon (1920) | Benjamín Palencia. Still Life with Siphon (1924) |
| Antonio de Pereda. Still Life with Fruit and Game (1651) | Antonio de Pereda. Kitchen Still Life (1651) |
| Darío de Regoyos. Irún in the Evening (1901) | Darío de Regoyos. The Hen House (1912) |
| William Trost Richards. Lake Squam and the Sandwich Mountains (1872) | William Trost Richards. Sunset on Mount Chocorua, New Hampshire (1872) |
| William Trost Richards. Near Land's End, Cornwall (1879) | William Trost Richards. New Jersey Beach (1901) |
| Luis Rigalt y Farriols. Landscape (1858) | Luis Rigalt y Farriols. Montserrat Landscape from Roca Dreta (1858) |
| Santiago Rusiñol. The Garden at Aranjuez. Arbor II (1907) | Santiago Rusiñol. Green Wall. Sa Coma, V (1904) |
| Albert Pinkham Ryder. The Toilers of the Sea (ca. 1880-5) | Albert Pinkham Ryder. Under a Cloud (ca. 1890) |
| Ángeles Santos. A World (1929) | Ángeles Santos. The Gathering (1929) |
| Xavier Valls. Peaches and Jug (1974) | Xavier Valls. Still Life with Cherries (1974) |
| Elihu Vedder. The Fable of the Miller, His Son, and the Donkey No. 5 (ca. 1867-8) | Elihu Vedder. The Fable of the Miller, His Son, and the Donkey No. 4 (ca. 1867-8) |
| Diego Rodríguez de Silva y Velázquez. View of the Gardens of the Villa Medici, Rome, with a Statue of Ariadne (ca. 1630) | Diego Rodríguez de Silva y Velázquez. View of the Gardens of the Villa Medici, Rome (ca. 1630) |
| José Villegas y Cordero. Peasant or The Autumn (ca. 1877) | José Villegas y Cordero. The Flock's Return (ca. 1877) |
| Frederick Waters Watts. The Lock (ca. 1930) | Frederick Waters Watts. On the Thames (ca. 1930) |
| Frederick J. Waugh. Wild Weather (ca. 1930) | Frederick J. Waugh. The Roaring Forties (1908) |
| Liu Xiaodong. My Egypt (2010) | Liu Xiaodong. East (2012) |
| Ignacio Zuloaga. Landscape in Alhama (1923) | Ignacio Zuloaga. Landscape in Calatayud (1930) |
| Ignacio Zuloaga. Segovia: Old Houses (1917) | Ignacio Zuloaga. Houses in Segovia (ca. 1917) |
About this article
Cite this article
Cattaneo, Z., Ferrari, C., Schiavi, S. et al. Medial prefrontal cortex involvement in aesthetic appreciation of paintings: a tDCS study. Cogn Process 21, 65–76 (2020). https://doi.org/10.1007/s10339-019-00936-9
Received:

Accepted:

Published:

Issue Date:
Keywords
Neuroaesthetics

Medial prefrontal cortex

tDCS

Brain stimulation

Beauty