Abstract
Many developmental studies have examined the effects of joint attention. However, it has been difficult to compare effects of initiating joint attention and responding to joint attention in infants. Here, we compared the effects of initiating joint attention and responding joint attention on object information processing, object preference, and facial preferences in infants. Thirty-seven infants (10 to 12 months of age) were shown stimuli in which a female gazed towards or away from an object. Participants were assigned to initiating joint attention condition or responding joint attention condition. Results suggest that initiating joint attention promoted object information processing, whereas responding joint attention did not. Both joint attention conditions affected the facial preference for the person who engaged joint attention. In addition, after initiating joint attention, infants chose objects gazed by other person more often than after responding joint attention. It appears that attentional behaviours that precede the perception of certain stimuli affect infants' cognitive responses to those stimuli.
Access options
Buy single article
Instant access to the full article PDF.
US$ 39.95
Tax calculation will be finalised during checkout.
Subscribe to journal
Immediate online access to all issues from 2019. Subscription will auto renew annually.
US$ 79
Tax calculation will be finalised during checkout.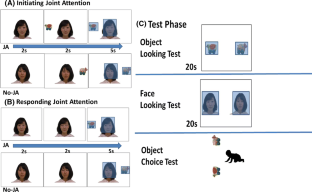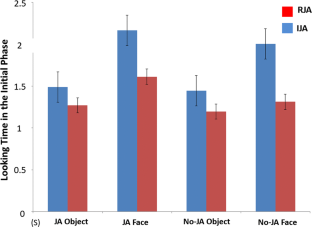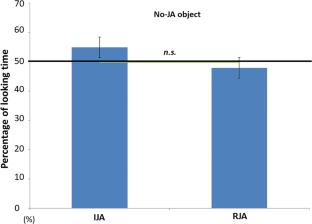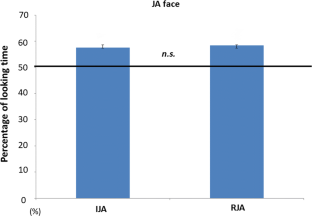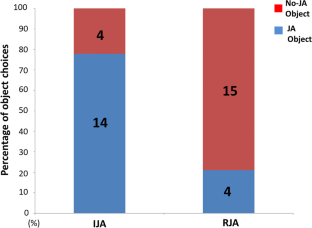 References
Baldwin DA (1995) Understanding the link between joint attention and language. In: Moore C, Dunham PJ (eds) Joint attention: its origins and role in development. Lawrence Erlbaum Associates Inc., Hillsdale, NJ, pp 131–158

Bayliss AP, Murphy E, Naughtin CK, Kritikos A, Schilbach L, Becker SI (2013) "Gaze leading": initiating simulated joint attention influences eye movements and choice behaviour. J Exp Psychol Gen 142(1):76

Brooks R, Meltzoff AN (2005) The development of gaze following and its relation to language. Dev Sci 8(6):535–543

Carpenter M, Nagell K, Tomasello M, Butterworth G, Moore C (1998) Social cognition, joint attention, and communicative competence from 9 to 15 months of age. Monographs of the Society for Research in Child Development, 1–174

Csibra G, Gergely G (2006) Social learning and social cognition: the case for pedagogy. In: Johnson MH, Munakata YM (eds) Processes of change in brain and cognitive development. Attention and performance, vol XXI. Oxford University Press, Oxford, pp 249–274

Csibra G, Gergely G (2009) Natural pedagogy. Trends Cognit Sci 13(4):148–153

Edwards SG, Stephenson LJ, Dalmaso M, Bayliss AP (2015) Social orienting in gaze leading: a mechanism for shared attention. Proc R Soc B 282:1–8. https://doi.org/10.1098/rspb.2015.1141

Gredebäck G, Theuring C, Hauf P, Kenward B (2008) The microstructure of infants' gaze as they view adult shifts in overt attention. Infancy 13(5):533–543

Grossmann T, Lloyd-Fox S, Johnson MH (2013) Brain responses reveal young infants' sensitivity to when a social partner follows their gaze. Dev Cogn Neurosci 6:155–161

Grynszpan O, Martin JC, Fossati P (2017) Gaze leading is associated with liking. Acta Physiol (Oxf) 173:66–72

Hoehl S, Reid V, Mooney J, Striano T (2008) What are you looking at? Infants' neural processing of an adult's object-directed eye gaze. Dev Sci 11(1):10–16

Hoehl S, Wahl S, Michel C, Striano T (2012) Effects of eye gaze cues provided by the caregiver compared to a stranger on infants' object processing. Dev Cognit Neurosci 2(1):81–89

Ishikawa M, Itakura S (2018) Observing others' gaze direction affects infants' preference for looking at gazing-or gazed-at faces. Front Psychol 9:1503

Ishikawa M, Itakura S (2019) Physiological arousal predicts gaze following in infants. Proc R Soc B Biol Sci 286:20182746

Kim K, Mundy P (2012) Joint attention, social-cognition, and recognition memory in adults. Front Hum Neurosci 6:172

Leekam SR, Hunnisett E, Moore C (1998) Targets and cues: gaze-following in children with autism. J Child Psychol Psychiatry 39(7):951–962

Marno H, Davelaar EJ, Csibra G (2014) Nonverbal communicative signals modulate attention to object properties. J Exp Psychol Hum Percept Perform 40(2):752

Moore C, Corkum V (1998) Infant gaze following based on eye direction. Br J Dev Psychol 16(4):495–503

Mundy P (2003) Annotation: the neural basis of social impairments in autism: the role of the dorsal medial-frontal cortex and anterior cingulate system. J Child Psychol Psychiatry 44(6):793–809

Mundy P (2018) A review of joint attention and social-cognitive brain systems in typical development and autism spectrum disorder. Eur J Neurosci 47(6):497–514

Mundy P, Acra F (2006) Joint attention, social engagement and the development of social competence. In: Marshall P, Fox N (eds) The development of social engagement neurobiological perspectives. Oxford University Press, New York, pp 81–117

Mundy P, Gomes A (1998) Individual differences in joint attention skill development in the second year. Infant Behav Dev 21(3):469–482

Mundy P, Jarrold W (2010) Infant joint attention, neural networks and social cognition. Neural Netw 23(8):985–997

Mundy P, Newell L (2007) Attention, joint attention, and social cognition. Curr Dir Psychol Sci 16(5):269–274

Mundy P, Kim K, McIntyre N, Lerro L, Jarrold W (2016) Brief report: joint attention and information processing in children with higher functioning autism spectrum disorders. J Autism Dev Disord 46(7):2555–2560

Okumura Y, Kanakogi Y, Kanda T, Ishiguro H, Itakura S (2013) The power of human gaze on infant learning. Cognition 128(2):127–133

Posner MI (1980) Orienting of attention. Q J Exp Psychol 32(1):3–25

Reid VM, Striano T (2005) Adult gaze influences infant attention and object processing: implications for cognitive neuroscience. Eur J Neurosci 21(6):1763–1766

Schilbach M, Wilms SB, Eickhoff S, Romanzetti R, Tepest G Bente, Vogeley K (2010) Minds made for sharing: initiating joint attention recruits reward-related neurocircuitry. J Cognit Neurosci 22(12):2702–2715

Senju A, Johnson MH (2009) Atypical eye contact in autism: models, mechanisms and development. Neurosci Biobehav Rev 33(8):1204–1214

Striano T, Reid VM, Hoehl S (2006) Neural mechanisms of joint attention in infancy. Eur J Neurosci 23(10):2819–2823

Tomasello M (1988) The role of joint attentional processes in early language development. Lang Sci 10(1):69–88

Valenza E, Simion F, Cassia VM, Umiltà C (1996) Face preference at birth. J Exp Psychol Hum Percept Perform 22(4):892

Woodward AL (2003) Infants' developing understanding of the link between looker and object. Dev Sci 6(3):297–311
Acknowledgements
We appreciate the cooperation of all families that agreed to participate in this study. We would also like to thank the anonymous reviewers and colleagues who have given us useful feedback.
Funding
Young Fellowship grants to M.I from the Japan Society for the Promotion of Science and Grants to S.I from the Japan Society for the Promotion of Science (#25245067 and #16H06301) supported the research.
Ethics declarations
Conflict of interest
Authors have no conflicts of interest.
Ethical standard
Our experimental protocol was approved by the Research Ethics Review Board of the Department of Psychology, Kyoto University, Kyoto, Japan (protocol no. 28-P-12). The study was carried out in accordance with the provisions of the World Medical Association Declaration of Helsinki.
Informed consent
All participants gave their written informed consent to participate. All stimuli were originally created for this study, and persons represented in the figure were given informed consent and permitted to publish the images in all formats.
Additional information
Publisher's Note
Springer Nature remains neutral with regard to jurisdictional claims in published maps and institutional affiliations.
Handling editor: Katsumi Watanabe (Waseda University); Reviewers: Alicja Niedźwiecka (University of Warsaw), Ilaria Taglialatela Scafati (University of Edinburgh).
Electronic supplementary material
Below is the link to the electronic supplementary material.
About this article
Cite this article
Ishikawa, M., Yoshimura, M., Sato, H. et al. Effects of attentional behaviours on infant visual preferences and object choice. Cogn Process 20, 317–324 (2019). https://doi.org/10.1007/s10339-019-00918-x
Received:

Accepted:

Published:

Issue Date:
Keywords
Eye gaze

Visual preferences

Object choice

Initiating joint attention

Responding joint attention