Abstract
The Laboratory of the Neuropsychology and Cognitive Neurosciences Research Center (CINPSI Neurocog), located in the "Technological Park" building of the Catholic University of Maule (Universidad Católica del Maule, UCM) campus in Talca, Chile, has been established as "Psychology Lab" recently in July, 2016. Our lines of work include basic and applied research. Among the basic research, we study executive functions, decision-making, and spatial cognition. In the applied field, we have studied neuropsychological and neurobehavioral effects of pesticides exposure, among other interests. One of our aims is to develop collaboration both national and internationally. It is important to mention that to date there are only few psychology laboratories and research centers in Chile involved with the fields of neuropsychology and neurosciences. Thus, this scientific effort could be a groundbreaking initiative to develop specific knowledge in this area locally and interculturally through its international collaborations.
This is a preview of subscription content, log in to check access.
Access options
Buy single article
Instant access to the full article PDF.
US$ 39.95
Tax calculation will be finalised during checkout.
Subscribe to journal
Immediate online access to all issues from 2019. Subscription will auto renew annually.
US$ 99
Tax calculation will be finalised during checkout.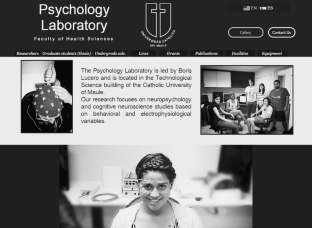 References
Aubin V, Mora M (2017) A new descriptor for person identity verification based on handwritten strokes off-line analysis. Expert Syst Appl 89:241–253

Baron-Cohen S (1995) Mindblindness: an essay on autism and theory of mind. MIT Press, Boston

Baron-Cohen S, Jolliffe T, Mortimore C, Robertson M (1997) Another advanced test of theory of mind: evidence from very high functioning adults with autism or Asperger syndrome. J Child Psychol Psychiatry 38:813–822

Barr DB, Bradman A, Freeman N, Whyatt RM, Wang RY, Naeher L, Eskenazi B (2006) Studying the relation between pesticide exposure and human development. Taylor and Francis, New York

Basso D, Bisiacchi PS, Cotelli M, Farinello C (2001) Planning times during traveling salesman's problem: differences between closed head injury and normal subjects. Brain Cogn 46:38–42

Bertolote JM, Fleischmann A (2002) A global perspective in the epidemiology of suicide. Suicidologi 7:6–7

Bridge JA, McBee-Strayer SM, Cannon EA, Sheftall AH, Reynolds B, Campo JV, Pajer KA, Barbe RP, Brent DA (2012) Impaired decision making in adolescent suicide attempters. J Am Acad Child Psychiatry 51:394–403

Brigham K, Kumar BV (2010) Subject identification from electroencephalogram (EEG) signals during imagined speech. In: 2010 Fourth IEEE international conference on biometrics: theory applications and systems (BTAS), IEEE, pp 1–8

Brunetti R, Del Gatto C, Delogu F (2014) eCorsi: implementation and testing of the Corsi block-tapping task for digital tablets. Front Psychol 5:939. https://doi.org/10.3389/fpsyg.2014.00939

Campisi P, La Rocca D (2014) Brain waves for automatic biometric-based user recognition. IEEE Trans Inf Forensics Secur 9:782–800

Campisi P, Scarano G, Babiloni F, Fallani FD, Colonnese S, Maiorana E, Forastiere L (2011) Brain waves based user recognition using the "eyes closed resting conditions" protocol. In: 2011 IEEE international workshop on information forensics and security (WIFS), IEEE, pp 1–6

Carlesimo GA, Fadda L, Lorusso S, Caltagirone C (1994) Verbal and spatial memory spans in Alzheimer's and multi-infarct dementia. Acta Neurol Scand 89:132–138

Chey J, Lee J, Kim YS, Kwon SM, Shin YM (2002) Spatial working memory span, delayed response and executive function in schizophrenia. Psychiatry Res 110:259–271

Corsi P (1972) Memory and the medial temporal region of the brain. Unpublished doctoral dissertation), McGill University, Montreal, QB

De Renzi E, Faglioni P, Previdi P (1977) Spatial memory and hemispheric locus of lesion. Cortex 13:424–433

Diamond A (2014) Want to optimize executive functions and academic outcomes? Simple, just nourish the human spirit. In: Minnesota symposia on child psychology, vol 37, pp 205–230, NIH Public Access

Dickman SJ (1993) Impulsivity and information processing. In: McCown WG, Johnson JL, Shure MB (eds) The impulsive client: theory, research, and treatment. American Psychological Association, Washington, DC, pp 151–184

Fan J, McCandliss BD, Sommer T, Raz A, Posner MI (2002) Testing the efficiency and independence of attentional networks. J Cogn Neurosci 14:340–347

Fan J, McCandliss BD, Fossella J, Flombaum JI, Posner MI (2005) The activation of attentional networks. Neuroimage 26:471–479

Gazzo Castañeda LE, Richter B, Knauff M (2016) Negativity bias in defeasible reasoning. Think Reason 22:209–220

Gehring WJ, Liu Y, Orr JM, Carp J (2012) The error-related negativity (ERN/Ne). Oxford handbook of event-related potential components, pp 231–291

Grillo A, Achú E, Muñoz-Quezada MT, Lucero B (2018) Exposure to organophosphate pesticides and peripheral polyneuropathy in workers from Maule Region, Chile. Rev Esp Salud Publ 92. https://www.msssi.gob.es/biblioPublic/publicaciones/recursos_propios/resp/revista_cdrom/VOL92/O_BREVES/RS92C_201803006.pdf

Haxby JV, Lundgren SL, Morley GK (1983) Short-term retention of verbal, visual shape and visuospatial location information in normal and amnesic subjects. Neuropsychologia 21:25–33

Hilton DJ, Jaspars JM, Clarke DD (1990) Pragmatic conditional reasoning: context and content effects on the interpretation of causal assertions. J Pragmat 14:791–812

Hirsh JB, Inzlicht M (2010) Error-related negativity predicts academic performance. Psychophysiology 47:192–196

Kong SG, Heo J, Abidi BR, Paik J, Abidi MA (2005) Recent advances in visual and infrared face recognition—a review. Comput Vis Image Underst 97:103–135

Lopez-Castroman J, Mendez-Bustos P, Perez-Fominaya M, Villoria Borrego L, Zamorano M, Molina CA, Lorie AV, Pacheco-Tabuenca T, Casado-Flores I, Baca-Garcia E (2015a) Code 100: a study on suicidal behavior in public places. Actas Esp Psiquiatr 43:142–148

Lopez-Castroman J, Baca-Garcia E, Authors Woreca, Courtet P, Oquendo MA (2015b) A cross-national tool for assessing and studying suicidal behaviors. Arch Suicide Res 19:335–349

Marcel S, Millán JDR (2007) Person authentication using brainwaves (EEG) and maximum a posteriori model adaptation. IEEE Trans Pattern Anal Mach Intell 29(4):743–752

Marsh DM, Dougherty DM, Mathias CW, Moeller FG, Hicks LR (2002) Comparison of women with high and low trait impulsivity using laboratory impulsivity models of response–disinhibition and reward–choice. Pers Individ Differ 33:1291–1310. https://doi.org/10.1016/S0191-8869(02)00014-4

Rathod VJ, Iyer NC, Meena, SM (2015) A survey on fingerprint biometric recognition system. In: 2015 international conference on green computing and internet of things (ICGCIoT), IEEE, pp 323–326

Mendez-Bustos P, León-Martínez V, López-Castroman J (2013a) The risk of suicide behaviors in affective disorders. In: Hambrick L (ed) Affective disorders: epidemiology, signs/symptoms and prognoses. Novinka, New York

Mendez-Bustos P, Lopez-Castroman J, Baca-García E, Ceverino A (2013b) Life cycle and suicidal behavior among women. Sci World J. https://doi.org/10.1155/2013/485851

Méndez-Bustos P, León-Martínez V, Miret M, Baca-García E, López-Castroman J (2013) Suicide reattempters: a systematic review. Harv Rev Psychiatry 21:281–295

Milner B (1971) Interhemispheric differences in the localization of psychological processes in man. Br Med Bull 27:272–277

Mueller ST, Piper BJ (2014) The psychology experiment building language (PEBL) and PEBL test battery. J Neurosci Methods 222:250–259

Muñoz MT, Iglesias VP, Lucero BA (2011) Exposición a organofosforados y desempeño cognitivo en escolares rurales chilenos: un estudio exploratorio [Exposure to organophosphates and cognitive performance in Chilean rural schoolchildren: an exploratory study]. Rev Fac Natl Salud Publ 29

Muñoz-Quezada MT, Lucero BA, Barr DB, Steenland K, Levy K, Ryan PB, Iglesias V, Alvarado S, Concha C, Rojas E, Vega C (2013) Neurodevelopmental effects in children associated with exposure to organophosphate pesticides: a systematic review. Neurotoxicology 39:158–168

Muñoz-Quezada MT, Lucero B, Iglesias V, Muñoz MP, Achú E, Cornejo C, Concha C, Grillo A, Brito AM (2016a) Organophosphate pesticides and neuropsychological and motor effects in the Maule Region, Chile. Gac Sanit 30:227–231

Muñoz-Quezada MT, Lucero B, Iglesias V, Muñoz MP, Cornejo C, Achú E, Hanchey A, Baumert B, Concha C, Brito AM (2016b) Chronic exposure to organophosphate (OP) pesticides and neuropsychological functioning in farm workers: a review. Int J Occup Environ Health 22(1):68–79

Muñoz-Quezada MT, Lucero B, Iglesias V, Levy K, Muñoz MP, Achú E, Cornejo C, Concha C, Brito AM, Villalobos M (2017) Exposure to organophosphate (OP) pesticides and health conditions in agricultural and non-agricultural workers from Maule, Chile. Int J Environ Health Res 27(1):82–93

Palaniappan R, Mandic DP (2007) Biometrics from brain electrical activity: a machine learning approach. IEEE Trans Pattern Anal Mach Intell 29:738–742

Pashler H (1994) Dual-task interference in simple tasks: data and theory. Psychol Bull 116:220

Patton JH, Stanford MS, Barratt ES (1995) Factor structure of the Barratt Impulsiveness Scale. J Clin Psychol 51:768–774

Pollock JL (1987) Defeasible reasoning. Cogn Sci 11:481–518

Ramírez V, Rosas R (2007a) Estandarización del WISC-III en Chile: descripción del Test, Estructura Factorial y Consistencia Interna de las Escalas [Standardization of the WISC-III in Chile: Description of the Test, Factorial Structure and Internal Consistency of the Scales]. Psykhe (Santiago) 16:91–109. https://doi.org/10.4067/S0718-22282007000100008

Ramírez V, Rosas R (2007b) Test de inteligencia para niños de Wechsler WISC-III, versión chilena [Intelligence test for children of Wechsler WISC-III, Chilean version]. Ediciones UC, Santiago de Chile

Rueda MR, Fan J, McCandliss BD, Halparin JD, Gruber DB, Lercari LP, Posner MI (2004) Development of attentional networks in childhood. Neuropsychologia 42:1029–1040. https://doi.org/10.1016/j.neuropsychologia.2003.12.012

Russo PM, De Pascalis V, Varriale V, Barratt ES (2008) Impulsivity, intelligence and P300 wave: an empirical study. Int J Psychophysiol 69:112–118. https://doi.org/10.1016/j.ijpsycho.2008.03.008

Saracini C, Basso D, Olivetti Belardinelli M (2008a) A rTMS study of planning using the 3D maps task. In: Spatial cognition 2008 conference proceedings, Freiburg

Saracini C, Basso D, Olivetti Belardinelli M (2008b) Repetitive TMS stimulation on virtual 3D navigation: gender differences in frontal and parietal involvement. In: 20th IAPS conference proceedings, Rome, Italy

Saracini C, Masik S, Wienert O, Basso D, Blümel E Olivetti-Belardinelli M (2010) Influences of different visualization systems on performances in a planning and wayfinding test. In: Spatial cognition 2010 Doctoral Colloquium Proceedings, Mt. Hood, Portland, OR, USA

Smyth MM, Scholey KA (1994) Interference in immediate spatial memory. Mem Cogn 22:1–13

Snyder KE, Nietfeld JL, Linnenbrink-Garcia L (2011) Giftedness and metacognition: a short-term longitudinal investigation of metacognitive monitoring in the classroom. Gift Child Q 55(3):181–193

Srinivasan N, Gupta R (2010) Emotion-attention interactions in recognition memory for distractor faces. Emotion 10:207

Srinivasan N, Hanif A (2010) Global-happy and local-sad: perceptual processing affects emotion identification. Cogn Emot 24:1062–1069

Wasserman D, Rihmer Z, Rujescu D, Sarchiapone M, Sokolowski M, Titleman D, Zalsman G, Zemishlany Z, Carli V (2012) The European Psychiatric Association (EPA) guidance on suicide treatment and prevention. Eur Psychiatry 27:129–141

Wildes RP (1997) Iris recognition: an emerging biometric technology. Proc IEEE 85:1348–1363

World Health Organization (2014) Suicide prevention. A global imperative. http://www.who.int/mental_health/suicide-prevention/exe_summary_english.pdf?ua=1
Acknowledgements
The funding was provided by Proyecto de Investigación e Innovación SUSESO (Grant No. 53/2016) and Fondo Nacional de Desarrollo Científico y Tecnológico (Grant No. 11150784).
Ethics declarations
Conflict of interest
The authors declare that they have no conflict of interest.
Human and animal rights
The manuscript has not been published previously (partly or in full). All procedures performed in studies involving human participants mentioned here were in accordance with the ethical standards of the institutional and/or national research committee and with the 1964 Declaration of Helsinki and its later amendments or comparable ethical standards.
Informed consent
Informed consent was obtained from all individual participants included in the studies mentioned in this paper.
Additional information
Handling editor: Maria Casagrande (Sapienza University of Rome).
About this article
Cite this article
Lucero, B., Saracini, C., Muñoz-Quezada, M.T. et al. Laboratory of the Neuropsychology and Cognitive Neurosciences Research Center of Universidad Católica del Maule, Chile. Cogn Process 19, 465–472 (2018). https://doi.org/10.1007/s10339-018-0871-8
Received:

Accepted:

Published:

Issue Date:
Keywords
Executive functions

Spatial cognition

Neuropsychology