Abstract
The design process in Kashmiri carpet weaving is distributed over a number of actors and artifacts and is mediated by a weaving notation called talim. The script encodes entire design in practice-specific symbols. This encoded script is decoded and interpreted via design-specific conventions by weavers to weave the design embedded in it. The cognitive properties of this notational system are described in the paper employing cognitive dimensions (CDs) framework of Green (People and computers, Cambridge University Press, Cambridge, 1989) and Blackwell et al. (Cognitive technology: instruments of mind—CT 2001, LNAI 2117, Springer, Berlin, 2001). After introduction to the practice, the design process is described in 'The design process' section which includes coding and decoding of talim. In 'Cognitive dimensions of talim' section, after briefly discussing CDs framework, the specific cognitive dimensions possessed by talim are described in detail.
Access options
Buy single article
Instant access to the full article PDF.
USD 39.95
Price includes VAT (USA)
Tax calculation will be finalised during checkout.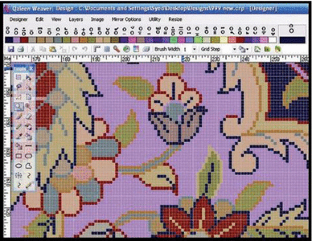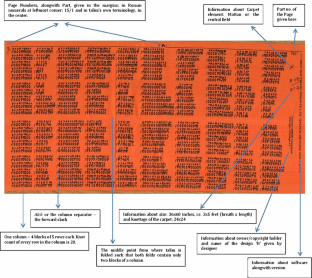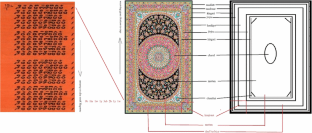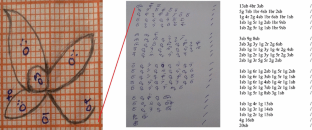 Notes
1.

A short period was spent at Amritsar in 2015 to assess the talim usage there, but due to religious disturbances during the time of fieldwork, the work was suspended.

2.

Warp threads are vertically fixed on the loom and weft threads are those with which knots are woven, thus completing the horizontal structure.

3.

The developmental trajectory of graph and talim is discussed in a separate paper (under review) which also includes a contrast between manual and digital setting.

4.

I am grateful to the anonymous reviewer for pointing this out.
References
Blackwell AF, Green TRG, Nunn DJE (2000) Cognitive dimensions and musical notation systems. Workshop on notation and music information retrieval in the computer age (ICMC 2000), Berlin

Blackwell AF, Britton C, Cox A, Green TRG, Gurr C, Kadoda G, Kutar MS, Loomes M, Nehaniv CL, Petre M, Roast C, Roe C, Wong A, Young RM (2001) Cognitive dimensions of notations: design tools for cognitive technology. In: Beynon M, Nehaniv CL, Dautenhahn K (eds) Cognitive technology: instruments of mind - CT 2001, LNAI 2117. Springer, Berlin, pp 325–341

Cox K (2000) Cognitive dimensions of use cases - feedback from a student questionnaire. In: Blackwell AF and Bilotta E (eds) Proceedings of Psychology of Programming Interest Group, (PPIG-12), Cozenza

Dagit J, Lawrence J, Neumann C, Burnett M, Metoyer R, Adams S (2006) Using cognitive dimensions: advice from the trenches. J Vis Lang Comput 17(4):302–327

Dearden A, Siddiqi J, Naghsh A (2003) Using cognitive dimensions to compare prototyping techniques. In: Proceedings of 15th annual workshop of the Psychology of Programming Interest Group (PPIG 2003)

Gans-Reudin E (1984) Indian carpets: with 280 illustrations, 120 in colour. Thames and Hudson, London

Goswami KK (2009) Developments in handmade carpets: an introduction. In: Goswami KK (ed) Advances in carpet manufacture. Woodhead Publishing Ltd., Oxford, pp 138–181

Green TRG (1989) Cognitive dimensions of notations. In: Sutcliffe VA, Macaulay L (eds) People and computers. Cambridge University Press, Cambridge, pp 443–460

Green TRG (1999) Building and manipulating complex information structures: issues in prolog programming. In: Brna P, du Boulay B, Pain H (eds) Learning to build and comprehend complex information structures: prolog as a case study. Ablex Publishing, New york, pp 7–27

Green TRG (2000) Instructions and descriptions: some cognitive aspects of programming and similar activities.In: Proceedings of working conference on Advanced Visual Interfaces (AVI 2000), ACM Press, New York, pp 21–28

Green TRG, Blackwell AF (1998) Cognitive dimensions of information artefacts: a tutorial. Available online at http://iihm.imag.fr/blanch/ens/2010-2011/M1/EIHM/cours/1998-Green-CognitiveDimensions.pdf

Green TRG, Petre M (1996) Usability analysis of visual programming environments: a 'cognitive dimensions' framework. J Vis Lang Comput 7:131–174

Green TRG, Blandford AE, Church L, Roast CR, Clarke S (2006) Cognitive dimensions: achievements, new directions, and open questions. J Vis Lang Comput 17:328–365

Harris P (1991) The Kashmir shawl: lessons in history and studies in technology. Ars Textrina 16:105–127

Harris P (2000) Decoding the talim. Hali 110:82–83

Harris P (2001) Kashmiri Shawl Survival. Textile Forum, No. 3 August

Harris P (2003) Digital images in Kashmir shawl weaving. Complex Weav J 71

Harris P (2007) An eighteenth century digital technology. Cahiers métiers d'art*Craft J 1(1). Available online at http://tapadesi.com/published-articles/

Hendry DG, Green TRG (1994) Creating, comprehending and explaining spreadsheets: a cognitive interpretation of what discretionary users think of the spreadsheet model. Int J Hum Comput Stud 40:1033–1065

Hendry DG, Harper DJ (1996) An informal information-seeking environment. J Am Soc Inf Sci 48(11):1036–1048

Kutar M, Britton C, Wilson J (2000) Cognitive dimensions – an experience report. In: Blackwell AF, Bilotta E (eds) Proceeding of the 12th annual meeting of the Psychology of Programming Interest Group (PPIG 2000), Italy, pp 81–98

Lawrence W (1895) The valley of Kashmir. Oxford University Press, London

Leitner GW (1882) Linguistic fragments discovered in 1870, 1872 and 1879 relating to the dialect of the magadds, and other wandering tribes, the argots of thieves, the secret of trade-dialects and systems of native cryptography in Kabul, Kashmir and the Punjab followed by an account of shawl-weaving. Punjab Government Civil Secretariat Press, Lahore

Mathur AR (2004) Indian carpets: a hand-knotted heritage. Rupa & Co., New Delhi

Modungo F, Green TRG, Myers BA (1994) Visual programming in a visual domain: a case study of cognitive dimensions. In: Cockton G, Draper SW, Weir GRS (eds) Peoples and computers IX: proceedings of HCI'94. Cambridge University Press, Cambridge, pp 91–108

Moorcroft W, Trebeck G (1841) Travels in the Himalayan Provinces of Hindustan and the Punjab, Ladakh and Kashmir; in Peshawar, Kabul, Kunduz and Bokhara: From 1819 to 1825, vol 2. John Murray, London

Nash C (2015) The cognitive dimensions of music notations.In: International conference on technologies for music notation and representation (TENOR-2015), France, pp 191–203. Available online at http://tenor2015.tenor-conference.org/TENOR2015-Proceedings.pdf

Petre M, Green TRG (1992) Requirements of graphical notations for professional users: electronics CAD systems as a case study. Le Travail Humain 55(1):47–70

Roy T (2004) Traditional industry in the economy of colonial india. Cambridge University Press, Cambridge

Sajnani M (2001) Encyclopaedia of Tourism Resources in India, Vol. 1.Gyan Publishing House, India

Saraf DN (1987) Arts and crafts, Jammu and Kashmir: land, people, culture. Abhinav Publications, New Delhi

Shum S (1991) Cognitive dimensions of design rationale. In: Diaper D, Hammond NV (eds) People and computers VI: proceedings of HCI'91. Cambridge University Press, Cambridge, pp 331–344

Stenning K, Oberlander J (1995) A cognitive theory of graphical and linguistic reasoning: logic and implementation. Cogn Sci 19(1):97–140

Tukianen M (2001) Evaluation of the cognitive dimensions questionnaire and some thoughts about the cognitive dimensions of spreadsheet calculation. In: Kadoda G (ed) Proceedings of 13th annual workshop on Psychology of Programming (PPIG-13), pp 291–301

Whitley KN, Blackwell AF (1997) Visual programming: the outlook from academia and industry. In: Proceeding of ESP '97, 7th workshop on empirical studies of programmers, pp 180–208
Acknowledgements
I am thankful to National Institute of Advanced Studies (NIAS), Bengaluru, and its Consciousness Studies Programme for supporting this work and funding the fieldwork conducted during 2015. I am obliged to Ms. Aamina Assad, Chief Designer, School of Designs (SoD), Mr. Gazanfar Ali, the then Director, Directorate of Handicrafts—Massive Carpets Scheme (MCS), Mr. Zubair Ahmad, Director, Indian Institute of Carpet Technology (IICT), all in Srinagar, for facilitating my work at their respective institutions. The consent form used during 2015 was translated by Prof. Mushtak Haider, University of Kashmir. I am thankful to M/s BMW Designers and Sajad Nazir, Srinagar, for permitting me to reproduce the talim roll, a talim excerpt, graph and their respective designs in the paper whose copyright they hold. I am indebted to Prof. Siby George, IIT Bombay, for giving me feedback on the paper. I am grateful to all my respondents for giving me their invaluable time.
Additional information
Handling Editor: Ekaterina Shutova (University of Cambridge).
Reviewers: Alan Blackwell (University of Cambridge), Marian Petre (The Open University).
About this article
Cite this article
Kaur, G.D. Cognitive dimensions of talim: evaluating weaving notation through cognitive dimensions (CDs) framework. Cogn Process 18, 145–157 (2017). https://doi.org/10.1007/s10339-016-0788-z
Received:

Accepted:

Published:

Issue Date:
Keywords
Talim

Cognitive dimensions

Design process

Kashmiri carpet weaving

Carpet designing

Graph