Abstract
During object-based sensorimotor tasks, humans look at target locations for subsequent hand actions. These anticipatory eye movements or guiding fixations seem to be necessary for a successful performance. By practicing such a sensorimotor task, humans become faster and perform fewer guiding fixations (Foerster and Schneider, In Prep; Foerster et al. in J Vis 11(7):9:1–16, 2011). We aimed at clarifying whether this decrease in guiding fixations is the cause or effect of faster task completion time. Participants may learn to use less visual input (fewer fixations) allowing shorter completion times. Alternatively, participants may speed up their hand movements (e.g., more efficient motor control) leaving less time for visual intake. The latter would imply that the number of fixations is directly connected to task speed. We investigated the relationship between the number of fixations and task speed in a computerized version of the number connection task (Foerster and Schneider in Ann N Y Acad Sci 2015. doi:10.1111/nyas.12729). Eye movements were recorded while participants clicked in ascending order on nine numbered circles. In 90 learning trials, they clicked the sequence with a constant spatial configuration as fast as possible. In the subsequent experimental phase, they should perform 30 trials again under high-speed instruction and 30 trials under slow-speed instruction. During slow-speed instruction, fixation rates were lower with longer fixation durations and more fixations were performed than during high-speed instruction. The results suggest that the number of fixations depends on both the need for visual intake and task completion time. It seems that the decrease in anticipatory eye movements through sensorimotor learning is at the same time a result and a cause of faster task performance.
This is a preview of subscription content,
to check access.
Access this article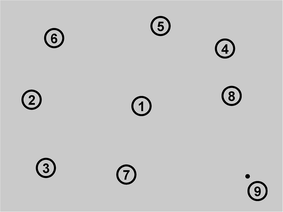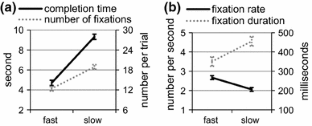 References
Abrams RA, Meyer DE, Kornblum S (1990) Eye-hand coordination: oculomotor control in rapid aimed limb movements. J Exp Psychol Hum Percept Perform 16:248–267

Epelboim JL, Steinman RM, Kowler E et al (1995) The function of visual search and memory in sequential looking tasks. Vision Res 35:3401–3422

Foerster RM, Schneider WX. Robust sequential scanning of remembered action-target locations: LTM-based sequential attention and gaze shifts in the number connection test (manuscript in preparation)

Foerster RM, Schneider WX (2015) Expectation violations in sensorimotor sequences: shifting from LTM-based attentional selection to visual search. Ann N Y Acad Sci. doi:10.1111/nyas.12729

Foerster RM, Carbone E, Koesling H, Schneider WX (2011) Saccadic eye movements in a high-speed bimanual stacking task: Changes of attentional control during learning and automatization. J Vis 11(7):9:1–16. doi:10.1167/11.7.9

Foerster RM, Carbone E, Koesling H, Schneider WX (2012) Saccadic eye movements in the dark while performing an automatized sequential high-speed sensorimotor task. J Vis 12(2):8:1–15. doi:10.1167/12.2.8

Hayhoe MM, Shrivastava A, Mruczek R, Pelz JB (2003) Visual memory and motor planning in a natural task. J Vis 3:49–63. doi:10.1167/3.1.6

Land MF, Tatler BW (2009) Looking and acting. Oxford University Press, New York

Land M, Mennie N, Rusted J (1999) The roles of vision and eye movements in the control of activities of daily living. Perception 28:1311–1328. doi:10.1068/p2935

Prablanc C, Echallier JF, Komilis E, Jeannerod M (1979) Optimal response of eye and hand motor systems in pointing at a visual target. Biol Cybern 35:113–124

Prablanc C, Pellison D, Goodale MA (1986) Visual control of reaching movements without vision of the limb. Exp Brain Res 62:293–302

Sailer U, Flanagan JR, Johansson RS (2005) Eye-hand coordination during learning of a novel visuomotor task. J Neurosci 25:8833–8842. doi:10.1523/JNEUROSCI.2658-05.2005
Acknowledgments
This research was supported by the Cluster of Excellence Cognitive Interaction Technology 'CITEC' (EXC 277) at Bielefeld University, which is funded by the German Research Foundation (DFG).
About this article
Cite this article
Foerster, R.M., Schneider, W.X. Anticipatory eye movements in sensorimotor actions: on the role of guiding fixations during learning. Cogn Process 16 (Suppl 1), 227–231 (2015). https://doi.org/10.1007/s10339-015-0701-1
Published:

Issue Date:

DOI: https://doi.org/10.1007/s10339-015-0701-1
Keywords