Abstract
This paper examines whether cross-linguistic differences in motion encoding affect event processing, specifically memory performance. We compared speakers of two languages which differ strikingly in how they habitually encode Manner and Path of motion (Talmy in Toward a cognitive semantics: typology and process in concept structuring, 2nd edn, vol 2. MIT Press, Cambridge, 2000). We tested French and English adult native speakers across three tasks that recruited and/or suppressed verbal processing to different extents: verbal event descriptions elicited on the basis of dynamic motion stimuli, a verbal memory task testing the impact of prior verbalisation on target recognition, and a non-verbal memory task, using a dual-task paradigm to suppress internal verbalisation. Results showed significant group differences in the verbal description task, which mirrored expected typological tendencies. English speakers more frequently expressed both Manner and Path information than French speakers, who produced more descriptions encoding either Path or Manner alone. However, these differences in linguistic encoding did not significantly affect speakers' memory performance in the memory recognition tasks, neither in the verbal nor in the non-verbal condition. The findings contribute to current debates regarding the conditions under which language effects occur and the relative weight of language-specific and universal constraints on spatial cognition.
Access options
Buy single article
Instant access to the full article PDF.
US$ 39.95
Tax calculation will be finalised during checkout.
Subscribe to journal
Immediate online access to all issues from 2019. Subscription will auto renew annually.
US$ 79
Tax calculation will be finalised during checkout.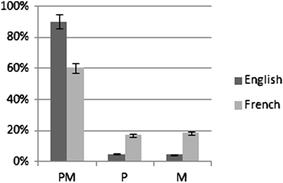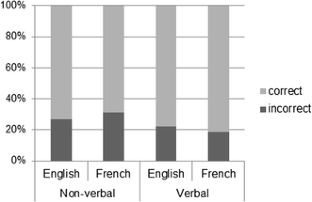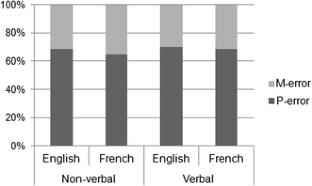 Notes
1.

These results are based on verbal descriptions elicited in phase 1 of the verbal memory task, to avoid contamination by prior memorisation, as in the non-verbal memory task.
References
Athanasopoulos P, Bylund E (2013) Does grammatical aspect affect motion event cognition? A cross-linguistic comparison of English and Swedish speakers. Cogn Sci 37:286–309

Choi S, Hattrup K (2012) Relative contribution of cognition/perception and language on spatial categorization. Cogn Sci 36:102–129

Filipović L (2011) Speaking and remembering in one or two languages: bilingual vs. monolingual Lexicalization and memory for motion events. Int J Biling 15:466–485

Gennari SP, Sloman SA, Malt BC, Fitch WT (2002) Motion events in language and cognition. Cognition 83:49–79

Hickmann M, Engemann H, Soroli E, Hendriks H, Vincent C (2015) Expressing and categorizing motion in French and English: verbal and non-verbal cognition across languages. In: Ibarretxe-Antuñano I (ed) Motion and space across languages and applications. John Benjamins, Amsterdam

Papafragou A, Massey C, Gleitman L (2002) Shake, rattle, 'n' roll: the representation of motion in language and cognition. Cognition 84:189–219

Papafragou A, Hulbert J, Trueswell J (2008) Does language guide event perception? Evidence from eye movements. Cognition 108:155–184

Slobin DI (2004) How People move: Discourse effects of linguistic typology. In: Moder CL, Martinovic-Zic A (eds) Discourse across languages and cultures. John Benjamins, Amsterdam, pp 195–210

Talmy L (2000) Toward a cognitive semantics: typology and process in concept structuring, vol 2, 2nd edn. MIT Press, Cambridge

Trueswell JC, Papafragou A (2010) Perceiving and remembering events cross-linguistically: evidence from dual-task paradigms. J Mem Lang 63:64–82
About this article
Cite this article
Engemann, H., Hendriks, H., Hickmann, M. et al. How language impacts memory of motion events in English and French. Cogn Process 16, 209–213 (2015). https://doi.org/10.1007/s10339-015-0696-7
Keywords
Spatial cognition

Cross-linguistic variation

Motion events

Memory

Language and thought