Abstract
This study proposed the use of assistive technology (AT) to promote communication and leisure opportunities by three children with traumatic brain injury (TBI). Furthermore, it assessed the effects of such technology on the indices of positive participation and provided a social validation procedure. Three children emerged from a minimal conscious state and presenting extensive motor disabilities were involved. The intervention program allowed the participants to request and to choice preferred items independently and to perform literacy through a keyboard emulator. A multiple probe design across behaviors with post-intervention check was employed. Outcome measures were correct requests, understandable words, intervals with positive participation, and scores of social validation assessment. Request and choice behaviors and literacy improved significantly during intervention phases. During post-intervention check, all participants consolidated their performance. Moreover, indices of positive participation increased during intervention phases. Scores of social validation assessment showed that the combination of both behaviors was preferable to the same considered separately. AT program showed to be suitable for promoting constructive engagement and literacy behaviors by children with TBI. Future research is needed to generalize this data to a larger sample and to develop new technology for people with different levels of disabilities due to TBI.
Access options
Buy single article
Instant access to the full article PDF.
USD 39.95
Price excludes VAT (USA)
Tax calculation will be finalised during checkout.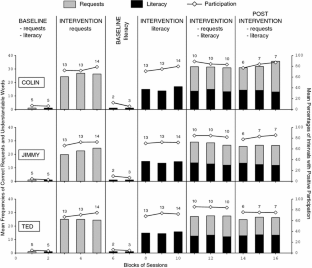 Abbreviations
AT:

Assistive technology

CRS:

Coma recovery scale

CT:

Computerized tomography

RCF:

Rancho cognitive functioning

TBI:

Traumatic brain injury
References
Anderson V, Eren S, Dob R, Le Brocque R, Iselin G, Davern TJ, Mc Kinlay L, Kenardy J (2012) Early attention impairment and recovery profiles after childhood traumatic brain injury. J Head Trauma Rehabil 27:199–209

Caffò AO, Hoogeveen F, Groenendaal M, Perilli V, Marjori D, Stasolla F, Lancioni GE, Bosco A (2014) Comparing two different orientation strategies for promoting indoor traveling in people with Alzheimer's disease. Res Dev Disabil 35:572–580

Chiapparino C, Stasolla F, De Pace C, Lancioni GE (2011) A touch pad and a scanning keyboard emulator to facilitate writing by a woman with extensive motor disability. Life Span Disabil 14:45–54

Crawford MR, Schuster JW (1993) Using microswitches to teach toy use. J Dev Phys Disabil 5:349–368

Felce D, Perry J (1995) Quality of life: its definition and measurement. Res Dev Disabil 16:51–74

Giacino JT, Kalmar K, Whyte J (2004) The JFK coma recovery scale–revised: measurement characteristics and diagnostic utility. Arch Phys Med Rehabil 85:2020–2029

Hagen C (1998) Levels of cognitive functioning. Rehabilitation of the head injured adult: comprehensive physical management, 3rd edn. Professional Staff Association of the Rancho Los Amigos Hospital Inc., Dowey

Kramer M, Suskauer SJ, Christensen JR, DeMatt EJ, Trovato MK, Salorio CF, Slomine B (2013) Examining acute rehabilitation outcomes for children with total functional dependence after traumatic brain injury: a pilot study. J Head Trauma Rehabil 28:361–370

Lancioni GE, Singh NN (2014) Assistive technologies for people with diverse abilities. Springer, New York

Lancioni GE, Singh NN, O'Reilly MF, Oliva D (2005) Microswitch programs for persons with multiple disabilities: an overview of the responses adopted for microswitch activation. Cogn Process 6:177–188

Lancioni GE, O'Reilly MF, Singh NN, Groeneweg J, Bosco A, Tota A, Smaldone A, Stasolla F, Manfredi F, Baccani S, Pidala S (2006a) A social validation assessment of microswitch-based programs for persons with multiple disabilities employing teacher trainees and parents as raters. J Dev Phys Disabil 18:383–391

Lancioni GE, Singh NN, O'Reilly MF, Oliva D, Smaldone A, Tota A, Martielli G, Stasolla F, Pontiggia G, Groeneweg J (2006b) Assessing the effects of stimulation versus microswitch-based programmes on indices of happiness of students with multiple disabilities. J Intellect Disabil Res 50:739–747

Lancioni GE, O' Reilly MF, Singh NN, Sigafoos J, Chiapparino C, Stasolla F, Bosco A, De Pace C, Oliva D (2007a) Enabling a young man with minimal motor behaviour to manage independently his leisure television engagement. Percept Mot Skills 104:47–54

Lancioni GE, Singh NN, O'Reilly MF, Sigafoos J, Chiapparino C, Stasolla F, Oliva D (2007b) Using an optic sensor and a scanning keyboard emulator to facilitate writing by persons with pervasive motor disabilities. J Dev Phys Disabil 19:593–603

Lancioni GE, Singh NN, O'Reilly MF, Sigafoos J, Green V, Chiapparino C, Stasolla F, Oliva D (2009) A voice detecting sensor and a scanning keyboard emuloator to support word writing by two boys with extensive motor disabilities. Res Dev Disabil 30:203–209

Lancioni GE, Bosco A, Belardinelli MO, Singh NN, O'Reilly MF, Sigafoos J (2010a) An overview of intervention options for promoting adaptive behavior of persons with acquired brain injury and minimally conscious state. Res Dev Disabil 31:1121–1134

Lancioni GE, O'Reilly MF, Singh NN, Green V, Chiapparino C, De Pace C, Alberti G, Stasolla F (2010b) Use of microswitch technology and a keyboard emulator to support literacy performance of persons with extensive neuro-motor disabilities. Dev Neurorehabil 13:248–257

Lancioni GE, Singh NN, O'Reilly MF, Sigafoos J, Ferlisi G, Ferrarese G, Zullo V, Addante LM, Spica A, Oliva D (2012) Technology-aided programs for assisting communication and leisure engagement of persons with amyotrophic lateral sclerosis: two single-case studies. Res Dev Disabil 32:1605–1614

Lancioni GE, O'Reilly MF, Singh NN, Sigafoos J, Rigante V, Franciscis L, Stasolla F, Perilli V, Lang R (2013a) A further evaluation of the impact of self-regulated music stimulation on positive participation of patients with Alzheimer's disease. J Dev Phys Disabil 25:273–283

Lancioni GE, Singh NN, O'Reilly MF, Sigafoos J, Buonocunto F, Sacco V, Navarro J, Lanzilotti C, D'Amico F, Sasanelli G, De Tommaso M, Megna M (2013b) Technology-aided recreation and communication opportunities for post-coma persons affected by lack of speech and extensive motor impairment. Res Dev Disabil 34:2959–2966

Lidstrom H, Almqvist L, Hemmingsson H (2012) Computer-based assistive technology device for use by children with physical disabilities: a cross-sectional study. Disabil Rehabil Assist Technol 7:287–293

Ratliffe KT, Rao K, Skouge JR, Peter J (2012) Navigating the currents of change: technology, inclusion, and access for people with disabilities in the Pacific. Inform Technol Dev 18:209–225

Sasse N, Gibbons H, Wilson L, Martinez-Olivera R, Schmidt H, Hasselhorn M, von Wild K, von Steinbuchel N (2013) Self-awareness and health-related quality of life after traumatic brain injury. J Head Trauma Rehabil 28:464–472

Stasolla F, Caffò AO (2013) Promoting adaptive behaviors by two girls with Rett syndrome through a microswitch-based program. Res Autism Spectr Disord 7:1265–1272

Stasolla F, De Pace C (2014) Assistive technology to promote leisure and constructive engagement by two boys emerged from a minimal conscious state. NeuroRehabilitation. doi:10.3233/NRE-141112

Stasolla F, Caffò AO, Picucci L, Bosco A (2013) Assistive technology for promoting choice behaviors in three children with cerebral palsy and severe communication impairments. Res Dev Disabil 34:2694–2700

Stasolla F, Damiani R, Caffò AO (2014a) Promoting constructive engagement by two boys with autism spectrum disorders and high functioning through behavioral interventions. Res Autism Spectr Disord 8:376–380

Stasolla F, Perilli V, Damiani R (2014b) Self monitoring to promote on-task behavior by two high functioning boys with autism spectrum disorders and symptoms of ADHD. Res Autism Spectr Disord 8:472–479

Stasolla F, Perilli V, Damiani R, Caffò AO, Di Leone A, Albano V, Stella A, Damato C (2014c) A microswitch-cluster program to enhance object manipulation and to reduce hand mouthing by three boys with autism spectrum disorders and intellectual disabilities. Res Autism Spectr Disord 8:1071–1078
About this article
Cite this article
Stasolla, F., Caffò, A.O., Damiani, R. et al. Assistive technology-based programs to promote communication and leisure activities by three children emerged from a minimal conscious state. Cogn Process 16, 69–78 (2015). https://doi.org/10.1007/s10339-014-0625-1
Received:

Accepted:

Published:

Issue Date:

DOI: https://doi.org/10.1007/s10339-014-0625-1
Keywords
Assistive technology

Traumatic brain injury

Post-coma

Minimal conscious state

Quality of life

Social validation