Abstract
We investigated whether the extra-/introversion personality dimension can influence processing of others' eye gaze direction and emotional facial expression during a target detection task. On the basis of previous evidence showing that self-reported trait anxiety can affect gaze-cueing with emotional faces, we also verified whether trait anxiety can modulate the influence of intro-/extraversion on behavioral performance. Fearful, happy, angry or neutral faces, with either direct or averted gaze, were presented before the target appeared in spatial locations congruent or incongruent with stimuli's eye gaze direction. Results showed a significant influence of intra-/extraversion dimension on gaze-cueing effect for angry, happy, and neutral faces with averted gaze. Introverts did not show the gaze congruency effect when viewing angry expressions, but did so with happy and neutral faces; extraverts showed the opposite pattern. Importantly, the influence of intro-/extraversion on gaze-cueing was not mediated by trait anxiety. These findings demonstrated that personality differences can shape processing of interactions between relevant social signals.
Access options
Buy single article
Instant access to the full article PDF.
US$ 39.95
Tax calculation will be finalised during checkout.
Subscribe to journal
Immediate online access to all issues from 2019. Subscription will auto renew annually.
US$ 79
Tax calculation will be finalised during checkout.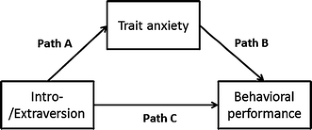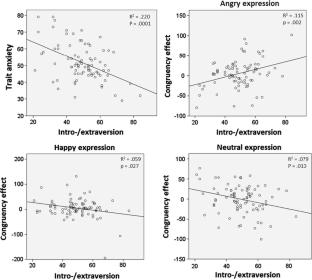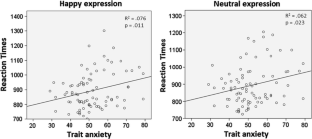 References
Adams RB, Kleck RE (2003) Perceived gaze direction and the processing of facial displays of emotion. Psychol Sci 14:644–647

Adams RB, Gordon HL, Baird AA, Ambady N, Kleck RE (2003) Effects of gaze on amygdala sensitivity to anger and fear faces. Science 300:1536

Baron RM, Kenny DA (1986) The moderator-mediator variable distinction in social psychological research: conceptual, strategic, and statistical considerations. J Pers Soc Psychol 51:1173–1182

Bayliss AP, di Pellegrino G, Tipper SP (2005) Sex differences in eye gaze and symbolic cueing of attention. Q J Exp Psychol 58:631–650

Canli T, Sivers H, Whitfield SL, Gotlib IH, Gabrieli JD (2002) Amygdala response to happy faces as a function of extraversion. Science 296:2191

Caprara GV, Barbaranelli C, Borgogni L, Perugini M (1993) The big five questionnaire: a new questionnaire to assess the five factor model. Pers Individ Dif 15:281–288

Cristinzio C, N'Diaye K, Seeck M, Vuilleumier P, Sander D (2010) Integration of gaze direction and facial expression in patients with unilateral amygdala damage. Brain 133:248–261

Dalton KM, Nacewicz BM, Johnstone T, Schaefer HS, Gernsbacher MA, Goldsmith HH, Alexander AL, Davidson RJ (2005) Gaze fixation and the neural circuitry of face processing in autism. Nat Neurosci 8:519–526

Ekman P, Friesen WV (1976) Pictures of facial affect series. Consulting Psychologists Press, Palo Alto, CA

Eysenck HJ (1967) The biological basis of personality. Charles C. Thomas, Springfield, IL

Fox E, Mathews A, Calder AJ, Yiend J (2007) Anxiety and sensitivity to gaze direction in emotionally expressive faces. Emotion 7:478–486

Frischen A, Bayliss AP, Tipper SP (2007) Gaze cueing of attention: visual attention, social cognition, and individual differences. Psychol Bull 133:694–724

Ganel T, Goshen-gottstein Y, Goodale MA (2005) Interactions between the processing of gaze direction and facial expression. Vis Res 45:1191–1200

Hadjikhani N, Hoge R, Snyder J, de Gelder B (2008) Pointing with the eyes: the role of gaze in communicating danger. Brain Cogn 68:1–8

Hietanen JK, Leppänen JM (2003) Does facial expression affect attention orienting by gaze direction cues? J Exp Psychol Hum Percept Perform 29:1228–1243

Horley K, Williams LM, Gonsalvez C, Gordon E (2003) Social phobics do not see eye to eye: a visual scanpath study of emotional expression processing. J Anxiety Disord 17:33–44

Horley K, Williams LM, Gonsalvez C, Gordon E (2004) Face to face: visual scanpath evidence for abnormal processing of facial expressions in social phobia. Psychiatry Res 127:43–53

Janowsky DS, Morter S, Tancer M (2000) Over-representation of Myers Briggs Type Indicator introversion in social phobia patients. Depress Anxiety 11:121–125

Mathews AM, Fox E, Yiend J, Calder A (2003) The face of fear: effects of eye-gaze and emotion on visual attention. Vis Cogn 10:823–835

Moukheiber A, Rautureau G, Perez-Diaz F, Soussignan R, Dubal S, Jouvent R, Pelissolo A (2010) Gaze avoidance in social phobia: objective e measure and correlates. Behav Res Ther 48:147–151

Mumenthaler C, Sander D (2012) Social appraisal influences recognition of emotions. J Pers Soc Psychol 102:1118–1135

N'Diaye K, Sander D, Vuilleumier P (2009) Self-relevance processing in the human amygdala: gaze direction, facial expression, and emotion intensity. Emotion 9:798–806

Öhman A (1986) Face the beast and fear the face: animal and social fears as prototypes for evolutionary analyses of emotion. Psychophysiology 23:123–145

Putman P, Hermans E, Van Honk J (2006) Anxiety meets fear in perception of dynamic expressive gaze. Emotion 6:94–102

Richards A, French CC (1991) Effects on encoding and anxiety on implicit and explicit memory performance. Pers Individ Dif 12:131–139

Sander D, Grafman J, Zalla T (2003) The human amygdala: an evolved system for relevance detection. Rev Neurosci 14:303–316

Schwerdtfeger A (2006) Trait anxiety and autonomic indicators of the processing of threatening information: a cued S1–S2 paradigm. Biol Psychol 72:59–66

Spielberg CD, Gorsuch RL, Lushene RE (1970) Manual for the State-Trait Anxiety Inventory (self-evaluation questionnaire). Consulting Psychologists Press, Palo Alto, CA (Italian ed. 1989)

Stein MB, Goldin PR, Sareen J, Zorrilla LT, Brown GG (2002) Increased amygdala activation to angry and contemptuous faces in generalized social phobia. Arch Gen Psychiatry 59:1027–1034
About this article
Cite this article
Ponari, M., Trojano, L., Grossi, D. et al. "Avoiding or approaching eyes"? Introversion/extraversion affects the gaze-cueing effect. Cogn Process 14, 293–299 (2013). https://doi.org/10.1007/s10339-013-0559-z
Received:

Accepted:

Published:

Issue Date:
Keywords
Emotional facial expressions

Gaze-cueing

Personality

Introversion and extraversion

Attention