Abstract
The reliable automatic visual recognition of indoor scenes with complex object constellations using only sensor data is a nontrivial problem. In order to improve the construction of an accurate semantic 3D model of an indoor scene, we exploit human-produced verbal descriptions of the relative location of pairs of objects. This requires the ability to deal with different spatial reference frames (RF) that humans use interchangeably. In German, both the intrinsic and relative RF are used frequently, which often leads to ambiguities in referential communication. We assume that there are certain regularities that help in specific contexts. In a first experiment, we investigated how speakers of German describe spatial relationships between different pieces of furniture. This gave us important information about the distribution of the RFs used for furniture–predicate combinations, and by implication also about the preferred spatial predicate. The results of this experiment are compiled into a computational model that extracts partial orderings of spatial arrangements between furniture items from verbal descriptions. In the implemented system, the visual scene is initially scanned by a 3D camera system. From the 3D point cloud, we extract point clusters that suggest the presence of certain furniture objects. We then integrate the partial orderings extracted from the verbal utterances incrementally and cumulatively with the estimated probabilities about the identity and location of objects in the scene, and also estimate the probable orientation of the objects. This allows the system to significantly improve both the accuracy and richness of its visual scene representation.
Access options
Buy single article
Instant access to the full article PDF.
US$ 39.95
Tax calculation will be finalised during checkout.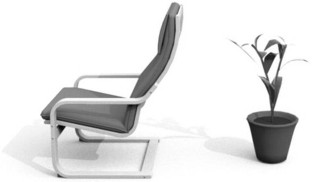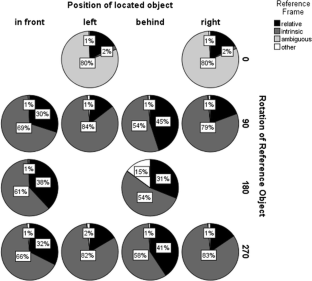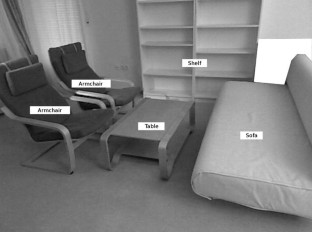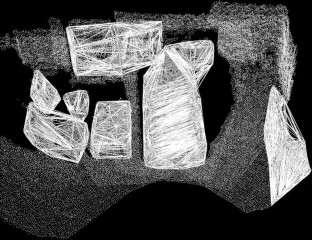 References
Bates D, Maechler M, Bolker B (2011) lme4: linear mixed-effects models using S4 classes. R package version 0.999375-42. http://CRAN.R-project.org/package=lme4. Accessed 6 June 2012

Baum M (2011) Using spinImages for 3D object classification. Bachelor Thesis, Faculty of Technology, Bielefeld University

Carlson LA (1999) Selecting a reference frame. Spatial Cogn Comput 1(4):365–379. doi:10.1023/A:1010071109785

Carlson-Radvansky LA, Irwin DA (1993) Frames of reference in vision and language: where is above? Cognition 46:223–244. doi:10.1016/j.bbr.2011.03.031

Cohn A, Renz J (2007) Qualitative spatial representation and reasoning. In: Harmelen F, Lifschitz V, Porter B (eds) Handbook of knowledge representation. Elsevier, Amsterdam, pp 1–47

Fischler MA, Bolles RC (1981) Random sample consensus: a paradigm for model fitting with applications to image analysis and automated cartography. Commun ACM 24:381–395. doi:10.1145/358669.358692

Graf R, Herrmann T (1989) Zur sekundären Raumreferenz: Gegenüberobjekte bei nicht-kanonischer Betrachterposition. Arbeiten aus dem SFB 245 "Sprechen und Sprachverstehen im sozialen Kontext". Heidelberg/Mannheim

Johnson AE, Hebert M (1998) Surface matching for object recognition in complex 3D scenes. Image Vis Comput 16:635–651. doi:10.1016/S0262-8856(98)00074-2

Levinson SC (2003) Space in language and cognition. Explorations in cognitive diversity. University Press, Cambridge

Logan GD, Sadler DD (1996) A computational analysis of the apprehension of spatial relations. In: Bloom P, Peterson MA, Nadel L, Garrett M (eds) Language and space. MIT Press, Cambridge, pp 493–529

Miller G, Johnson-Laird P (1976) Language and perception. Belknap Press, Cambridge

Mukerjee A (1998) Neat versus scruffy: a review of computational models for spatial expressions. In: Oliver P, Gapp KP (eds) Representation and processing of spatial expressions. L. Erlbaum Associates Inc, Hillsdale, NJ, pp 1–35

R Development Core Team (2011) R: A language and environment for statistical computing. R foundation for statistical computing, Vienna

Rusu RB, Cousins S (2011) 3D is here: point cloud library (PCL). IEEE Int Conf Robot Autom (ICRA). doi:10.1109/ICRA.2011.5980567
Acknowledgments
This work was funded by the German Research Foundation (DFG) within the Collaborative Research Center 673 "Alignment in Communication".
Conflict of interest
This supplement was not sponsored by outside commercial interests. It was funded entirely by ECONA, Via dei Marsi, 78, 00185 Roma, Italy.
Additional information
Leon Ziegler and Katrin Johannsen have equally contributed to this work.
About this article
Cite this article
Ziegler, L., Johannsen, K., Swadzba, A. et al. Exploiting spatial descriptions in visual scene analysis. Cogn Process 13, 369–374 (2012). https://doi.org/10.1007/s10339-012-0460-1
Keywords
Spatial cognition

Reference frames

Spatial language

3D perception

Speech perception

Scene interpretation