Abstract
We determined the gaze and stepping behaviours of elite ballet dancers and controls as they walked normally and along progressively narrower 3-m lines (l0.0, 2.5 cm). The ballet dancers delayed the first step and then stepped more quickly through the approach area and onto the lines, which they exited more slowly than the controls, which stepped immediately but then slowed their gait to navigate the line, which they exited faster. Contrary to predictions, the ballet group did not step more precisely, perhaps due to the unique anatomical requirements of ballet dance and/or due to releasing the degrees of freedom under their feet as they fixated ahead more than the controls. The ballet group used significantly fewer fixations of longer duration, and their final quiet eye (QE) duration prior to stepping on the line was significantly longer (2,353.39 ms) than the controls (1,327.64 ms). The control group favoured a proximal gaze strategy allocating 73.33% of their QE fixations to the line/off the line and 26.66% to the exit/visual straight ahead (VSA), while the ballet group favoured a 'look-ahead' strategy allocating 55.49% of their QE fixations to the exit/VSA and 44.51% on the line/off the line. The results are discussed in the light of the development of expertise and the enhanced role of fixations and visual attention when more tasks become more constrained.
Access options
Buy single article
Instant access to the full article PDF.
USD 39.95
Price excludes VAT (USA)
Tax calculation will be finalised during checkout.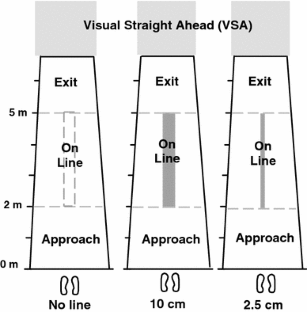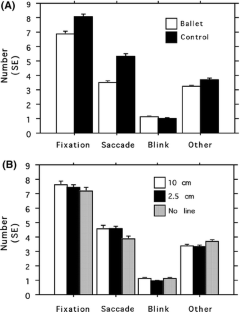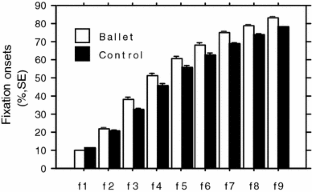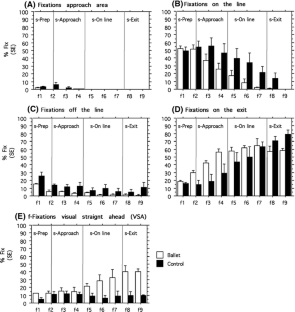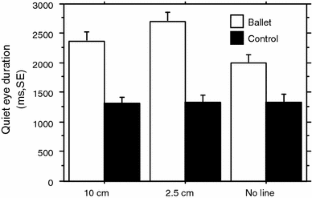 References
Behan M, Wilson M (2008) State anxiety and visual attention: the role of the quiet eye period in aiming to a far target. J Sports Sci 26:207–215

Bernstein NI (1967) The co-ordination and regulation of movements. Pergamon Press, Oxford

Causer J, Bennett SJ, Holmes P, Janelle C, Williams AM (2010) Quiet eye duration and gun motion in elite shotgun shooting. Med Sci Sports Exerc 42(8):1599–1608

Cromwell RL, Pidcoe PE, Griffin LA, Sotillo T, Ganninger D, Feagin M (2004) Adaptations in horizontal head stabilization in response to altered vision and gaze during natural walking. J Vestibul Res 14:367–373

Curtze K, Postema K, Akkermans H W, Otten B, Hof At L (2010) The narrow balance ridge test: a measure of one leg lateral balance control, Gait & Posture, doi:10.1016/j.gaitpost.2010.09.005

Gibson JJ (1958) Visually controlled locomotion and visual orientation in animals. Br J Psychol 49(3):182–194

Hallemans A, Beccu S, Van Loock K, Ortibus E, Truijen S, Aerts P (2009a) Visual deprivation leads to gait adaptations that are age- and context-specific: I. Step-time parameters. Gait Posture 30:55–59

Hallemans A, Beccu S, Van Loock K, Ortibus E, Truijen S, Aerts P (2009b) Visual deprivation leads to gait adaptations that are age- and context-specific: II. Kinematic parameters. Gait Posture 30:307–311

Harle SK, Vickers JN (2001) Training quiet eye improves accuracy in the basketball free throw. Sport Psychol 15:289–305

Hollands MA, Patla AE, Vickers JN (2002) "Look where you're going!": Gaze behaviour associated with maintaining and changing direction of locomotion. Exp Brain Res 143:221–230

Hugel F, Cadopi M, Kohler F, Perrin P (1999) Postural control of ballet dancers: a specific use of visual input for artistic purposes. Int J Sports Med 20:86–92

Janelle CM, Hillman CH, Apparies RJ, Murray NP, Meili L, Fallon EA, Hatfield DB (2000) Expertise differences in cortical activation and gaze behavior during rifle shooting. J Sport Ex Psy 22(2):167–182

Mann DTY, Williams AM, Ward P, Janelle CM (2007) Perceptual-cognitive expertise in sport: a meta-analysis. J Sport Ex Psy 29:457–478

Newell KM (1986) Constraints on the development of coordination. In: Wade MG, Whiting HTA (eds) Motor development in children: aspects of co-ordination and control. Nijhoff, Dordrecht, pp 341–360

Oudejans RRD, Koedijker JM, Bleijendaal I, Bakker FC (2005) The education of attention in aiming at a far target: training visual control in basketball jump shooting. Int J Sport Psychol 3:197–221

Panchuk D, Vickers JN (2006) Gaze behaviours of goaltenders under spatial-temporal constraints. Hum Movement Sci 25(6):733–752

Panchuk D, Vickers JN (2009) Using spatial occlusion to explore the control strategies used in rapid interceptive actions: predictive or prospective control? J Sports Sci 27(12):1249–1260

Patla AE (1998) How is human gait controlled by vision? Ecol Psychol 10(3–4):287–302

Patla AE, Vickers JN (1997) Where and when do we look as we approach and step over an obstacle in the travel path? NeuroReport 8(17):3661–3665

Patla AE, Vickers JN (2003) How far ahead do we look when required to step on specific locations in the travel path during locomotion? Exp Brain Res 148:133–138

Patla AE, Tomescu SS, Greig M, Novak A (2007) Gaze fixation during goal-directed locomotion while navigating around obstacles and a new route-selection model. In: Van Gompel RPG, Fischer MH, Murray WS, Hill RL (eds) Eye movements: a window on mind and brain. Elsevier, Amsterdam, pp 678–696

Proteau L, Tremblay L, DeJaeger D (1998) Practice does not diminish the role of the visual information in on-line control of a precision walking task: support for the specificity of practice hypothesis. J Motor Behav 30(2):143–150

Rougier P, Zanders E, Borlet E (2003) Influence of visual cues on upright postural control: differentiated effects of eyelids closure. Rev Neurology 159:180–188

Schrager MA, Kelly VE, Price R, Ferrucci L, Shumway-Cook A (2008) The effects of age on medio-lateral stability during normal and narrow based walking. Gait Posture 28:466–471

Simmons R (2005) Sensory organization determinants of postural stability in trained ballet dancers. Int J Neurosci 115:87–97

Streepey JW, Kenyon RV, Keshner EA (2007) Field of view and base of support width influence postural responses to visual stimuli during quiet stance. Gait Posture 25:49–55

Stuart M (1952) The classic ballet. Alfred A Knopf, New York

Turano KA, Geruschat DR, Baker FH, Stahl JW, Shapiro MD (2001) Direction of gaze while walking a simple route: persons with normal vision and persons with retinitis pigmentosa. Optometry Vision Sci 78(9):667–675

Vickers JN (1992) Gaze control in putting. Perception 21:117–132

Vickers JN (1996) Visual control when aiming at a far target. J Exp Psychol Hum Percept Perform 22(2):342–354

Vickers JN (2007) Perception, cognition and decision training: the quiet eye in action. Human Kinetics, Champaign

Vickers J N, Panchuk D, Ramage B, Ronsky J, Ferber R (under review) Internal and external focus effects on the CoP and gaze of elite ballet dancers and controls during quiet stance

Vickers JN, Williams AM (2007) Performing under pressure: the effects of physiological arousal, cognitive anxiety, and gaze control in biathlon. J Motor Behav 39:381–394

Vine SJ, Wilson MR (2011) The influence of quiet eye training and pressure on attention and visuo-motor control, Acta Psychologica, doi:10.1016/j.actpsy.2010.12.008

Vine SJ, Moore L, Wilson MR (2011) Quiet eye training facilitates competitive putting performance in elite golfers. Front. Psychol 2:1–9

Wilkie RM, Wann JP (2003) Eye-movements aid the control of locomotion. J Vision 3:677–684

Wilkie RM, Kountouriotis GK, Merat N, Wann JP (2010) Using vision to control locomotion: looking where you want to go. Exp Brain Res 204:539–547

Williams AM, Singer RN, Frehlich SG (2002) Quiet eye duration, expertise, and task complexity in near and far aiming tasks. J Motor Behav 34:197–207

Wood G, Wilson (in press) Winning the lottery! Training visual attention for performance success in soccer penalty shootouts. Cognitive Processing
About this article
Cite this article
Panchuk, D., Vickers, J.N. Effect of narrowing the base of support on the gait, gaze and quiet eye of elite ballet dancers and controls. Cogn Process 12, 267–276 (2011). https://doi.org/10.1007/s10339-011-0395-y
Received:

Accepted:

Published:

Issue Date:

DOI: https://doi.org/10.1007/s10339-011-0395-y
Keywords