Abstract
Anxiety has been shown to disrupt visual attention, visuomotor control and subsequent shot location in soccer penalty kicks. However, optimal visual attention has been trained in other far aiming skills, improving performance and resistance to pressure. We therefore asked a team of ten university soccer players to follow a quiet eye (QE; Vickers 1996) training program, designed to align gaze with aiming intention to optimal scoring zones, over a 7-week period. Performance and gaze parameters were compared to a placebo group (ten players) who received no instruction, but practiced the same number of penalty kicks over the same time frame. Results from a retention test indicated that the QE-trained group had more effective visual attentional control, were significantly more accurate, and had 50% fewer shots saved by the goalkeeper than the placebo group. Both groups then competed in a penalty shootout to explore the influence of anxiety on attentional control and shooting accuracy. Under the pressure of the shootout, the QE-trained group failed to maintain their accuracy advantage, despite maintaining more distal aiming fixations of longer duration. The results therefore provide only partial support for the effectiveness of brief QE training interventions for experienced performers.
Access options
Buy single article
Instant access to the full article PDF.
US$ 39.95
Tax calculation will be finalised during checkout.
Subscribe to journal
Immediate online access to all issues from 2019. Subscription will auto renew annually.
US$ 79
Tax calculation will be finalised during checkout.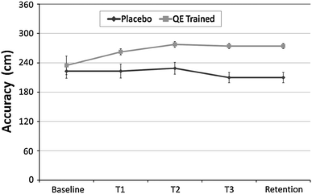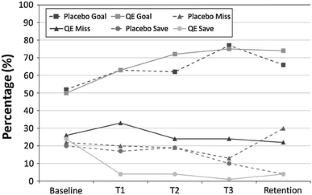 References
Bakker FC, Oudejans RRD, Binsch O, van der Kamp J (2006) Penalty shooting and gaze behavior: unwanted effects of the wish not to miss. Int J Sport Psychol 37:265–280

Bar-Eli M, Azar OH (2009) Penalty kicks in soccer: an empirical analysis of shooting strategies and goalkeepers' preferences. Soccer Soc 10:183–191

Binsch O, Oudejans RRD, Bakker FC, Savelsbergh GJP (2010) Ironic effects and final target fixation in a penalty shooting task. Hum Mov Sci 29:277–288

Causer J, Holmes PS, Williams AM (in press) Quiet eye training in a visuo-motor control task. Med Sci Sport Exerc

Dicks M, Button C, Davids K (2010) Examination of gaze behaviors under in situ and video simulation task constraints reveals differences in information pickup for perception and action. Atten Percept Psychophys 72:706–720

Easterbrook JA (1959) The effect of emotion on cue utilization and organization of behavior. Psychol Rev 66:183–201

Eysenck MW, Derakshan N, Santos R, Calvo MG (2007) Anxiety and cognitive performance: attentional control theory. Emotion 7:336–353

Harle S, Vickers JN (2001) Training quiet eye improves accuracy in the basketball free-throw. Sport Psychol 15:289–305

Hayhoe MM, Shrivastava A, Mruczek R, Pelz JB (2003) Visual memory and motor planning in a natural task. J Vis 3:49–63

Henderson JM (2003) Human gaze control during real-world scene perception. Trends Cogn Sci 7:498–504

Hill RA, Barton RA (2005) Red enhances human performance in contests. Nature 435:293

Jordet G, Hartman E, Visscher C, Lemmink KAPM (2007) Kicks from the penalty mark in soccer: the roles of stress, skill, and fatigue for kick outcomes. J Sport Sci 25:121–129

Krane V (1994) The mental readiness form as a measure of competitive state anxiety. Sport Psychol 8:189–202

Land MF (2009) Vision, eye movements, and natural behavior. Vis Neurosci 26:51–62

Lox CL (1992) The role of perceived threat as a cognitive component of state anxiety and confidence. Percept Motor Skill 75:1092–1094

Mann DTY, Williams MA, Ward P, Janelle CM (2007) Perceptual-cognitive expertise in sport: a meta-analysis. J Sport Exerc Psychol 29:457–478

Savelsbergh GJP, Van Der Kamp J, Williams AM, Ward P (2005) Anticipation and visual search behaviour in expert soccer goalkeepers. Ergonomics 48:1686–1697

Vickers JN (1992) Gaze control in putting. Perception 21:117–132

Vickers JN (1996) Visual control when aiming at a far target. J Exp Psychol Hum 2:324–354

Vickers JN (2007) Perception, cognition and decision training: the quiet eye in action. Human Kinetics, Champaign, IL

Vine SJ, Wilson MR (2010) Quiet eye training: effects on learning and performance under pressure. J Appl Sport Psychol 22:361–376

Vine SJ, Wilson MR (2011) The influence of quiet eye training and pressure on attentional control in a visuo-motor task. Acta Psychol. doi:10.1016/j.actpsy.2010.12.008

Vine SJ, Moore LJ, Wilson MR (2011) Quiet eye training facilitates competitive putting performance in elite golfers. Front Psychol. doi:10.3389/fpsyg.2011.00008

Wilson MR, Pearcey RC (2009) Visuomotor control of straight and breaking golf putts. Percept Motor Skill 109:555–562

Wilson MR, Wood G, Vine SJ (2009) Anxiety, attentional control and performance impairment in penalty kicks. J Sport Exerc Psychol 31:761–775

Wood G, Wilson MR (2010a) Gaze behavior and shooting strategies in football penalty kicks: implication of a keeper-dependent approach. Int J Sport Psychol 41:293–312

Wood G, Wilson MR (2010b) A moving goalkeeper distracts penalty takers and impairs shooting accuracy. J Sport Sci 29:937–946

Woodman T, Davis PA (2008) The role of repression in the incidence of ironic errors. Sport Psychol 22:183–198
About this article
Cite this article
Wood, G., Wilson, M.R. Quiet-eye training for soccer penalty kicks. Cogn Process 12, 257–266 (2011). https://doi.org/10.1007/s10339-011-0393-0
Received:

Accepted:

Published:

Issue Date:
Keywords
Anxiety

Gaze behavior

Visuomotor control

Pressure

Football