Access options
Buy single article
Instant access to the full article PDF.
USD 39.95
Price includes VAT (USA)
Tax calculation will be finalised during checkout.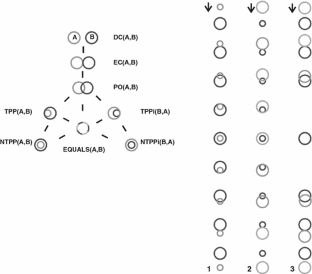 References
Casati R, Varzi A (eds) (1996) Events. Dartmouth, Aldershot

Cooke NJ (1999) Knowledge elicitation. In: Durso FT (ed) Applied cognition. Wiley, Chichester

Egenhofer MJ, Al-Taha KK (1992) Reasoning about gradual changes of topological relationships. In: Frank AU, Campari I, Formentini U (eds) Theories and methods of spatio-temporal reasoning in geographic space. Springer, Berlin Heidelberg New York, pp 196–219

Egenhofer MJ, Franzosa RD (1991) Point-set topological spatial relations. Int J Geogr Inf Syst 5:161–174

Freksa C (1992) Temporal reasoning based on semi-intervals. Artif Intell 54:199–227

Harper ME, Jentsch FG, Berry D, Lau HD, Bowers C, Salas E (2003) TPL-KATS-card sort: a tool for assessing structural knowledge. Behav Res Methods Instrum Comput 35:577–584

Jackendoff R (1997) The architecture of the language faculty. MIT, Cambridge

Klippel A, Tappe T, Kulik L, Lee PU (2005) Wayfinding choremes—a language for modeling conceptual route knowledge. J Vis Lang Comput 16:311–329

Knauff M, Rauh R, Renz J (1997) A cognitive assessment of topological spatial relations: results from an empirical investigation. In: Hirtle SC, Frank AU (eds) Spatial information theory: a theoretical basis for GIS. Springer, Berlin Heidelberg New York, pp 193–206

Randell DA, Cui Z, Cohn AG (1992) A spatial logic based on regions and connections. In: Proceedings 3rd international conference on knowledge representation and reasoning. Morgan Kaufmann, San Francisco, pp 165–176

Tversky B, Lee PU (1999) Pictorial and verbal tools for conveying routes. In: Freksa C, Mark DM (eds) Spatial information theory. Cognitive and computational foundations of geographic information science. Springer, Berlin Heidelberg New York, pp 51–64

Worboys M, Duckham M (2006) Monitoring qualitative spatiotemporal change for geosensor networks. Int J Geogr Inf Sci (in press)

Zacks JM, Tversky B (2001) Event structure in perception and conception. Psychol Bull 127:3–21

Zacks JM, Tversky B, Iyer G (2001) Perceiving, remembering, and communicating structure in events. J Exp Psychol Gen 130:29–58
Acknowledgments
Alexander Klippel is funded by the Cooperative Research Centre for Spatial Information, whose activities are funded by the Australian Commonwealth Cooperative Research Centres Programme. Mike Worboys' work is supported by the US National Science Foundation under grant numbers IIS-0429644, IIS-0534429, DGE-0504494, and BCS-0327615. Matt Duckham's work is supported by ARC Discovery Project grant no DP0662906 and by a University of Melbourne International Collaborative Research Grant. Mike and Matt are grateful for the support of the Ordnance Survey of Great Britain.
About this article
Cite this article
Klippel, A., Worboys, M. & Duckham, M. Geographic event conceptualization. Cogn Process 7, 52–54 (2006). https://doi.org/10.1007/s10339-006-0062-x
Keywords
Geographic event conceptualization

Dynamic processes

Multimodality