Abstract
An unknown impurity at the level of 0.62% was observed during routine analysis of Terbutaline Sulfate drug substance. The impurity was isolated using preparative HPLC and the impurity was comprehensively characterized with the help of spectroscopic studies. The characterization tools include accurate mass quadrupole time-of-flight (Q-TOF) LC–MS/MS and NMR (1H, 13C, DEPT). Based on the obtained data, the impurity was identified as N-tert-Butyl-N-[2-(3, 5-dihydroxyphenyl)-2-hydroxy-ethyl] acetamide (labeled as Impurity-1a). The existing HPLC method was subsequently validated for determination of this new impurity according to ICH guidelines. In order to understand the formation and apply necessary controls over the process a probable mechanism for the formation of same is discussed in detail.
Graphic Abstract

Access options
Buy single article
Instant access to the full article PDF.
US$ 39.95
Tax calculation will be finalised during checkout.
Subscribe to journal
Immediate online access to all issues from 2019. Subscription will auto renew annually.
US$ 119
Tax calculation will be finalised during checkout.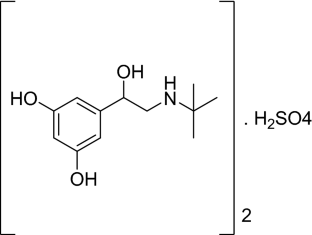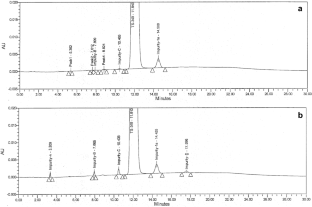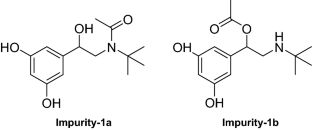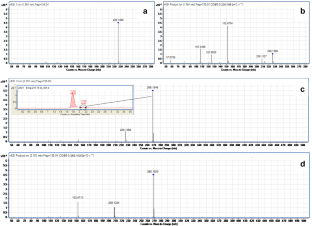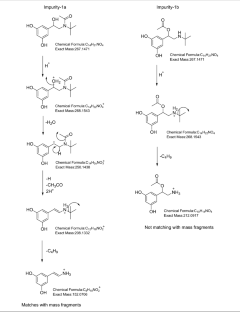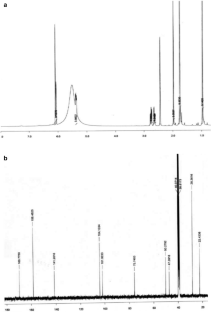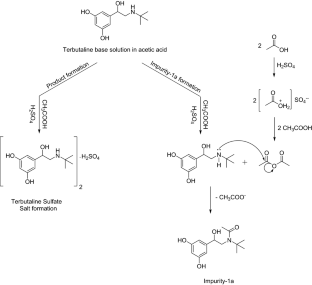 Availability of data and material
The authors confirm that the data supporting the findings of this study are available within the article.
References
1.

Irwin S, Tecklin J (2004) Pulmonary Pharmacology. Cardiopulmonary physical therapy, a guide to practice, 4th edn. Elsevier publications, Amsterdam, pp 240–249. https://doi.org/10.1016/B978-032301840-1.50013-X

2.

Daraghmeh N, Al-Omari MM, Sara Z, Badwan AA, Jaber AMY (2002) Determination of terbutaline sulfate and its degradation products in pharmaceutical formulations using LC. J Pharm Biomed Anal 29:927–937. https://doi.org/10.1016/s0731-7085(02)00216-9

3.

Ahuja S, Ashman J (1990) Terbutaline sulfate. Anal Profiles Drug Subst 19:601–605

4.

USP Chapters <1086> Impurities in drug substances and drug products. USP 42. The United States Pharmacopeial Convention. August 1, 2018.

5.

Liu K-T, Chen C-H (2019) In: Quality management and quality control - new trends and developments. Determination of impurities in pharmaceuticals: why and how. IntechOpen. https://doi.org/10.5772/intechopen.83849

6.

Kleinman MH, Elder D, Teasdale A, Mowery MD, McKeown AP, Baertschi SW (2015) Strategies to address mutagenic impurities derived from degradation in drug substances and drug products. Org Process Res Dev. https://doi.org/10.1021/acs.oprd.5b00091

7.

Guidance for industry (2008) Genotoxic and carcinogenic impurities in drug substances and products: recommended approaches. U.S. Department of Health and Human Services, Food and Drug Administration, Center for Drug Evaluation and Research (CDER), Washington DC

8.

Gy S, Henriquesa B, Gil M, Ramosa A, Alvareza C (2012) Design of experiments as a tool for LC–MS/MS method development for the trace analysis of the potentially genotoxic 4-dimethylaminopyridine impurity in glucocorticoids. J Pharm Biomed Anal 70:251–258

9.

McKinney JD, Richard A, Waller C, Newman MC, Gerberick F (2000) The practice of structure activity relationships (SAR) in toxicology. Toxicol Sci 56:8–17

10.

Jacobson-Kram D, McGovernm T (2007) Toxicological overview of impurities in pharmaceutical products. Adv Drug Deliv Rev 59:38–42

11.

Jain M, Srivastava V, Kumar R, Dangia V, Hiriyanna SG, Ajay K, Kumar P (2016) Determination of five potential genotoxic impurities in dalfampridine using liquid chromatography. J Pharm Biomed Anal. https://doi.org/10.1016/j.jpba.2016.10.013

12.

Gorog S (2006) The importance and the challenges of impurity profiling in modern pharmaceutical analysis. Trends Anal Chem 25:755–757

13.

Muller L, Mauthe RJ, Riley CM, Andino MM, De Antonis D, Beels C et al (2006) A rationale for determining, testing, and controlling specific impurities in pharmaceuticals that possess potential for genotoxicity. Regul Toxicol Pharmacol 44:198–211. https://doi.org/10.1016/j.yrtph.2005.12.001

14.

Kulkarni SG, Raghavendra Rao NG, Narasimhareddy D (2013) Formulation development and evaluation of terbutaline sulphate mucoadhesive buccal tablets. Int Res J Pharm 4:274–279

15.

El-Zaher AA, Fouad MA, Elkady EF (2014) Synthesis and characterization of maillard reaction products of salbutamol and terbutaline with lactose and development and validation of an LC method for the determination of salbutamol and terbutaline in the presence of these impurities. Anal Chem Insights 9:1–7. https://doi.org/10.4137/ACI.S13835

16.

Harris RK, Hodgkinson P, Larsson T, Muruganantham A, Ymen I, Yufit DS, Zorin V (2008) Characterization of polymorphs and solvates of terbutaline sulfate. Cryst Growth Des 8:80–90. https://doi.org/10.1021/cg700840j

17.

Na Z, Qi Q, Qi P, Zhao J, Wang C, Wang Q (2017) Identification of degradation products and process impurities from terbutaline sulfate by UHPLCQ-TOF-MS/MS and in silico toxicity prediction. Chromatographia 80:793–804. https://doi.org/10.1007/s10337-017-3259-5

18.

Rao KN, Krishnaiah C, Babu KS, Reddy KP (2012) Development and validation of a stability-indicating LC method for simultaneous determination of related compounds of guaifenesin, terbutaline sulfate and ambroxol HCl in cough syrup formulation. J Saudi Chem Soc. https://doi.org/10.1016/j.jscs.2012.01.006

19.

European Pharmacopoeia 10th Edition (2019) The Council of Europe, Strasbourg, France. Terbutaline sulfate monograph, p 3979

20.

USP (2019) The United States Pharmacopeia, 42nd revision. United States Pharmacopeial Convention, Rockville. Terbutaline sulphate, official monograph, p 4236

21.

Dosage forms containing terbutaline sulfate (2014) PCT/EP2013/070900

22.

Porel A, Haty S, Kundu A (2011) Stability-indicating HPLC Method for simultaneous determination of terbutaline sulphate Bromhexine Hydrochloride and Guaifenesin. Indian J Pharm Sci 73:46–56. https://doi.org/10.4103/0250-474X.89756

23.

Impurities In New Drug Products Q3B (R2), ICH Harmonised Tripartite Guideline, 2006. https://ichguideline.weebly.com/uploads/2/6/2/1/26210522/q3b_r2__guideline.pdf. Accessed Mar 2020

24.

Guo S, Liu Y, Zhang H (2018) Synthetic method for terbutaline sulfate, CN108503554A

25.

Liu L, Wang S, Wang Y, Zhang W, Zhang Y (2020) Preparation method of terbutaline sulfate, CN111454164A

26.

(2017) Preparation method of Terbutaline Sulfate, CN105254512B

27.

Kotov AV, Zarinskii VA, Bokina VM (1969) Mechanism of the interaction of concentrated sulphuric acid and glacial acetic acid. Bull Acad Sci USSR Division Chem Sci 18:1217–1219. https://doi.org/10.1007/BF00908172

28.

Validation of analytical procedures: text and methodology Q2 (R1), ICH Harmonised Tripartite Guideline. https://database.ich.org/sites/default/files/Q2_R1__Guideline.pdf. Accessed Mar 2020
Acknowledgements
The authors are thankful to the management of Deepta Laboratories for providing samples, to Mr. Rajeev Chadar, Mr. Vasantha K. Kadambar and Mr. Arun Bhardwaj for their co-operation in carrying out this work.
Ethics declarations
Conflict of interest
The authors declare that there are no conflicts of interest.
Additional information
Publisher's Note
Springer Nature remains neutral with regard to jurisdictional claims in published maps and institutional affiliations.
Supplementary Information
Below is the link to the electronic supplementary material.
About this article
Cite this article
Patil, S., Kantikar, G., Koppula, S. et al. Identification and Characterization of a New Process Related Impurity in Terbutaline Sulfate by Accurate-Mass Q-TOF LC/MS/MS and NMR. Chromatographia 84, 381–391 (2021). https://doi.org/10.1007/s10337-021-04021-2
Received:

Revised:

Accepted:

Published:

Issue Date:
Keywords
Terbutaline sulfate

Unknown impurity

HPLC

Accurate mass Q-TOF LC–MS/MS

NMR