Abstract
A protocol for pectin monomer analysis is reported. It consists of hydrolysis, derivatization with 1-phenyl-3-methyl-5-pyrazolone (PMP) followed by UHPLC-analysis. A combination of enzymatic and acidic hydrolysis improved the yield of released aldoses. The tagging reaction should run for at least 1 h at 80 °C, thus longer than previously reported. Products were analysed by the use of a resistant C18-column and a gradient of acetonitrile in a volatile buffer (20 mM NH4HCO3/NH3, pH 9.2). Chromatograms revealed baseline separation of two pentoses, two deoxy-hexoses, three hexoses and two uronic acids within a 15 min run. Quantification was based on absorbance at 250 nm, whereas peak identities were confirmed by use of ESI–MS. The protocol was applied to pericarp fractions of tomato pectin, and the results were compared to those obtained from an established method based on GC-analysis. The new method had the advantage of being more rapid and produced simpler chromatograms.
Graphical Abstract

This is a preview of subscription content, log in to check access.
Access options
Buy single article
Instant access to the full article PDF.
US$ 39.95
Price includes VAT for USA
Subscribe to journal
Immediate online access to all issues from 2019. Subscription will auto renew annually.
US$ 199
This is the net price. Taxes to be calculated in checkout.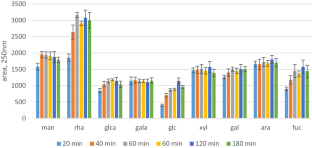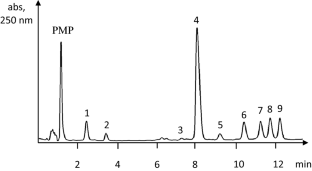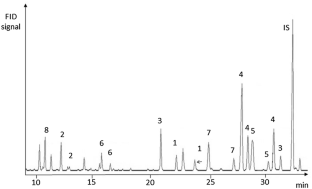 References
1.

O'Neill M, Albersheim P, Darvill A (1990) In: Dey PM, Harborne JB (eds) Methods in plant biochemistry vol 2 Carbohydrates. Academic Press, London, p 416

2.

Harding SE, Tombs MP, Adams GG, Smestad Paulsen B, Tvete Inngjerdingen K, Barsett H (2017) An introduction to polysaccharide biotechnology, 2nd edn. CRC Press, Boca Raton

3.

Honda S, Akao E, Suzuki S, Okuda M, Kakehi K, Nakamura J (1989) Anal Biochem 180:351–357

4.

Xu G, Amicucci MJ, Cheng Z, Galermo AG, Lebrilla CB (2017) Analyst 143:200–207

5.

Dolan JA (2005) Guide to HPLC and LC-MS buffer selection. https://www.hplc.eu/Downloads/ACE_Guide_BufferSelection.pdf. Accessed 12 Apr 2018

6.

Kirkland JJ, van Straten MA, Claessens HA (1995) J Chrom A 691:3–19

7.

Houben K, Jolie RP, Fraeye I, Van Loey AM, Hendrickx ME (2011) Carbohydr Res 346:1105–1111

8.

Arnous A, Meyer AS (2008) Food Bioprod Process 86:79–86

9.

Barsett H, Paulsen BS, Habte Y (1992) Carbohydr Poly 18:125–130

10.

Chambers RE, Clamp JR (1971) Biochem J 125:1009–1018

11.

Sweeley CC, Bentley R, Makita M, Wells WW (1963) J Am Chem Soc 85:2497–2507

12.

Ai Y, Yu Z, Chen Y, Zhu X, Ai Z, Liu S, Ni D (2016) J Chem 2016:6065813

13.

Wang HX, Zhao J, Li DM, Song S, Fu YH, Zhang LP (2015) Carbohydr Anal 402:95–101

14.

Yang X, Zhao Y, Wang Q, Wang H, Mei Q (2005) Anal Sci 21:1177–1180

15.

Claessens HA, van Straten MA, Kirkland JJ (1996) J Chrom A 728:259–270
Funding
This study is part of the research project 'Biofresh' which is funded by the Research Council of Norway (project no 255613/E50).
Ethics declarations
Conflict of Interest
The authors declare that there are no conflicts of interest.
Ethical Approval
This article does not contain any studies with human participants or animals performed by any of the authors.
Additional information
Publisher's Note
Springer Nature remains neutral with regard to jurisdictional claims in published maps and institutional affiliations.
About this article
Cite this article
Slimestad, R., Holm, V. & Barsett, H. Sample Preparation and Analysis of Tomato Pectin Monomers. Chromatographia 82, 975–981 (2019). https://doi.org/10.1007/s10337-019-03719-8
Received:

Revised:

Accepted:

Published:

Issue Date:
Keywords
UHPLC

Pectin monomers

PMP-tagging

Tomato

Pericarp fractions