Abstract
1H-Tetrazole-5-amine immobilized on substituted polymer gel/silica as a new stationary phase has been newly suggested for application in hydrophilic liquid chromatography (HILIC). The newly investigated column demonstrated a satisfactory retention of very polar compounds. The column showed mixed separation modes: reversed-phase (RP) in water-rich mobile phases and HILIC at high concentrations of acetonitrile content (> 60–80%) in aqueous–organic mobile phases. A continuous change in retention was observed at decreasing concentration of acetonitrile in water, the rise resulting in characteristic U-shape plots of retention factors versus the concentration of acetonitrile in the mobile phase, with minima corresponding to the transition between the mechanisms controlling the retention. The retention mechanism of the new column was investigated by the models (partitioning and surface adsorption) through adjustment of the water/acetonitrile ratio in the mobile phase, and by the influence of salt concentration, buffer pH, and temperature on the retention of tested analytes. The retention behavior of tested compounds on three different stationary phases (Atlantis HILIC—silica phase; TSKgel Amide-80—amide phase; Kromasil 60-5 DIOL—diol phase) was investigated to compare the selectivity with the new DCpak PTZ HILIC prototype column. The applicability of the new HILIC column for the chromatography of polar compounds was proven by the separation of mixtures of nucleobases (uracil, thymine, guanine, cytosine, and adenine) and organic acids (ascorbic, isoascorbic, pantothenic, and nicotinic acid). The new DCpak PTZ HILIC column could be a good alternative for the separation of the polar compounds.
Graphical Abstract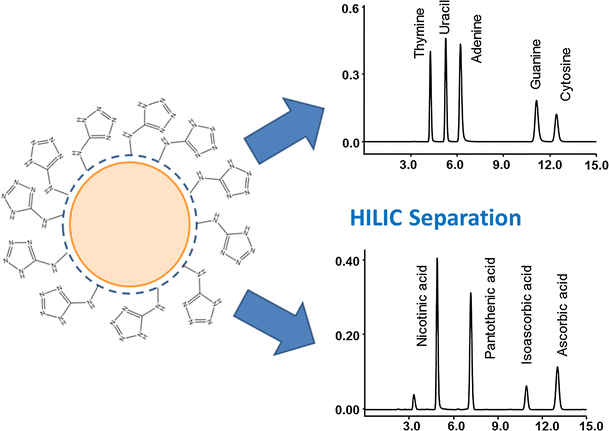 This is a preview of subscription content, log in to check access.
Access options
Buy single article
Instant access to the full article PDF.
US$ 39.95
Price includes VAT for USA
Subscribe to journal
Immediate online access to all issues from 2019. Subscription will auto renew annually.
US$ 199
This is the net price. Taxes to be calculated in checkout.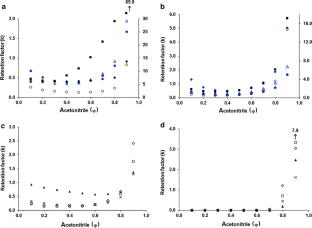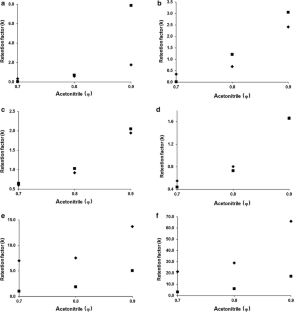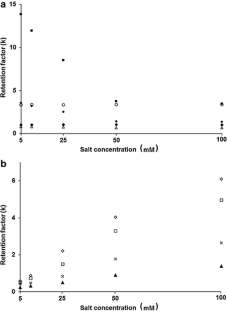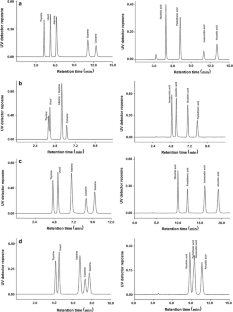 References
1.

Alpert AJ (1990) Hydrophilic-interaction chromatography for the separation of peptides, nucleic acids and other polar compounds. J Chromatogr 499:177–196

2.

Thomas KM, Beach DG, Reeves KL, Gibbs RS, Kerrin ES, McCarron P, Quilliam MA (2017) Hydrophilic interaction liquid chromatography-tandem mass spectrometry for quantitation of paralytic shellfish toxins: validation and application to reference materials. Bioanal. Chem, Anal. https://doi.org/10.1007/s00216-017-0507-3

3.

Spagou K, Wilson ID, Masson P, Theodoridis G, Raikos N, Coen M, Holmes E, Lindon JC, Plumb RS, Nicholson JK, Want EJ (2011) HILIC-UPLC-MS for exploratory urinary metabolic profiling in toxicological studies. Anal Chem 83:382–390

4.

Han PY, Shaw PN, Kirkpatrick CM (2009) Determination of para-aminohippuric acid (PAH) in human plasma and urine by liquid chromatography-tandem mass spectrometry. J Chromatogr B Anal Technol Biomed Life Sci 877:3215–3220

5.

Uchiyama M, Takamatsu Y, Ogata K, Matsumoto T, Jimi S, Tamura K, Hara S (2013) Simultaneous determination of cytosine arabinoside and its metabolite, uracil arabinoside, in human plasma using hydrophilic interaction liquid chromatography with UV detection. Biomed Chromatogr 27:818–820

6.

Bernal J, Ares AM, Pól J, Wiedmer SK (2011) Hydrophilic interaction liquid chromatography in food analysis. J Chromatogr A 1218:7438–7452

7.

Dejaegher B, Vander Heyden Y (2010) HILIC methods in pharmaceutical analysis. J Sep Sci 33:698–715

8.

Douša M, Pivoňková V, Sýkora D (2016) Optimization of o-phtaldialdehyde/2-mercaptoethanol postcolumn reaction for the hydrophilic interaction liquid chromatography determination of memantine utilizing a silica hydride stationary phase. J Sep Sci 39:3145–3155

9.

Douša M, Srbek J, Stránský Z, Gibala P, Nováková L (2014) Retention behavior of a homologous series and positional isomers of aliphatic amino acids in hydrophilic interaction chromatography. J Sep Sci 37:739–747

10.

Huang Z, Francis R, Zha Y, Ruan J (2015) Development of a simple method for quantitation of methanesulfonic acid at low ppm level using hydrophilic interaction chromatography coupled with ESI-MS. J Pharm Biomed Anal 102:17–24

11.

Dai X, Qian X, Gong B, Wei Y (2011) Tetrazole-functionalized silica for hydrophilic interaction chromatography of polar solutes. Chromatographia 73:865–870

12.

Lehnert P, Douša M, Lemr K (2013) Underivatized amylose and cellulose as new stationary phases for hydrophilic interaction chromatography. J Sep Sci 36:3345–3350

13.

Hemström P, Irgum K (2006) Hydrophilic interaction chromatography. J Sep Sci 29:1784–1821

14.

Ikegami T, Tomomatsu K, Takubo H, Horie K, Tanaka N (2008) Separation efficiencies in hydrophilic interaction chromatographym. J Chromatogr A 1184:474–503

15.

Jandera P (2011) Stationary and mobile phases in hydrophilic interaction chromatography: a review. Anal Chim Acta 692:1–25

16.

Guo Y, Gaiki S (2011) Retention and selectivity of stationary phases for hydrophilic interaction chromatography. J Chromatogr A 1218:5920–5938

17.

Lei G, Xiong X, Wei Y, Zheng X, Zheng J (2008) Novel tetrazole-functionalized ion exchanger for weak cation-exchange chromatography of proteins. J Chromatogr A 1187:197–204

18.

Patent EP 3021114 A1, Separating agent, 2016

19.

Hao Z, Xiao B, Weng N (2008) Impact of column temperature and mobile phase components on selectivity of hydrophilic interaction chromatography (HILIC). J Sep Sci 31:1449–1464

20.

Jandera P, Hájek T (2009) Utilization of dual retention mechanism on columns with bonded PEG and diol stationary phases for adjusting the separation selectivity of phenolic and flavones natural antioxidants. J Sep Sci 32:3603–3619

21.

Snyder LR, Dolan JW, Gant JR (1979) Gradient elution in high-performance liquid chromatography. I. Theoretical basis for reversed-phase systems. J Chromatogr 165:3–30

22.

Jandera P, Churáček J, Svoboda L (1979) Gradient elution in liquid chromatography X. Retention characteristics in reversed-phase gradient-elution chromatography. J Chromatogr 174:35–50

23.

Nikitas P, Pappa-Louisi A, Agrafiotou P (2002) Effect of the organic modifier concentration on the retention in reversed-phase liquid chromatography II. Tests using various simplified models. J Chromatogr A 946:33–45

24.

Snyder LR, Poppe H (1980) Mechanism of solute retention in liquid-solid chromatography, the role of the mobile phase in affecting separation: competition versus "sorption". J Chromatogr 184:363–413

25.

Greco G, Grosse S, Letzel T (2012) Study of the retention behavior in zwitterionic hydrophilic interaction chromatography of isomeric hydroxy- and aminobenzoic acids. J Chromatogr A 1235:60–67

26.

Jin G, Guo Z, Zhang F, Xue X, Jin Y, Liang X (2008) Study of the retention equation in hydrophilic interaction liquid chromatography. Talanta 76:522–527

27.

Douša M, Stach J, Gibala P, Lemr K (2016) Quantification of structurally related aliphatic amino alcohols in l-valinol by hydrophilic interaction liquid chromatography separation combined with postcolumn derivatization and fluorescence detection. J Sep Sci 39:851–856

28.

Quiming NS, Denola NL, Saito Y, Jinno K (2007) Retention prediction of adrenoreceptor agonists and antagonists on unmodified silica phase in hydrophilic interaction chromatography. Anal Bioanal Chem 388:1693–1706

29.

Greco G, Letzel T (2013) Main interactions and influences of the chromatographic parameters in HILIC separations. J Chrom Sci 51:684–693

30.

Guo Y, Srinivasan S, Gaiki S (2007) Investigating the effect of chromatographic conditions on retention of organic acids in hydrophilic interaction chromatography using a design of experiment. Chromatographia 66:223–229

31.

Guo Y, Gaiki S (2005) Retention behavior of small polar compounds on polar stationary phases in hydrophilic interaction chromatography. J Chromatogr A 1074:71–80

32.

Bicker W, Wu J, Yeman H, Albert K, Lindner W (2011) Retention and selectivity effects caused by bonding of a polar urea-type ligand to silica: a study on mixed-mode retention mechanisms and the pivotal role of solute-silanol interactions in the hydrophilic interaction chromatography elution mode. J Chromatogr A 1218:882–895

33.

Melander WR, Mannan CA, Cs Horvath (1982) Mobile phase effects in reversed-phase chromatography IV. Retention by n-alkylbenzenes as a function of column temperature and the nature and concentration of organic co-solvent. Chromatographia 15:611–615

34.

Colin H, Guiochon G (1978) Comparison of some packings for reversed-phase high-performance liquid–solid chromatography: II. Some theoretical considerations. J Chromatogr 158:183–205

35.

Mao Y, Carr PW (2000) Adjusting selectivity in liquid chromatography by the use of the thermally tuned tandem column concept. Anal Chem 72:110–118

36.

Douša M, Břicháč J, Gibala P, Lehnert P (2011) Rapid hydrophilic interaction chromatography determination of lysine in pharmaceutical preparations with fluorescence detection after postcolumn derivatization with o-phtaldialdehyde. J Pharm Biomed Anal 54:972–978

37.

Douša M, Gibala P (2010) Fast HPLC method using ion-pair and hydrophilic interaction liquid chromatography for determination of phenylephrine in pharmaceutical formulations. J AOAC Int 93:1436–1442

38.

Soukup J, Jandera P (2011) Retention dependence on temperature in reversed-phase and hydrophilic interaction liquid chromatography. Biologija 57:85–91
Acknowledgements
The authors thank Daicel Corporation for the donation of chromatographic prototype columns. The authors would like to thank Dr Pilar Franco for her help and advice during this work.
Ethics declarations
Ethical Approval
This article does not contain any studies with human participants or animals performed by any of the authors.
Conflict of Interest
All the authors declare that they have no conflict of interest.
About this article
Cite this article
Douša, M. 1H-Tetrazole-5-amine Immobilized on Substituted Polymer Gel/Silica as a New Stationary Phase for Hydrophilic Interaction Chromatography. Chromatographia 81, 349–357 (2018). https://doi.org/10.1007/s10337-017-3452-6
Received:

Revised:

Accepted:

Published:

Issue Date:
Keywords
HILIC

Retention mechanism

1H-Tetrazole-5-amine

Nucleobases

Organic acids