Abstract
Pyrimethamine is an important antiparasitic drug in the treatment of malaria and toxoplasmosis and is often used in combination with either sulfadoxine, sulfalene, or sulfadiazine. Determining the content of pyrimethamine and investigating the related substances is currently possible applying either a compendial monograph utilizing thin layer chromatography as well as liquid chromatographic methods used by the respective manufacturers. To provide a simple method which is capable of determining the content of pyrimethamine and of resolving four of its potential synthetic impurities a very simple, cheap, precise, and accurate isocratic RP-HPLC method was developed. All analytes can be separated within a total runtime of 30 min and the method was linear within the concentration ranges of 0.12–0.740, 0.104–0.621, 0.120–0.710, 2.0–11.8, and 1.01–5.80 µg mL−1 for pyrimethamine, impurity A, impurity B, impurity C, and impurity D, respectively. These substances were separated by employing a Eurospher-II C18H column (250 × 4.6 mm, 5 µm particle size), a mobile phase being a mixture of a 0.05 M KH2PO4 buffer solution (pH 2.6) and methanol in the ratio 40:60 (v/v). The analysis was carried out at 30 °C, applying a flow rate of 1.2 mL min−1, and a detection wavelength of λ = 215 nm. The coefficients of determinations (R 2) for the five analytes were greater than 0.994 for pyrimethamine and all impurities. Results of recovery studies were within the range of 89.1–105.1% for all substances. In all tested genuine batches of pyrimethamine raw material impurities within the specified limits were present which is concurrent with results obtained from using the present manufacturer's method.
Access options
Buy single article
Instant access to the full article PDF.
USD 39.95
Price excludes VAT (USA)
Tax calculation will be finalised during checkout.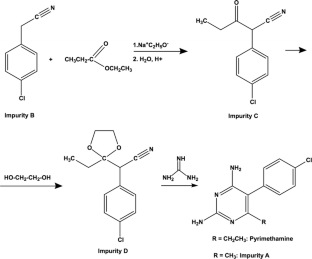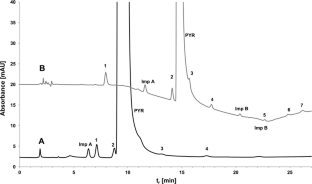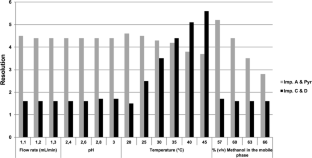 Abbreviations
B. P.:

British Pharmacopoeia

EDQM:

The European Directorate for the Quality of Medicines and HealthCare

HPTLC:

High-performance thin layer chromatography

KAAD:

Catholic Academic Exchange Service

Ph. Eur.:

European Pharmacopoeia

Ph. Int.:

International Pharmacopoeia

RP-HPLC:

Reversed-phase high-performance liquid chromatography

TFDA:

Tanzania Food and Drugs Authority

TLC:

Thin layer chromatography

USP:

United States Pharmacopoeia
References
Vardanyan RS, Hruby VJ (2006) Synthesis of essential drugs. Elsevier Science, Amsterdam

World Health Organization (2015) The International Pharmacopoeia, 5th edn. World Health Organization, Geneva

United States Pharmacopoeia 38 NF 33 (2015) United States Pharmacopoeial Convention, Rockville, MD, USA

British Pharmacopoeia (2015) British Pharmacopoeia Commission, London, UK

Raveendra V, Vemula B, Kumar SP, Singhvi I (2013) HPLC method development and validation for simultaneous estimation of sulphadoxine and pyrimethamine in tablet dosage form. Int J Pharm Sci 4:295–298

Wessels JC (2010) International Pharmacopoeia monographs: antimalarial dosage forms. Thesis submitted for the degree Doctor of Philosophy in Pharmaceutics, Potchefstroom, South Africa

Mwalwisi YH, Tettey JN, Pournamdari M, Watson DG (2005) The chemical and pharmaceutical equivalence of sulphadoxine/pyrimethamine tablets sold on the Tanzanian market. J Clin Pharm Ther 30:575–581

Amin NC, Blanchin MD, Ake M, Fabre H (2012) Capillary zone electrophoresis as a potential technique for the simultaneous determination of sulfadoxine and pyrimethamine in tablet formulations. J Pharm Biomed Anal 58:168–171

Meena S, Sandhya SM (2013) Validated HPTLC method for simultaneous analysis of pyrimethamine and sulphadoxine in pharmaceutical dosage forms. J Chem 2013:1–6

Hoellein L, Holzgrabe U (2014) Development of simplified HPLC methods for the detection of counterfeit antimalarials in resource-restraint environments. J Pharm Biomed Anal 98:434–445

Hoellein L, Kaale EA, Mwalwisi YH, Schulze MH, Holzgrabe U (2016) Routine quality control of medicines in developing countries: analytical challenges, regulatory infrastructures and the prevalence of counterfeit medicines in Tanzania. TrAC 76:7660–7670

Khuluza FSK, Jähnke RWO, Heide L (2016) Use of thin-layer chromatography to detect counterfeit sulfadoxine/pyrimethamine tablets with the wrong active ingredient in Malawi. Malar J 15:2–7

International Council on Harmonization (2006) Harmonized tripartite guideline impurities in new drug products Q3B(R2)

Mwalwisi YH, Hoellein L, Kaale E, Holzgrabe U (2016) Development of a simple, rapid, and robust liquid chromatographic method for the simultaneous determination of sulfalene, sulfadoxine, and pyrimethamine in tablets. J Pharm Biomed Anal 129:558–570

Geetha G, Ganika Raju NK, Kumar BV, Gnana Raja M (2012) Analytical method validation: an updated review. Int J Adv Pharm Biol Chem 1:64–70

Chan CC, Lam H, Zheng XM (2010) Practical approaches to method validation and essential instrument qualification. Wiley, Hoboken

Wolcott RG, Dolan JW, Snyder LR, Bakalyar SR, Arnold MA, Nichols JA (2000) Control of column temperature in reversed-phase liquid chromatography. J Chromatogr A 869:211–230

Böhme H, Hartke K, Bracher F (2015) Arzneibuch-Kommentar zum Europäischen Arzneibuch. Wissenschaftline Verlagsgesellschaft, Stuttgart

Kleemann A, Engel J (1982) Pharmaceutical substances: synthesis, patents, application. Thieme, New York
Acknowledgements
Thanks to the KAAD (Catholic Academic Exchange Services, Bonn, Germany) for awarding scholarship to Yonah Hebron Mwalwisi, to the European Directorate for the Quality of Medicines and HealthCare (EDQM) for the provision of samples and reference substances, the Tanzania Food and Drugs Authority (Dar es salaam, Tanzania) for facilitating the research stay of Yonah H. Mwalwisi at the Institute of Pharmacy and Food Chemistry at Würzburg, and Christine Erk (Institute for Pharmacy and Food Chemistry, Würzburg) for LC/MS support.
Ethics declarations
Conflict of interest
The authors declare that they have no competing interests.
Funding
This work was funded by the Catholic Academic Exchange Services, Bonn, Germany (KAAD) by providing a scholarship to YHM.
About this article
Cite this article
Mwalwisi, Y.H., Höllein, L., Kaale, E. et al. Development of a Simple, Rapid, and Robust Isocratic Liquid Chromatographic Method for the Determination of Pyrimethamine and its Synthetic Impurities in Bulk Drugs and Pharmaceutical Formulations. Chromatographia 80, 1343–1352 (2017). https://doi.org/10.1007/s10337-017-3359-2
Received:

Revised:

Accepted:

Published:

Issue Date:

DOI: https://doi.org/10.1007/s10337-017-3359-2
Keywords
Pyrimethamine

RP-HPLC

Quality control

Bulk drug and tablet analysis

Malaria

Impurity profiling