Abstract
R-Besifloxacin hydrochloride is a novel chiral broad-spectrum fluoroquinolone developed for treatment of bacterial conjunctivitis and used in clinics due to its higher antibacterial activity compared to S-enantiomer. UHPLC separation of R- and S-enantiomers of Besifloxacin hydrochloride on a new Chiralpak IE-3 column consisting of an immobilized amylose tris(3,5-dichlorophenylcarbamate) chiral stationary phase on 3 µm silica was studied. The selection and effects of mobile phase solvents, additives, organic modifiers, and column temperature on retention, separation, and resolution were investigated and optimized. The separation was accomplished under normal-phase conditions using a mobile phase composed of dichloromethane:isopropyl alcohol:trifluoroacetic acid:diethylamine (90:10:0.3:0.05 v/v/v/v) under isocratic mode of elution at 15 °C. The interactions between the analytes, additives, and the stationary phase were discussed and the most probable separation mechanism was proposed. The developed method was validated according to ICH guidelines and found to be suitable for determining the enantiomeric purity of R-Besifloxacin in bulk drugs and formulations.
This is a preview of subscription content,
to check access.
Access this article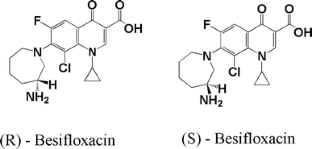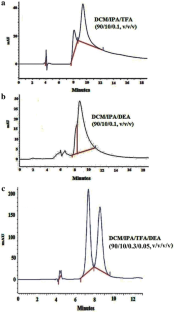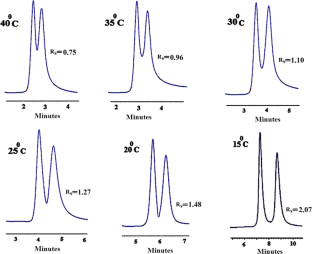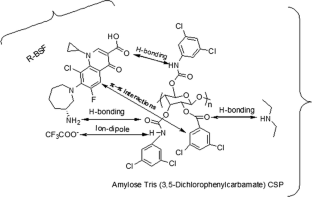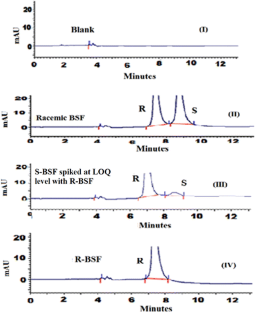 References
Appelbaum PC, Hunter PA (2000) Review: The fluoroquinolone antibacterials: past, present and future perspectives. Int J Antimicrob Agents 16:5–15

Smith A, Pennefather PM, Kaye SB, Hart CA (2001) Fluoroquinolones: place in ocular therapy. Drugs 61:747–761

Chang MH, Fung HB (2010) Besifloxacin: a topical fluoroquinolone for the treatment of bacterial conjunctivitis. Clin Ther 32:454–471

Haas W, Pillar CM, Zurenko GE, Lee JC, Brunner LS, Morris TW (2009) Besifloxacin, a novel fluoroquinolone, has broad-spectrum in vitro activity against aerobic and anaerobic bacteria. Antimicrob Agents Chemother 53:3552–3560

Haas W, Pillar CM, Hesje CK, Sanfilippo CM, Morris TW (2010) Bactericidal activity of besifloxacin against staphylococci, Streptococcus pneumoniae and Haemophilus influenza. J Antimicrob Chemother 65:1441–1447

Haas W, Gearinger LS, Usner DW, Decory HH, Morris TW (2011) Integrated analysis of three bacterial conjunctivitis trials of besifloxacin ophthalmic suspension, 0.6%: etiology of bacterial conjunctivitis and antibacterial susceptibility profile. Clin Ophthalmol 5:1369–1379

http://www.accessdata.fda.gov/drugsatfda_docs/nda/2009/022308s000_MicroR.pdf (2009), pp 24–26. Accessed 25 Mar 2009

Stephens TD, Bunde CJ, Fillmore BJ (2000) Mechanism of action in thalidomide teratogenesis. Biochem Pharmacol 59:1489–1499

Andrea F, Michaela V, Janka Mydlova JL, Jan K (2006) Interconversion of oxazepam enantiomers during HPLC separation. Determination of thermodynamic parameters. J Liq Chromatogr Relat Technol 29:2889–2900

ICH Topic Q 6 A Specifications: test procedures and acceptance criteria for new drug substances and new drug products: chemical substances. http://www.ich.org/fileadmin/Public_Web_Site/ICH_Products/Guidelines/Quality/Q6A/Step4/Q6Astep4.pdf. Accessed 6 Oct 1999

Gu XF, Mao BY, Xia M, Yang Y, Zhang JL, Yang DS, Wu WX, Du YX, Di B, Su MX (2016) Rapid, sensitive and selective HPLC–MS/MS method for the quantification of topically applied besifloxacin in rabbit plasma and ocular tissues: application to a pharmacokinetic study. J Pharm Biomed 117:37–46

Arnold DR, Granvil CP, Ward KW, Proksch JW (2008) Quantitative determination of besifloxacin, a novel fluoroquinolone antimicrobial agent, in human tears by liquid chromatography–tandem mass spectrometry. J Chromatogr B 867:105–110

Costa MCN, Barden AT, Andrade JMM, Oppe TP, Schapoval EES (2014) Quantitative evaluation of besifloxacin ophthalmic suspension by HPLC, application to bioassay method and cytotoxicity studies. Talanta 119:367–374

Wang Z, Wang S, Zhu F, Chen Z, Yu L, Zeng S (2012) Determination of enantiomeric impurity in besifloxacin hydrochloride by chiral high-performance liquid chromatography with precolumn derivatization. Chirality 24:526–531

Mosiashvili L, Chankvetadze L, Farkas T, Chankvetadze B (2013) On the effect of basic and acidic additives on the separation of the enantiomers of some basic drugs with polysaccharide-based chiral selectors and polar organic mobile phases. J Chromatogr A 1317:167–174

Gogaladze K, Chankvetadze L, Tsintsadze M, Farkas T, Chankvetadze B (2015) Effect of basic and acidic additives on the separation of some basic drug enantiomers on polysaccharide-based chiral columns with acetonitrile as mobile phase. Chirality 27:228–234

ICH Q2 (R1) (2005) International conference on harmonization: validation of analytical procedures: test and methodology. http://www.ich.org/fileadmin/Public_Web_Site/ICH_Products/Guidelines/Quality/Q2_R1/Step4/Q2_R1__Guideline.pdf. Accessed Nov 2005
Acknowledgements
The authors thank the Director, IICT, for encouragement and permission to communicate the results for publication. A. M. Swamy has received Senior Research (SRF) Fellowship from Council of Scientific and Industrial Research (CSIR) [Grant No. 31/14(2540/2013-EMR-I)] and N. N. Varma has received Senior Research (SRF) Fellowship from University Grants Commission (UGC) (Grant No. 2013/14-10454-94).
Ethics declarations
Conflict of interest
All the authors declare that they have no conflict of interest.
Ethical approval
This article does not contain any studies with human participants or animals performed by any of the authors.
About this article
Cite this article
Ramisetti, N.R., Arnipalli, M.S., Nimmu, N.V. et al. UHPLC Determination of Besifloxacin Enantiomers on Immobilized Amylose Tris(3,5-dichlorophenylcarbamate) Chiral Stationary Phase. Chromatographia 80, 1509–1515 (2017). https://doi.org/10.1007/s10337-017-3346-7
Received:

Revised:

Accepted:

Published:

Issue Date:

DOI: https://doi.org/10.1007/s10337-017-3346-7
Keywords