Abstract
Hydroxylated fatty acids (OH-FAs) are formed in all branches of the arachidonic acid (AA) cascade from polyunsaturated fatty acids (PUFA). OH-FAs act as potent lipid mediators and serve as activity marker for pathways of the AA cascade, particularly the lipoxygenase branch. Current targeted metabolomics methods of the AA cascade cover several OH-FAs among other oxylipins, yet they require long runtimes and laborious sample preparation. In the present study, we developed a new rapid LC–MS method with automated sample preparation for the simultaneous quantification of 26 OH-FAs within 6.5 min. Crude biological samples are directly injected following addition of four isotopically labeled internal standards and centrifugation. The analytes are extracted from the matrix by means of online solid phase extraction on an Oasis HLB column at 3.5 mL min−1 flow rate. LC separation was carried out on a RP-18 column with fused core 1.3 µm particles. The method showed a high sensitivity with a limit of detection of 0.5–10 fmol on column and a broad linear range. Intra- and inter-batch precision and accuracy for the analytes were characterized for cell culture medium as well as human plasma and were found to be generally within 100 ± 15 %. The method was applied to the investigation of OH-FA formation in five cell lines following incubation with AA, eicosapentaenoic acid (EPA), and docosahexaenoic acid (DHA). The colon cancer cell lines HCA-7 and SW-480, as well as the fibroblast line Balb/c 3T3 showed significant formation of OH-FAs in the cell culture medium, with dominant formation of 15-HETE, 18-HEPE, 20-HDHA, and 8-HDHA from the precursor PUFAs.
Access options
Buy single article
Instant access to the full article PDF.
USD 39.95
Price excludes VAT (USA)
Tax calculation will be finalised during checkout.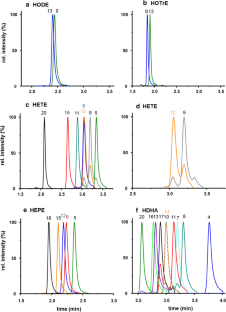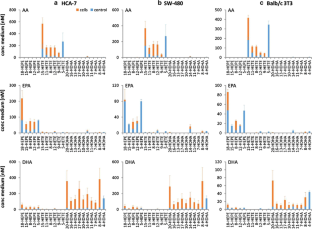 Abbreviations
AA:

Arachidonic acid

ACN:

Acetonitrile

ALA:

Alpha-linolenic acid

CAD:

Collision activated dissociation

CE:

Collision energy

COX:

Cyclooxygenase

CXP:

Collision cell exit potential

CYP:

Cytochrome P450 monooxygenase

DHA:

Docosahexaenoic acid

DP:

Declustering potential

DPA:

Docosapentaenoic acid

DMEM:

Dulbecco's modified Eagle's medium

EPA:

Eicosapentaenoic acid

ESI:

Electrospray ionization

FCS:

Fetal calf serum

FWHM:

Full width at half maximal height

HAc:

Acetic acid

HDHA:

Hydroxydocosahexaenoic acid, hydroxy-DHA

5-HEDH:

5-Hydroxyeicosanoid dehydrogenase

HEPE:

Hydroxyeicosapentaenoic acid, hydroxy-EPA

HETE:

Hydroxyeicosatetraenoic acid, hydroxy-AA

HpETE:

Hydroperoxyeicosatetraenoic acid, hydroperoxy-AA

HODE:

Hydroxyoctadecadienoic acid, hydroxy-LA

HOTrE:

Hydroxyoctadecatrienoic acid, hydroxy-ALA

LA:

Linoleic acid

LC–MS:

Liquid chromatography mass spectrometry

LLOQ:

Lower limit of quantification

LOD:

Limit of detection

LOX:

Lipoxygenase

MeOH:

Methanol

OH-FA:

Hydroxy fatty acid

PUFA:

Polyunsaturated fatty acid

SPE:

Solid phase extraction
References
Buczynski MW, Dumlao DS, Dennis EA (2009) J Lipid Res 50:1015–1038

Fischer R, Konkel A, Mehling H, Blossey K, Gapelyuk A, Wessel N, von Schacky C, Dechend R, Muller DN, Rothe M, Luft FC, Weylandt K, Schunck WH (2014) J Lipid Res 55:1150–1164

Mulugeta S, Suzuki T, Hernandez NT, Griesser M, Boeglin WE, Schneider C (2010) J Lipid Res 51:575–585

Serhan CN (2014) Nature 510:92–101

Weylandt KH, Chiu CY, Gomolka B, Waechter SF, Wiedenmann B (2012) Prostagladins Other Lipid Mediat 97:73–82

Schuchardt JP, Schmidt S, Kressel G, Dong H, Willenberg I, Hammock BD, Hahn A, Schebb NH (2013) Prostagladins Leukot Essent Fat Acids 89:19–29

Dangi B, Obeng M, Nauroth JM, Teymourlouei M, Needham M, Raman K, Arterburn LM (2009) J Biol Chem 284:14744–14759

Chiu CY, Gomolka B, Dierkes C, Huang NR, Schroeder M, Purschke M, Manstein D, Dangi B, Weylandt KH (2012) Inflamm Res 61:967–976

Porter NA, Lehman LS, Weber BA, Smith KJ (1981) J Am Chem Soc 103:6447–6455

Yin H, Brooks JD, Gao L, Porter NA, Morrow JD (2007) J Biol Chem 282:29890–29901

Konkel A, Schunck WH (2011) Biochim Biophys Acta 1814:210–222

Inceoglu B, Wagner K, Schebb NH, Morisseau C, Jinks SL, Ulu A, Hegedus C, Rose T, Brosnan R, Hammock BD (2011) Proc Natl Acad Sci USA 108:5093–5097

Miyata N, Roman RJ (2005) J Smooth Muscle Res 41:175–193

Bylund J, Kunz T, Valmsen K, Oliw EH (1998) J Pharmacol Exp Ther 284:51–60

Buckley CD, Gilroy DW, Serhan CN (2014) Immunity 40:315–327

Bento AF, Claudino RF, Dutra RC, Marcon R, Calixto JB (2011) J Immunol 187:1957–1969

Gonzalez-Periz A, Planaguma A, Gronert K, Miquel R, Lopez-Parra M, Titos E, Horrillo R, Ferre N, Deulofeu R, Arroyo V, Rodes J, Claria J (2006) Faseb J 20:2537–2539

Lima-Garcia JF, Dutra RC, da Silva KABS, Motta EM, Campos MM, Calixto JB (2011) Br J Pharmacol 164:278–293

Neuhofer A, Zeyda M, Mascher D, Itariu BK, Murano I, Leitner L, Hochbrugger EE, Fraisl P, Cinti S, Serhan CN, Stulnig TM (2013) Diabetes 62:1945–1956

Wilson R, Lyall K (2002) Lipids 37:917–924

Tsikas D, Zoerner AA (2014) J Chromatogr B 964:79–88

Dumlao DS, Buczynski MW, Norris PC, Harkewicz R, Dennis EA (2011) Biochim Biophys Acta 1811:724–736

Gomolka B, Siegert E, Blossey K, Schunck WH, Rothe M, Weylandt KH (2011) Prostagladins Other Lipid Mediat 94:81–87

Inceoglu B, Wagner KM, Yang J, Bettaieb A, Schebb NH, Hwang SH, Morisseau C, Haj FG, Hammock BD (2012) Proc Natl Acad Sci USA 109:11390–11395

Yang J, Schmelzer K, Georgi K, Hammock BD (2009) Anal Chem 81:8085–8093

Strassburg K, Huijbrechts AM, Kortekaas KA, Lindeman JH, Pedersen TL, Dane A, Berger R, Brenkman A, Hankemeier T, van Duynhoven J, Kalkhoven E, Newman JW, Vreeken RJ (2012) Anal Bioanal Chem 404:1413–1426

Willenberg I, Elsner L, Steinberg P, Schebb NH (2015) Food Chem 166:537–543

Schebb NH, Huby M, Morisseau C, Hwang SH, Hammock BD (2011) Anal Bioanal Chem 400:1359–1366

Schebb NH, Flores I, Kurobe T, Franze B, Ranganathan A, Hammock BD, Teh SJ (2011) Aquat Toxicol 105:448–454

Schebb NH, Inceoglu B, Rose T, Wagner K, Hammock BD (2011) Anal Methods 3:420–428

Hsieh Y, Duncan CJG, Brisson JM (2007) Anal Chem 79:5668–5673

Bollinger JG, Thompson W, Lai Y, Oslund RC, Hallstrand TS, Sadilek M, Turecek F, Gelb MH (2010) Anal Chem 82:6790–6796

Masoodi M, Mir AA, Petasis NA, Serhan CN, Nicolaou A (2008) Rapid Commun Mass Spectrom 22:75–83

Miller TM, Donnelly MK, Crago EA, Roman DM, Sherwood PR, Horowitz MB, Poloyac SM (2009) J Chromatogr B 877:3991–4000

Harkewicz R, Fahy E, Andreyev A, Dennis EA (2007) J Biol Chem 282:2899–2910

Masoodi M, Eiden M, Koulman A, Spaner D, Volmer DA (2010) Anal Chem 82:8176–8185

Schebb NH, Ostermann AI, Yang J, Hammock BD, Hahn A, Schuchardt JP (2014) Prostagladins Other Lipid Mediat. doi:10.1016/j.prostaglandins.2014.05.002

Norris PC, Dennis EA (2012) Proc Natl Acad Sci USA 109:8517–8522

Norris PC, Reichart D, Dumlao DS, Glass CK, Dennis EA (2011) J Leukoc Biol 90:563–574

Glasgow WC, Eling TE (1990) Mol Pharmacol 38:503–510

Little JM, Kurkela M, Sonka J, Jantti S, Ketola R, Bratton S, Finel M, Radominska-Pandya A (2004) J Lipid Res 45:1694–1703

Turgeon D, Chouinard S, Belanger P, Picard S, Labbe JF, Borgeat P, Belanger A (2003) J Lipid Res 44:1182–1191

Grant GE, Rokach J, Powell WS (2009) Prostagladins Other Lipid Mediat 89:98–104

Green FA (1990) Lipids 25:618–623

Powell WS, Gravel S, Gravelle F (1995) J Lipid Res 36:2590–2598

Sharma RA, Gescher A, Plastaras JP, Leuratti C, Singh R, Gallacher-Horley B, Offord E, Marnett LJ, Steward WP, Plummer SM (2001) Carcinogenesis 22:1557–1560

Sheng H, Shao J, Kirkland SC, Isakson P, Coffey RJ, Morrow J, Beauchamp RD, DuBois RN (1997) J Clin Invest 99:2254–2259

Yoshinaga M, Buchanan FG, DuBois RN (2004) Prostagladins Other Lipid Mediat 73:111–122

Bednar W, Holzmann K, Marian B (2007) Food Chem Toxicol 45:508–514

Melstrom LG, Bentrem DJ, Salabat MR, Kennedy TJ, Ding XZ, Strouch M, Rao SM, Witt RC, Ternent CA, Talamonti MS, Bell RH, Adrian TA (2008) Clin Cancer Res 14:6525–6530

Tavolari S, Bonafe M, Marini M, Ferreri C, Bartolini G, Brighenti E, Manara S, Tomasi V, Laufer S, Guarnieri T (2008) Carcinogenesis 29:371–380

Lepage C, Liagre B, Cook-Moreau J, Pinon A, Beneytout JL (2010) Int J Oncol 36:1183–1191
Acknowledgments
This study was supported by a Kekulé Ph.D. fellowship of the Fonds der Chemischen Industrie to IW, and a grant of the German Research Foundation (DFG) (WE 2908) to KWH as well as a Marie Curie Career Integration Grant (CIG 293536) of the European Union and a Grant of the German Research Foundation (SCHE 1801) to NHS.
Additional information
Published in the topical collection Recent Developments in Clinical Omics with guest editors Martin Giera and Manfred Wuhrer.
Electronic supplementary material
Below is the link to the electronic supplementary material.
About this article
Cite this article
Ostermann, A.I., Willenberg, I., Weylandt, K.H. et al. Development of an Online-SPE–LC–MS/MS Method for 26 Hydroxylated Polyunsaturated Fatty Acids as Rapid Targeted Metabolomics Approach for the LOX, CYP, and Autoxidation Pathways of the Arachidonic Acid Cascade. Chromatographia 78, 415–428 (2015). https://doi.org/10.1007/s10337-014-2768-8
Received:

Revised:

Accepted:

Published:

Issue Date:

DOI: https://doi.org/10.1007/s10337-014-2768-8
Keywords