Abstract
New retention methodology that integrates the conventional quantitative structure-retention relationship (QSRR) approach and gradient retention modeling based on isocratic retention data is developed and presented in this paper. Such an integrated approach removes the general QSRR limitation of highly predefined application conditions (i.e., QSRR are generally applicable only under the conditions used during model development) and allows the prediction of retentions over a wide range of different elution conditions (practically for any isocratic or gradient elution profile). At the same time, it retains the ability to predict retention of components unknown to the model, i.e., the components that have not been used in modeling. Ion-exchange chromatography (IC) analysis of carbohydrates was selected as modeling environment. Three regression techniques were applied and compared during QSRR modeling, namely: stepwise multiple linear regression, partial least squares (PLS), and uninformative variable elimination–PLS regression. The obtained prediction results of the best QSRR model (root-mean-square error of prediction = 22.69 %) were similar to those found in the literature. The upgrade from QSRR to the integrated model did not diminish the predictive ability of the model, indicating an excellent potential of the developed methodology not only in IC but also in chromatography in general.
Access options
Buy single article
Instant access to the full article PDF.
US$ 39.95
Tax calculation will be finalised during checkout.
Subscribe to journal
Immediate online access to all issues from 2019. Subscription will auto renew annually.
US$ 119
Tax calculation will be finalised during checkout.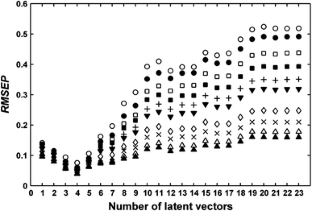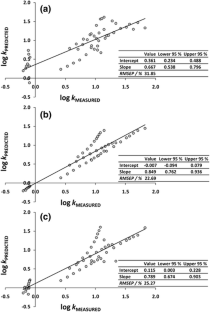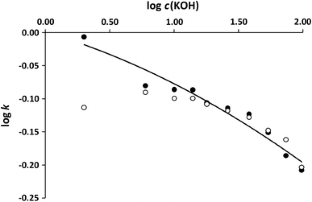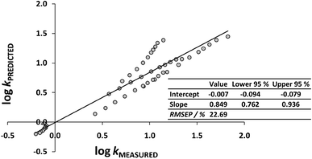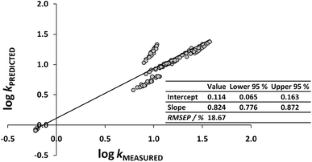 References
1.

Héberger K (2007) J Chromatogr A 1158:273–305

2.

Hansch C, Leo A (1995) Exploring QSAR: fundamentals and applications in chemistry and biology. American Chemical Society, Washington

3.

Plenis A, Konieczna L, Miękus N, Bączek T (2013) Chromatographia 76:255–265

4.

Durcekova T, Boronova K, Mocak J, Lehotay J, Cizmarik J (2012) J Pharm Biomed Anal 59:209–216

5.

Qin L-T, Liu S–S, Liu H-L, Tong J (2009) J Chromatogr A 1216:5302–5312

6.

Bączek T, Bodzioch K, Michalska E, Kaliszan R (2008) Chromatographia 68:161–166

7.

Ruiz-Angel MJ, Carda-Broch S, García-Alvarez-Coque MC, Berthod A (2005) J Chromatogr A 1063:25–34

8.

Righezza M, Hassani A, Meklati BY, Chrétien JR (1996) J Chromatogr A 723:77–91

9.

Bodzioch K, Durand A, Kaliszan R, Bączek T, Vander Heyden Y (2010) Talanta 81:1711–1718

10.

Funar-Timofei S, Fabian WMF, Simu GM, Suzuki T (2006) Croat Chem Acta 79:227–236

11.

Goryński K, Bojko B, Nowaczyk A, Buciński A, Pawliszyn J, Kaliszan R (2013) Anal Chim Acta 797:13–19

12.

Cirera-Domènech E, Estrada-Tejedor R, Broto-Puig F, Teixidó J, Gassiot-Matas M, Comellas L, Lliberia JL, Méndez A, Paz-Estivill S, Delgado-Ortiz MR (2013) J Chromatogr A 1276:65–77

13.

Aschi M, D'Archivio AA, Maggi MA, Mazzeo P, Ruggieri F (2007) Anal Chim Acta 582:235–242

14.

Golubović J, Protić A, Zečević M, Otašević B, Mikić M, Živanović LJ (2012) Talanta 100:329–337

15.

Bolanča T, Cerjan-Stefanović Š, Luša M, Rogošić M, Ukić Š (2006) J Chromatogr A 1121:228–235

16.

Yurkanis Bruice P (2004) Organic chemistry, 5th edn. Pearson/Prentice Hall, New Jersey

17.

Ding C, Wang L, Tian C, Li Y, Sun Z, Wang H, Suo Y (2008) Chromatographia 68:893–902

18.

Barker PE, Knoechelmann A, Ganetsos G (1990) Chromatographia 29:161–166

19.

Coquet A, Haerdi W, Degli Agosti R, Veuthey J-L (1994) Chromatographia 38:12–16

20.

Stefansson M, Westerlund D (1993) Chromatographia 35:199–205

21.

Olano A, Calvo MM, Reglero G (1986) Chromatographia 21:538–540

22.

Schwald W, Concin R, Bonn G, Bobleter O (1985) Chromatographia 20:35–40

23.

Qiu W, Wang Z, Nie W, Guo Y, Huang L (2007) Chromatographia 66:935–939

24.

Dendene K, Guihard L, Balannec B, Bariou B (1995) Chromatographia 41:561–567

25.

Arfelli G, Sartini E (2014) Food Chem 142:152–158

26.

Caseiro A, Marr IL, Claeys M, Kasper-Giebl A, Puxbaum H, Pio CA (2007) J Chromatogr A 1171:37–45

27.

Blank I, Davidek T, Devaud S, Clety N (2002) Int Congr Ser 1245:263–267

28.

Corradini C, Corradini D, Huber CG, Bonn GK (1995) Chromatographia 41:511–515

29.

Yu H, Ding YS, Mou SF (2003) Chromatographia 57:721–728

30.

Jochum M, Bakry R, Wartusch I, Huck CW, Engelhardt H, Bonn GK (2002) Chromatographia 56:263–268

31.

Martens DA, Frankenberger WT Jr (1990) Chromatographia 29:7–12

32.

Gough H, Luke GA, Beeley JA, Geddes DAM (1996) Arch Oral Biol 41:141–145

33.

Corradini C, Cavazza A, Bignardi C (2012) Int J Carbohydr Chem 13 pp. doi:10.1155/2012/487564

34.

Guillén-Casla V, Rosales-Conrado N, León-González ME, Pérez-Arribas LV, Polo-Díez LM (2011) J Food Compos Anal 24:456–464

35.

Efroymson MA (1960) In: Ralston A, Wilf HS (eds) Mathematical methods for digital computers. Wiley, New York

36.

Gevrey M, Dimopoulos I, Lek S (2003) Ecol Model 160:249–264

37.

Wold H (1966) In: Krishnaiaah PR (ed) Multivariate analysis. Academic Press, New York

38.

Mateos-Aparicio G (2011) Commun Stat Theory Methods 40:2305–2317

39.

Abdi H (2010) WIREs Comput Stat 2:97–106

40.

Rosipal R, Krämer N (2006) Lect Notes Comput Sci 3940:34–51

41.

Ramzan S, Khan MA (2010) World Appl Sci J 8:404–410

42.

Centner V, Massart DL, de Noord OE, de Jong S, Vandeginste BM, Sterna C (1996) Anal Chem 68:3851–3858

43.

Ye S, Wang D, Min S (2008) Chemometr Intell Lab Syst 91:194–199

44.

Mehmood T, Hovde Liland K, Snipen L, Sæbø S (2012) Chemometr Intell Lab Syst 118:62–69

45.

Moros J, Kuligowski J, Quintás G, Garrigues S, de la Guardia M (2008) Anal Chim Acta 630:150–160

46.

Arlot S (2010) Stat Surv 4:40–79

47.

Thermo Fisher Scientific (2011) Product manual CarboPac PA20. http://www.dionex.com/en-us/webdocs/4378-Man-031884-05-CarboPac-PA20-Jul11.pdf. Accessed 14 Jan 2014

48.

Basumallick L, Rohrer J (2012) Thermo Fisher Scientific application note 282. http://www.dionex.com/en-us/webdocs/113489-AN282-IC-Biofuel-Sugars-03May2012-LPN2876-R2.pdf. Accessed 14 Jan 2014

49.

Deming SN, Morgan SL (1993) Experimental design, a chemometric approach, 2nd edn. Elsevier, Amsterdam

50.

Bolton E, Wang Y, Thiessen PA, Bryant SH (2008) Annu Rep Comput Chem 4:217–241

51.

Yap CW (2011) J Comput Chem 32:1466–1474

52.

Bolanča T, Cerjan-Stefanović Š, Ukić Š, Rogošić M, Luša M (2009) J Liq Chromatogr Relat Technol 32:1373–1391

53.

Ukić Š, Rogošić M, Novak M, Šimović E, Tišler V, Bolanča T (2013) J Anal Methods Chem 11 pp. doi:10.1155/2013/549729

54.

Gupta VK, Khani H, Ahmadi-Roudi B, Mirakhorli S, Ehsan Fereyduni E, Agarwal S (2011) Talanta 83:1014–1022

55.

Riahi S, Ganjali MR, Pourbasheer E, Norouzi P (2008) Chromatographia 67:917–922

56.

Fragkaki AG, Tsantili-Kakoulidou A, Angelis YS, Koupparis M, Georgakopoulos C (2009) J Chromatogr A 1216:8404–8420

57.

Hadi Noorizadeh H, Noorizadeh M, Mumtaz AS (2011) J Saudi Chem Soc. doi:10.1016/j.jscs.2011.06.007

58.

Asadpour S, Chamsaz M, Haron MJ (2012) Res J Pharm Biol Chem Sci 3:850–860

59.

Goodarzi M, Jensen R, Vander Heyden Y (2012) J Chromatogr B Biomed Appl 910:84–94

60.

Djaković-Sekulić T, Perišić-Janjić N, Pyka A (2003) Chromatographia 58:47–51

61.

Loukas YL (2002) J Chromatogr A 904:119–129
Acknowledgments
Generous support and help of Thermo Fisher Scientific Corporation is gratefully acknowledged.
Additional information
Published in the special paper collection 19th International Symposium on Separation Sciences with guest editors Tomislav Bolanča and Bogusław Buszewski.
About this article
Cite this article
Ukić, Š., Novak, M., Žuvela, P. et al. Development of Gradient Retention Model in Ion Chromatography. Part I: Conventional QSRR Approach. Chromatographia 77, 985–996 (2014). https://doi.org/10.1007/s10337-014-2653-5
Received:

Revised:

Accepted:

Published:

Issue Date:
Keywords
Ion chromatography

QSRR

Gradient retention model

Stepwise MLR

PLS

UVE–PLS