Abstract
Exhaled breath contains thousands of gaseous volatile organic compounds (VOCs) that may be used as non-invasive markers of head and neck epidermoid cancer. We hypothesized that solid phase micro-extraction coupled to gas chromatography–mass spectrometry can discriminate patients with epidermoid head and neck cancer from healthy controls by analyzing the gaseous volatile organic compounds, VOC-profile, in exhaled breath, thus identifying some non-invasive biomarkers to be used in early detection. Twenty healthy subjects participated in a cross-sectional study plus 11 patients with epidermoid supraglottic laryngeal cancer. VOCs from T3 supraglottic cancer were clustered distinctly from those of T1 and healthy subjects. Up to seven VOCs were detected differently from healthy volunteers, mainly 2-butanone and ethanol. Thus VOC-patterns of exhaled breath may discriminate patients with epidermoid head and neck cancer from healthy controls.
Access options
Buy single article
Instant access to the full article PDF.
US$ 39.95
Tax calculation will be finalised during checkout.
Subscribe to journal
Immediate online access to all issues from 2019. Subscription will auto renew annually.
US$ 119
Tax calculation will be finalised during checkout.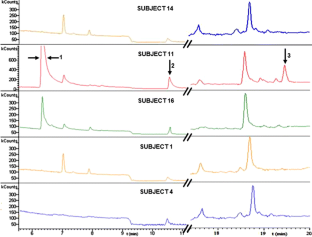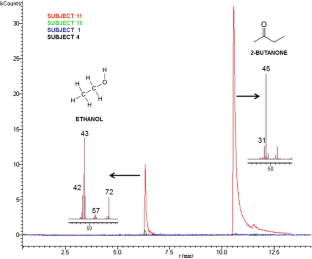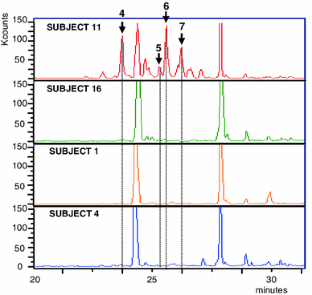 References
1.

Bezerra DL, Bernal MM, Curado MP (2011) Cancer Epidemiol 35:328–333

2.

Maroni G, Ragona RM, Cartei G, Marchese F, Staffieri A (2006) Cancer Treat Rev 32:504–515

3.

Cattaruzza MS, Maisonneuve P, Boyle P (1996) Eur J Cancer 32:293–305

4.

Bajtarevic A, Ager C, Pienz M, Klieber M, Schwarz K, Ligor M (2009) BMC Cancer 348:471–479

5.

Hughes C, Homer J, Bradley P, Nutting C, Ness A, Persson M, Jeffreys M, Waylen A, Leary S, Thomas S (2012) Clin Oncol 24:187–192

6.

Tong CCL, Kao J, Sikora AG (2012) Immunol Res 54:266–274

7.

Phillips M, Cataneo RN, Cummin ARC, Gagliardi AJ, Gleeson K, Greenberg J (2003) Am Coll Chest Physicians 123:2115–2123

8.

Phillips M, Gleeson K, Hughes JMB, Greenberg J, Cataneo RN, Baker L (1999) Lancet 353:1930–1942

9.

Phillips M (1992) Sci Am 267:74–79

10.

Gordon SM, Szidon SP, Krotoszynski BK, Gibbons RD, O'Neill HJ (1985) Clin Chem 31:1278–1289

11.

Pauling L, Robinson AB, Teranishi R, Gary P (1971) Proc Natl Acad Sci USA 68:2374–2376

12.

O'Neill HJ, Gordon SM, O'Neill MH, Gibbons RD, Szidon JP (1988) Clin Chem 34:1613

13.

Damas MJ, Yonamine M, de Moraes RL, Silva AO (2004) J Chromatogr B 811:37–40

14.

Kataoka H, Saito K (2011) J Pharmaceut Biomed 54:926–950

15.

Hakim M, Broza YY, Barash O, Peled N, Phillips M, Amann A, Hossam H (2012) Chem Rev 112:5949–5966

16.

Buszewski B, Kesy M, Ligor T, Amann A (2007) Biomed Chromatogr 21:553–566

17.

Kataoka H (2010) Anal Bioanal Chem 396:339–364

18.

Theodoridos G, Koster EHM, Jong GJ (2000) J Chromatogr B 745:49–82

19.

Arthur C, Pawliszyn J (1990) Anal Chem 62:2145–2148

20.

Wang VS, Lu MY (2009) J Chromatogr B 877:24–32

21.

Górecki T, Yu X, Pawliszyn J (1999) Analyst 124:643–649

22.

Ligor T, Szeliga J, Jackowski M, Buszewski B (2007) J Breath Res 1:016001

23.

Buszewski B, Ulanowska A, Kowalkowski T, Cieslinski K (2012) Clin Chem Lab Med 50(3):573–581

24.

DeGreeff LE, Furton KG (2011) Anal Bioanal Chem 401:1295–1307

25.

Pandey SK, Kim KH (2010) Trends Anal Chem 29:804–819

26.

Phillips M (1997) Anal Biochem 247:272–278

27.

Díaz Maroto MC, Sánchez Palomo E, Pérez Coello MS (2004) J Agric Food Chem 52:6857–6861

28.

Mochalski P, King J, Unterkoflera K, Amannad A (2013) Analyst 138:1405–1418

29.

Ghosh S, Kim K-H, Sohn JR (2011) Sci World J 11:2160–2177
Acknowledgments
We would like to thank all the participants in our study, especially those who are suffering from cancer. The financial support of Fundación Mútua Madrileña and the Spanish government (CTQ2008-05909/PPQ and CTQ2011-22707 projects) is gratefully acknowledged.
About this article
Cite this article
García, R.A., Morales, V., Martín, S. et al. Volatile Organic Compounds Analysis in Breath Air in Healthy Volunteers and Patients Suffering Epidermoid Laryngeal Carcinomas. Chromatographia 77, 501–509 (2014). https://doi.org/10.1007/s10337-013-2611-7
Received:

Revised:

Accepted:

Published:

Issue Date:
Keywords
GC–MS

SPME

VOCs

Laryngeal carcinoma

Biomarkers