Abstract
Affinity capillary electrophoresis was used to study quantitatively the noncovalent interactions between β-lactoglobulin (β-LG), a milk whey protein, and two lantibiotics, nisin (a dairy biopreservative lantibiotic) and duramycin (a bovine mastitis treatment lantibiotic). The study involved measuring the change in effective electrophoretic mobility of the lantibiotic as the concentration of β-LG in the background electrolyte is increased. Nonlinear regression analysis was used to model the dependence of the effective mobility of the lantibiotic on β-LG concentration in the BGE. Using this approach, binding constants were determined to be 3.1 (±0.2) × 108 M−1 for nisin and 2.2 (±0.1) × 108 M−1 for duramycin. Both binding constants were comparable indicating the similarity of affinity properties of nisin and duramycin towards β-LG. These results demonstrate that affinity capillary electrophoresis is a suitable method for characterizing the interaction between lantibiotics and β-LG.
Access options
Buy single article
Instant access to the full article PDF.
USD 39.95
Price excludes VAT (USA)
Tax calculation will be finalised during checkout.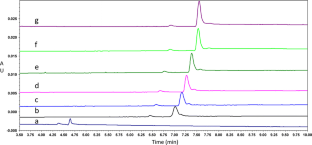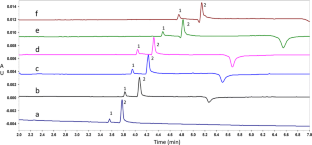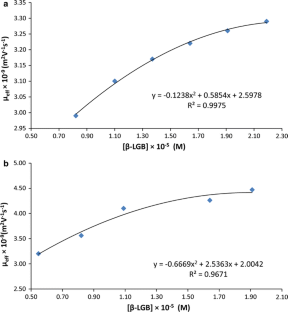 References
Kontopidis G, Holt C, Sawyer L (2004) J Dairy Sci 87:785–796

Qin BY, Bewley MC, Creamer LK, Baker HM, Baker EN, Jameson GB (1999) Prot. Sci. 8:75–83

Pérez MD, Calvo M (1995) J Dairy Sci 78(5):978–988

Jung G (1996) Combinatorial Peptides and Nonpeptide Libraries. VCH: Weinheim, Germany: 303

Järvinen K-M, Chatchatee P, Bardina L, Beyer K, Sampson HA (2001) Int. Arch. Of Allergy and Immun. 126(2):111–118

Willey JM, van der Donk WA (2007) Annu Rev Microbiol 61:477–501

Twomey D, Ross RP, Meaney B, Jill C (2002) Antoine van Leeuwenhoek. 82:165–185

Field D, Connor PMO, Cotter PD, Hill C, Ross RP (2008) Mol Micro 69(1):218–230

de Arauz LJ, Jozala AF, Mazzola PG, Penna TCV (2009) Trends Food Sci Technol 20:146–154

Delves-Broughton J (2005) Food Australia 57(12):525–527

Chen H, Hoover DG (2003) Comp Revs Food Sci Food Saf 2:82–100

Cotter PD, Hill C, Ross PR (2005) Curr Prot Pep Sci 6:61–75

Yada RY (2004) Proteins in food processing CRC Press, Boca Raton 402

El Deeb S, Wätzing H, El-Hady A (2013) Trends in. Anal Chem 48:112–131

Bowser MT, Chen DDY (1998) Anal Chem 70:3261–3270
Acknowledgments
The authors would like to thank Natural Science and Engineering Research Council (NSERC) of Canada for funding this study and Thompson Rivers University (TRU) for their support.
About this article
Cite this article
Risley, J.M., Soliman, L.C. & Donkor, K.K. Characterization of the Interaction Between Lantibiotics, Nisin and Duramycin, and β-Lactoglobulin by Affinity Capillary Electrophoresis. Chromatographia 76, 1773–1777 (2013). https://doi.org/10.1007/s10337-013-2579-3
Received:

Revised:

Accepted:

Published:

Issue Date:

DOI: https://doi.org/10.1007/s10337-013-2579-3
Keywords
Capillary electrophoresis

Lantibiotics

Nisin

Duramycin

β-Lactoglobulin

Binding constant