Abstract
In this study, we optimized method for the isolation and detection of lactoferrin from human saliva using 3 mm short monolithic disc. We optimized the conditions for separation as flow rate 4 mL min−1 and ionic strength of effluent as 2 M·NaCl. We estimated limit of detection of whole method, which was hyphenated to the Bradford's assay, down to 100 ng mL−1. The purity of the isolated fractions was verified by sodium dodecyl sulphate-polyacrylamide gel electrophoresis and recovery of isolation was found to be 51 % using minimally processed sample of saliva. Further, we tested the optimized method on group of healthy volunteers (n = 7). We were able to distinguish between the healthy subjects and subject suffering from celiac disease, which reported at least 2.5× higher level of lactoferrin in comparison to healthy ones. The results were correlated with standard enzyme-linked immunosorbent assay (ELISA) kit with obtained correlation coefficient R 2 = 0.8446. Analysis of lactoferrin in saliva by monolithic disc and subsequent offline photometric detection is faster and cheaper method compared to ELISA commercial kit. The total analysis of one sample takes <20 min.
This is a preview of subscription content,
to check access.
Access this article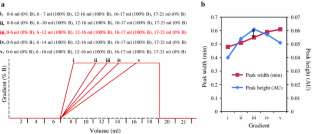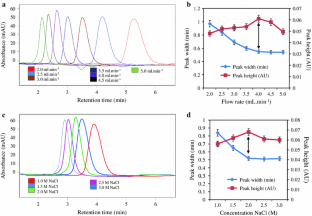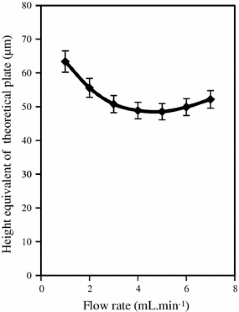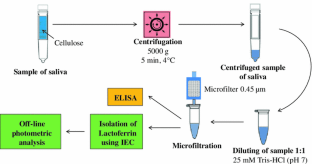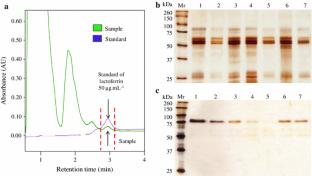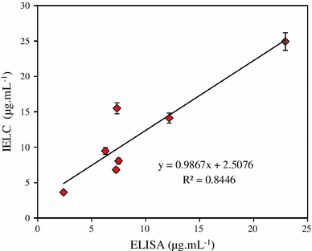 References
Rey MW, Woloshuk SL, Deboer HA, Pieper FR (1990) Nucleic Acids Res 18:5288

Powell MJ, Ogden JE (1990) Nucleic Acids Res 18:4013

Levay PF, Viljoen M (1995) Haematologica 80:252–267

Lonnerdal B, Iyer S (1995) Annu Rev Nutr 15:93–110

Vorland LH (1999) Apmis 107:971–981

Nibbering PH, Ravensbergen E, Welling MM, van Berkel LA, van Berkel PHC, Pauwels EKJ, Nuijens JH (2001) Infect Immun 69:1469–1476

Orsi N (2004) Biometals 17:189–196

van der Strate BWA, Beljaars L, Molema G, Harmsen MC, Meijer DKF (2001) Antiviral Res 52:225–239

Rhodus NL, Cheng B, Myers S, Miller L, Ho V, Ondrey F (2005) Mol Carcinog 44:77–82

Lenander-Lumikari M, Ihalin R, Lahteenoja H (2000) Arch Oral Biol 45:347–354

Groschl M (2009) BioEssays 31:843–852

Humphrey SP, Williamson RT (2001) J Prosthet Dent 85:162–169

Arslan SY, Leung KP, Wu CD (2009) Oral Microbiol Immunol 24:411–416

Sukharev AY, Yermolayeva TN, Beda NA, Krylov GF (2009) Klin Lab Diag 2009:38–39

Castagnola M, Picciotti PM, Messana I, Fanali C, Fiorita A, Cabras T, Calo L, Pisano E, Passali GC, Iavarone F, Paludetti G, Scarano E (2011) Acta Otorhinolaryngol Ital 31:347–357

Salmon V, Legrand D, Georges B, Slomianny MC, Coddeville B, Spik G (1997) Protein Expr Purif 9:203–210

Ye XY, Yoshida S, Ng TB (2000) Int J Biochem Cell Biol 32:1143–1150

Uchida T, Dosako S, Sato K, Kawakami H (2003) Milchwiss Milk Sci Int 58:482–486

Hutchens TW, Henry JF, Yip TT (1989) Clin Chem 35:1928–1933

Wolman FJ, Gonzalez Maglio D, Grasselli A, Cascone O (2007) J Membr Sci 288:132–138

Ng PK, Yoshitake T (2010) J Chromatogr B 878:976–980

Shinmoto H, Kobori M, Tsushida T, Shinohara K (1997) Biosci Biotechnol Biochem 61:1044–1046

Yoshise RE, Matsumoto M, Chiji H, Kuwata H, Shin K, Yamauchi K, Tamura Y, Tanaka T, Kumura H, Shimazaki K (2007) Milchwiss Milk Sci Int 62:446–450

Sykes JAC, Thomas MJ, Goldie DJ, Turner GM (1982) Clin Chim Acta 122:385–393

Boxer LA, Coates TD, Haak RA, Wolach JB, Hoffstein S, Baehner RL (1982) N Engl J Med 307:404–410

Maacks S, Yuan HZ, Wood WG (1989) J Biolumin Chemilumin 3:221–226

Drackova M, Borkovcova I, Janstova B, Naiserova M, Pridalova H, Navratilova P, Vorlova L (2009) Czech J Food Sci 27:S102–S104

Campanella L, Martini E, Pintore M, Tomassetti M (2009) Sensors 9:2202–2221

Li J, Ding XJ, Chen YY, Song BH, Zhao S, Wang Z (2012) J Chromatogr A 1244:178–183

Barut M, Podgornik A, Brne P, Strancar A (2005) J Sep Sci 28:1876–1892

Krenkova J, Gargano A, Lacher NA, Schneiderheinze JM, Svec F (2009) J Chromatogr A 1216:6824–6830

Sykora D, Svec F, Frechet JMJ (1999) J Chromatogr A 852:297–304

Chen X, Tolley HD, Lee ML (2010) J Chromatogr A 1217:3844–3854

Vidic J, Podgornik A, Jancar J, Frankovic V, Kosir B, Lendero N, Cucek K, Krajnc M, Strancar A (2007) J Chromatogr A 1144:63–71

Mihelic I, Krajnc M, Koloini T, Podgornik A (2001) Ind Eng Chem Res 40:3495–3501

Stachowiak TB, Rohr T, Hilder EF, Peterson DS, Yi MQ, Svec F, Frechet JMJ (2003) Electrophoresis 24:3689–3693

Takahashi M, Hirano T, Kitagawa S, Ohtani H (2012) J Chromatogr A 1232:123–127

Ivancic-Jelecki J, Brgles M, Santak M, Forcic D (2009) J Chromatogr A 1216:2717–2724

Sousa A, Bicho D, Tomaz CT, Sousa F, Queiroz JA (2011) J Chromatogr A 1218:1701–1706

Gutierrez-Aguirre I, Banjac M, Steyer A, Poljsak-Prijatelj M, Peterka M, Strancar A, Ravnikar M (2009) J Chromatogr A 1216:2700–2704

Buszewski B, Szumski M, Klodzinska E, Jarmalaviciene R, Maruska A (2009) J Chromatogr A 1216:6146–6150

Branovic K, Lattner G, Barut M, Strancar A, Josic D, Buchacher A (2002) J Immunol Method 271:47–58

Krizkova S, Hrdinova V, Adam V, Burgess EPJ, Kramer KJ, Masarik M, Kizek R (2008) Chromatographia 67:S75–S81

Sochor J, Ryvolova M, Krystofova O, Salas P, Hubalek J, Adam V, Trnkova L, Havel L, Beklova M, Zehnalek J, Provaznik I, Kizek R (2010) Molecules 15:8618–8640

Bradford MM (1976) Anal Biochem 72:248–254

Zor T, Seliger Z (1996) Anal Biochem 236:302–308

Long GL, Winefordner JD (1983) Anal Chem 55:A712–A724

Causon R (1997) J Chromatogr B 689:175–180

Bugianesi R, Serafini M, Simone F, Wu DY, Meydani S, Ferro-Luzzi A, Azzini E, Maiani G (2000) Anal Biochem 284:296–300

Adam V, Zitka O, Dolezal P, Zeman L, Horna A, Hubalek J, Sileny J, Krizkova S, Trnkova L, Kizek R (2008) Sensors 8:464–487

Verheul M, Roefs S (1998) J Agric Food Chem 46:4909–4916

Rudney JD, Smith QT (1985) Infect Immun 49:469–475

Jentsch H, Sievert Y, Gocke R (2004) J Clin Periodontol 31:511–514

Wolters VM, Wijmenga C (2008) Am J Gastroenterol 103:190–195
Acknowledgments
Financial support from the grants CEITEC CZ.1.05/1.1.00/02.0068 and NanoBioTECell GA CR P102/11/1068 is highly acknowledged.
About this article
Cite this article
Zitka, O., Skalickova, S., Krizkova, S. et al. Separation of Lactoferrin from Human Saliva Using Monolithic Disc. Chromatographia 76, 611–619 (2013). https://doi.org/10.1007/s10337-013-2459-x
Received:

Revised:

Accepted:

Published:

Issue Date:

DOI: https://doi.org/10.1007/s10337-013-2459-x
Keywords