Abstract
Many studies have investigated how spring temperature affects laying dates and how this in turn affects the synchrony between nestling food demands and the insect food peak that follows tree budburst. While there is strong evidence that temperature itself acts as a cue for this plasticity in annual timing, the exact nature of the cue and response remains to be elucidated. Here we use long-term data on Great and Blue Tits and an unprecedented dataset on the location and phenology of 1396 trees to investigate whether small-scale variation in laying date can be explained by local tree phenology, and/or by tree species composition around nestboxes. Individual trees maintained their relative timing of budburst between years, while differences among tree species were more variable between springs. Contrary to expectation, we found no relation between first-egg dates and average budburst date at different distances around the nestbox. This can at least partly be explained by the very low degree of spatial autocorrelation in tree budburst. We did find an effect of local tree composition whereby Blue Tits, but not Great Tits, laid earlier in nestboxes surrounded by more oaks and fewer beeches. Although Blue Tit nest failure rate was higher in territories with more beech trees, independently of laying date, we found no evidence for preferential occupation of oak-dominated territories. Thus although we found some evidence for fine-scale effects of tree species on timing of breeding, the underlying mechanism remains unclear.
Zusammenfassung
Die Legedaten von Blau- und Kohlmeisen variieren mit feinen Veränderungen in der örtlichen Baumartenzusammensetzung, nicht aber mit dem Ausbruch der Baumknospen.
Es gibt viele Untersuchungen dazu, wie sich die Frühlingstemperatur auf den Eiablagezeitpunkt auswirkt und wie dies wiederum den zeitlichen Abgleich zwischen dem Nahrungsbedarf der Nestlinge und dem starken Anstieg an Insekten direkt nach dem Austreiben der Bäume beeinflusst. Während es starke Hinweise darauf gibt, dass die Temperatur selbst als Auslöser für diese Plastizität im jährlichen Timing wirkt, muss die genaue Natur des Auslösers und der Reaktion darauf noch aufgeklärt werden. In unserer Studie verwendeten wir Langzeit-Daten von Kohlmeisen und Blaumeisen sowie einen bislang noch nicht ausgewerteten Datensatz über den Standort und die Phänologie von 1396 Bäumen, um zu untersuchen, ob kleinere Variationen des Legedatums durch die örtliche Baumphänologie und/oder die Baumartenzusammensetzung in der Umgebung von Nistkästen erklärt werden können. Einzelne Bäume behielten ihren relativen Zeitpunkt des Knospenausbruchs zwischen den Jahren bei, während die Unterschiede zwischen den Baumarten von Frühjahr zu Frühjahr variabler waren. Entgegen unserer Erwartung fanden wir keinen Zusammenhang zwischen dem Datum des ersten Eis und dem durchschnittlichen Zeitpunkt des Austriebs in verschiedenen Entfernungen um den Nistkasten. Dies kann zumindest teilweise durch den sehr geringen Grad an räumlicher Autokorrelation im Baumknospenaufbruch erklärt werden. Wir fanden einen Effekt der örtlichen Baumzusammensetzung, wobei Blaumeisen, aber nicht Kohlmeisen, in Nistkästen, die von mehr Eichen und weniger Buchen umgeben waren, ihre Eier früher legten. Obwohl die Ausfallrate von Blaumeisen-Nestern in Territorien mit mehr Buchen unabhängig vom Legedatum höher war, fanden wir keinen Hinweis auf eine Bevorzugung von an Eichen reichen Territorien. Obwohl wir also einige Hinweise auf feine Effekte der Baumarten auf den Brut-Zeitpunkt gefunden haben, bleibt der zugrundeliegende Mechanismus unklar.
Access options
Buy single article
Instant access to the full article PDF.
US$ 39.95
Tax calculation will be finalised during checkout.
Subscribe to journal
Immediate online access to all issues from 2019. Subscription will auto renew annually.
US$ 79
Tax calculation will be finalised during checkout.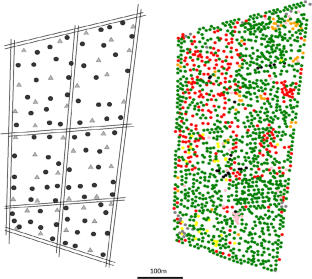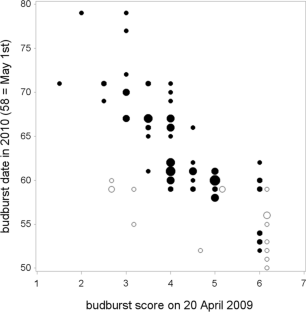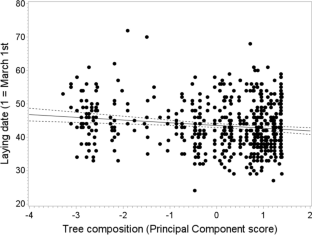 References
Adriaenssens F, Verheyen K (2013) Oude bossen van de Antwerpse Kempen [Ancient woodlands of the Antwerp Campine Region]. Davidsfonds Publishing, Leuven

Amininasab SM et al (2016) Influence of fine-scale habitat structure on nest-site occupancy, laying date and clutch size in Blue Tits Cyanistes caeruleus. Acta Oecol Int J Ecol 70:37–44. https://doi.org/10.1016/j.actao.2015.11.006

Amo L, Jansen JJ, van Dam NM, Dicke M, Visser ME (2013) Birds exploit herbivore-induced plant volatiles to locate herbivorous prey. Ecol Lett 16:1348–1355. https://doi.org/10.1111/ele.12177

Arriero E, Sanz JJ, Romero-Pujante M (2006) Habitat structure in Mediterranean deciduous oak forests in relation to reproductive success in the Blue Tit Parus caeruleus. Bird Study 53:12–19. https://doi.org/10.1080/00063650609461411

Augspurger CK, Bartlett EA (2003) Differences in leaf phenology between juvenile and adult trees in a temperate deciduous forest. Tree Physiol 23:517–525. https://doi.org/10.1093/treephys/23.8.517

Betts MM (1955) The food of titmice in oak woodland. J Anim Ecol 24:282–323. https://doi.org/10.2307/1715

Bison M et al (2020) Best environmental predictors of breeding phenology differ with elevation in a common woodland bird species. Ecol Evol 10:10219–10229. https://doi.org/10.1002/ece3.6684

Both C et al (2004) Large-scale geographical variation confirms that climate change causes birds to lay earlier. Proceedings of the Royal Society of London Series B-Biological Sciences 271:1657–1662. https://doi.org/10.1098/rspb.2004.2770

Both C, Bouwhuis S, Lessells CM, Visser ME (2006) Climate change and population declines in a long-distance migratory bird. Nature 441:81–83. https://doi.org/10.1038/nature04539

Bourgault P, Thomas D, Perret P, Blondel J (2010) Spring vegetation phenology is a robust predictor of breeding date across broad landscapes: a multi-site approach using the Corsican blue tit (Cyanistes caeruleus). Oecologia 162:885–892. https://doi.org/10.1007/s00442-009-1545-0

Caro SP, Schaper SV, Hut RA, Ball GF, Visser ME (2013) The case of the missing mechanism: how does temperature influence seasonal timing in endotherms? PLoS Biol 11:8. https://doi.org/10.1371/journal.pbio.1001517

Chamberlain DE, Cannon AR, Toms MP, Leech DI, Hatchwell BJ, Gaston KJ (2009) Avian productivity in urban landscapes: a review and meta-analysis. Ibis 151:1–18. https://doi.org/10.1111/j.1474-919X.2008.00899.x

Charmantier A, Gienapp P (2014) Climate change and timing of avian breeding and migration: evolutionary versus plastic changes. Evol Appl 7:15–28. https://doi.org/10.1111/eva.12126

Charmantier A, McCleery RH, Cole LR, Perrins C, Kruuk LEB, Sheldon BC (2008) Adaptive phenotypic plasticity in response to climate change in a wild bird population. Science 320:800–803. https://doi.org/10.1126/science.1157174

Cole EF, Long PR, Zelazowski P, Szulkin M, Sheldon BC (2015) Predicting bird phenology from space: satellite-derived vegetation green-up signal uncovers spatial variation in phenological synchrony between birds and their environment. Ecol Evol 5:5057–5074. https://doi.org/10.1002/ece3.1745

Cole EF, Sheldon BC (2017) The shifting phenological landscape: Within- and between-species variation in leaf emergence in a mixed-deciduous woodland. Ecol Evol 7:1135–1147. https://doi.org/10.1002/ece3.2718

Crawley MJ, Akhteruzzaman M (1988) Individual variation in the phenology of oak trees and its consequences for herbivorous insects. Funct Ecol 2:409–415. https://doi.org/10.2307/2389414

Crick HQP, Dudley C, Glue DE, Thomson DL (1997) UK birds are laying eggs earlier. Nature 388:526–526

Dekeukeleire D et al (2019) Forest fragmentation and tree species composition jointly shape breeding performance of two avian insectivores. For Ecol Manage 443:95–105. https://doi.org/10.1016/j.foreco.2019.04.023

Delpierre N, Guillemot J, Dufrene E, Cecchini S, Nicolas M (2017) Tree phenological ranks repeat from year to year and correlate with growth in temperate deciduous forests. Agric For Meteorol 234:1–10. https://doi.org/10.1016/j.agrformet.2016.12.008

Demolder H et al. (2017) Biodiversity Indicators 2017. State of Nature in Flanders (Belgium). Mededelingen van het Instituut voor Natuur- en Bosonderzoek (3)

Dhondt AA (2012) Interspecific competition in birds. Oxford University Press, Oxford

Dhondt AA, Adriaensen F (1999) Experiments on competition between Great and Blue Tit: Effects on Blue Tit reproductive success and population processes. In: Adams NJaS, RH (ed) Proceedings of the 22nd International Ornithological Congress, vol 1. Ostrich, Durban, pp 39–48

Dhondt AA, Eyckerman R, Moermans R, Hublé J (1984) Habitat and laying date of Great and Blue Tit Parus major and P. caeruleus. Ibis 126:388–397

Dunn P (2004) Breeding dates and reproductive performance. Adv Ecol Res 35:69–87. https://doi.org/10.1016/S0065-2504(04)35004-X

Gamelon M et al (2019) Accounting for interspecific competition and age structure in demographic analyses of density dependence improves predictions of fluctuations in population size. Ecol Lett 22:797–806. https://doi.org/10.1111/ele.13237

Germain RR, Schuster R, Delmore KE, Arcese P (2015) Habitat preference facilitates successful early breeding in an open-cup nesting songbird. Funct Ecol 29:1522–1532. https://doi.org/10.1111/1365-2435.12461

Germain RR, Wolak ME, Arcese P, Losdat S, Reid JM (2016) Direct and indirect genetic and fine-scale location effects on breeding date in song sparrows. J Anim Ecol 85:1613–1624. https://doi.org/10.1111/1365-2656.12575

Gibb J (1954) Feeding ecology of tits, with notes on Treecreeper and Goldcrest. Ibis 96:513–543

Gienapp P, Vaisanen RA, Brommer JE (2010) Latitudinal variation in breeding time reaction norms in a passerine bird. J Anim Ecol 79:836–842. https://doi.org/10.1111/j.1365-2656.2010.01693.x

Grieco F, van Noordwijk AJ, Visser ME (2002) Evidence for the effect of learning on timing of reproduction in blue tits. Science 296:136–138. https://doi.org/10.1126/science.1068287

Grimm A et al (2015) Earlier breeding, lower success: does the spatial scale of climatic conditions matter in a migratory passerine bird? Ecol Evol 5:5722–5734. https://doi.org/10.1002/ece3.1824

Helm B, Piersma T, Van der Jeugd H (2006) Sociable schedules: interplay between avian seasonal and social behaviour. Anim Behav 72:245–262. https://doi.org/10.1016/j.anbehav.2005.12.007

Hinks AE, Cole EF, Daniels KJ, Wilkin TA, Nakagawa S, Sheldon BC (2015) Scale-dependent phenological synchrony between songbirds and their caterpillar food source. Am Nat 186:84–97. https://doi.org/10.1086/681572

Jarvinen A (1991) A meta-analytic study of the effects of female age on laying date and clutch size in the great tit Parus major and the pied flycatcher Ficedula hypoleuca. Ibis 133:62–66. https://doi.org/10.1111/j.1474-919X.1991.tb04811.x

Kovacsova P, Antalova M (2010) Precision forestry - definition and technologies. Sumarski List 134:603–611

Lambrechts MM, Perret P (2000) A long photoperiod overrides non-photoperiodic factors in blue tits' timing of reproduction. Proc R Soc B-Biol Sci 267:585–588. https://doi.org/10.1098/rspb.2000.1041

Mackenzie JA, Hinsley SA, Harrison NM (2014) Parid foraging choices in urban habitat and their consequences for fitness. Ibis 156:591–605. https://doi.org/10.1111/ibi.12166

Marchand LJ et al (2020) Inter-individual variability in spring phenology of temperate deciduous trees depends on species, tree size and previous year autumn phenology. Agric For Meteorol. https://doi.org/10.1016/j.agrformet.2020.108031

Matthysen E, Adriaensen F, Dhondt AA (2011) Multiple responses to increasing spring temperatures in the breeding cycle of blue and great tits (Cyanistes caeruleus, Parus major). Glob Change Biol 17:1–16. https://doi.org/10.1111/j.1365-2486.2010.02213.x

Miller-Rushing AJ, Hoye TT, Inouye DW, Post E (2010) The effects of phenological mismatches on demography. Philos Trans R Soc B Biol Sci 365:3177–3186. https://doi.org/10.1098/rstb.2010.0148

Møller AP (2008) Climate change and micro-geographic variation in laying date. Oecologia 155:845–857. https://doi.org/10.1007/s00442-007-0944-3

Møller AP, Rubolini D, Lehikoinen E (2008) Populations of migratory bird species that did not show a phenological response to climate change are declining. Proc Natl Acad Sci USA 105:16195–16200. https://doi.org/10.1073/pnas.0803825105

Naefdaenzer B (1994) Radiotracking of Great and Blue Tits - new tools to assess territoriality, home-range use and resource distribution. Ardea 82:335–347

Nager RG, Van Noordwijk AJ (1995) Proximate and ultimate aspects of phenotypic plasticity in timing of great tit breeding in a heterogeneous environment. Am Nat 146:454–474. https://doi.org/10.1086/285809

Nilsson JA, Kallander H (2006) Leafing phenology and timing of egg laying in great tits Parus major and blue tits P. caeruleus. J Avian Biol 37:357–363. https://doi.org/10.1111/j.2006.0908-8857.03604.x

Nour N, Currie D, Matthysen E, Van Damme R, Dhondt AA (1998) Effects of habitat fragmentation on provisioning rates, diet and breeding success in two species of tit (great tit and blue tit). Oecologia 114:522–530

Nussey DH, Postma E, Gienapp P, Visser ME (2005) Selection on heritable phenotypic plasticity in a wild bird population. Science 310:304–306. https://doi.org/10.1126/science.1117004

Parmesan C (2007) Influences of species, latitudes and methodologies on estimates of phenological response to global warming. Glob Change Biol 13:1860–1872. https://doi.org/10.1111/j.1365-2486.2007.01404.x

Piskorski R, Dorn S (2010) Early-season headspace volatiles from apple and their effect on the apple blossom weevil Anthonomus pomorum. Chem Biodivers 7:2254–2260. https://doi.org/10.1002/cbdv.201000221

Polgar CA, Primack RB (2011) Leaf-out phenology of temperate woody plants: from trees to ecosystems. New Phytol 191:926–941. https://doi.org/10.1111/j.1469-8137.2011.03803.x

Puchalka R, Koprowski M, Gricar J, Przybylak R (2017) Does tree-ring formation follow leaf phenology in Pedunculate oak (Quercus robur L.)? Eur J For Res 136:259–268. https://doi.org/10.1007/s10342-017-1026-7

Radchuk V et al (2019) Adaptive responses of animals to climate change are most likely insufficient. Nat Commun 10:14. https://doi.org/10.1038/s41467-019-10924-4

Reed TE, Jenouvrier S, Visser ME (2013) Phenological mismatch strongly affects individual fitness but not population demography in a woodland passerine. J Anim Ecol 82:131–144. https://doi.org/10.1111/j.1365-2656.2012.02020.x

Samplonius JM et al (2018) Phenological sensitivity to climate change is higher in resident than in migrant bird populations among European cavity breeders. Glob Change Biol 24:3780–3790. https://doi.org/10.1111/gcb.14160

Sass-Klaassen U, Sabajo CR, den Ouden J (2011) Vessel formation in relation to leaf phenology in pedunculate oak and European ash. Dendrochronologia 29:171–175. https://doi.org/10.1016/j.dendro.2011.01.002

Schaper SV, Dawson A, Sharp PJ, Caro SP, Visser ME (2012) Individual variation in avian reproductive physiology does not reliably predict variation in laying date. Gen Comp Endocrinol 179:53–62. https://doi.org/10.1016/j.ygcen.2012.07.021

Schaper SV, Rueda C, Sharp PJ, Dawson A, Visser ME (2011) Spring phenology does not affect timing of reproduction in the great tit (Parus major). J Exp Biol 214:3664–3671. https://doi.org/10.1242/jeb.059543

Schlicht L, Valcu M, Kempenaers B (2014) Thiessen polygons as a model for animal territory estimation. Ibis 156:215–219. https://doi.org/10.1111/ibi.12105

Shutt JD et al (2019) The environmental predictors of spatio-temporal variation in the breeding phenology of a passerine bird. Proceedings of the Royal Society B-Biological Sciences 286:9. https://doi.org/10.1098/rspb.2019.0952

Slagsvold T (1976) Annual and geographical variation in time of breeding of great tit Parus major and pied flycatcher Ficedula hypoleuca in relation to environmental phenology and spring temperature. Ornis Scandinavica 7:127–145. https://doi.org/10.2307/3676183

Slagsvold T, Wiebe KL (2007) Learning the ecological niche. Proc R Soc B-Biol Sci 274:19–23. https://doi.org/10.1098/rspb.2006.3663

Szulkin M, Zelazowski P, Marrot P, Charmantier A (2015) Application of high resolution satellite imagery to characterize individual-based environmental heterogeneity in a wild blue tit population. Remote Sens 7:13319–13336. https://doi.org/10.3390/rs71013319

Thomas DW, Bourgault P, Shipley B, Perret P, Blondel J (2010) Context-dependent changes in teh weighting of environmental cues that initiate breeding in a temperate passerine, the Corsican blue tit (Cyanistes caeruleus). Auk 127:129–139. https://doi.org/10.1525/auk.2009.09141

Tinbergen JM, Boerlijst MC (1990) Nestling weight and survival in individual great tits (Parus major). J Anim Ecol 59:1113–1127

Torti VM, Dunn PO (2005) Variable effects of climate change on six species of North American birds. Oecologia 145:486–495. https://doi.org/10.1007/s00442-005-0175-4

Van Dongen S, Backeljau T, Matthysen E, Dhondt AA (1997) Synchronization of hatching date with budburst of individual host trees (Quercus robur) in the winter moth (Operophtera brumata) and its fitness consequences. J Anim Ecol 66:113–121

Van Noordwijk AJ, McCleery RH, Perrins CM (1995) Selection for the timing of great tit breeding in relation to caterpillar growth and temperature. J Anim Ecol 64:451–458

Vatka E, Rytkonen S, Orell M (2014) Does the temporal mismatch hypothesis match in boreal populations? Oecologia 176:595–605. https://doi.org/10.1007/s00442-014-3022-7

Vaugoyeau M et al (2016) Interspecific variation in the relationship between clutch size, laying date and intensity of urbanization in four species of hole-nesting birds. Ecol Evol 6:5907–5920. https://doi.org/10.1002/ece3.2335

Vedder O, Bouwhuis S, Sheldon BC (2013) Quantitative assessment of the importance of phenotypic plasticity in adaptation to climate change in wild bird populations. PLoS Biol. https://doi.org/10.1371/journal.pbio.1001605

Visser ME (2008) Keeping up with a warming world; assessing the rate of adaptation to climate change. Proc R Soc B Biol Sci 275:649–659. https://doi.org/10.1098/rspb.2007.0997

Visser ME et al (2003) Variable responses to large-scale climate change in European Parus populations. Proc R Soc Lond Ser B Biol Sci 270:367–372. https://doi.org/10.1098/rspb.2002.2244

Visser ME, Holleman LJM, Caro SP (2009) Temperature has a causal effect on avian timing of reproduction. Proc R Soc B Biol Sci 276:2323–2331. https://doi.org/10.1098/rspb.2009.0213

Wesolowski T, Cholewa M (2009) Climate variation and bird breeding seasons in a primeval temperate forest. Climate Res 38:199–208. https://doi.org/10.3354/cr00789

Wesolowski T, Rowinski P (2006) Timing of bud burst and tree-leaf development in a multispecies temperate forest. For Ecol Manage 237:387–393. https://doi.org/10.1016/j.foreco.2006.09.061

Wesolowski T, Rowinski P (2014) Do Blue Tits Cyanistes caeruleus synchronize reproduction with caterpillar peaks in a primeval forest? Bird Study 61:231–245. https://doi.org/10.1080/00063657.2014.899307

Wilkin TA, King LE, Sheldon BC (2009) Habitat quality, nestling diet, and provisioning behaviour in great tits Parus major. J Avian Biol 40:135–145. https://doi.org/10.1111/j.1600-048X.2009.04362.x

Wilkin TA, Perrins CM, Sheldon BC (2007) The use of GIS in estimating spatial variation in habitat quality: a case study of lay-date in the Great Tit Parus major. Ibis 149:110–118. https://doi.org/10.1111/j.1474-919X.2007.00757.x
Acknowledgements
We are grateful to numerous students and field assistents that contributed to the data collection, with special thanks to Diederik De Bruyn, Frans Fierens and Joris Elst. Marc Esprit and Stefaan Goessens (INBO) produced the detailed tree positioning map of the research site, that allowed us to carry out the spatial analysis. Funding was provided by a sabbatical leave grant of the University of Antwerp (BOF) awarded to EM.
Ethics declarations
Conflict of interest
The authors declare that they have no conflict of interest.
Additional information
Publisher's Note
Springer Nature remains neutral with regard to jurisdictional claims in published maps and institutional affiliations.
Communicated by F. Bairlein.
Supplementary Information
Below is the link to the electronic supplementary material.
About this article
Cite this article
Matthysen, E., Adriaensen, F., Van de Kerckhove, P. et al. Great and blue tit laying dates vary with fine-scale variation in local tree composition but not tree budburst. J Ornithol (2021). https://doi.org/10.1007/s10336-021-01872-2
Received:

Revised:

Accepted:

Published:
Keywords
Phenology

Synchrony

Breeding success

Parus
Cyanistes