Abstract
Drones are revolutionizing the methodological approaches to the study of bird population ecology, and pioneering studies are providing evidence that drones could effectively be used to study breeding success. This study compared the accuracy and precision of drone-conducted chick counts to traditional ground counts in a population of Sandwich Terns Thalasseus sandvicensis, and also assessed the safety and degree of disturbance of these methods for both adults and chicks. Results from ground and drone counts were compared to a third count which consisted of a combined count, accounting for uncounted individuals in each method. Fledging success, determined by ground count, drone count, and their combination, was, respectively, 0.54, 0.55, and 0.56 fledglings/nesting pair in 2018, and 0.62, 0.68, 0.69 fledglings/nesting pair in 2019. Mean crèche size of Sandwich Terns was similar for ground counts and counts made using drone-derived imagery, but these counts were lower than the mean crèche size obtained from combined counts. Drone counts were more accurate and precise than ground counts, and the distance walked from the nest site by crèches was far shorter for drone surveys compared with ground counts; likewise, the time spent by crèches far from the nesting site was far longer for the ground method compared with drone surveys. Our drone-based approach to repeated chick counts maximizes effectiveness and safety for birds without increasing resource absorption. The use of drones, in combination with the traditional ground-based approach, is a promising approach for the assessment of seabird productivity that can contribute to our understanding of the breeding biology of seabirds.
Zusammenfassung
Zählungen per Drohne als Werkzeug zur schnellen Beurteilung der Produktivität von Brandseeschwalben Thalasseus sandvicensis
Drohnen revolutionieren die methodischen Ansätze für Untersuchungen der Populationsökologie von Vögeln, und Pionierstudien liefern Belege dafür, dass Drohnen bei Arbeiten zum Bruterfolg wirkungsvoll eingesetzt werden können. In dieser Untersuchung verglichen wir bei einer Population der Brandseeschwalbe Thalasseus sandvicensis Richtigkeit und Genauigkeit von mittels Drohne durchgeführten Kükenzählungen mit der traditionellen Erfassung vom Boden aus und beurteilten außerdem Sicherheit und Störungspotenzial dieser Methoden sowohl für die Altvögel als auch für die Küken. Die Ergebnisse von Bodenerfassung und Drohnenzählung verglichen wir dann mit einer dritten kombinierten Zählung, um die bei den beiden Methoden jeweils unentdeckten Individuen zu ermitteln. Der Ausfliegeerfolg, jeweils bestimmt vom Boden aus, per Drohnenzählung oder durch eine Kombination aus beidem, lag bei 0,54, 0,55 und 0,56 flüggen Jungvögeln/Brutpaar im Jahr 2018 beziehungsweise bei 0,62, 0,68 und 0,69 flüggen Jungvögeln/Brutpaar im Jahr 2019. Die mittlere Crèchegröße der Brandseeschwalben war bei der Erfassung vom Boden aus ähnlich wie die anhand der Drohnenfotos ermittelte; diese Zahlen waren aber niedriger als die mittlere Crèchegröße, die sich bei den kombinierten Zählungen ergab. Die Drohnenzählungen waren korrekter und genauer als die Bodenerfassungen; die Strecke, über die sich die Crèches vom Neststandort entfernten, war bei den Drohnenüberflügen deutlich geringer als bei den Zählgängen am Boden; gleichermaßen war die Zeitspanne, welche die Crèches vom Neststandort fernblieben, bei der Bodenerfassung deutlich länger als bei den Drohnenüberflügen. Unser drohnengestützter Ansatz für wiederholte Kükenzählungen maximiert Effektivität und die Sicherheit der Vögel, ohne den Ressourcenaufwand zu erhöhen. Der Einsatz von Drohnen in Verbindung mit der traditionellen Erfassung vom Boden aus ist ein vielversprechender Ansatz zur Beurteilung der Produktivität von Seevögeln und kann zu unserem Verständnis ihrer Brutbiologie beitragen.
Access options
Buy single article
Instant access to the full article PDF.
US$ 39.95
Tax calculation will be finalised during checkout.
Subscribe to journal
Immediate online access to all issues from 2019. Subscription will auto renew annually.
US$ 79
Tax calculation will be finalised during checkout.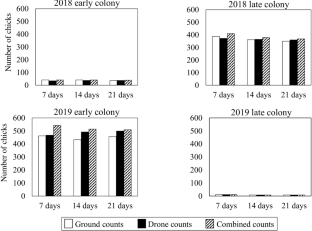 References
Barr JR, Green MC, DeMaso SJ, Hardy TB (2018) Detectability and visibility biases associated with using a consumer-grade unmanned aircraft to survey nesting colonial waterbirds. J Field Ornithol 89:242–257. https://doi.org/10.1111/jofo.12258

Barr JR, Green MC, DeMaso SJ, Hardy TB (2020) Drone surveys do not increase colony-wide flight behaviour at waterbird nesting sites, but sensitivity varies among species. Sci Rep 10:3781

Bell M, Harborne P (2019) The use of an Unmanned Aerial Vehicle to census large breeding colonies of black-billed gull (Larus bulleri) and white-fronted tern (Sterna striata) at the Ashburton River/Hakatere River mouth. Notornis 66:95–97

Brisson-Curadeau É, Bird D, Burke C, Fifield DA, Pace P, Sherley RB, Elliot KH (2017) Seabird species vary in behavioural response to drone census. Sci Rep 7:17884. https://doi.org/10.1038/s41598-017-18202-3

Callaghan CT, Brandis KJ, Lyons MB, Ryall S, Kingsford RT (2018) A comment on the limitations of UAVS in wildlife research—the example of colonial nesting waterbirds. J Avian Biol 49:e01825. https://doi.org/10.1111/jav.01825

Carney KM, Sydeman WJ (1999) A review of human disturbance effects on nesting colonial waterbirds. Waterbirds 22:68–79

Chabot D, Bird DM (2015) Wildlife research and management methods in the 21st century: where do unmanned aircraft fit in? J Unmanned VehSyst 3:137–155. https://doi.org/10.1139/juvs-2015-0021

Chabot D, Francis CM (2016) Computer-automated bird detection and counts in high-resolution aerial images: a review. J Field Orn 87:343–359. https://doi.org/10.1111/jofo.12171

Chabot D, Craik SR, Bird DM (2015) Population census of a large common tern colony with a small unmanned aircraft. PLoS ONE 10(4):e0122588. https://doi.org/10.1371/journal.pone.0122588

Choi HI, Nam HK, Yoon J (2020) Testing the potential of lightweight drones as a tool for monitoring the status of colonially breeding Saunders's gulls (Saundersilarus saundersi). Korean J Ornithol 27:10–16. https://doi.org/10.30980/kjo.2020.6.27.1.10

Denac D, Božič L (2019) Breeding population dynamics of Common Tern Sterna hirundo and associated gull species with overview of conservation management in continental Slovenia. Acrocephalus 40:5–48. https://doi.org/10.1515/acro-2019-0001

Francis RJ, Lyons MB, Kingsford RT, Brandis KJ (2020) Counting mixed breeding aggregations of animal species using drones: lessons from waterbirds on semi-automation. Remote Sensing 12:1185. https://doi.org/10.3390/rs12071185

Grémillet D, Puech W, Garcon V, Boulinier T, Maho Y (2012) Robots in ecology: welcome to the machine. Open J Ecol 2:49–57. https://doi.org/10.4236/oje.2012.22006

Hodgson JC, Koh LP (2016) Best practice for minimising unmanned aerial vehicle disturbance to wildlife in biological field research. CurrBiol 26:404–405. https://doi.org/10.1016/j.cub.2016.04.001

Hodgson JC, Baylis SM, Mott R, Herrod A, Clarke RH (2016) Precision wildlife monitoring using unmanned aerial vehicles. Sci Rep 6:22574. https://doi.org/10.1038/srep22574

Hodgson JC, Mott R, Baylis SM, Pham TT, Wotherspoon S, Kilpatrick AD, Segaran RR, Reid I, Terauds A, Koh LP (2018) Drones count wildlife more accurately and precisely than humans. Methods EcolEvol 9:1–8. https://doi.org/10.1111/2041-210X.12974

Ibáñez-Álamo JD, Sanllorente O, Soler M (2012) The impact of researcher disturbance on nest predation rates: a meta-analysis. Ibis 154:5–14. https://doi.org/10.1111/j.1474-919X.2011.01186.x

Junda J, Greene E, Bird DM (2015) Proper flight technique for using a small rotary-winged drone aircraft to safely, quickly, and accurately survey raptor nests. J Unmanned VehSyst 3:222–236. https://doi.org/10.1139/juvs-2015-0003

Langham NPE (1974) Comparative breeding biology of the Sandwich Tern. Auk 91:255–277

Lyons MB, Brandis KJ, Murray NJ, Whilshire JH, McCann JA, Kingsford RT, Callaghan CT (2019) Monitoring large and complex wildlife aggregations with drones. Methods Ecol Evol 10:1024–1035. https://doi.org/10.1111/2041-210X.13194

McClelland GT, Bond AL, Sardana A, Glass T (2016) Rapid population estimate of a surface-nesting seabird on a remote island using a low-cost unmanned aerial vehicle. Mar Ornithol 44:215–220

McEvoy JF, Hall GP, Mcdonald PG (2016) Evaluation of unmanned aerial vehicle shape, flight path and camera type for waterfowl surveys: disturbance effects and species recognition. Peer J 4:e1831. https://doi.org/10.7717/peerj.1831

Mulero-Pázmány M, Jenni-Eiermann S, Strebel N, Sattler T, Negro JJ, Ablado Z (2017) Unmanned aircraft systems as a new source of disturbance for wildlife: a systematic review. PLoS ONE 12:e0178448. https://doi.org/10.1371/journal.pone.0178448

Nisbet ICT (2000) Disturbance, habituation, and management of waterbird colonies. Waterbirds 23:312–332

Pöysä H, Kotilainen J, Väänänen VM, Kunnasranta M (2018) Estimating production in ducks: a comparison between ground surveys and unmanned aircraft surveys. Eur J Wildl Res 64:74. https://doi.org/10.1007/s10344-018-1238-2

Rush GP, Clarke LE, Stone M, Wood MJ (2018) Can drones count gulls? Minimal disturbance and semiautomated image processing with an unmanned aerial vehicle for colony-nesting seabirds. Ecol Evol 8:12322–12334. https://doi.org/10.1002/ece3.4495

Sardà-Palomera F, Bota G, Padilla N, Brotons L, Sardà F (2017) Unmanned aircraft systems to unravel spatial and temporal factors affecting dynamics of colony formation and nesting success in birds. J Avian Biol 48:1273–1280. https://doi.org/10.1111/jav.01535

Scarton F (2017) Long-term trend of the waterbird community breeding in a heavily man-modified coastal lagoon: the case of the Important Bird Area "Lagoon of Venice." J Coast Conserv 21:35–45. https://doi.org/10.1007/s11852-016-0470-8

Scarton F, Valle RG (1998) Osservazioni preliminari sulla biologia riproduttiva del Beccapesci (Sterna sandvicensis) in laguna di Venezia. Lavori Soc Ven Sc Nat 23:37–42

Scarton F, Valle RG (2015) Long-term trends (1989–2013) in the seabird community breeding in the Lagoon of Venice (Italy). Res Ornithol 85:21–30. https://doi.org/10.4081/rio.2015.232

Scarton F, Valle RG (2020a) Could we assess the hatching success of Pied Avocets (Recurvirostra avosetta) by drone monitoring? A pilot study. Lavori Soc Ven Sci Nat 45:135–138

Scarton F, Valle RG (2020b) Drone assessment of habitat selection and breeding success of Gull-billed Tern Gelochelidon nilotica nesting on low-accessibility sites: a case study. Res Ornithol 90:69–76

Scarton F, Verza E, Guzzon C, Utmar P, Sgorlon G, Valle R (2018) Laro-limicoli (Charadriiformes) nidificanti nel litorale nord Adriatico (Veneto e Friuli-Venezia Giulia) nel periodo 2008–2014: consistenza, trend e problematiche di conservazione. Res Ornithol 88:33–41. https://doi.org/10.4081/rio.2018.418

Sokal RR, Rohlf FJ (1981) Biometry. W. H. Freeman, New York

Stienen EWM, Brenninkmeijer A (1999) Keep the chicks moving: how Sandwich terns can minimize kleptoparasitism by black-headed gulls. Anim Behav 57:1135–1144. https://doi.org/10.1006/anbe.1998.1084

Stienen EWM, Brenninkmeijer A (2002) Variation in growth in Sandwich Tern chicks Sterna sandvicensis and the consequences for pre- and post-fledging mortality. Ibis 144:567–576. https://doi.org/10.1046/j.1474-919X.2002.00086.x

Stienen EWM, Brenninkmeijer A (2006) Effect of brood size and hatching sequence on prefledging mortality of Sandwich terns: why lay two eggs? J Ornithol 147:520–530. https://doi.org/10.1007/S10336-006-0075-3

Valle RG, Scarton F (2018) Uso dei droni nel censimento degli uccelli acquatici nidificanti nel nord Adriatico. Boll Mus St Nat Venezia 69:69–75

Valle RG, Scarton F (2019a) Drones improve effectiveness and reduce disturbance of censusing Common Redshanks Tringa totanus breeding on salt marshes. Ardea 107:275–282. https://doi.org/10.5253/arde.v107i3.a3

Valle RG, Scarton F (2019b) Effectiveness, efficiency, and safety of censusing Eurasian Oystercatchers Haematopus ostralegus by unmanned aircraft. Mar Ornithol 47:87–93

Veen J (1977) Functional and Causal Aspects of Nest Distribution in Colonies of the Sandwich Tern (Sterna s. sandvicencis Lath.). Behaviour 20:1–193

Walther BA, Moore JL (2005) The concepts of bias, precision and accuracy, and their use in testing the performance of species richness estimators, with a literature review of estimator performance. Ecography 28:815–829. https://doi.org/10.1111/j.2005.0906-7590.04112.x

Weimerskirch H, Prudor A, Schull Q (2018) Flights of drones over sub-Antarctic seabirds show species-and status-specific behavioural and physiological responses. Polar Biol 41:259–266. https://doi.org/10.1007/s00300-017-2187-z

Weissensteiner MH, Poelstra JW, Wolf JBW (2015) Low-budget ready-to-fly unmanned aerial vehicles: an effective tool for evaluating the nesting status of canopy-breeding bird species. J Avian Biol 46:425–430. https://doi.org/10.1111/jav.00619

Zbyryt A (2019) Numbers and distribution of breeding population of the Great Egret Ardea alba in Poland. Ornis Polonica 60:235–244
Acknowledgements
We are most grateful to Paolo Garlato for his great help in the field. We are grateful to anonymous referees for their constructive comments and suggestions, which has greatly improved this paper. We should also thanks to Jan Veen (Institute for Forestry and Nature Research, Netherlands) for providing data. The activities of this study complied with current Italian laws.
Funding
This work was financed by the authors.
Ethics declarations
Conflict of interest
None.
Additional information
Publisher's Note
Springer Nature remains neutral with regard to jurisdictional claims in published maps and institutional affiliations.
Communicated by F. Bairlein.
Supplementary Information
Below is the link to the electronic supplementary material.
About this article
Cite this article
Valle, R.G., Scarton, F. Drone-conducted counts as a tool for the rapid assessment of productivity of Sandwich Terns (Thalasseus sandvicensis). J Ornithol (2021). https://doi.org/10.1007/s10336-020-01854-w
Received:

Revised:

Accepted:

Published:
Keywords
Lagoon of Venice

Productivity

Breeding success

Laridae

Unmanned aerial vehicle