Abstract
The Rose-ringed Parakeet Psittacula krameri is one of the world's commonest invasive bird species and has established in the South African urban landscapes. However, relatively little is known about the feeding biology of parakeets here. We surveyed areas in eThekwini Municipality, Durban, South Africa, to determine their feeding sites and the related land-use types. Patterns of the association were explored using Correspondence Analysis to determine parakeets' diet across seasons and interaction between different tree species fed on by parakeets and other bird species. Dietary items were determined visually using binoculars. We identified a total of 63 feeding sites with many in the urban built land-use cover type. The parakeets' diet differed significantly across the seasons with spring accounting for 33% of annual food items. We identified 31 fruiting/flowering tree species fed on by the parakeets, with fleshy fruits and flowers accounting for 58% and 19%, respectively. Native tree species (63%) were mostly relied on when compared with non-native (27%). They also fed on carpenter ants Camponotus cinctellus which contributed 3% of their diet. The forest fever-berry Croton sylvaticus (fleshy fruits) and African star-chestnut Sterculia africana (flowers) were the most preferred tree species in autumn and summer. The observed number of bird species that communally fed with parakeets were significantly different across the sampled seasons. The diets for the Common Myna Acridotheres tristis and the Speckled Mousebird Colius striatus overlapped with parakeets for most tree species. Parakeets were observed actively feeding in the early mornings and late afternoons before roosting. Our study supports that parakeets are generalist-opportunistic feeders. The assessment of Rose-ringed Parakeets feeding ecology may help understand their potential impact on native tree and bird species within an urban landscape.
Zusammenfassung
Nahrungsökologische Aspekte eingeführter Halsbandsittiche Psittacula krameri im urbanen Landschaftmosaik Durbans, KwaZulu-Natal-Provinz, Südafrika
Der Halsbandsittich Psittacula krameri gehört zu den häufigsten invasiven Vogelarten der Welt und hat sich in den urbanen Landschaften Südafrikas angesiedelt. Jedoch ist nur vergleichsweise wenig über die Ernährung der Sittiche dort bekannt. Wir kartierten Gebiete in der Gemeinde eThekwini, Durban, Südafrika, um ihre Nahrungsplätze und die dazugehörigen Landnutzungsformen zu bestimmen. Die Muster dieser Zusammenhänge wurden mittels Korrespondenzanalysen untersucht, um den Speisezettel der Sittiche im Jahreslauf sowie Wechselwirkungen zwischen verschiedenen Baumarten zu ermitteln, welche den Sittichen und anderen Vogelarten als Nahrungsquelle dienen. Die Nahrungsbestandteile bestimmten wir auf Sicht mithilfe von Ferngläsern. Insgesamt konnten wir 63 Nahrungsplätze ausmachen, von denen viele im städtisch bebauten Landnutzungsbereich lagen. Die Nahrung der Sittiche wies signifikante jahreszeitliche Unterschiede auf, wobei 33% der jährlichen Nahrungsbestandteile auf das Frühjahr entfielen. Wir konnten 31 frucht- beziehungsweise blütentragende Baumarten als Nahrungspflanzen der Sittiche dokumentieren, wobei fleischige Früchte und Blüten jeweils 58% beziehungsweise 19% ausmachten. Einheimische Baumarten (63%) wurden im Vergleich zu nichtheimischen (27%) bevorzugt genutzt. Außerdem nahmen sie Rossameisen Camponotus cinctellus auf, welche 3% des Speiseplans ausmachten. Waldfeuerbeere Croton sylvaticus (fleischige Früchte) und Afrikanische Sternkastanie Sterculia africana (Blüten) waren im Herbst und im Sommer die bevorzugten Baumarten. Die festgestellte Anzahl der Vogelarten, welche in Gesellschaft der Sittiche Nahrung suchten, war zu den untersuchten Jahreszeiten signifikant verschieden. Die Nahrungsspektren von Hirtenmaina Acridotheres tristis und Braunflügel-Mausvogel Colius striatus überschnitten sich bezüglich der meisten Baumarten mit dem der Sittiche. Die Sittiche ließen sich frühmorgens und am Spätnachmittag vor dem Aufsuchen der Schlafplätze bei der aktiven Nahrungsaufnahme beobachten. Unsere Untersuchung bestätigt, dass es sich bei den Sittichen um opportunistische Nahrungsgeneralisten handelt. Dieser nahrungsökologische Befund könnte dabei helfen, die möglichen Auswirkungen der Halsbandsittiche auf heimische Baum- und Vogelarten in der urbanen Landschaft zu verstehen.
Access options
Buy single article
Instant access to the full article PDF.
US$ 39.95
Tax calculation will be finalised during checkout.
Subscribe to journal
Immediate online access to all issues from 2019. Subscription will auto renew annually.
US$ 79
Tax calculation will be finalised during checkout.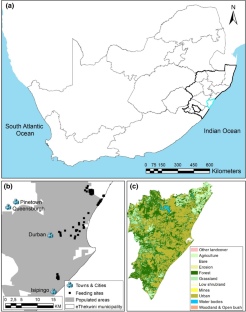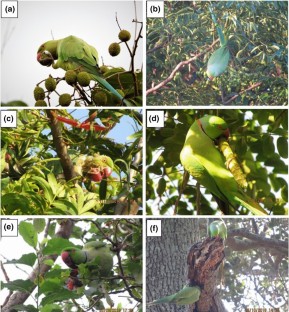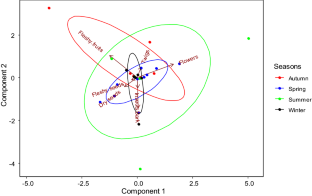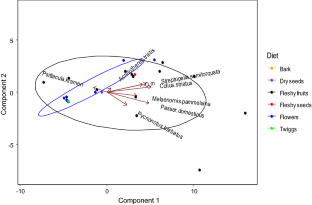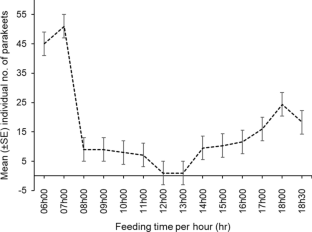 References
Adams LW (2005) Urban wildlife ecology and conservation: a brief history of the discipline. Urban Ecosyst 8:139–156. https://doi.org/10.1007/s11252-005-4377-7

Ahmad S, Khan HA, Javed M, UR-Rehman K (2011) Roost composition and damage assessment of rose-ringed parakeet (Psittacula krameri) on maize and sunflower in agro-ecosystem of Central Punjab, Pakistan. Int J Agric Biol 13:731–736

Ahmad S, Khan HA, Javed M (2012) An estimation of rose-ringed parakeet (Psittacula krameri) depredations on citrus, guava and mango in orchard fruit farm. Int J Agric Biol 14:149–152

Blanco G, Bravo C, Pacifico EC, Chamorro D, Speziale KL, Lambertucci SA, Hiraldo F, Tella JL (2016) Internal seed dispersal by parrots: an overview of a neglected mutualism. PeerJ 4:e1688. https://doi.org/10.7717/peerj.1688

Borràs A, Cabrera T, Cabrera J, Senar JC (2003) The diet of the Citril Finch (Serinus citrinella) in the Pyrenees and the role of Pinus seeds as a key resource. J Ornithol 144:345–353

Borray-Escalante NA, Mazzoni D, Ortega-Segalerva A, Arroyo L, Morera-Pujol V, González-Solís J, Senar JC (2020) Diet assessments as a tool to control invasive species: comparison between Monk and Rose-ringed parakeets with stable isotopes. J Urban Ecol 6:p.juaa005. https://doi.org/10.1093/jue/juaa005

Bouchard LC, Anderson MJ (2011) Caribbean Flamingo resting behavior and the influence of weather variables. J Ornithol 152:307–312. https://doi.org/10.1007/s10336-010-0586-9

Brown KJ, Downs CT (2003) Digestive efficiency of a generalist avian feeder, the Cape White-eye (Zosterops pallidus). Comp Biochem Phys A 134:739–748. https://doi.org/10.1016/S1095-6433(03)00005-9

Butler CJ (2005) Feral parrots in the continental United States and United Kingdom: past, present, and future. J Avian Med Surg 19:142–149

Canavelli SB, Swisher ME, Branch LC (2013) Factors related to farmers' preferences to decrease monk parakeet damage to crops. Hum Dimens Wildl 18:124–137. https://doi.org/10.1080/10871209.2013.745102

Chittenden H, Davies G, Weiersbye I (2016) Roberts bird guide: illustrating nearly 1000 species in southern Africa. The John Voelcker Bird Book Fund, Cape Town

Clergeau P, Vergnes A (2011) Bird feeders may sustain feral rose-ringed parakeets Psittacula krameri in temperate Europe. Wildl Biol 17:248–252. https://doi.org/10.2981/09-092

Covas L, Senar JC, Roqué L, Quesada J (2017) Records of fatal attacks by Rose-ringed Parakeets Psittacula krameri on native avifauna. Rev Catal Ornitol 33:45–49

Department of Environmental Affairs - Geographic Information System Data (2019) https://egis.environment.gov.za/data_egis/data_download/current. Accessed 11 October 2019

Dhindsa MS, Saini HK, Toor HS (1992) Wrapping leaves around cobs to protect ripening maize from rose-ringed parakeets. Int J Pest Manage 38:98–102. https://doi.org/10.1080/09670879209371657

Eason P, Victor R, Eriksen J, Kwarteng A (2009) Status of the exotic ring-necked parakeet, Psittacula krameri, in Oman: (Aves: Psittacidae). Zool Middle East 47:29–38. https://doi.org/10.1080/09397140.2009.10638344

ESRI (2018) ArcGIS Desktop: Release 10.4.1. Redlands, CA: Environmental Systems Research Institute

EThekwini Municipality (2013) Durban: State of biodiversity report. Environmental Planning and Climate Protection Department, EThekwini Municipality, Durban

Fletcher M, Askew N (2007) Review of the status, ecology and likely future spread of parakeets in England. CSL, York, England. http://archive.defra.gov.uk/wildlife-pets/wild life/management/non-native/documents/csl-parakeet-deskstudy.pdf. Accessed 20 June 2020

Fraticelli F (2014) The rose-ringed parakeet Psittacula krameri in an urban park: demographic trend, interspecific relationships and feeding preferences (Rome, central Italy). Avocetta 38:23–28

Hart LA, Downs CT (2014) Public surveys of rose-ringed parakeets, Psittacula krameri, in the Durban Metropolitan area, South Africa. Afr Zool 49:283–289. https://doi.org/10.1080/15627020.2014.11407644

Henderson L (2001) Alien weeds and invasive plants. Agricultural Research Council, Cape Town

Iqbal MT, Khan HA, Mahmood-ul-Hassan A (2000) Feeding regimens of rose-ringed parakeet (Psittacula krameri) on a sunflower field in an agro-ecosystem of Central Punjab, Pakistan. Pak Vet J 20:177–179

Ivanova IM, Symes CT (2019) Invasion of Psittacula krameri in Gauteng, South Africa: are other birds impacted? Biodivers Conserv 28:3633

Jackson H, Strubbe D, Tollington S, Prys-jones R, Maththysen E, Groombridge JJ (2015) Ancestral origins and invasion pathways in a globally invasive bird correlate with climate and influences from bird trade. Mol Ecol 16:4269–4285. https://doi.org/10.1111/mec.13307

Kale MA, Dudhe N, Kasambe R, Bhattacharya P (2014) Crop depredation by birds in Deccan Plateau, India. Int J Biodiv 2014:1–9. https://doi.org/10.1155/2014/947683

Khan HA (2003) Damage patterns of house crow (Corvus splendens) on some food crops in Faisalabad. Pak J Biol Sci 6:188–190

Klug PE, Bukoski WP, Shiels AB, Kluever BM, Siers SR (2019) Rose-ringed parakeets. Wildlife Damage Manage Tech Series 23:1–17

Krüger O (2002) Dissecting common buzzard lifespan and lifetime reproductive success: the relative importance of food, competition, weather, habitat and individual attributes. Oecologia 133:474–482. https://doi.org/10.1007/s00442-002-1053-y

Lambert MS, Massei G, Bell J, Berry L, Haigh C, Cowan DP (2009) Reproductive success of rose-ringed parakeets Psittacula krameri in a captive UK population. Pest Manag Sci 65:1215–1218. https://doi.org/10.1002/ps.1812

Le Louarn M, Couillens B, Deschamps-Cottin M, Clergeau P (2016) Interference competition between an invasive parakeet and native bird species at feeding sites. J Ethol 34:291–298. https://doi.org/10.1007/s10164-016-0474-8

McLean CT, Ground LE, Boon RGC, Roberts DC, Govender N, McInnes A (2016) Durban's systematic conservation assessment. EThekwini Municipality, Environmental Planning and Climate Protection Department. EThekwini Municipality, Durban, South Africa

Menchetti M, Mori E (2014) Worldwide impact of alien parrots (Aves Psittaciformes) on native biodiversity and environment: a review. Ethol Ecol Evol 26:172–194. https://doi.org/10.1080/03949370.2014.905981

Mori E, Ancillotto L, Menchetti M, Strubbe D (2017) 'The early bird catches the nest': possible competition between Scops owls and ring-necked parakeets. Anim Conserv 20:463–470. https://doi.org/10.1111/acv.12334

Mukherjee A, Borad CK, Parasharya BM (2000) Damage of rose-ringed parakeet, Psittacula krameri bordeat, to safflower, Carthamus tinctorius L. Pavo 38:15–18

Patterson L, Kalle R, Downs CT (2018) Factors affecting presence of vervet monkey troops in a suburban matrix in KwaZulu-Natal, South Africa. Landsc Urban Plan 169:220–228. https://doi.org/10.1016/j.landurbplan.2017.09.016

Peck HL, Pringle HE, Marshall HH, Owens IP, Lord AM (2014) Experimental evidence of impacts of an invasive parakeet on foraging behavior of native birds. Behav Ecol 25:582–590. https://doi.org/10.1093/beheco/aru025

R Core Team (2018) R: a language and environment for statistical computing. R Foundation for Statistical Computing, Vienna, Austria. URL http://www.R-project.org/

Reddy VR (1998) Studies on damage to sorghum by the Rose-ringed Parakeet, Psittacula krameri, at Rajendranagar, Hyderabad, Andhra Pradesh. Pavo 36:79–80

Robbins CS (1981) Effect of time of day on bird activity. Avian Biol Res 6:275–286

Roberts DC (1994) The design of an urban open-space network for the city of Durban (South Africa). Environ Conserv 12:11–17. https://doi.org/10.1017/S0376892900024024

Rollinson DP, Coleman JC, Downs CT (2013) Seasonal differences in foraging dynamics, habitat use and home range size of Wahlberg's epauletted fruit bat in an urban environment. Afr Zool 48:340–350. https://doi.org/10.3377/004.048.0218

SABAP 2 (2020) Southern African Bird Atlas Project 2. http://sabap2.birdmap.africa/species. Accessed 20 February 2020

Senar JC, Domènech J, Arroyo L, Torre I, Gordo O (2016) An evaluation of monk parakeet damage to crops in the metropolitan area of Barcelona. Anim Biodiv Conserv 39:141–145. https://doi.org/10.32800/abc.2016.39.0141

Shiels AB, Kalodimos NP (2019) Biology and impacts of Pacific island invasive species. 15. Psittacula krameri, the rose-ringed parakeet (Psittaciformes: Psittacidae). Pac Sci 73:421–429. https://doi.org/10.2984/73.4.1

Shiels AB, Bukoski WP, Siers SR (2018) Diets of Kauai's invasive rose-ringed parakeet (Psittacula krameri): evidence of seed predation and dispersal in a human-altered landscape. Biol Invasions 20:1449–1457. https://doi.org/10.1007/s10530-017-1636-5

Shivambu TC, Shivambu N, Downs CT (2020a) Impact assessment of seven alien invasive bird species already introduced to South Africa. Biol Invasions 22:1829–1847. https://doi.org/10.1007/s10530-020-02221-9

Shivambu TC, Shivambu N, Downs CT (2020b) Population estimates of non-native rose-ringed parakeets Psittacula krameri (Scopoli, 1769) in the Durban Metropole. Urban Ecosyst, KwaZulu-Natal Province, South Africa. https://doi.org/10.1007/s11252-020-01066-3

Strubbe D, Matthysen E (2007) Invasive ring-necked parakeets Psittacula krameri in Belgium: habitat selection and impact on native birds. Ecography 30:578–588. https://doi.org/10.1111/j.0906-7590.2007.05096.x

Strubbe D, Matthysen E, Graham CH (2010) Assessing the potential impact of invasive ring-necked parakeets Psittacula krameri on native nuthatches Sitta europeae in Belgium. J Appl Ecol 47:549–557. https://doi.org/10.1111/j.1365-2664.2010.01808.x

Symes CT (2014) Founder populations and the current status of exotic parrots in South Africa. Ostrich 85:235–244. https://doi.org/10.2989/00306525.2014.921866

Symes CT, Downs CT (2001) Feeding and energy intake in two avian frugivores, the Black-eyed Bulbul Pycnonotus barbartus (Passeriformes: Pycnonotidae) and Speckled Mousebird Colius striatus (Passeriformes: Collidae). Durban Mus 26:20–24

Symes CT, Perrin MR (2003) Daily flight activity and flocking behaviour patterns of the Greyheaded Parrot Poicephalus fuscicollis suahelicus Reichenow 1898 in Northern Province, South Africa. Trop Zool 16:47–62. https://doi.org/10.1080/03946975.2003.10531183

Tella JL, Baños-Villalba A, Hernández-Brito D, Rojas A, Pacífico E, Díaz-Luque JA, Carrete M, Blanco G, Hiraldo F (2015) Parrots as overlooked seed dispersers. Front Ecol Environ 13:338–339. https://doi.org/10.1890/1540-9295-13.6.338|

Thabethe V, Thompson LJ, Hart LA, Brown M, Downs CT (2013) Seasonal effects on the thermoregulation of invasive rose-ringed parakeets (Psittacula krameri). J Therm Biol 38:553–559. https://doi.org/10.1016/j.jtherbio.2013.09.006

Thabethe V, Wilson AL, Hart LA, Downs CT (2015) Ingestion by an invasive parakeet species reduces germination success of invasive alien plants relative to ingestion by indigenous turaco species in South Africa. Biol Invasions 17:3029–3039. https://doi.org/10.1007/s10530-015-0932-1

Todes A (2014) New African suburbanisation? Exploring the growth of the northern corridor of eThekwini/KwaDukuza. Afr Studies 73:245–270. https://doi.org/10.1080/00020184.2014.925188

van Wyk B, van Wyk P (2013) Field guide to trees of southern Africa. Struik Nature, South Africa

Wirminghaus JO, Downs CT, Perrin MR, Symes CT (2001) Abundance and activity of the Cape Parrot Poicephalus robustus in Afromontane forests in southern Africa. Afr Zool 37:71–77

Wirminghaus JO, Downs CT, Symes CT, Perrin MR (2002) Diet of the Cape Parrot, Poicephalus robustus, in Afromontane forests in KwaZulu-Natal, South Africa. Ostrich 73:20–25. https://doi.org/10.2989/00306520209485347

Wolf B (2000) Global warming and avian occupancy of hot deserts: a physiological and behavioral perspective. Rev Chil Hist Nat 73:395–400

Zungu MM, Maseko MST, Kalle R, Ramesh T, Downs CT (2019) Fragment and life-history correlates of extinction vulnerability of forest mammals in an urban-forest mosaic in eThekwini Municipality, Durban, South Africa. Anim Conserv 22:362–375. https://doi.org/10.1111/acv.12470
Acknowledgements
We thank the National Research Foundation (NRF) (ZA), through its SARChI Chair Programme, and the DSI-NRF Centre of Excellence for Invasion Biology, the University of Stellenbosch for funding. We are grateful to the Ford Wildlife Foundation (ZA) for vehicle support throughout the study. We are thankful to the citizen scientists who provided information on feeding sites for parakeets. We are grateful to the management and residents of Mt. Edgecomb Country Club Estate for giving us access. The University of KwaZulu-Natal (ZA) is thanked for logistic and financial support. We are most grateful to the anonymous reviewers for their constructive comments which improved the manuscript.
Additional information
Publisher's Note
Springer Nature remains neutral with regard to jurisdictional claims in published maps and institutional affiliations.
Communicated by F. Bairlein.
Electronic supplementary material
Below is the link to the electronic supplementary material.
About this article
Cite this article
Shivambu, T.C., Shivambu, N. & Downs, C.T. Aspects of the feeding ecology of introduced Rose-ringed Parakeets Psittacula krameri in the urban landscape mosaic of Durban, KwaZulu-Natal Province, South Africa. J Ornithol 162, 397–407 (2021). https://doi.org/10.1007/s10336-020-01841-1
Received:

Revised:

Accepted:

Published:

Issue Date:
Keywords
Alien invasive species

Competition

Generalist species

Feeding patterns

Urban landscape