Abstract
Blood parasites can impact host fitness and can, thus, act as selective agents in their host's evolution. The melanocortin system linked to colouration of vertebrates may infer higher parasite resistance via pleiotropic properties of the genes involved. Black Sparrowhawks (Accipiter melanoleucus) are colour polymorphic (dark and light morph adults) and distributed clinally in South Africa, with more dark morphs in the Southwest where the breeding season coincides with the rainy season. There, dark morphs have lower infections of haemosporidian parasites Haemoproteus nisi, suggesting a higher parasitic resistance. Thus, it is hypothesized that the morph distribution may be an adaptive response to coping with varying parasite prevalence associated with rainfall levels, which may regulate the parasites' invertebrate vectors. This hypothesis assumes a fitness cost of high parasite burden, which could be specifically important during the energy-demanding breeding season. To explore this, we (1) quantified Black Sparrowhawk H. nisi infections across South Africa, and explored (2) breeding performance and apparent annual survival of adults, and (3) nestling body condition in Cape Town in relation to infection levels. In contrast to the predictions, we found that parasite prevalence did not vary across the country, we found no fitness costs of higher infection levels for breeding birds, and also nestling body condition was independent of infection levels. Thus, we found no support for our hypothesis. Black Sparrowhawk polymorphism is unlikely to be driven by an adaptive function linked to dealing with higher infections with H. nisi in regions with wetter breeding seasons.
Zusammenfassung
Klinale Veränderungen der Gefiederfärbung von Dominohabichten Accipiter melanoleucus sind unabhängig von der Infektion mit dem Blutparasiten Haemoproteus nisi.
Blutparasiten können die Fitness ihrer Wirte beeinflussen und sind so Teil der natürlichen Selektion in der Wirtsevolution. Das Melanocortin System, welches in Wirbeltieren in Zusammenhang mit der Färbung steht, kann via pleiotroper Effekte der beteiligten Gene eine höhere Resistenz gegen Parasiten vermitteln. Dominohabichte (Accipiter melanoleucus) weisen einen Farbpolymorphismus auf, wobei die dunklen Morphen vor allem im Südwesten von Südafrika vorkommen, und die hellen Morphen vor allem im Nordosten. Sie folgen einer klinalen Variation entsprechend variierender Niederschlagsmengen während der Brutsaison. Im Raum Kapstadt, wo die Brutsaison mit der Regenzeit zusammenfällt, zeigen dunkle Morphen niedrigere Infektionen mit dem Blutparasiten Haemoproteus nisi, was auf eine Resistenz gegen den Parasiten hindeutet. Eine gängige Hypothese in solch polymorphen System ist, dass Niederschlagsmengen das Vorkommen der Vektoren, welche Blutparasiten übertragen, regeln, und so indirekt die Verbreitung der verschiedenen Morphen in einer Population beeinflussen. Diese Hypothese sagt Fitnesskosten hoher Parasiteninfektionen voraus, die vor allem in der energieaufwändigen Brutsaison maßgeblich sein könnten. In dieser Studie verschneiden wir die Haemoproteus nisi Infektion von Dominohabichten mit i) der Verbreitung der Morphen in Südafrika; ii) dem Bruterfolg und den Überlebensraten von Altvögeln; sowie, iii) der Körperkondition der Küken einer Population in Kapstadt. Wider Erwarten variieren die Infektionsraten nicht entsprechend des geografischen Gradienten der relativen Häufigkeiten beider Morphen im südafrikanischen Verbreitungsgebiet, noch wurden negative Fitesskonsequenzen der Parasitenbelastung in Hinblick auf Bruterfolg und Körperkondition festgestellt. Es ist daher sehr unwahrscheinlich, dass der Farbpolymorphismus von Dominohabichten eine Adaption an höhere Infektionen mit Haemoproteus nisi in regenreichen Regionen ist.
This is a preview of subscription content, log in to check access.
Access options
Buy single article
Instant access to the full article PDF.
US$ 39.95
Price includes VAT for USA
Subscribe to journal
Immediate online access to all issues from 2019. Subscription will auto renew annually.
US$ 99
This is the net price. Taxes to be calculated in checkout.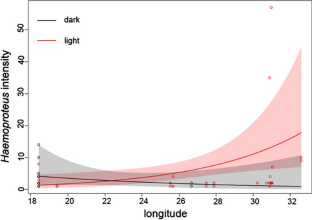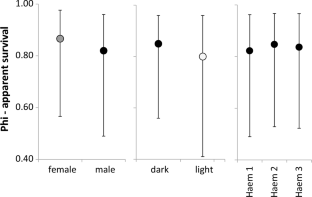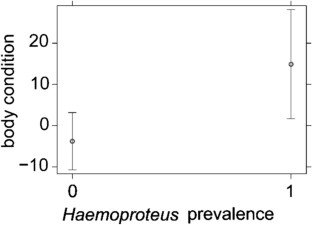 Availability of data
The dataset will be available as electronic material on UCT's ZivaHub; the according DOI code will be provided upon acceptance of the manuscript for publication.
References
Allander K (1997) Reproductive investment and parasite susceptibility in the Great Tit. Funct Ecol 11:358–364. https://doi.org/10.1046/j.1365-2435.1997.00095.x

Amar A, Koeslag A, Curtis O (2013) Plumage polymorphism in a newly colonized Black Sparrowhawk population: classification, temporal stability and inheritance patterns. J Zool 289:60–67. https://doi.org/10.1111/j.1469-7998.2012.00963.x

Amar A, Koeslag A, Malan G et al (2014) Clinal variation in the morph ratio of Black Sparrowhawks Accipiter melanoleucus in South Africa and its correlation with environmental variables. Ibis (London 1859) 153:627–638. https://doi.org/10.1111/ibi.12157

Anderson DR, Link WA, Johnson DH, Burnham KP (2007) Suggestions for presenting the results of data analyses. J Wildl Manag 65:373–378. https://doi.org/10.2307/3803088

Asghar M, Westerdahl H, Zehtindjiev P et al (2012) Primary peak and chronic malaria infection levels are correlated in experimentally infected Great Reed Warblers. Parasitology 139:1246–1252. https://doi.org/10.1017/S0031182012000510

Bates DM, Maechler M, Bolker BM, et al (2011) Package "lme4". CRAN

Berger D, Mueller H (1959) The bal-chatri: a trap for the birds of prey. Bird Band 30:18–26

Bonneaud C, Mazuc J, Gonzalez G et al (2003) Assessing the cost of mounting an immune response. Am Nat 161:367–379. https://doi.org/10.1086/346134

Burnham KP, Anderson DR (2002) Model selection and multimodel inference: a practical information-theoretic approach, 2nd edn. Springer, New York

Burnham KP, Anderson DR, White GC et al (1987) Design and analysis methods for fish survival experiments based on release-recapture. Am Fish Soc Monogr 5:1

Chakarov N, Boerner M, Krüger O (2008) Fitness in Common Buzzards at the cross-point of opposite melanin–parasite interactions. Funct Ecol 22:1062–1069. https://doi.org/10.1111/j.1365-2435.2008.01460.x

Choquet R, Lebreton JD, Gimenez O et al (2009) U-CARE: Utilities for performing goodness of fit tests and manipulating CApture-REcapture data. Ecography (Cop) 32:1071–1074. https://doi.org/10.1111/j.1600-0587.2009.05968.x

Clark NJ, Clegg SM, Lima MR (2014) A review of global diversity in avian haemosporidians (Plasmodium and Haemoproteus: Haemosporida): new insights from molecular data. Int J Parasitol 44:329–338. https://doi.org/10.1016/j.ijpara.2014.01.004

Cowling RM, MacDonald IAW, Simmons MT (1996) The Cape Peninsula, South Africa: physiographical, biological and historical background to an extraordinary hot-spot of biodiversity. Biodivers Conserv 5:527–550. https://doi.org/10.1007/BF00137608

Dawson RD, Bortolotti GR (2000) Effects of hematozoan parasites on condition and return rates of American Kestrels. Auk 117:373–380. https://doi.org/10.1642/0004-8038(2000)117[0373:EOHPOC]2.0.CO;2

Deerenberg C, Arpanius V, Daan S, Bos N (1997) Reproductive effort decreases antibody responsiveness. Proc R Soc B Biol Sci 264:1021–1029. https://doi.org/10.1098/rspb.1997.0141

Dijkstra C, Bult A, Bijlsma S, Daan S, Meijer T, Zijlstra M (2006) Brood size manipulations in the kestrel (Falco tinnunculus): effects on offspring and parent survival. J Anim Ecol 59:269. https://doi.org/10.2307/5172

Ducrest AL, Keller L, Roulin A (2008) Pleiotropy in the melanocortin system, coloration and behavioural syndromes. Trends Ecol Evol 23:502–510

Ferguson-Lees J, Christie DA (2001) Raptors of the world. Christopher Helm, London

Folstad I, Karter AJ (1992) Parasites, bright males, and the immunocompetence handicap. Am Nat 139:603–622. https://doi.org/10.1086/285346

Galeotti P, Sacchi R (2003) Differential parasitaemia in the Tawny Owl (Strix aluco): effects of colour morph and habitat. J Zool 261:91–99. https://doi.org/10.1017/S0952836903003960

Galeotti P, Rubolini D, Sacchi R, Fasola M (2009) Global changes and animal phenotypic responses: melanin-based plumage redness of scops owls increased with temperature and rainfall during the last century. Biol Lett 5(4):532–534

Gangoso L, Grande JM, Ducrest AL, Figuerola J, Bortolotti GR, Andrés JA, Roulin A (2011) MC1R-dependent, melanin-based colour polymorphism is associated with cell-mediated response in the Eleonora's falcon. J Evol Biol 24:2055–2063. https://doi.org/10.1111/j.1420-9101.2011.02336.x

Gangoso L, Roulin A, Ducrest AL, Grande JM, Figuerola J (2015) Morph-specific genetic and environmental variation in innate and acquired immune response in a color polymorphic raptor. Oecologia 178:1113–1123. https://doi.org/10.1007/s00442-015-3306-6

Hanel J, Doležalová J, Stehlíková Š, Modrý D, Chudoba J, Synek P, Votýpka J (2016) Blood parasites in Northern Goshawk (Accipiter gentilis) with an emphasis to Leucocytozoon toddi. Parasitol Res 115:263–270. https://doi.org/10.1007/s00436-015-4743-1

Hoch AL, Roberts DR, Pinheiro FP (1990) Host-seeking behavior and seasonal abundance of Culicoides paraensis (Diptera: Ceratopogonidae) in Brazil. J Am Mosq Control Assoc 6:110–114

Jacquin L, Haussy C, Bertin C, Laroucau K, Gasparini J (2013a) Darker female pigeons transmit more specific antibodies to their eggs than do paler ones. Biol J Linn Soc 108:647–657. https://doi.org/10.1111/bij.12001

Jacquin L, Récapet C, Prévot-Julliard AC, Leboucher G, Lenouvel P, Erin N (2013b) A potential role for parasites in the maintenance of color polymorphism in urban birds. Oecologia 173(3):1089–1099. https://doi.org/10.1007/s00442-013-2663-2

Jiménez-Peñuela J, Ferraguti M, Martínez-de La Puente J, Soriguer R, Figuerola J (2018) Urbanization and blood parasite infections affect the body condition of wild birds. Sci Total Environ 651:3015–3022

Karell P, Brommer JE, Ahola K, Karstinen T (2013) Brown Tawny Owls moult more flight feathers than grey ones. J Avian Biol 44:235–244. https://doi.org/10.1111/j.1600-048X.2012.05868.x

Korpimäki E, Rita H (1996) Effects of brood size manipulations on offspring and parental survival in the European Kestrel under fluctuating food conditions. Ecoscience 3:264–273. https://doi.org/10.1080/11956860.1996.11682341

Korpimaki E, Hakkarainen H, Bennett GF (1993) Blood parasites and reproductive success of Tengmalm's owls: detrimental effects on females but not on males? Funct Ecol 7:420. https://doi.org/10.2307/2390029

Krone O, Priemer J, Streich J, Sömmer P, Langgemach T, Lessow O (2001) Haemosporida of birds of prey and owls from Germany. Acta Protozool 40:281–289

Laake JL, Johnson DS, Conn PB (2013) Marked: an R package for maximum likelihood and Markov Chain Monte Carlo analysis of capture–recapture data. Methods Ecol Evol 4:885–890. https://doi.org/10.1111/2041-210X.12065

Lei B, Amar A, Koeslag A et al (2013) Differential haemoparasite intensity between Black Sparrowhawk (Accipiter melanoleucus) morphs suggests an adaptive function for polymorphism. PLoS ONE 8:e81607. https://doi.org/10.1371/journal.pone.0081607

Lochmiller RL, Deerenberg C (2000) Trade-offs in evolutionary immunology: just what is the cost of immunity? Oikos 88:87–98. https://doi.org/10.1034/j.1600-0706.2000.880110.x

Martin RO, Sebele L, Koeslag A, Curtis O, Abadi F, Amar A (2014) Phenological shifts assist colonisation of a novel environment in a range-expanding raptor. Oikos 123:1457–1468. https://doi.org/10.1111/oik.01058

Marzal A, De Lope F, Navarro C, Møller AP (2005) Malarial parasites decrease reproductive success: an experimental study in a passerine bird. Oecologia 142:541–545. https://doi.org/10.1007/s00442-004-1757-2

Merino S, Moreno J, Sanz JJ, Arriero E (2000) Are avian blood parasites pathogenic in the wild? A medication experiment in Blue Tits (Parus caeruleus). Proc R Soc B Biol Sci 267:2507–2510. https://doi.org/10.1098/rspb.2000.1312

Moreno-Rueda G (2010) Experimental test of a trade-off between moult and immune response in House Sparrows Passer domesticus. J Evol Biol 23:2229–2237. https://doi.org/10.1111/j.1420-9101.2010.02090.x

Nebel C, Harl J, Pajot AP, Weissenböck H, Amar A, Sumasgutner P (2019) High prevalence and genetic diversity of Haemoproteus columbae (Haemosporida: Haemoproteidae) in Feral Pigeons Columba livia in Cape Town, South Africa. Parasitol Res 119:447–463

Nordling D, Andersson M, Zohari S, Gustafsson L (1998) Reproductive effort reduces specific immune response and parasite resistance. Proc R Soc B Biol Sci 265:1291–1298. https://doi.org/10.1098/rspb.1998.0432

R Core Team (2015) R: a language and environment for statistical computing. R Foundation for Statistical Computing, Vienna

Remple JD (2004) Intracellular Hematozoa of raptors: a review and update. J Avian Med Surg 18:75–88. https://doi.org/10.1647/2003-008

Richner H, Tripet F (2007) Ectoparasitism and the trade-off between current and future reproduction. Oikos 86:535–538. https://doi.org/10.2307/3546657

Roberts ML, Buchanan KL, Evans MR (2004) Testing the immunocompetence handicap hypothesis: a review of the evidence. Anim Behav 68:227–239

Roulin A (2007) Melanin pigmentation negatively correlates with plumage preening effort in Barn Owls. Funct Ecol 21:264–271. https://doi.org/10.1111/j.1365-2435.2006.01229.x

Roulin A (2014) Melanin-based colour polymorphism responding to climate change. Glob Change Biol 20(11):3344–3350

Roulin A, Ducrest A-L, Dijkstra C (1999) Effect of brood size manipulations on parents and offspring in the barn owl Tyto alba. Ardea 87:91–100

Roulin A, Jungi TW, Pfister H, Dijkstra C (2000) Female Barn Owls (Tyto alba) advertise good genes. Proc R Soc B Biol Sci 267:937–941. https://doi.org/10.1098/rspb.2000.1093

Roulin A, Riols C, Dijkstra C, Ducrest AL (2001) Female plumage spottiness signals parasite resistance in the Barn Owl (Tyto alba). Behav Ecol 12:103–110. https://doi.org/10.1093/oxfordjournals.beheco.a000371

Saino N, Calza S, Ninni P, Møller AP (1999) Barn Swallows trade survival against offspring condition and immunocompetence. J Anim Ecol 68:999–1009. https://doi.org/10.1046/j.1365-2656.1999.00350.x

Samuel MD, Hobbelen PHF, Decastro F, Ahumada JA, Lapointe DA, Atkinson CT, Woodworth BL, Hart PJ, Duffy DC (2011) The dynamics, transmission, and population impacts of avian malaria in native hawaiian birds: a modeling approach. Ecol Appl 21:2960–2973. https://doi.org/10.1890/10-1311.1

Sánchez CA, Becker DJ, Teitelbaum CS, Barriga P, Brown LM, Majewska AA, Hall RJ, Altizer S (2018) On the relationship between body condition and parasite infection in wildlife: a review and meta-analysis. Ecol Lett 21(12):1869–1884

Sanz JJ, Moreno J, Merino S, Tomás G (2004) A trade-off between two resource-demanding functions: post-nuptial moult and immunity during reproduction in male Pied Flycatchers. J Anim Ecol 73:441–447. https://doi.org/10.1111/j.0021-8790.2004.00815.x

Schulte-Hostedde AI, Zinner B, Millar JS, Hickling GJ (2005) Restitution of mass-size residuals: validating body condition indices. Ecology 86:155–163. https://doi.org/10.1890/04-0232

Sebele L (2012) Factors influencing the timing of breeding in a range expanding raptor at two spatial scales. University of Cape Town, Cape Town

Sumasgutner P, Vasko V, Varjonen R, Korpimäki E (2014) Public information revealed by pellets in nest sites is more important than ecto-parasite avoidance in the settlement decisions of Eurasian Kestrels. Behav Ecol Sociobiol 68:2023–2034. https://doi.org/10.1007/s00265-014-1808-6

Sumasgutner P, Tate GJ, Koeslag A, Amar A (2016) Family morph matters: factors determining survival and recruitment in a long-lived polymorphic raptor. J Anim Ecol 85:1043–1055. https://doi.org/10.1111/1365-2656.12518

Sumasgutner P, Koeslag A, Amar A (2019) Senescence in the city: exploring ageing patterns of a long-lived raptor across an urban gradient. J Avian Biol. https://doi.org/10.1111/jav.02247

Suri J, Sumasgutner P, Hellard E, Koeslag A, Amar A (2017) Stability in prey abundance may buffer Black Sparrowhawks from health impacts of urbanisation. Ibis (Lond 1859) 159:38–54. https://doi.org/10.1111/ibi.12422

Tate GJ, Amar A (2017) Morph specific foraging behavior by a polymorphic raptor under variable light conditions. Sci Rep 7:1–12. https://doi.org/10.1038/s41598-017-07829-x

Tate GJ, Bishop JM, Amar A (2016) Differential foraging success across a light level spectrum explains the maintenance and spatial structure of colour morphs in a polymorphic bird. Ecol Lett 19:679–686. https://doi.org/10.1111/ele.12606

Tate G, Sumasgutner P, Koeslag A, Amar A (2017) Pair complementarity influences reproductive output in the polymorphic Black Sparrowhawk Accipiter melanoleucus. J Avian Biol 47:1–12. https://doi.org/10.1111/jav.01100

Terraube J, Vasko V, Korpimäki E (2015) Mechanisms and reproductive consequences of breeding dispersal in a specialist predator under temporally varying food conditions. Oikos 124:762–771. https://doi.org/10.1111/oik.01974

Tolonen P, Korpimaki E (1995) Parental effort of Kestrels (Falco tinnunculus) in nest defense: effects of laying time, brood size, and varying survival prospects of offspring. Behav Ecol 6:435–441. https://doi.org/10.1093/beheco/6.4.435

White GC, Burnham KP (1999) Program mark: survival estimation from populations of marked animals. Bird Study 46:S120–S139. https://doi.org/10.1080/00063659909477239
Acknowledgements
We are grateful to the Black Sparrowhawk Team—Johan Koeslag, Mark Cowen, Odette Curtis, Margaret MacIver, Sharon Pryce, Jessleena Suri, Shane McPherson and Carina Nebel—for the long-term population monitoring, data collection and extensive support in the field. We wish to thank Gabriella Leighton, Michelle Maritz, Jessleena Suri, Bonnie Lei and Elelwani Musekwa for their assistance in analysing blood slides. We are very grateful to all the landowners who permitted us to conduct fieldwork on their land and particularly to the South African National Parks (SANPARKS) for access to the Table Mountain National Park.
Funding
The Black Sparrowhawk Project is funded by the DST-NRF Centre of Excellence and a South Africa (NRF)/Sweden (STINT) science and technology research collaboration (Grant no.: STINT 160909188048). PS was supported by the Claude Leon Foundation post-doctoral fellowship and the Leslie Brown Memorial Grant of the Raptor Research Foundation.
Ethics declarations
Conflict of interest
We declare we have no competing interests.
Ethics approval
Ethical clearance was obtained for all procedures required for the long-term study on the Cape Peninsula and for adult trapping across South Africa in 2014. The research was approved by the University of Cape Town's Science Faculty Animal Ethics Committee (permit number: 2012/V37/AA; 2016/v11/AA), and was in line with South African legal requirements. All necessary permits for monitoring, capturing and ringing birds were acquired from Cape Nature and South African National Parks (SANPARKS).
Consent for publication
The manuscript has been approved by all co-authors.
Additional information
Publisher's Note
Springer Nature remains neutral with regard to jurisdictional claims in published maps and institutional affiliations.
Communicated by O. Krüger.
About this article
Cite this article
McCarren, S., Sumasgutner, P., Tate, G. et al. Clinal variation in the polymorphic Black Sparrowhawk Accipiter melanoleucus is unrelated to infection by the blood parasite Haemoproteus nisi. J Ornithol (2020). https://doi.org/10.1007/s10336-020-01823-3
Received:

Revised:

Accepted:

Published:
Keywords
Raptor

Polymorphism

Haemosporidian parasites

Avian malaria

Melanin

Pleiotropy