Abstract
Potoos (Nyctibius spp.) are nocturnal Neotropical canopy-dwelling birds, making them one of the most enigmatic and least known avian families. The Common Potoo (Nyctibius griseus) and the Great Potoo (Nyctibius grandis) are the most widespread species, but little information on their life histories is available. We evaluated the utility of autonomous recording units, coupled with automated signal recognition software, to monitor the calling behavior of both species for the first time over a complete annual cycle at six different sites in the Brazilian Pantanal. Their diel activity was restricted to the night, with higher calling rates after midnight. The breeding season of the Common Potoo, according to seasonal changes in vocal activity, seems to occur between July and November, while the breeding period of the Great Potoo extended from July to December. The reproduction periods proposed for each potoo in this study correspond mainly with the dry season in the study area and are in agreement with the few historical nest site observations from Brazil. The maximum calling activity of both species occurred between 1 and 5 a.m. September was the month with the maximum vocal activity of the Common Potoo, while the Great Potoo was most vocally during October. The vocal activity of neither potoo was related to night temperature. The Great Potoo was more vocally active during nights with high moon illumination. Our results will be useful in future monitoring programs for these species. Acoustic monitoring has proven to be a helpful tool for monitoring the presence and calling seasonality of the Common Potoo and the Great Potoo, mainly due to their naturally low vocal activity rates. Acoustic monitoring should be evaluated and used to increase our knowledge about the ethology and ecology of this enigmatic avian family.
Zusammenfassung
Erfassung der jährlichen Gesangsaktivität zweier eigenartiger, nachtaktiver neotropischer Vogelarten: des Urutau-Tagschläfers ( Nyctibius griseus ) und des Riesentagschläfers ( Nyctibius griseus )
Tagschläfer (Nyctibius spp.) sind nachtaktive neotropische Vögel, die in Baumkronen leben und zu den eigenartigsten und am wenigsten untersuchten Vogelarten gehören. Der Urutau-Tagschläfer (Nyctibius griseus) und der Riesentagschläfer (Nyctibius grandis) sind die am weitesten verbreiteten Arten, aber es liegt nur wenig Information über ihre Lebensart vor. Wir testeten den Nutzen autonomer, mit automatisierter Signalerkennungssoftware ausgestatteter Aufnahmegeräte, um zum ersten Mal über ein komplettes Jahr hinweg das Rufverhalten beider Arten an sechs unterschiedlichen Standorten im brasilianischen Pantanal aufzuzeichnen. Ihre Aktivitätszeit beschränkte sich auf die Nacht, wobei die Anzahl ihrer Rufe nach Mitternacht höher als davor war. Aufgrund der jahreszeitlichen Änderungen seiner Lautäußerungen nehmen wir an, dass die Brutzeit des Urutau-Tagschläfers zwischen Juli und November liegt, während die Brutzeit des Riesentagschläfers von Juli bis Dezember reicht. Die Fortpflanzungszeit beider von uns untersuchten Arten lag überwiegend in der Trockenzeit in unserem Untersuchungsgebiet, was den wenigen, alten Beobachtungen an Neststandorten in Brasilien entspricht. Die meisten Lautäußerungen gab es bei beiden Arten nachts zwischen 1 und 5 Uhr. Der Urutau-Tagschläfer zeigte die größte Ruf-Aktivität im September, wohingegen das Ruf-Maximum des Riesentagschläfers im Oktober lag. Bei beiden Arten gab es keinen Zusammenhang mit der nächtlichen Temperatur. Der Riesentagschläfer war in Nächten mit starkem Mondlicht Ruf-aktiver. Unsere Ergebnisse werden für zukünftige Überwachungsprogramme für diese Arten von Nutzen sein. Die akustische Überwachung hat sich als nützliches Werkzeug für die Überwachung der Anwesenheit und der jahreszeitlichen Ruf-Aktivität von Urutau-Tagschläfer und Riesentagschläfer erwiesen, was in erster Linie an ihrer ohnehin niedrigen Ruf-Aktivität liegt. Akustisches Monitoring sollte eingesetzt werden, um unser Wissen über das Verhalten und die Ökologie dieser eigenartigen Vogelfamilie zu erweitern.
Access options
Buy single article
Instant access to the full article PDF.
USD 39.95
Price excludes VAT (USA)
Tax calculation will be finalised during checkout.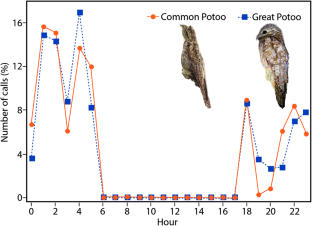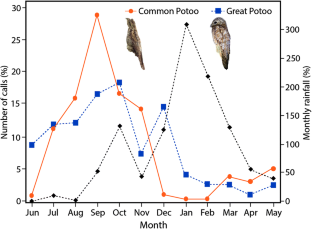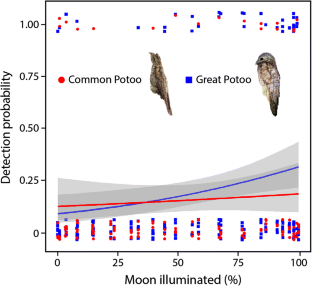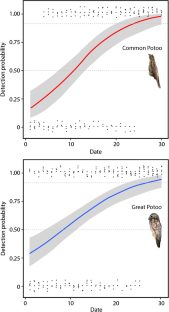 Availability of data and material
The datasets analysed during the current study are not publicly available since they are being used for different scientific purposes, but are available from the corresponding author on reasonable request.
References
Álvarez del Toro M (1971) El bienparado o pajaro estaca (Nyctibius griseus mexicanus Nelson). Revista Inst Ciencias Artes Chiapas 2:2–3

Bates D, Maechler M, Bolker B, Walker S (2015) lme4: Linear mixed-effects models using Eigen and S4. R package version 1.1–7. 2014 Institute for Statistics and Mathematics of WU website. https://cran.r-project.org/web/packages/lme4/index.html. Accessed 18 May 2020

Bioacoustics Research Program (2014) Raven Pro: Interactive Sound Analysis Software (Version 1.5). [Computer software]. The Cornell Lab of Ornithology, Ithaca, NY. https://www.birds.cornell.edu/raven. Accessed 18 May 2020

BirdLife International (2016a) Nyctibius griseus. The IUCN Red List of Threatened Species 2016: e.T22689646A93241257. Accessed 18 May 2020

BirdLife International (2016b) Nyctibius grandis. The IUCN Red List of Threatened Species 2016: e.T22689636A93240548. Accessed 18 May 2020

Blumstein DT et al (2011) Acoustic monitoring in terrestrial environments using microphone arrays: applications, technological considerations and prospectus. J Appl Ecol 48:758–767

Bobay LR, Taillie PJ, Moorman CE (2018) Use of autonomous recording units increased detection of a secretive marsh bird. J Field Ornithol 89(2):384–392

Brauer CL, Donovan TM, Mickey RM, Katz J, Mitchell BR (2016) A comparison of acoustic monitoring methods for common anurans of the northeastern United States. Wildl Soc Bull 40(1):140–149

Cadbury CJ (1981) Nightjar census methods. Bird Study 28:1–4

Cestari C, Guaraldo AC, Gussoni CO (2011) Nestling behavior and parental care of the Common Potoo (Nyctibius griseus) in southeastern Brazil. Wilson J Ornithol 123:102–106

Cleere N (2010) Nightjars: a guide to nightjars and related birds. A&C Black, London

Cohn-Haft M (1993) Rediscovery of the White-winged Potoo (Nyctibius leucopterus). Auk 110:391–394

Cohn-Haft M (1999) Family Nyctibiidae (Potoos). In: del Hoyo J, Elliott A, Sargatal J (eds) Handbook of the birds of the world. Barn-owls to hummingbirds, vol 5. Lynx Editions, Barcelona, pp 288–300

Corbo MC, Macarrão A (2010) Parental care in Common Potoo Nyctibius griseus in Brazil. Cotinga 32:122

Costa TV, Andretti CB, Laranjeiras TO, Rosa GA (2010) Discovery of the White-winged Potoo Nyctibius leucopterus in Espírito Santo, Brazil, with remarks on its distribution and conservation in the Atlantic forest. Bull Br Ornithol Club 130:260–265

Costa TV, Whitney BM, Braun MJ, White ND, Silveira LF, Cleere N (2018) A systematic reappraisal of the Rufous Potoo Nyctibius bracteatus (Nyctibiidae) and description of a new genus. J Ornithol 159:367–377

de Deus FF, Arieira J, Schuchmann K-L, Tissiani ASO, Marques MI (2020) Avian beta-diversity in a Neotropical wetland: effects of flooding and vegetation. Wetlands. https://doi.org/10.1007/s13157-019-01240-0

Debus SJS (1997) Vocal behaviour of the Southern Boobook Ninox novaeseelandiae and other nocturnal birds. In: Czechura G, Debus S (eds) Australian Raptor Studies II. Birds Australia Monograph 3. Birds Australia, Melbourne, pp 71–85

Digby A, Towsey M, Bell BD, Teal PD (2013) A practical comparison of manual and autonomous methods for acoustic monitoring. Methods Ecol Evol 4(7):675–683

Ehnes M, Foote JR (2015) Comparison of autonomous and manual recording methods for discrimination of individually distinctive Ovenbird songs. Bioacoustics 24(2):111–121

Farnsworth A, Russell RW (2007) Monitoring flight calls of migrating birds from an oil platform in the northern Gulf of Mexico. J Field Ornithol 78:279–289

Goyette JL, Howe RW, Wolf AT, Robinson WD (2011) Detecting tropical nocturnal birds using automated audio recordings. J Field Ornithol 82:279–287

Heinicke S, Kalan AK, Wagner OJ, Mundry R, Lukashevich H, Kühl HS (2015) Assessing the performance of a semi-automated acoustic monitoring system for primates. Methods Ecol Evol 6(7):753–763

Hothorn T, Bretz F, Westfall P (2008) Simultaneous inference in general parametric models. Biometric J 50:346–363

Ingels J, Cleere N, Pelletier V, Héquet V (2008) Recent records and breeding of Rufous Potoo Nyctibius bracteatus in French Guyana. Cotinga 29:144–148

Junk WJ, Da Cunha CN, Wantzen KM, Petermann P, Strüssmann C, Marques MI, Adis J (2006) Biodiversity and its conservation in the Pantanal of Mato Grosso, Brazil. Aquat Sci 68:278–309

Knight E, Hannah K, Foley G, Scott C, Brigham R, Bayne E (2017) Recommendations for acoustic recognizer performance assessment with application to five common automated signal recognition programs. Avian Conserv Ecol 12(2):14

Kuznetsova A, Brockhoff PB, Christensen RHB (2014) lmerTest: tests for random and fixed effects for linear mixed effect models (lmer objects of lme4 package) R package version 2.0–11. https://cran.r-project.org/web/packages/lmerTest/lmerTest.pdf. Accessed 18 May 2020

Marini MÂ et al (2012) Breeding biology of birds in the Cerrado of central Brazil. Ornitol Neotrop 23:385–405

Marques TA, Thomas L, Martin SW, Mellinger DK, Ward JA, Moretti DJ, Harris PL, Tyack PL (2013) Estimating animal population density using passive acoustics. Biol Rev 88:287–309

Mendonça LGA, Blamires D, Tubelis DP (2009) Nesting of the Common Potoo, Nyctibius griseus (Gmelin, 1789) (Aves: Nyctibiidae) in an urban environment in central Cerrado. Lundiana 10:77–90

Mills AM (1986) The influence of moonlight on the behaviour of Goatsuckers (Caprimulgidae). Auk 103:370–378

Navarro R, Marín G, Muñoz J (2011) Notas sobre la nidificación del Nictibiio Grande (Nyctibius grandis) en la Guayana venezolana. Revista Multidiscip Consejo Investig Univers Oriente 23:91–92

Obrist MK, Pavan G, Sueur J, Riede K, Llusia D, Márquez R (2010) Bioacoustics approaches in biodiversity inventories. Abc Taxa 8:68–99

Perrins CM, Crick HQP (1996) Influence of Lunar Cycle on Laying Dates of European Nightjars (Caprimulgus europaeus). The Auk 113(3):705–708

Pérez-Granados C, Schuchmann K-L (2020) Illuminating the nightlife of two Neotropical nightjars: vocal behavior over a year and monitoring recommendations. Ethol Ecol Evol. https://doi.org/10.1080/03949370.2020.1753117

Pérez-Granados C, Bustillo-de la Rosa D, Gómez-Catasús J, Barrero A, Abril-Colón I, Traba J (2018a) Autonomous recording units as effective tool for monitoring of the rare and patchily distributed Dupont's Lark Chersophilus duponti. Ardea 106:139–147

Pérez-Granados C, Bota G, Giralt D, Traba J (2018b) A cost-effective protocol for monitoring birds using autonomous recording units: a case study with a night-time singing passerine. Bird Study 65:338–345

Pérez-Granados C, Bota G, Giralt D, Albarracín J, Traba J (2019a) Cost-effective assessment of five audio recording systems for wildlife monitoring: differences between recording distances and singing direction. Ardeola 66:311–325

Pérez-Granados C, Schuchmann KL, Ganchev T, Strüssmann C, Dorado-Rodrigues TF, Tissiani AS, de Deus F, Marques MI (2019b) Elucidating the diel and seasonal calling behaviour of Elachistocleis matogrosso (Anura: Microhylidae). J Nat Hist 53:2699–2710

Pérez-Granados C, Schuchmann K-L, Marques MI (2020) Vocal behaviour of the undulated Tinamou (Crypturellus undulatus) over an annual cycle in the Brazilian Pantanal: new ecological information. Biotropica 52:165–171

R Development Core Team (2019) A language and environment for statistical computing. R Foundation for Statistical Computing, Vienna

Reino L, Porto M, Santana J, Osiejuk TS (2015) Influence of moonlight on nightjars' vocal activity: a guideline for nightjar surveys in Europe. Biologia 70:968–973

Rempel RS, Francis CM, Robinson JN, Campbell M (2013) Comparison of audio recording system performance for detecting and monitoring songbirds. J Field Ornithol 84:86–97

Sánchez-Martínez MA, Yusti-Muñoz AP (2016) Notas sobre la anidación del Bienparado común (Nictibius griseus) en el Valle geográfico del Río Cauca (Cali, Colombia). Ornitol Neotrop 27:125–132

Schroeder KM, Mcrae SB (2020) Automated auditory detection of a rare, secretive marsh bird with infrequent and acoustically indistinct vocalisations. Ibis. https://doi.org/10.1111/ibi.12805

Shonfield J, Bayne E (2017) Autonomous recording units in avian ecological research: current use and future applications. Avian Conserv Ecol 12(1):14

Shonfield J, Heemskerk S, Bayne E (2018) Utility of automated species recognition for acoustic monitoring of owls. J Raptor Res 52(1):42–55

Sick JH (1951) Das Ei von Nyctibius grandis (Gmelin) und Bemerkungen über andere Tasgschläfer-eier. Die Vogelwelt 72:40–42

Sidie-Slettedahl AM, Jensen KC, Johnson RR, Arnold TW, Austin JE, Stafford JD (2015) Evaluation of autonomous recording units for detecting 3 species of secretive marsh birds. Wildl Soc Bull 39:626–634

Skutch AF (1970) Life history of the Common Potoo. Living Bird 9:265–280

Solano-Ugalde A (2011) Notes on the roosting site, foraging behavior, and plumage crypsis of the Rufous Potoo (Nyctibius bracteatus) from the Ecuadorian Amazon. Boletín Soc Antioqueña Ornitol 20:39–42

Swiston KA, Mennill DJ (2009) Comparison of manual and automated methods for identifying target sounds in audio recordings of Pileated, Palebilled, and putative Ivory-billed woodpeckers. J Field Ornithol 80:42–50

Tate DP (1994) Observations on nesting behavior of the Common Potoo in Venezuela. J Field Ornithol 65:447–452

Tubelis DP, Tomas WM (2003) Bird species of the Pantanal wetland, Brazil. Ararajuba 11:5–37

Vanderwerf EA (1988) Observations on the nesting of the Great Potoo (Nyctibius grandis) in central Venezuela. Condor 90:948–950

Voudouris P (2015) Common Potoo (Nyctibius griseus), version 1.0. In: Schulenberg TS (ed) Neotropical Birds Online. Cornell Lab of Ornithology, Ithaca. https://doi.org/10.2173/nb.compot1.01

Wetmore A (1968) The birds of the Republic of Panama, volume 150, part 2. Smithsonian Miscellaneous Collections, Washington, DC

Yip D, Leston L, Bayne E, Sólymos P, Grover A (2017) Experimentally derived detection distances from audio recordings and human observers enable integrated analysis of point count data. Avian Conserv Ecol 12(1):11
Acknowledgements
Furthermore, we thank the SESC Pantanal, Mato Grosso, for permission to conduct research on their property and their logistical help with our fieldwork. This study is part of the biodiversity monitoring project Sounds of the Pantanal–The Pantanal Automated Acoustic Biodiversity Monitoring of INAU, Cuiabá, Mato Grosso, Brazil, which was conducted under SISBIO permit no. 39095 (KLS). We are grateful to four anonymous reviewers whose comments helped to improve the manuscript.
Funding
We greatly appreciate the financial support from the following institutions: the Coordenação de Aperfeiçoamento de Pessoal de Nível Superior–Brasil (CAPES), Finance Code 01; Instituto Nacional de Ciência e Tecnologia em Áreas Úmidas (INAU/UFMT/CNPq); Centro de Pesquisa do Pantanal (CPP); and Brehm Funds for International Bird Conservation (BF), Bonn, Germany.
Ethics declarations
Conflict of interest
The authors declare that they have no conflict of interest.
Ethics approval
Our study complies with current Brazilian laws and wildlife was not disturbed.
Consent to participate
All researchers involved in the study are co-authors and consent voluntarily to be part of the present manuscript.
Consent for publication
All authors agree with the publication of the manuscript in the selected journal.
Additional information
Communicated by T. S. Osiejuk.
Publisher's Note
Springer Nature remains neutral with regard to jurisdictional claims in published maps and institutional affiliations.
Electronic supplementary material
Below is the link to the electronic supplementary material.
About this article
Cite this article
Pérez-Granados, C., Schuchmann, KL. Monitoring the annual vocal activity of two enigmatic nocturnal Neotropical birds: the Common Potoo (Nyctibius griseus) and the Great Potoo (Nyctibius grandis). J Ornithol 161, 1129–1141 (2020). https://doi.org/10.1007/s10336-020-01795-4
Received:

Revised:

Accepted:

Published:

Issue Date:

DOI: https://doi.org/10.1007/s10336-020-01795-4
Keywords