Abstract
To help resolve phylogenetic and phylogeographic relationships of Southeast Asian birds, we have collected specimens in Borneo, Sumatra, and Java for phylogenetic and morphological study. Here, we compare mitochondrial ND2 gene sequences from some of these new specimens to sequences obtained in previous studies to shed light on genealogical relationships in nine passerine clades: Erythropitta venusta/granatina/ussheri (pittas); Dicrurus hottentottus (drongos); Alophoixus bulbuls; Napothera, Turdinus and Pellorneum babblers; Anthipes flycatchers; Brachypteryx shortwings; and Myophonus whistling thrushes. These comparisons resolve or shed substantial light on taxonomic problems in pittas, Alophoixus, Napothera, Dicrurus, Brachypteryx, and Myophonus, and they confirm assumed (but previously unquantified) genetic relationships within Turdinus and Anthipes. The resulting trees also allow us to (1) suggest improved taxonomic arrangements in several groups, (2) confirm the rediscovery of a "lost" species within Napothera, and (3) provide the basis for the description of a new subspecies of Alophoixus.
Zusammenfassung
Beobachtungen zu Beziehungen einiger sundanesischer Sperlingsvogel-Taxa (Aves: Passeriformes), die bisher nicht für molekularphylogenetische Studien verfügbar waren
Um die phylogenetischen und phylogeographischen Beziehungen südostasiatischer Vogelarten zu klären, sammelten wir in Borneo, Sumatra und Java Exemplare für phylogenetische und morphologische Studien. Hier vergleichen wir die mitochondrialen ND2-Gensequenzen einiger dieser neuen Exemplare mit Sequenzen, die wir in früheren Studien erhalten haben, um die genealogischen Beziehungen zwischen neun Sperlingsvogel-Kladen zu beleuchten: Erythropitta venusta/granatina/ussheri (Pittas), Dicrurus hottentottus (Drongos), Alophoixus-Bülbüls, Napothera-, Turdinus- und Pellorneum-Drosslinge, Anthipes-Schnäpper, Brachypteryx-Kurzflügel und Myophonus-Pfeifdrosseln. Diese Vergleiche tragen wesentlich zur Lösung und Erklärung der taxonomischen Probleme bei Pitta, Alophoixus, Napothera, Dicrurus, Brachypteryx, und Myophonus bei und bestätigen die vermuteten (aber bis jetzt nicht quantifizierten) genetischen Beziehungen innerhalb von Turdinus und Anthipes. Die daraus resultierenden Stammbäume ermöglichen uns ebenfalls, (1) verbesserte taxonomische Anordnungen in mehreren Gruppen vorzuschlagen, (2) die Wiederentdeckung einer "verlorenen " Art innerhalb der Napothera zu bestätigen und (3) die Grundlage für die Beschreibung einer neuen Unterart von Alophoixus zu liefern.
Access options
Buy single article
Instant access to the full article PDF.
US$ 39.95
Tax calculation will be finalised during checkout.
Subscribe to journal
Immediate online access to all issues from 2019. Subscription will auto renew annually.
US$ 79
Tax calculation will be finalised during checkout.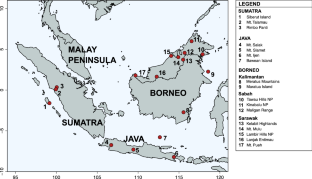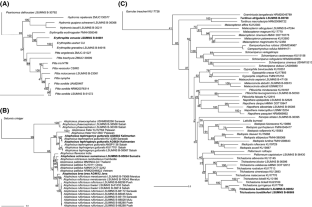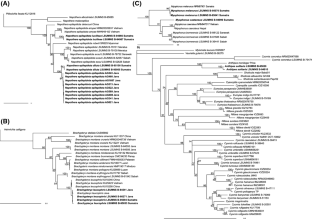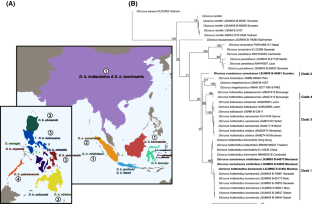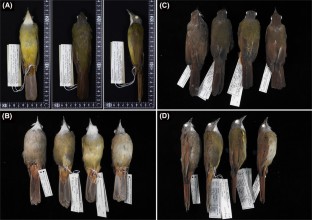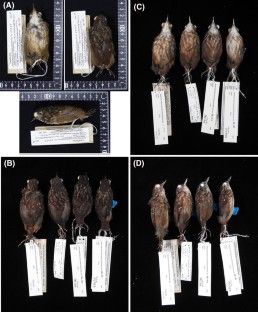 References
Alström P, Cibois A, Irestedt M, Zuccon D, Gelang M, Fjeldså J, Andersen MJ, Moyle RG, Pasquet E, Olsson U (2018a) Molecular phylogenetics and evolution comprehensive molecular phylogeny of the grassbirds and allies (Locustellidae) reveals extensive non-monophyly of traditional genera, and a proposal for a new classification. Mol Phylogenet Evol 127:367–375

Alström P, Rasmussen PC, Xia C, Gelang M, Liu Y, Chen G, Zhao M, Hao Y, Zhao C, Zhao J, Yao C, Eaton JA, Hutchinson R, Lei F, Olsson U (2018b) Taxonomy of the white-browed shortwing (Brachypteryx montana) complex on mainland Asia and Taiwan: an integrative approach supports recognition of three instead of one species. Avian Res 9:34–46

Baker ECS (1915) The game birds of India, Burma and Ceylon: part XVII. J Bombay Nat Hist Soc 23:593–657

Burner RC, Chua VL, Brady ML, van Els P, Steinhoff POM, Rahman MA, Sheldon FH (2016) An ornithological survey of Gunung Mulu National Park, Sarawak, Malaysian Borneo. Wilson J Ornithol 128:242–254

Burner RC, Shakya SB, Haryoko T, Irham M, Prawiradilaga DM, Sheldon FH (2018) Ornithological observations from Maratua and Bawean Islands, Indonesia. Treubia 45:11–24

Cai T, Cibois A, Alström P, Moyle RG, Kennedy JD, Shao S, Zhang R, Irestedt M, Ericson PGP, Gelang M, Qu Y, Lei F, Fjeldså J (2018) Near-complete phylogeny and taxonomic revision of the world's babbler (Aves: Passeriformes). Mol Phylogenet Evol 130:346–356

Campillo LC, Oliveros CH, Sheldon FH, Moyle RG (2018) Genomic data resolve gene tree discordance in spiderhunters (Nectariniidae, Arachnothera). Mol Phylogenet Evol 120:151–157

Clements JF, Schulenberg TS, Iliff MJ, Roberson D, Fredericks TA, Sullivan BL, Wood CL (2019) The eBird/Clements checklist of birds of the world: v2019. Downloaded from https://www.birds.cornell.edu/clementschecklist/download/ 

Collar NJ (2004) Species limits in some Indonesian thrushes. Forktail 20:71–87

Deignan HG, Paynter RA, Ripley SD (1964) Check-list of birds of the world, vol X. Harvard University Press, Cambridge

Dejtaradol A, Renner SC, Karapan S, Bates PJJ, Moyle RG, Päckert M (2015) Indochinese-Sundaic faunal transition and phylogeographical divides north of the Isthmus of Kra in Southeast Asian Bulbuls (Aves: Pycnonotidae). J Biogeogr 43:471–483

Dickinson EC, Christidis L (2014) The Howard and Moore complete checklist of the birds of the world, 4th edn, vol 2, Passerines

Eaton JA, van Balen S, Brickle NW, Rheindt FE (2016) Birds of the Indonesian Archipelago: greater Sundas and Wallacea. Lynx

Eck S, Töpfer T, Fiebig J, Heynen I, Fielder W, Nicolai B, Van den Elzen R, Winkler R, Woog F (2011) Measuring birds. In: Töpfer T, Heynen I (eds) Christ Media Natur, Minden

Edgar RC (2004) MUSCLE: multiple sequence alignment with high accuracy and high throughput. Nucleic Acid Res 32:1792–1797

Ericson PGP, Qu Y, Rasmussen PC, Blom MPK, Rheindt FE, Irestedt M (2019) Genomic differentiation tracks earth-historic isolation in an Indo-Australasian archipelagic pitta (Pittidae; Aves) complex. BMC Evolut Biol 19:1–13

Fuchs J, Ericson PGP, Bonillo C, Couloux A, Pasquet E (2015) The complex phylogeography of the Indo-Malayan Alophoixus bulbuls with the description of a putative new ring species complex. Mol Ecol 24:5460–5471

Gill F, Donsker D (2020) IOC World Bird List (v10.1). https://doi.org/10.14344/IOC.ML.10.1

Hackett S (1996) Molecular phylogenetics and biogeography of tanagers in the genus Ramphocelus (Aves). Mol Phylogenet Evol 5:368–382

Del Hoyo J, Elliott A, Sargatal J, Christie DA, Kirwan G (2019) Handbook of the birds of the world alive. Lynx Edicions, Barcelona

Kyriazis CC, Alam B, Wjodyla M, Hackett S, Hosner P, Mays HL, Heaney LR, Reddy S (2018) Colonization and diversification of the white-browed shortwing (Aves: Muscicapidae: Brachypteryx montana) in the Philippines. Mol Phylogenet Evol 121:121–131

Lambert F, Woodcock M (1996) Pittas, broadbills and asities. Pica Press, Sussex

Lim HC, Zou F, Taylor SS, Marks BD, Moyle RG, Voelker G, Sheldon FH (2010) Phylogeny of magpie-robins and shamas (Aves: Turdidae: Copsychus and Trichixos): implications for island biogeography in Southeast Asia. J Biogeogr 37:1894–1906

Lim HC, Rahman MA, Lim SLH, Moyle RG, Sheldon FH (2011) Revisiting Wallace's haunt: coalescent simulations and comparative niche modeling reveal historical mechanisms that promoted avian population divergence in the Malay Archipelago. Evolution 65:321–334

Lim HC, Chua VL, Benham PM, Oliveros CH, Rahman MA, Moyle RG, Sheldon FH (2014) Divergence history of the Rufous-tailed Tailorbird (Orthotomus sericeus) of Sundaland: implications for the biogeography of Palawan and the taxonomy of island species in general. Auk 131:629–642

Lim HC, Gawin DF, Shakya SB, Harvey MG, Rahman MA, Sheldon FH (2017) Sundaland's east-west rain forest population structure: Variable manifestations in four polytypic bird species examined using RAD-Seq and plumage analyses. J Biogeogr 44:2259–2271

MacKinnon J, Phillipps K, Andrew P (1993) A field guide to the birds of Borneo, Sumatra, Java, and Bali, the Greater Sunda Islands. Oxford University Press, Oxford

Mayr E (1979) Family Pittidae. Check-list of the Birds of the World. Museum of Comparative Zoology, Cambridge, pp 310–329

Meyer de Schauensee R, Ripley SD (1939) Zoological results of the George Vanderbilt Sumatran expedition, 1936–1939. Part I: birds from Atjeh. Proc Acad Nat Sci Phila 91:311–368

Miller MA, Pfeiffer W, Schwarz T (2010) Creating the CIPRES Science Gateway for inference of large phylogenetic trees. In: Proceedings of the gateway computing environments workshop (GCE), 14 Nov. 2010, New Orleans, pp 1–8

Moore WS (1995) Inferring phylogenies from mtDNA variation: mitochondrial-gene trees versus nuclear-gene trees. Evolution 49:718–726

Moyle RG, Oliveros CH, Andersen MJ, Hosner PA, Benz BW, Manthey JD, Travers SL, Brown RM, Faircloth BC (2016) Tectonic collision and uplift of Wallacea triggered the global songbird radiation. Nat Commun 7:12709

Munsell AH (1950) Munsell book of color. Munsell Color Company, Inc., Baltimore

Oliveros CH, Andersen MJ, Hosner PA, Mauck WM, Sheldon FH, Cracraft J, Moyle RG (2019a) Rapid Laurasian diversification of a pantropical bird family during the Oligocene-Miocene transition. Ibis 162:1–16

Oliveros CH, Field DJ, Ksepka DT, Barker FK, Aleixo A, Andersen MJ, Alström P, Benz BW, Braun EL, Braun MJ, Bravo GA, Brumfield RT, Chesser RT, Claramunt S, Cracraft J, Cuervo AM, Derryberry EP, Glenn TC, Harvey MG, Hosner PA, Joseph L, Kimball RT, Mack AL, Miskelly CM, Peterson AT, Robbins MB, Sheldon FH, Silveira LF, Smith BT, White ND, Moyle RG, Faircloth BC (2019b) Earth history and the passerine superradiation. Proc Natl Acad Sci 116:7916–7925

Outlaw DC, Voelker G (2006) Systematics of Ficedula flycatchers (Muscicapidae): a molecular reassessment of a taxonomic enigma. Mol Phylogenet Evol 41:118–126

Price TD, Hooper DM, Buchanan CD, Johansson US, Tietze DT, Alström P, Olsson U, Ghosh-Harihar M, Ishtiaq F, Gupta SK, Martens J, Harr B, Singh P, Mohan D (2014) Niche filling slows the diversification of Himalayan songbirds. Nature 509:222–225

Ridgway R (1912) Color standards and color nomenclature. The author, Washington, DC

Rocamora G, Yeatman-Berthelot D, Bonan A (2009) Family Dicruridae. In: del Hoyo J, Elliot A, Sargatal J (eds) Handbook of birds of the world, vol 14. Lynx Edicions/Birdlife International, pp 172–227

Rozendaal FG (1994) Species limits within the Garnet Pitta-complex. Dutch Bird 16:239–245

Sangster G, Alström P, Forsmark E, Olsson U (2010) Multi-locus phylogenetic analysis of Old World chats and flycatchers reveals extensive paraphyly at family, subfamily and genus level (Aves: Muscicapidae). Mol Phylogenet Evol 57:380–392

Shakya SB, Sheldon FH (2017) The phylogeny of the world's bulbuls (Pycnonotidae) inferred using a supermatrix approach. Ibis 159:498–509

Shakya SB, Fuchs J, Pons JM, Sheldon FH (2017) Tapping the woodpecker tree for evolutionary insight. Mol Phylogenet Evol 116:182–191

Shakya SB, Haryoko T, Burner RC, Prawiradilaga DM, Sheldon FH (2018) Preliminary assessment of community composition and phylogeographic relationships of the birds of the Meratus Mountains, south-east Borneo, Indonesia. Bull Br Ornithol Club 138:45–66

Sheldon FH (2015) Gazetter and Site-based History of the Ornithology of Sabah, Malaysian Borneo. Occas Pap Mus Nat Sci Louisiana State Univ 86:1–91

Sheldon FH, Lim HC, Nais J, Lakim M, Tuuga A, Malim P, Majuakim J, Lo A, Schilthuizen M, Hosner PA, Moyle RG (2009) Observations on the ecology, distribution and biogeography of forest birds in Sabah, Malaysia. Raffles Bull Zool 57:577–586

Sheldon FH, Styring A, Hosner PA (2010) Bird species richness in a Bornean exotic tree plantation: a long-term perspective. Biol Cons 143:399–407

Sheldon FH, Brown CE, Rahman MA, Tay GK, Moyle RG (2013) Ornithology of the Kelabit Highlands of Sarawak, Malaysia. Raffles Bull Zool 61:827–853

Sheldon FH, Davison G, Wong A, Moyle RG (2014) Birds in peatswamps at Klias Forest Reserve and environs, Sabah, Malaysian Borneo. Occas Pap Mus Nat Sci Louisiana State Univ 83:1–29

Sheldon FH, Lim HC, Moyle RG (2015) Return to the Malay Archipelago: the biogeography of Sundaic rainforest birds. J Ornithol 156:91–113

Sheldon FH, Lim HC, Benham PM, Brady ML, Brown CE, Burner RC, Chua VL, Mittermeier JC, Shakya SB, van Els P, Rahman MA, Gawin DF, Rahim ZA, Setia LD, Moyle RG (2019) Ornithological expeditions to Sarawak, Malaysian Borneo, 2007–2017. Occas Pap Mus Nat Sci Louisiana State Univ 90:1–11

Smithe FB (1975) Naturalist's color guide. American Musuem of Natural History, New York

Sorenson MD, Ast JC, Dimcheff DE, Yuri T, Mindell DP (1999) Primers for a PCR-based approach to mitochondrial genome sequencing in birds and other vertebrates. Mol Phylogenet Evol 12:105–114

Stamatakis A (2014) RAxML version 8: a tool for phylogenetic analysis and post-analysis for large phylogenetic trees. Bioinformatics 30:1312–1313

Styring AR, Ragai R, Unggang J, Stuebing R, Hosner PA, Sheldon FH (2011) Bird community assembly in Bornean industrial tree plantations: effects of forest age and structure. For Ecol Manag 261:531–544

Van Marle JG, Voous KH (1988) The birds of Sumatra: an annotated check-list. No. 10. British Ornithologists' Union

Vaurie C (1949) A revision of the bird family Dicruridae. Bull Am Mus Nat Hist 93:199–342

Vaurie C (1953) A generic revision of flycatcher of the tribe Muscicapini. Bull Am Mus Nat Hist 100:453–538

Wells DR, Andrew P, van den Berg AB (2001) Systematic notes on Asian birds. 21. Babbler jungle: a re-evaluation of the 'pyrrogenys' group of Asian pellorneines (Timaliidae). Zoologische Verhandelingen 335:235–252

Winker K (1998) Suggestions for measuring external characters of birds. Ornithologia Neotropical 9:23–30
Acknowledgements
For research in Indonesia, we thank the State Ministry of Research and Technology (RISTEK research license numbers 388/SIP/FRP/E5/Dit.KI/XI/2016 and 389/SIP/FRP/E5/Dit.KI/XI/2016, 107/FRP/E5/Dit.KI/I/2018, 1079/FRP/E5/Dit.KI/II/2018, and 1126/FRP/E5/Dit.KI/I/2018), the Balai Konservasi Sumber Daya Alam Sumatera Barat and Ministry of Forestry for permission to undertake research in southeast Kalimantan and West Sumatra. We also thank the Research Center for Biology, Indonesian Institute of Science (RCB-LIPI), the Museum Zoologicum Bogoriense, the University of Andalas, MZB technician Suparno, and the people of Loksado and Kadayang (Kalimantan) and Panti and Lubuk Landua Aua Kuniang (West Pasaman, Sumatra), for their support on our recent expeditions. For research permission and assistance in Malaysian Borneo, we thank the Malaysian Prime Minister's Department, the Chief Ministers' Departments of Sarawak and Sabah; Sarawak Forest Department, Forestry Corporation, and Biodiversity Institute; the Universiti Malaysia Sarawak; and Sabah Parks, Museum, and Wildlife Department. Tissues for this study were kindly provided by the American Museum of Natural History, Cornell University Museum of Vertebrates, Louisiana State University Museum of Natural Science, and University of Kansas Museum of Natural History. The ND2 sequence of Napothera epilepidota roberti was kindly provided by Martin Päckert and Swen Renner. We also thank two anonymous reviewers for helping improve the manuscript. The project protocol was approved by LSU's Institutional Animal Care and Use Committee (#16-039). Financial support was provided by the National Geographic Society (8753-10), NSF DEB-0228688 and DEB-1241059 to FHS, NSF DEB-1241181 and DEB-1557053 to RGM, NSF DGE-1247192 to OJ, the Coypu Foundation, and Louisiana State University Museum of Natural Science. All sequences generated from this project have been deposited in Genbank (accession numbers: MN991325–MN991373).
Additional information
Publisher's Note
Springer Nature remains neutral with regard to jurisdictional claims in published maps and institutional affiliations.
Communicated by M. Wink.
Electronic supplementary material
Below is the link to the electronic supplementary material.
About this article
Cite this article
Shakya, S.B., Irham, M., Brady, M.L. et al. Observations on the relationships of some Sundaic passerine taxa (Aves: Passeriformes) previously unavailable for molecular phylogenetic study. J Ornithol 161, 651–664 (2020). https://doi.org/10.1007/s10336-020-01766-9
Received:

Revised:

Accepted:

Published:

Issue Date:
Keywords
Borneo

Java

ND2

Phylogeny

Phylogeography

Sumatra