Abstract
Among birds, pronounced heterothermy tends to be used by small species belonging to phylogenetically older taxa and inhabiting environments with unpredictable and/or seasonally scarce food resources. Previous evidence suggests that a small arid-zone raptor, the pygmy falcon (Polihierax semitorquatus), enters torpor and decreases its body temperature (Tb) to below 31 °C on winter nights in the Kalahari Desert, where sub-zero night-time temperatures occur regularly. To confirm that this species has the capacity for heterothermy and to characterise its thermoregulatory patterns under natural conditions, we implanted temperature-sensitive radio transmitters into free-ranging falcons. Based on data from seven individuals, we found no evidence for the substantial reductions in Tb previously reported. The mean minimum rest-phase Tb during the study period was 37.89 ± 0.67 °C, we observed no instances of Tb < 36 °C, and air temperature did not significantly influence patterns of thermoregulation. Our results highlight intraspecific variability in heterothermy among birds and reveal that, contrary to previous suggestions, even in mid-winter pygmy falcons may not reduce Tb below normothermic levels.
Zusammenfassung
Thermoregulation im Winter beim freilebenden Halsband-Zwergfalken in der Kalahari Wüste
Bei Vögeln wird eine ausgeprägte Heterothermie tendenziell bei kleinen Arten vorgefunden, die zu den phylogenetisch älteren Taxa gehören und Habitate mit unvorhersehbaren und/oder saisonal knappen Nahrungsangeboten nutzen. Bisherige Hinweise lassen vermuten, dass eine kleine Greifvogelart arider Gebiete, der Halsband-Zwergfalke (Polihierax semitorquatus), während Winternächten in der Kalahari Wüste, wo nächtliche Minustemperaturen regelmäßig vorkommen, in einen Torporzustand verfällt und seine Körpertemperatur (Tb) auf unter 31 °C senkt. Um zu bestätigen, dass diese Art die Fähigkeit zur Heterothermie besitzt und um die thermoregulatorischen Muster unter natürlichen Bedingungen zu charakterisieren, implantierten wir temperatursensitive Radiotransmitter in freilebende Zwergfalken. Basierend auf den Daten von sieben Individuen konnten wir im Gegenteil zu vorherigen Untersuchungen keinen Hinweis für wesentliche Tb-Senkungen finden. Während unseres Untersuchungszeitraums lag das durchschnittliche Tb-Minimum in der Ruhephase bei 37,89 ± 0,67 °C Es gab keine Tb-Werte < 36 °C und die thermoregulatorischen Muster wurden nicht signifikant durch die Lufttemperatur beeinflusst. Unsere Ergebnisse heben die intraspezifische Variabilität der Heterothermie bei Vögeln hervor und zeigen entgegen vorherigen Vermutungen, dass Halsband-Zwergfalken auch inmitten des Winters ihre Tb nicht unterhalb ihres normothermen Bereichs absenken.
Access options
Buy single article
Instant access to the full article PDF.
US$ 39.95
Tax calculation will be finalised during checkout.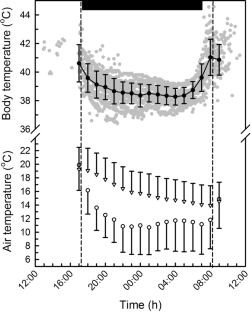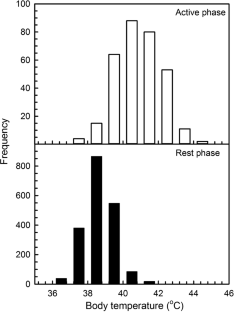 References
Andreasson F, Nord A, Nilsson J-Å (2019) Age-dependent effects of predation risk on night-time hypothermia in two wintering passerine species. Oecologia 189:329–337

Aschoff J (1982) The circadian rhythm of body temperature as a function of body size. In: Taylor CR, Johansen R, Bolis L (eds) A companion to animal physiology. Cambridge University Press, Cambridge, pp 173–188

Bennett AF, Ruben JA (1979) Endothermy and activity in vertebrates. Science 206:649–654

Boix-Hinzen C, Lovegrove BG (1998) Circadian metabolic and thermoregulatory patterns of red-billed woodhoopoes (Phoeniculus purpureus): the influence of huddling. J Zool Lond 244:33–41

Bolopo D, Lowney AM, Thomson RL (2019) Helpers improve fledgling body condition in bigger broods of cooperatively breeding African pygmy falcon. Behav Ecol Sociobiol 73:16

Boyles JG, Smit B, McKechnie AE (2011) A new comparative metric for estimating heterothermy in endotherms. Physiol Biochem Zool 84:115–123

Boyles JG, Smit B, Sole CL, McKechnie AE (2012) Body temperature patterns in two syntopic elephant shrew species during winter. Comp Biochem Physiol A 161:89–94

Brigham RM, Willis CKR, Geiser F, Mzilikazi N (2011) Baby in the bathwater: should we abandon the use of body temperature thresholds to quantify expression of torpor? J Therm Biol 36:376–379

Carr JM, Lima SL (2013) Nocturnal hypothermia impairs flight ability in birds: a cost of being cool. Proc R Soc B 280:20131846

Covas R, Huyser O, Doutrelant C (2004) Pygmy falcon predation of nestlings of their obligate host, the Sociable Weaver. Ostrich J Afr Ornithol 75:325–326

Doucette LI, Brigham RM, Pavey CR, Geiser F (2011) Roost type influences torpor use by Australian owlet-nightjars. Naturwissenschaften 98:845–854

Doucette LI, Brigham RM, Pavey C, Geiser F (2012) Prey availability affects daily torpor by free-ranging Australian owlet-nightjars (Aegotheles cristatus). Oecologia 169:361–372

Geiser F, Ruf T (1995) Hibernation versus daily torpor in mammals and birds: physiological variables and classification of torpor patterns. Physiol Zool 68:935–966

Hackett SJ, Kimball RT, Reddy S, Bowie RCK, Braun EL, Braun MJ, Chojnowski JL, Cox WA, Han K-L, Harshman J, Huddleston CJ, Marks BD, Miglia KJ, Moore WS, Sheldon FH, Steadman DW, Witt CC, Yuri T (2008) A phylogenomic study of birds reveals their evolutionary history. Science 320:1763–1768

Hainsworth FR, Collins BG, Wolf LF (1977) The function of torpor in hummingbirds. Physiol Zool 50:215–222

Jaeger EC (1948) Does the poor-will "hibernate"? Condor 50:45–456

Jaeger EC (1949) Further observations on the hibernation of the poor-will. Condor 51:105–109

Jenkins AR (2005) Pygmy falcon. In: Hockey PAR, Dean WRJ, Ryan PG (eds) Roberts birds of Southern Africa. The Trustees of the John Voelcker Bird Book Fund, Cape Town

Kemp R, Noakes MJ, McKechnie AE (2017) Thermoregulation in free-ranging ground woodpeckers Geocolaptes olivaceus: no evidence of torpor. J Avian Biol 48:1287–1294

Leighton GM, Echeverri S (2014) Non-linear influence of nest size on thermal buffering of sociable weaver nests and the maintenance of cooperative nest construction. Avian Biol Res 7:255–260

Lovegrove BG (2019) Fires of life: endothermy in birds and mammals. Yale University Press, New Haven

Lyman CP, Willis JS, Malan A, Wang LCH (1982) Hibernation and torpor in mammals and birds. Academic Press, New York

Maclean G (1970) The pygmy falcon Polihierax semitorquatus. Koedoe 13:1–22

Maraschin NMR (2016) Faunal distribution in relation to rainfall patterns in the Kalahari Gemsbok National Park. MSc Thesis University of the Witwatersrand, Johannesburg.

McKechnie AE, Lovegrove BG (1999) Circadian metabolic responses to food deprivation in the black-shouldered kite. Condor 101:426–432

McKechnie AE, Lovegrove BG (2001) Thermoregulation and the energetic significance of clustering behavior in the white-backed mousebird (Colius colius). Physiol Biochem Zool 74:238–249

McKechnie AE, Lovegrove BG (2002) Avian facultative hypothermic responses: a review. Condor 104:705–724

McKechnie AE, Mzilikazi N (2011) Heterothermy in afrotropical mammals and birds: a review. Integr Comp Biol 51:349–363

McKechnie AE, Smit B (2010) Thermoregulation under seminatural conditions in two species of African barbets (Piciformes: Lybiidae). Ostrich 81:97–102

McKechnie AE, Körtner G, Lovegrove BG (2004) Rest-phase thermoregulation in free-ranging white-backed mousebirds. Condor 106:144–150

McKechnie AE, Ashdown RAM, Christian MB, Brigham RM (2007) Torpor in an Afrotropical caprimulgid, the Freckled Nightjar (Caprimulgus tristigma). J Avian Biol 38:261–266

McNab BK (1988) Body mass, food habits, and the use of torpor in birds. In: Bech C, Reinertsen RE (eds) Physiology of cold adaptation in birds. Plenum Press, New York, pp 283–291

Nagy KA (1987) Field metabolic rate and food requirement scaling in mammals and birds. Ecol Monogr 57:111–128

Noakes MJ, Smit B, Wolf BO, McKechnie AE (2013) Thermoregulation in African Green Pigeons (Treron calvus) and a re-analysis of insular effects on basal metabolic rate and heterothermy in columbid birds. J Comp Physiol B 183:969–982

Nowack J, Geiser F (2016) Friends with benefits: the role of huddling in mixed groups of torpid and normothermic animals. J Exp Biol 219:590–596

O'Connor RS, Wolf BO, Brigham RM, McKechnie AE (2017) Avian thermoregulation in the heat: efficient evaporative cooling in two southern African nightjars. J Comp Physiol B 187:477–491

Pinheiro J, Bates D, DebRoy S, Sarkar D, R Development Core Team (2009) nlme: linear and nonlinear mixed effects models. R Packag Version 3:57

Prinzinger R, Preßmar A, Schleucher E (1991) Body temperature in birds. Comp Biochem Physiol 99A(4):499–506

Prum RO, Berv JS, Dornburg A, Field DJ, Townsend JP, Lemmon EM, Lemmon AR (2015) A comprehensive phylogeny of birds (Aves) using targeted next-generation DNA sequencing. Nature 526:569–573

Romano AB, Hunt A, Welbergen JA, Turbill C (2019) Nocturnal torpor by superb fairy-wrens: a key mechanism for reducing winter daily energy expenditure. Biol Lett 15:20190211

Ruf T, Geiser F (2015) Daily torpor and hibernation in birds and mammals. Biol Rev 90:891–926

Sapsford CW (1986) Bioenergetics and hypothermia of pygmy falcons on the Kalahari Gemsbok National Park. Gabar 1:20–21

Schleucher E (2004) Torpor in birds: taxonomy, energetics and ecology. Physiol Biochem Zool 77:942–949

Shapiro CJ, Weathers WW (1981) Metabolic and behavioural responses of American kestrels to food deprivation. Comp Biochem Physiol 68A:111–114

Sibley CG, Ahlquist JE (1990) Phylogeny and classification of birds. Yale University Press, New Haven

Smit B, Boyles JG, Brigham RM, McKechnie AE (2011) Torpor in dark times: patterns of heterothermy are associated with the lunar cycle in a nocturnal bird. J Biol Rhythm 26:241–248

Tokura W, Jack SL, Anderson T, Hoffman MT (2018) Long-term variability in vegetation productivity in relation to rainfall, herbivory and fire in Tswalu Kalahari Reserve. Koedoe 60:1–18

Vickery WL, Millar JS (1984) The energetics of huddling by endotherms. Oikos 43:88–93

White FN, Bartholomew GA, Howell TR (1975) The thermal significance of the nest of the sociable weaver Philetairus socius: winter observations. Ibis 117:171–179

Woods CP, Czenze ZJ, Brigham RM (2019) The avian "hibernation" enigma: thermoregulatory patterns and roost choice of the common poorwill. Oecologia 189:47–53
Acknowledgements
We thank the Oppenheimer family, Tswalu Foundation and Tswalu Kalahari for permitting us to conduct this research on their property, and Mark Brigham and three anonymous reviewers for their constructive comments. This work was supported by funding from the DST-NRF Centre of Excellence at the FitzPatrick Institute to RLT and the National Research Foundation of South Africa (Grant Number 110506) to AEM. Any opinions, findings and conclusions or recommendations expressed in this material are those of the author(s) and do not necessarily reflect the views of the National Research Foundation. All procedures in this study comply with South African law and were approved by the Animal Ethics Committee of the University of Cape Town (2018/v7/RT), Animal Ethics Committee of the University of Pretoria (EC011-18) and Research and Scientific Ethics Committee of the South African National Biodiversity Institute (P18/05), and FAUNA research permits from the Northern Cape Province's Department of Environment and Nature Conservation.
Additional information
Publisher's Note
Springer Nature remains neutral with regard to jurisdictional claims in published maps and institutional affiliations.
Deceased: Luke F. Arnot
Communicated by L. Fusani.
About this article
Cite this article
Lund, J., Bolopo, D., Thomson, R.L. et al. Winter thermoregulation in free-ranging pygmy falcons in the Kalahari Desert. J Ornithol 161, 549–555 (2020). https://doi.org/10.1007/s10336-020-01755-y
Received:

Revised:

Accepted:

Published:

Issue Date:
Keyword
Body temperature

Falconidae

Heterothermy

Telemetry

Torpor