Abstract
Worldwide, many wader species have recently exhibited steep declines in range and abundance. Low productivity, frequently associated with predation, is considered a major proximate driver of declines and often reflects underlying land use and habitat change. We hypothesised that restoration of grouse moor management, which includes control of predators and heather habitat management, would halt and reverse these declines. We monitored changes in the abundance of four upland-breeding wader species following restoration of grouse moor management at Langholm Moor in South-west Scotland from 2008 to 2017. Here, Curlew, Golden Plover and Lapwing had previously declined when management ceased, whereas Snipe had increased. During the 10-year study period, Curlew numbers increased on average by 10% per annum, Golden Plover numbers by 16% and Snipe numbers by 21%, whereas Lapwing numbers did not change. These local trends contrast with national and regional trends over the same period, which all showed declines of all these species. However, the population trends for Curlew and Snipe did not differ in relation to habitat management for Red Grouse, suggesting that population increases were primarily associated with predator control across the whole study area. Our results support the hypothesis that restoring predator control as part of grouse moor management can reverse declines of some wader species. At Langholm, full recovery to levels observed prior to management cessation may have been constrained by delayed recruitment within a time-restricted study period in combination with low initial numbers, availability and isolation of suitable habitat, and incomplete predator removal.
Zusammenfassung
Reaktionen von brütenden Watvögeln auf die Wiederaufnahme des Managements für die Bejagung von Schottischen Moorschneehühnern auf einem Moor in Südwest-Schottland
Viele Watvogel-Arten sind weltweit durch starke Rückgänge in Ausbreitung und Bestand bedroht. Niedriger Bruterfolg, häufig assoziiert mit Prädation, ist eine der Hauptursachen für diese Bestandsrückgänge, und oft auf Veränderungen in Landnutzung und Habitat zurückzuführen. Wir stellen die Hypothese auf, dass die Wiederaufnahme des Managements für die Bejagung des Schottischen Moorschneehuhns, welches Prädatorenkontrolle und Heidehabitat-Management beinhaltet, diese Bestandsrückgänge aufhalten und umkehren kann. Wir beobachteten die Bestandsveränderungen von vier im schottischen Hochland brütenden Watvogel-Arten nach der Wiederaufnahme des Moorschneehuhn-Managements im Langholm Moor (Südwest-Schottland) zwischen 2008 und 2017. Nach Einstellung des Managements hatten die Bestände vom Großen Brachvogel, Goldregenpfeifer und Kiebitz abgenommen, wohingegen Bekassinen zunahmen. Während unserer 10-jährigen Studie hat die Anzahl der brütenden Brachvögel durchschnittlich um 10% pro Jahr zugenommen, Goldregenpfeifer um 16% und Bekassinen um 21%, wogegen die Anzahl der Kiebitze gleichblieb. Diese lokalen Bestandszunahmen standen im Gegensatz zu den im gleichen Zeitraum für alle Arten rückläufigen nationalen und regionalen Trends. Die Bestandstrends für Brachvogel und Bekassine waren unabhängig vom Heidehabitat-Management, was darauf hindeutet, dass diese Bestandszunahmen hauptsächlich auf die Prädatorenkontrolle zurückzuführen waren. Unsere Ergebnisse bestätigen die Hypothese, dass Prädatorenkontrolle im Rahmen des Moorschneehuhn-Managements die Bestandsrückgänge von einigen Watvogel-Arten umkehren kann. Eine vollständige Erholung der Watvogel-Bestände in Langholm auf das ursprüngliche Niveau vor der Einstellung des Managements wurde wahrscheinlich verhindert durch zeitverzögerte Rekrutierung in einer zeit-beschränkten Studie in Kombination mit anfänglich niedrigen Beständen, eingeschränkter Verfügbarkeit und Fragmentierung von geeignetem Habitat und unvollständiger Entfernung von Prädatoren.
Access options
Buy single article
Instant access to the full article PDF.
USD 39.95
Price excludes VAT (USA)
Tax calculation will be finalised during checkout.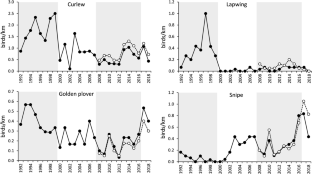 References
Amar A, Grant M, Buchanan G, Sim I, Wilson J, Pearce-Higgins JW, Redpath S (2011) Exploring the relationships between wader declines and current land-use in the British uplands. Bird Study 58:13–26. https://doi.org/10.1080/00063657.2010.513412

Ausden M, Hirons GJM (2002) Grassland nature reserves for breeding wading birds in England and the implications for the ESA agri-environment scheme. Biol Conserv 106:279–291. https://doi.org/10.1016/S0006-3207(01)00254-3

Bainbridge IP, Minton CDT (1978) The migration and mortality of the Curlew in Britain and Ireland. Bird Study 25:39–50. https://doi.org/10.1080/00063657809476573

Baines D, Warren P, Calladine J (2002) Spatial and temporal differences in the abundance of Black Grouse and other moorland birds in relation to reductions in sheep grazing. Asp Appl Biol 67:245–252

Baines D, Redpath SM, Richardson M, Thirgood SJ (2008) The direct and indirect effects of predation by Hen Harriers Circus cyaneus on trends in breeding birds on a Scottish grouse moor. Ibis 150:27–36. https://doi.org/10.1111/j.1474-919X.2008.00848.x

Balmer D, Gillings S, Caffrey B, Swann B, Downie I, Fuller R (2013) Bird atlas 2007–11: the breeding and wintering birds of Britain and Ireland. BTO Books, Thetford

Bauer H-G, Bezzel E, Fiedler W (2005) Das Kompendium der Vögel Mitteleuropas. Bd. 1. Nonpasseriformes—Nichtsperlingsvögel. AULA, Wiesbaden

Bodey TW, McDonald RA, Sheldon RD, Bearhop S (2011) Absence of effects of predator control on nesting success of Northern Lapwings Vanellus vanellus: implications for conservation. Ibis 153:543–555. https://doi.org/10.1111/j.1474-919X.2011.01132.x

Bolton M, Tyler G, Smith K, Bamford R (2007) The impact of predator control on lapwing Vanellus vanellus breeding success on wet grassland nature reserves. J Appl Ecol 44:534–544. https://doi.org/10.1111/j.1365-2664.2007.01288.x

Brown D et al (2015) The Eurasian Curlew—the most pressing bird conservation priority in the UK? Br Birds 108:660–668

Côté IM, Sutherland WJ (1997) The effectiveness of removing predators to protect bird populations. Conserv Biol 11:395–405. https://doi.org/10.1046/j.1523-1739.1997.95410.x

Devereux CL, McKeever CU, Benton TG, Whittingham MJ (2004) The effect of sward height and drainage on Common Starlings Sturnus vulgaris and Northern Lapwings Vanellus vanellus foraging in grassland habitats. Ibis 146:115–122. https://doi.org/10.1111/j.1474-919X.2004.00355.x

Douglas DJT, Bellamy PE, Stephen LS, Pearce-Higgins JW, Wilson JD, Grant MC (2014) Upland land use predicts population decline in a globally near-threatened wader. J Appl Ecol 51:194–203. https://doi.org/10.1111/1365-2664.12167

Douglas DJT, Beresford A, Selvidge J, Garnett S, Buchanan GM, Gullett P, Grant MC (2017) Changes in upland bird abundances show associations with moorland management. Bird Study 64:242–254. https://doi.org/10.1080/00063657.2017.1317326

Eaton MA, Aebischer NJ, Brown AF, Hearn AD, Lock L, Musgrove AJ, Noble DG, Stroud DA, Gregory RD (2015) Birds of conservation concern. 4. The population status of birds in the United Kingdom, Channel Islands and Isle of Man. Br Birds 108:708–746

Evans KL (2004) The potential for interactions between predation and habitat change to cause population declines of farmland birds. Ibis 146:1–13. https://doi.org/10.1111/j.1474-919X.2004.00231.x

Fletcher K, Aebischer NJ, Baines D, Foster R, Hoodless AN (2010) Changes in breeding success and abundance of ground-nesting moorland birds in relation to the experimental deployment of legal predator control. J Appl Ecol 47:263–272. https://doi.org/10.1111/j.1365-2664.2010.01793.x

Francksen RM, Whittingham MJ, Baines D (2016) Assessing prey provisioned to Common Buzzard Buteo buteo chicks: a comparison of methods. Bird Study 63:303–310. https://doi.org/10.1080/00063657.2016.1183111

Franks SE, Douglas DJT, Gillings S, Pearce-Higgins JW (2017) Environmental correlates of breeding abundance and population change of Eurasian Curlew Numenius arquata in Britain. Bird Study 64:393–409. https://doi.org/10.1080/00063657.2017.1359233

Grant MC, Orsman C, Easton J, Lodge C, Smith M, Thompson G, Rodwell S, Moore N (1999) Breeding success and causes of breeding failure of curlew Numenius arquata in Northern Ireland. J Appl Ecol 36:59–74. https://doi.org/10.1046/j.1365-2664.1999.00379.x

Harris SJ, Massimino D, Gillings S, Eaton MA, Noble DG, Balmer DE, Procter D, Pearce-Higgins JW, Woodcock P (2018) The Breeding Bird Survey 2017. BTO Research Report 706. British Trust for Ornithology, Thetford

Hensler GL (1985) Estimation and comparison of functions of daily nest survival probabilities using the Mayfield method. In: Morgan BJT, North MP (eds) Statistics in ornithology. Springer, Berlin, pp 289–301

Holden J et al (2007) Environmental change in moorland landscapes. Earth-Sci Rev 82:75–100. https://doi.org/10.1016/j.earscirev.2007.01.003

Hudson PJ, Newborn D (1995) Red grouse and moorland management. Game Conservancy Trust, Fordingbridge

IUCN (2017) The IUCN Red List of threatened species. Version 2017-3. http://www.iucnredlist.org/. Accessed 8 Dec 2017

Jackson DB (1994) Breeding dispersal and site-fidelity in three monogamous wader species in the Western Isles, UK. Ibis 136:463–473. https://doi.org/10.1111/j.1474-919X.1994.tb01123.x

Laidlaw RA, Smart J, Smart MA, Gill JA (2017) Scenarios of habitat management options to reduce predator impacts on nesting waders. J Appl Ecol 54:1219–1229. https://doi.org/10.1111/1365-2664.12838

Ludwig SC, Roos S, Bubb D, Baines D (2017) Long-term trends in abundance and breeding success of Red Grouse and Hen Harriers in relation to changing management of a Scottish grouse moor. Wildl Biol. https://doi.org/10.2981/wlb.00246

Ludwig SC, Aebischer NJ, Bubb D, Richardson M, Roos S, Wilson JD, Baines D (2018a) Population responses of Red Grouse Lagopus lagopus scotica to expansion of heather Calluna vulgaris cover on a Scottish grouse moor. Avian Cons Ecol 13(2):14. https://doi.org/10.5751/ACE-01306-130214

Ludwig SC, Aebischer NJ, Bubb D, Roos S, Baines D (2018b) Survival of chicks and adults explains variation in population growth in a recovering Red Grouse Lagopus lagopus scotica population. Wildl Biol. https://doi.org/10.2981/wlb.00430

MacDonald MA, Bolton M (2008) Predation on wader nests in Europe. Ibis 150:54–73. https://doi.org/10.1111/j.1474-919X.2008.00869.x

Mackey EC, Shewry MC, Tudor GJ (1998) Land cover change: Scotland from the 1940s to the 1980s. Stationery Office, Edinburgh

Massimino D et al (2017) BirdTrends 2017: trends in numbers, breeding success and survival for UK breeding birds. BTO research report 704. British Trust for Ornithology, Thetford

McCallum HM, Wilson JD, O'Brien MG, Beaumont D, Sheldon R, Park KJ (2018) Fodder crop management benefits Northern Lapwing (Vanellus vanellus) outside agri-environment schemes. Agric Ecosyst Environ 265:470–475. https://doi.org/10.1016/j.agee.2018.06.027

Newey S, Mustin K, Bryce R, Fielding D, Redpath S, Bunnefeld N, Daniel B, Irvine RJ (2016) Impact of management on avian communities in the Scottish Highlands. PLoS One 11:e0155473. https://doi.org/10.1371/journal.pone.0155473

Niemczynowicz A, Świętochowski P, Brzeziński M, Zalewski A (2017) Non-native predator control increases the nesting success of birds: American Mink preying on wader nests. Biol Conserv 212:86–95. https://doi.org/10.1016/j.biocon.2017.05.032

O'Brien M, Wilson JD (2011) Population changes of breeding waders on farmland in relation to agri-environment management. Bird Study 58:399–408. https://doi.org/10.1080/00063657.2011.608117

Parish DMB, Thompson PS, Coulson JC (2001) Effects of age, cohort and individual on breeding performance in the Lapwing Vanellus vanellus. Ibis 143:288–295. https://doi.org/10.1111/j.1474-919X.2001.tb04485.x

Parr R (1980) Population study of Golden Plover Pluvialis apricaria, using marked birds. Ornis Scand 11:179–189. https://doi.org/10.2307/3676122

Pearce-Higgins JW et al (2017) A global threats overview for Numeniini populations: synthesising expert knowledge for a group of declining migratory birds. Bird Conserv Int 27:6–34. https://doi.org/10.1017/S0959270916000678

Ratcliffe DA (2007) Galloway and the borders. New Naturalist Library, Collins, London

Rickenbach O, Grübler MU, Schaub M, Koller A, Naef-Daenzer B, Schifferli LUC (2011) Exclusion of ground predators improves Northern Lapwing Vanellus vanellus chick survival. Ibis 153:531–542. https://doi.org/10.1111/j.1474-919X.2011.01136.x

Roodbergen M, van der Werf B, Hötker H (2012) Revealing the contributions of reproduction and survival to the Europe-wide decline in meadow birds: review and meta-analysis. J Ornithol 153:53–74. https://doi.org/10.1007/s10336-011-0733-y

Roos S, Smart J, Gibbons DW, Wilson JD (2018) A review of predation as a limiting factor for bird populations in mesopredator-rich landscapes: a case study of the UK. Biol Rev 93:1915–1937. https://doi.org/10.1111/brv.12426

Seber GAF (1982) Estimation of animal abundance and related parameters, 2nd edn. Griffin, London

Sim IMW, Gregory RD, Hancock MH, Brown AF (2005) Recent changes in the abundance of British upland breeding birds. Bird Study 52:261–275. https://doi.org/10.1080/00063650509461399

Smith RK, Pullin AS, Stewart GB, Sutherland WJ (2010) Effectiveness of predator removal for enhancing bird populations. Conserv Biol 24:820–829. https://doi.org/10.1111/j.1523-1739.2009.01421.x

Sotherton N, Tapper S, Smith A (2009) Hen harriers and Red Grouse: economic aspects of Red Grouse shooting and the implications for moorland conservation. J Appl Ecol 46:955–960. https://doi.org/10.1111/j.1365-2664.2009.01688.x

Stanbury A, Brown A, Eaton M, Aebischer N, Gillings S, Hearn R, Noble D, Stroud D, Gregory R (2017) The risk of extinction for birds in Great Britain. Br Birds 110:502–517

Stroud DA et al (2006) The conservation and population status of the world's waders at the turn of the millennium. In: Boere GC, Galbraith CA, Stroud DA (eds) Waterbirds around the world. Stationery Office, Edinburgh, pp 643–648

Tharme AP, Green RE, Baines D, Bainbridge IP, O'Brian M (2001) The effect of management for Red Grouse shooting on the population density of breeding birds on heather-dominated moorland. J Anim Ecol 38:439–457. https://doi.org/10.1046/j.1365-2664.2001.00597.x

Thirgood SJ, Leckie FM, Redpath SM (1995) Diurnal and seasonal variation in line transect counts of moorland passerines. Bird Study 42:257–259. https://doi.org/10.1080/00063659509477177

Thirgood SJ, Redpath SM, Haydon DT, Rothery P, Newton I, Hudson PJ (2000) Habitat loss and raptor predation: disentangling long- and short-term causes of Red Grouse declines. Proc R Soc Lond B 267:651–656. https://doi.org/10.1098/rspb.2000.1051

Thompson PS, Baines D, Coulson JC, Longrigg G (1994) Age at first breeding, philopatry and breeding site-fidelity in the Lapwing Vanellus vanellus. Ibis 136:474–484. https://doi.org/10.1111/j.1474-919X.1994.tb01124.x

Thompson DBA, MacDonald AJ, Marsden JH, Galbraith CA (1995) Upland heather moorland in Great Britain: a review of international importance, vegetation change and some objectives for nature conservation. Biol Conserv 71:163–178. https://doi.org/10.1016/0006-3207(94)00043-P

Thompson DBA, Gillings SD, Galbraith CA, Redpath SM, Drewitt J (1997) The contribution of game management to biodiversity: a review of the importance of grouse moors for upland birds. In: Fleming LV, Newton AC, Vickery JA, Usher MB (eds) Biodiversity in Scotland: status, trends and initiatives. Stationery Office, Edinburgh, pp 198–212

VSN International (2017) GenStat for Windows, 18th edn. VSN International, Hemel Hempstead

Whittingham MJ, Percival SM, Brown AF (2002) Nest-site selection by Golden Plover: why do shorebirds avoid nesting on slopes? J Avian Biol 33:184–190. https://doi.org/10.1034/j.1600-048X.2002.330210.x

Wilson AM, Ausden M, Milsom TP (2004) Changes in breeding wader populations on lowland wet grasslands in England and Wales: causes and potential solutions. Ibis 146:32–40. https://doi.org/10.1111/j.1474-919X.2004.00371.x

Wilson JD et al (2014) Modelling edge effects of mature forest plantations on peatland waders informs landscape-scale conservation. J Appl Ecol 51:204–213. https://doi.org/10.1111/1365-2664.12173

Zöckler C, Delany S, Hagemeijer WJM (2003) Wader populations are declining—how will we elucidate the reasons? Wader Study Group Bull 100:202–211
Acknowledgements
This study was conducted as part of the Langholm Moor Demonstration Project (2008–2017), funded by the Game and Wildlife Conservation Trust, Scottish Natural Heritage, Buccleuch Estates, Royal Society for the Protection of Birds and Natural England. We thank E. Aimes, D. Bubb, T. Chamberlain, E. Colver, P. Golder, K. Hazelwood, P. Keane, A. McCluskie, A. McWilliams, T. Pringle, and E. Rooney for conducting wader surveys during 2008–2018. We are grateful to D. Massimino at the BTO for providing the regional BBS data and N. Aebischer for statistical advice. N. Aebischer, P. Warren, J. Wilson, J. Valkama and one anonymous reviewer provided helpful comments on earlier versions of this manuscript.
Additional information
Communicated by F. Bairlein.
Publisher's Note
Springer Nature remains neutral with regard to jurisdictional claims in published maps and institutional affiliations.
About this article
Cite this article
Ludwig, S.C., Roos, S. & Baines, D. Responses of breeding waders to restoration of grouse management on a moor in South-West Scotland. J Ornithol 160, 789–797 (2019). https://doi.org/10.1007/s10336-019-01667-6
Received:

Revised:

Accepted:

Published:

Issue Date:

DOI: https://doi.org/10.1007/s10336-019-01667-6
Keywords