Abstract
I describe for the first time the unique coloured pattern of the iris of buttonquails (Turnicidae). This unique pattern is due to the presence of a dark-brown crescent in the iris below the pupil, whose form and extent varies in response to light conditions. This dark crescent is present in the eyes of all individuals of Turnix species at every life stage, a consistency that has not been previously observed for the iridal marks found in other avian groups. This consistency suggests that the crescent-shaped spot in buttonquails' eyes is a character subjected to natural selection, probably related to light regulation. This possibility deserves further study.
Zusammenfassung
Asymmetrische Iris-Heterochromie bei Vögeln: der dunkle Halbmond der Laufhühnchen
Dies ist die Erstbeschreibung eines einzigartigen Musters der Irisfärbung bei Laufhühnchen (Turnicidae). Dieses beruht auf dem Vorhandensein eines dunkelbraunen Halbmondes in der Iris unterhalb der Pupille, dessen Form und Ausmaß sich in Abhängigkeit von den Lichtbedingungen ändern. Diesen dunklen Halbmond findet man in den Augen aller Individuen sämtlicher Turnix-Arten in allen Lebensphasen, eine Durchgängigkeit, welche bisher noch für keine der Irisflecken anderer Vogelgruppen beobachtet wurde. Diese Kontinuität spricht zudem dafür, dass dieser halbmondförmige Fleck in den Augen der Laufhühnchen ein Merkmal ist, welches der natürlichen Selektion unterliegt, vielleicht im Zusammenhang mit der Lichtregulation, eine Möglichkeit, welche eine nähere Untersuchung verdient.
This is a preview of subscription content, log in to check access.
Access options
Buy single article
Instant access to the full article PDF.
US$ 39.95
Price includes VAT for USA
Subscribe to journal
Immediate online access to all issues from 2019. Subscription will auto renew annually.
US$ 99
This is the net price. Taxes to be calculated in checkout.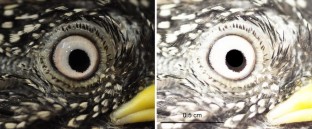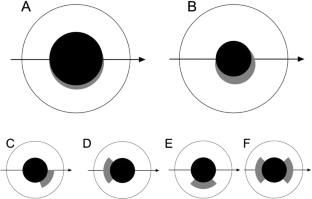 References
Archer SN, Djamgoz MBA, Loew ER, Partridge JC, Vallerga S (1999) Adaptive mechanisms in the ecology of vision. Springer-Science and Business Media BV, Berlin

Baker AJ, Paton TA, Perereira SL (2007) Phylogenetic relationships and divergence times of Charadriiformes genera: multigene evidence for the Cretaceous origin of at least 14 clades of shorebirds. Biol Lett 3:205–209

Burtt EH (1984) Colour of the upper mandible: an adaptation to reduce reflectance. Anim Behav 32(3):652–658

Ficken RW, Matthiae PE, Horwich R (1971) Eye masks in vertebrates: aids to vision. Science 173:936–939

Gill F, Donsker D (2018) IOC world bird list (version 81). https://doi.org/10.14344/iocml81

Gorman G (2011) The Black Woodpecker. A monograph on Dryocopus martius. Lynx, Barcelona

Guzzetti BM, Talbot SL, Tessler DF, Gill VA, Murphy EC (2008) Secrets in the eyes of Black Oystercatchers: a new sexing technique. J Field Ornithol 79:215–223

Madge S, McGowan P (2002) Pheasants, partridges and grouse. A guide to the pheasants, partridges, quails, grouse, guineafowl, buttonquails and sandgrouse of the world. Helm, London

Mainster MA, Turner PL (2012) Glare's causes, consequences, and clinical challenges after a century of ophthalmic study. Am J Ophthalmol 153:587–593

Mathieson MT, Smith GC (2009) National recovery plan for the Buff-breasted Button-quail Turnix olivii. Report to Department of the Environment, Water, Heritage and the Arts, Canberra Department of Environment and Resource Management, Brisbane

Morris JGL, Morris DK (2014) Clinical letter: sectoral heterochromia of the iris in pigeons. Aust Veterin J 92(4):21–22

Murube J (2013) Ocular cosmetics in ancient times. Ocular Surface 11:2–7. https://doi.org/10.1016/jjtos201209003

Oliphant LW, Hudon J (1993) Pteridines as reflecting pigments and components of reflecting organelles in vertebrates. Pigment Cell Res 6:205–208. https://doi.org/10.1111/j.1600-0749.1993.tb00603.x

Ortolani A (1999) Spots, stripes, tail tips and dark eyes: predicting the function of carnivore colour patterns using the comparative method. Biol J Linnean Soc 67:433–476. https://doi.org/10.1111/j1095-83121999tb01942x

Tapsoba I, Arbault S, Walter P, Amatore C (2010) Finding out Egyptian Gods' secret using analytical chemistry: biomedical properties of Egyptian black makeup revealed by amperometry at single cells. Anal Chem 82(2):457–460

Thumann G (2001) Development and cellular functions of the iris pigment epithelium. Surv Ophthalmol 45:345–354. https://doi.org/10.1016/S0039-6257(00)00195-8
Acknowledgements
The Haut Commissariat aux Eaux et Forêts et à la Lutte contre la Desertification authorised the surveys done in Morocco, and Abdeljebbar Qninba helped with all the logistics. The ZooBotánico de Jerez gave me the opportunity to study the captive birds. Daniel López Velasco and Marcel Holyoak shared their high-quality photographs of the Quail-plover; Jacinto Román helped with preparation of the figures, and Eloy Revilla, Miguel Clavero, Pedro Jordano, Miguel Delibes and two anonymous reviewers made very valuable comments on the manuscript. The author was funded by a grant (BES-2015-074938) from the Severo Ochoa Program to the Centres of Excellence in R + D + I (SEV-2012-0262-01) of the Spanish Ministry of Economy and Competitiveness.
Additional information
Communicated by F. Bairlein.
About this article
Cite this article
Gutiérrez-Expósito, C. Asymmetric iris heterochromia in birds: the dark crescent of buttonquails. J Ornithol 160, 281–285 (2019). https://doi.org/10.1007/s10336-018-1606-4
Received:

Revised:

Accepted:

Published:

Issue Date:
Keywords
Turnix

Vision

Light regulation

Natural selection

Pupil