Abstract
We used light-level-based geolocation to study the spatio-temporal behaviour of Siberian Rubythroats Calliope calliope breeding in the Amur region of the Russian Far East. Three retrieved devices revealed long-distance migrations, with southwestward movement from Amur through Northeast China in autumn, with the tracked individuals reaching their wintering grounds in southern China and Indochina without major detours and apparently on a route slightly further west than that of the return migration in spring. A single stopover occurred in two of the three birds in both spring and autumn in China. Migration was faster in spring compared to autumn. The birds spent most of their time in seasonal habitats on their temperate breeding sites, and in less seasonal habitats on their tropical wintering grounds. Departure from and arrival at their breeding site coincided with decreasing and increasing vegetation greenness, respectively. This is the first study presenting year-round tracking data for a songbird migrating from mainland Eurasia to Southeast Asia along the East Asian flyway.
Zusammenfassung
Aufenthaltsorte des Rubinkehlchens Calliope calliope entlang des Ostasiatischen Zugweges im Jahresverlauf Mit Hilfe von Geolokatoren haben wir das Raum-Zeit-Verhalten von am Amur im Fernen Osten Russlands brütenden Rubinkehlchen Calliope calliope untersucht. Wir stellen damit erstmalig Positions-Daten zum Herbst- und Frühjahrszug einer Singvogelart vor, welche vom eurasischen Festland entlang des Ostasiatischen Zugweges nach Südostasien zieht. Der Langstreckenzug von drei Individuen konnte erfolgreich verfolgt werden. Im Herbst zogen die Vögel in südwestlicher Richtung über Nordost-China ab. Die Winterquartiere lagen im südlichen China und in Indochina und wurden ohne Umweg erreicht. Die Daten der ausgelesenen Geolokatoren deuten darauf hin, dass der Heimzug im Frühjahr weiter östlich als der Wegzug stattfindet. Die Zuggeschwindigkeit der beloggerten Individuen war im Frühjahr höher als im Herbst. Je ein Zwischenrastplatz während des Herbst- und Frühjahrszug konnte für zwei der drei Individuen in China lokalisiert werden. Die meiste Zeit verbrachten die verfolgten Rubinkehlchen im temperaten Brutgebiet, und in Gebieten mit schwacher Saisonalität im tropischen Winterquartier. Der Abzug vom und die Ankunft im Brutgebiet fallen in die Zeit der stärksten Ab- beziehungsweise Zunahme der NDVI-Werte (Normalized Difference Vegetation Index) - die Vögel passten also die Vegetationsperiode in Fernost Russland ab.
Access options
Buy single article
Instant access to the full article PDF.
USD 39.95
Price excludes VAT (USA)
Tax calculation will be finalised during checkout.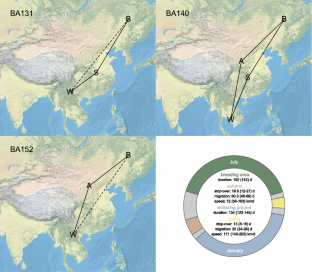 References
BirdLife International (2017) Species factsheet: Calliope calliope. http://www.birdlife.org. Accessed 25 Nov 2017

Bridge ES, Ross JD, Contina AJ, Kelly JF (2016) Do molt-migrant songbirds optimize migration routes based on primary productivity? Behav Ecol 27:784–792. https://doi.org/10.1093/beheco/arv199

Delany S et al (2017) Passerine migration across the Himalayas. Bird migration across the Himalayas: wetland functioning amidst mountains and glaciers. Cambridge University Press, Cambridge, pp 58–81

Edenius L, Choi C-Y, Heim W, Jaakkonen T, De Jong A, Ozaki K, Roberge J-M (2017) The next common and widespread bunting to go? Global population decline in the Rustic Bunting Emberiza rustica. Bird Conserv Int 27:35–44. https://doi.org/10.1017/S0959270916000046

Ekstrom PA (2004) An advance in geolocation by light. Memoirs of the National Institute of Polar Research, Japan, pp 210–226

Emmenegger T, Hahn S, Bauer S (2014) Individual migration timing of Common Nightingales is tuned with vegetation and prey phenology at breeding sites. BMC Ecol 14:9. https://doi.org/10.1186/1472-6785-14-9

Emmenegger T et al (2016) Shifts in vegetation phenology along flyways entail varying risks of mistiming in a migratory songbird. Ecosphere. https://doi.org/10.1002/ecs2.1385

Finch T et al (2017) Low migratory connectivity is common in long-distance migrant birds. J Anim Ecol 86:662–673

Fudickar AM, Wikelski M, Partecke J (2012) Tracking migratory songbirds: accuracy of light-level loggers (geolocators) in forest habitats. Methods Ecol Evol 3:47–52. https://doi.org/10.1111/j.2041-210X.2011.00136.x

Glutz von Blotzheim UN (1988) Handbuch der Vögel Mitteleuropas: Band 11/1. Passeriformes (2. Teil): Turdidae. Schmätzer und Verwandte: Erithacinae. Aula, Wiesbaden

Greenberg JA, Mattiuzzi M (2015) gdalUtils: wrappers for the Geospatial Data Abstraction Library (GDAL). R package version 2.0.1.7 edn

Han LX, Huang SL, Yuan YC, Qiu YL (2007) Fall migration dynamics of birds on Fenghuang Mountain, Yunnan Province, China. Zool Res 28:35–40

Heim W, Smirenski SM (2013) The Amur bird project at Muraviovka Park in Far East Russia. BirdingASIA 19:31–33

Higuchi H et al (2005) Migration of Honey-buzzards Pernis apivorus based on satellite tracking. Ornithol Sci 4:109–115. https://doi.org/10.2326/osj.4.109

Hijmans RJ et al (2016) raster: geographic data analysis and modeling. R package version 2.5-8 edn

Hill RD, Braun MJ (2001) Geolocation by light level. Electronic tagging and tracking in marine fisheries. Springer, the Netherlands, pp 315–330

Kamp J et al (2015) Global population collapse in a superabundant migratory bird and illegal trapping in China. Conserv Biol 29:1684–1694. https://doi.org/10.1111/cobi.12537

Kirby JS et al (2008) Key conservation issues for migratory land- and waterbird species on the world's major flyways. Bird Conserv Int 18:49–73. https://doi.org/10.1017/s0959270908000439

Koike S, Hijikata N, Higuchi H (2016) Migration and wintering of Chestnut-cheeked Starlings Agropsar philippensis. Ornithol Sci 15:63–74

Lang DT (2017) XML: tools for parsing and generating XML within R and S-Plus. R package version 3.89-1.9 edn

Lislevand T et al (2015) Red-spotted Bluethroats Luscinia s. svecica migrate along the Indo-European flyway: a geolocator study. Bird Study 62:508–515

Lisovski S, Hahn S (2012) GeoLight- processing and analysing light-based geolocator data in R. Methods Ecol Evol 3:1055–1059. https://doi.org/10.1111/j.2041-210X.2012.00248.x

Lisovski S, Hewson CM, Klaassen RHG, Korner-Nievergelt F, Kristensen MW, Hahn S (2012) Geolocation by light: accuracy and precision affected by environmental factors. Methods Ecol Evol 3:603–612. https://doi.org/10.1111/j.2041-210X.2012.00185.x

Lisovski S et al (2018) Inherent limits of light-level geolocation may lead to over-interpretation. Curr Biol 28:R99–R100

Maslovsky KS, Valchuk OP, Spiridonova LN (2014) The complex study of autumn migration of the Siberian Rubythroat (Luscinia calliope) in southern Primorye: data analyses on banding and sequencing of cytochrome b gene of mitochondrial DNA. In: Areas, migration and other displacements of wild animals. Vladivostok, pp 181–189

Mattiuzzi M et al. (2017) MODIS: acquisition and Processing. R package version 1.1.0 edn

McClure HE (1974) Migration and survival of the birds of Asia. SEATO, Bangkok

McKinnon EA, Fraser KC, Stutchbury BJM (2013) New discoveries in landbird migration using geolocators, and a flight plan for the future. Auk 130:211–222. https://doi.org/10.1525/auk.2013.130.2.12226

Nilsson C, Klaassen RHG, Alerstam T (2013) Differences in speed and duration of bird migration between spring and autumn. Am Nat 181:837–845. https://doi.org/10.1086/670335

Nychka D, Furrer R, Paige J, Sain S (2017) fields: tools for spatial data. R package version 7

Piersma T et al (2016) Simultaneous declines in summer survival of three shorebird species signals a flyway at risk. J Appl Ecol 53:479–490. https://doi.org/10.1111/1365-2664.12582

R Core Team (2017) R: a language and environment for statistical computing. R foundation for statistical computing, Vienna

Rappole JH, Tipton AR (1991) New harness design for attachment of radio transmitters to small passerines. J Field Ornithol 62:335–337

Runge CA et al (2015) Protected areas and global conservation of migratory birds. Science 350:1255–1258

Spiridonova LN, Val'chuk OP, Belov PS, Maslovsky KS (2013) Intraspecific genetic differentiation of the Siberian Rubythroat (Luscinia calliope): data of sequencing the mtDNA cytochrome b gene. Russ J Genet 49:638–644. https://doi.org/10.1134/s1022795413060136

Szabo JK, Battley PF, Buchanan KL, Rogers DI (2016) What does the future hold for shorebirds in the East Asian–Australasian Flyway? Emu 116:95. https://doi.org/10.1071/MUv116n2_ED

Takekawa JY et al (2010) Migration of waterfowl in the East Asian flyway and spatial relationship to HPAI H5N1 outbreaks. Avian Dis 54:466–476. https://doi.org/10.1637/8914-043009-Reg.1

Tamada K, Hayama S, Umeki M, Takada M, Tomizawa M (2017) Drastic declines in Brown Shrike and Yellow-breasted Bunting at the Lake Utonai Bird Sanctuary, Hokkaido. Ornithol Sci 16:51–57

Thorup K et al (2017) Resource tracking within and across continents in long-distance bird migrants. Sci Adv 3:e1601360. https://doi.org/10.1126/sciadv.1601360

Tian H et al (2015) Avian influenza H5N1 viral and bird migration networks in Asia. Proc Natl Acad Sci USA 112:E2980. https://doi.org/10.1073/pnas.1505041112

Tugarinov A (1931) Die Wanderungen der nordasiatischen Vögel. Vogelzug 2:55–66

Weng G-J, Lin H-S, Sun Y-H, Walther BA (2014) Molecular sexing and stable isotope analyses reveal incomplete sexual dimorphism and potential breeding range of Siberian Rubtyhroats Luscinia calliope captured in Taiwan. Forktail 30:96–103

Wotherspoon S, Sumner M, Lisovksi S (2013) BAStag: basic data processing for light based geolocation archival tags. R package Version 0.1-3

Yamaura Y, Schmaljohann H, Lisovski S, Senzaki M, Kawamura K, Fujimaki Y, Nakamura F (2016) Tracking the Stejneger´s Stonechat Saxicola stejnegeri along the East Asian-Australasian Flyway from Japan via China to Southeast Asia. J Avian Biol. https://doi.org/10.1111/jav.01054

Yong DL, Liu Y, Low BW, Española CP, Choi C-Y, Kawakami K (2015) Migratory songbirds in the East Asian-Australasian Flyway: a review from a conservation perspective. Bird Conserv Int 25:1–37
Additional information
Communicated by N. Chernetsov.
Electronic supplementary material
Below is the link to the electronic supplementary material.
About this article
Cite this article
Heim, W., Pedersen, L., Heim, R. et al. Full annual cycle tracking of a small songbird, the Siberian Rubythroat Calliope calliope, along the East Asian flyway. J Ornithol 159, 893–899 (2018). https://doi.org/10.1007/s10336-018-1562-z
Received:

Revised:

Accepted:

Published:

Issue Date:

DOI: https://doi.org/10.1007/s10336-018-1562-z
Keywords
Migration

Geolocation

Passerine

Land bird

Normalised difference vegetation index

Spatio-temporal behaviour