Abstract
Vivid plumage colors are some of the best examples of elaborate trait evolution resulting from sexual selection. Bird feathers often contain high concentrations of pigment or intricate microstructures for reflecting light at distal feather tips, in order to maximize color presentation to intended viewers (e.g., prospective mates, rivals). However, here we describe a rare form of "hidden" plumage coloration, whereby several species of heron (Pelecaniformes: Ardeidae) have powder down tracts liberally coated in yellow pigments that are hidden from view underneath contour feathers. We show using Raman spectroscopy and high-performance liquid chromatography that the yellow coloration is due to carotenoid pigmentation. We also show that fatty acids and carotenoids co-occur in samples and discuss the possible evidence and implications for the presence of esterified carotenoids in powder down. Our study of hidden feather coloration is in apparent contrast with the traditional view of carotenoid pigmentation in plumage, which holds that carotenoids are costly pigments that are displayed to advertise individual quality. We hypothesize that carotenoid pigments are transferred onto powder down as a consequence of the chemical affinity that these pigments have to lipoid secretions associated with subcutaneous fat. Further investigation may identify functions for carotenoid pigmentation in powder down (e.g., signaling, microbiological protection), but we cannot rule out the possibility that the powder down of herons may provide the first evidence for carotenoid coloration in feathers being a non-adaptive by-product of other processes.
Zusammenfassung
Versteckte Carotinoide in den Puderdunen von Reihern
Leuchtende Gefiederfarben gehören zu den besten Beispielen für die Evolution aufwendiger Merkmale durch sexuelle Selektion. Vogelfedern enthalten oft hohe Pigmentkonzentrationen oder besitzen komplexe lichtreflektierende Mikrostrukturen an den distalen Federspitzen, um die Wirkung der Farben auf die beabsichtigten Betrachter (beispielsweise mögliche Partner oder Rivalen) zu maximieren. Hier allerdings beschreiben wir eine seltene Form "versteckter Gefiederfärbung", bei der verschiedene Reiherarten (Pelecaniformes: Ardeidae) Fluren reichlich mit gelben Pigmenten bedeckter Puderdunen aufweisen, welche unter dem Deckgefieder den Blicken verborgen bleiben. Mittels Raman-Spektroskopie und Hochleistungs-Flüssigkeitschromatografie zeigen wir, dass die Gelbfärbung auf Carotinoidpigmenten beruht. Außerdem zeigen wir, dass Fettsäuren und Karotinoide gemeinsam in den Proben vorkommen und erörtern die möglichen Belege für die Existenz veresterter Carotinoide in Puderdunen und deren eventuelle Konsequenzen. Unsere Untersuchung "versteckter" Gefiederfärbung steht in offenkundigem Gegensatz zur traditionellen Ansicht über carotinoidbasierte Gefiederpigmentierung, welche besagt, dass Carotinoide kostspielige Pigmente sind, die präsentiert werden, um die individuelle Qualität zu demonstrieren. Wir stellen die Hypothese auf, dass Carotinoidpigmente in Folge ihrer chemischen Affinität zu lipoiden Sekreten, welche im Zusammenhang mit subkutanem Fett stehen, auf die Puderdunen übertragen werden. Weitergehende Studien könnten Funktionen der carotinoidbasierten Pigmentierung der Puderdunen aufzeigen (beispielsweise Signalwirkung oder mikrobiologische Schutzfunktion), wir können allerdings die Möglichkeit nicht ausschließen, dass die Puderdunen der Reiher der erste Beleg dafür sind, dass Carotinoidfärbung bei Federn als ein nicht-adaptives Nebenprodukt anderer Prozesse entsteht.
Access options
Buy single article
Instant access to the full article PDF.
US$ 39.95
Tax calculation will be finalised during checkout.
Subscribe to journal
Immediate online access to all issues from 2019. Subscription will auto renew annually.
US$ 79
Tax calculation will be finalised during checkout.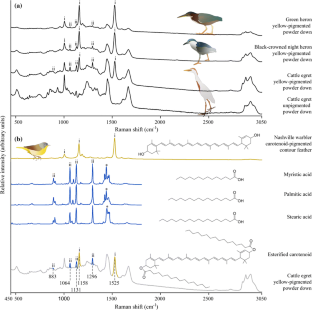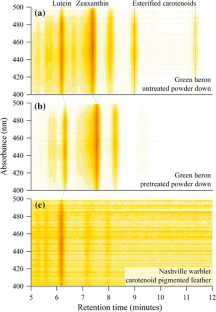 References
Amat JA, Rendón MA, Garrido-Fernández J, Garrido A, Rendón-Martos M, Pérez-Gálvez A (2011) Greater Flamingos Phoenicopterus roseus use uropygial secretions as make-up. Behav Ecol Sociobiol 65:665–673. https://doi.org/10.1007/s00265-010-1068-z

Brockmann H, Volker O (1934) Federfarbstoff des Kanarienvogels (Serinus canaria canaria [L.]) und das vorkommen von Carotinoiden bei Vögeln. Z Physiol Chem 224:193–215

Burtt EH, Schroeder MR, Smith LA, Sroka JE, McGraw KJ (2010) Colourful parrot feathers resist bacterial degradation. Biol Lett 7:214–216. https://doi.org/10.1098/rsbl.2010.0716

Camplani A, Saino N, Møller AP (1999) Carotenoids, sexual signals and immune function in Barn Swallows from Chernobyl. Proc R Soc Lond B 266:1111–1116. https://doi.org/10.1098/rspb.1999.0751

De Gelder J, De Gussem K, Vandenabeele P, Moens L (2007) Reference database of Raman spectra of biological molecules. J Raman Spectrosc 38:1133–1147. https://doi.org/10.1002/jrs.1734

Delhey K, Peters A, Kempenaers B (2007) Cosmetic coloration in birds: occurrence, function, and evolution. Am Nat 169:S145–S158. https://doi.org/10.1086/510095

Dumbacher JP, Fleischer RC (2001) Phylogenetic evidence for colour pattern convergence in toxic pitohuis: Müllerian mimicry in birds? Proc R Soc Lond B 268:1971–1976. https://doi.org/10.1098/rspb.2001.1717

Elder WH (1954) The oil gland of birds. Wilson Bull 66:6–31

García-de Blas E, Mateo R, Viñuela J, Pérez-Rodríguez L, Alonso-Alvarez C (2013) Free and esterified carotenoids in ornaments of an avian species: the relationship to color expression and sources of variability. Physiol Biochem Zool 86:483–498. https://doi.org/10.1086/671812

García-de Blas E, Mateo R, Alonso-Alvarez C (2015) Accumulation of dietary carotenoids, retinoids and tocopherol in the internal tissues of a bird: a hypothesis for the cost of producing colored ornaments. Oecologia 177:259–271. https://doi.org/10.1007/s00442-014-3163-8

Gould SJ, Lewontin RC (1979) The spandrels of San Marco and the Panglossian paradigm: a critique of the adaptationist programme. Proc R Soc B 205:581–598. https://doi.org/10.1098/rspb.1979.0086

Heinen-Kay JL, Morris KE, Ryan NA, Byerley SL, Venezia RE, Peterson MN, Langerhans RB (2015) A trade-off between natural and sexual selection underlies diversification of a sexual signal. Behav Ecol 26:533–542. https://doi.org/10.1093/beheco/aru228

Hill GE (1991) Plumage coloration is a sexually selected indicator of male quality. Nature 350:337–339. https://doi.org/10.1038/350337a0

Hofmann CM, McGraw KJ, Cronin TW, Omland KE (2007) Melanin coloration in New World orioles. I. Carotenoid masking and pigment dichromatism in the Orchard Oriole complex. J Avian Biol 38:163–171. https://doi.org/10.1111/j.2006.0908-8857.03803.x

Hsu SL, Moore WH, Krimm S (1976) Vibrational spectrum of the unordered polypeptide chain: a Raman study of feather keratin. Biopolymers 15:1513–1528. https://doi.org/10.1002/bip.1976.360150807

Husak JF, Swallow JG (2011) Compensatory traits and the evolution of male ornaments. Behaviour 148:1–29

Jacob J, Pomeroy DE (1979) The feather lipids of the Marabou Stork (Leptoptilos crumeniferus). Comp Biochem Physiol B 64:301–303. https://doi.org/10.1016/0305-0491(79)90148-2

Koch RE, Hill GE (2017) An assessment of techniques to manipulate oxidative stress in animals. Funct Ecol 31:9–21. https://doi.org/10.1111/1365-2435.12664

Lucas AM, Stettenheim PR (1972) Avian anatomy—integument. Agriculture handbook 362. US Department of Agriculture, Washington, DC

Marshall KLA, Philpot KE, Stevens M (2015) Conspicuous male coloration impairs survival against avian predators in Aegean Wall Lizards, Podarcis erhardii. Ecol Evol 5:4115–4131. https://doi.org/10.1002/ece3.1650

Massaro M, Davis LS, Darby JT (2003) Carotenoid-derived ornaments reflect parental quality in male and female Yellow-eyed Penguins (Megadyptes antipodes). Behav Ecol Sociobiol 55:169–175

McGraw KJ (2004) European Barn Swallows use melanin pigments to color their feathers brown. Behav Ecol 15:889–891. https://doi.org/10.1093/beheco/arh109

McGraw KJ (2005a) Interspecific variation in dietary carotenoid assimilation in birds: links to phylogeny and color ornamentation. Comp Biochem Physiol B 142:245–250. https://doi.org/10.1016/j.cbpb.2005.07.012

McGraw KJ (2005b) The antioxidant function of many animal pigments: are there consistent health benefits of sexually selected colourants? Anim Behav 69:757–764. https://doi.org/10.1016/j.anbehav.2004.06.022

McGraw KJ (2006) Mechanics of carotenoid-based coloration. In: Hill GE, McGraw KJ (eds) Bird coloration: mechanisms and measurements, vol 1. Harvard University Press, Cambridge, pp 177–242

McGraw KJ, Hardy LS (2006) Astaxanthin is responsible for the pink plumage flush in Franklin's and Ring-billed Gulls. J Field Ornithol 77:29–33. https://doi.org/10.1111/j.1557-9263.2006.00008.x

McGraw KJ, Toomey MB, Nolan PM, Morehouse NI, Massaro M, Jouventin P (2007) A description of unique fluorescent yellow pigments in penguin feathers. Pigment Cell Res 20:301–304. https://doi.org/10.1111/j.1600-0749.2007.00386.x

Menon GK, Menon J (2000) Avian epidermal lipids: functional considerations and relationship to feathering. Am Zool 40:540–552. https://doi.org/10.1093/icb/40.4.540

Negro JJ, Figuerola J, Garrido J, Green AJ (2001) Fat stores in birds: an overlooked sink for carotenoid pigments? Funct Ecol 15:297–303. https://doi.org/10.1046/j.1365-2435.2001.00526.x

Olson VA, Owens IPF (1998) Costly sexual signals: are carotenoids rare, risky or required? Trends Ecol Evol 13:510–514. https://doi.org/10.1016/S0169-5347(98)01484-0

Ortonne JP (2002) Photoprotective properties of skin melanin. Br J Dermatol 146:7–10. https://doi.org/10.1046/j.1365-2133.146.s61.3.x

Pérez-Gálvez A, Mínguez-Mosquera MI (2005) Esterification of xanthophylls and its effect on chemical behavior and bioavailability of carotenoids in the human. Nutr Res 25:631–640. https://doi.org/10.1016/j.nutres.2005.07.002

Smith DG (1972) The role of the epaulets in the Red-Winged Blackbird, (Agelaius phoeniceus) social system. Behaviour 41:251–268

Surai PF, Speake BK, Sparks NHC (2001) Carotenoids in avian nutrition and embryonic development. 1. Absorption, availability and levels in plasma and egg yolk. J Poult Sci 38:1–27. https://doi.org/10.2141/jpsa.38.1

Teyssier J, Saenko SV, van der Marel D, Milinkovitch MC (2015) Photonic crystals cause active colour change in chameleons. Nat Commun 6:6368. https://doi.org/10.1038/ncomms7368

Thomas DB, McGoverin CM, McGraw KJ, James HF, Madden O (2013) Vibrational spectroscopic analyses of unique yellow feather pigments (spheniscins) in penguins. J R Soc Interface 10:20121065. https://doi.org/10.1098/rsif.2012.1065

Thomas DB, McGraw KJ, Butler MW, Carrano MT, Madden O, James HF (2014a) Ancient origins and multiple appearances of carotenoid-pigmented feathers in birds. Proc R Soc B 281:20140806. https://doi.org/10.1098/rspb.2014.0806

Thomas DB, McGraw KJ, James HF, Madden O (2014b) Non-destructive descriptions of carotenoids in feathers using Raman spectroscopy. Anal Methods 6:1301–1308. https://doi.org/10.1039/c3ay41870g

Tuma R (2005) Raman spectroscopy of proteins: from peptides to large assemblies. J Raman Spectrosc 36:307–319. https://doi.org/10.1002/jrs.1323

Tyczkowski JK, Hamilton PB (1987) Altered metabolism of carotenoids during aflatoxicosis in young chickens. Poult Sci 66:1184–1188. https://doi.org/10.3382/ps.0661184

Völker O (1938) Porphyrin in Vogelfedern. J Ornithol 86:436–456

Warren IA, Gotoh H, Dworkin IM, Emlen DJ, Lavine LC (2013) A general mechanism for conditional expression of exaggerated sexually-selected traits. BioEssays 35:889–899. https://doi.org/10.1002/bies.201300031

Weaver RJ, Koch RE, Hill GE (2017) What maintains signal honesty in animal colour displays used in mate choice? Phil Trans R Soc B 372:20160343. https://doi.org/10.1098/rstb.2016.0343

Wetmore A (1920) The function of powder downs in herons. Condor 22:168–170. https://doi.org/10.2307/1362391

Wolfenbarger LL (1999) Red coloration of male Northern Cardinals correlates with mate quality and territory quality. Behav Ecol 10:80–90. https://doi.org/10.1093/beheco/10.1.80

Zhong L, Gustavsson K-E, Oredsson S, Głąb B, Yilmaz JL, Olsson ME (2016) Determination of free and esterified carotenoid composition in rose hip fruit by HPLC-DAD-APCI+-MS. Food Chem 210:541–550. https://doi.org/10.1016/j.foodchem.2016.05.002
Acknowledgements
We thank H. F. James for specimen access and comments on a draft manuscript, C. Gebhard, National Museum of Natural History, Smithsonian Institution for collecting samples, and the Museum Conservation Institute, Smithsonian Institution for providing access to Raman instrumentation.
Funding
D. B. T. was funded by a Peter Buck Fellowship administered by the Smithsonian Institution.
Ethics declarations
Ethics statement
All analyses were on feathers from deceased birds that had not been specifically killed for this study. Analyses were performed in, and adhered to the laws of, the United States of America.
Conflict of interest
The authors declare that they have no conflict of interest.
Additional information
Communicated by K. C. Klasing.
Electronic supplementary material
Below is the link to the electronic supplementary material.
About this article
Cite this article
Thomas, D.B., McGraw, K.J. Hidden carotenoids in the powder down of herons. J Ornithol 159, 785–792 (2018). https://doi.org/10.1007/s10336-018-1554-z
Received:

Revised:

Accepted:

Published:

Issue Date:
Keywords
Ardeidae

Green Heron

High-performance liquid chromatography

Carotenoid pigments

Plumage

Raman spectroscopy