Abstract
Emberiza striolata has traditionally been viewed as a single polytypic species, but recent taxonomic reviews of its morphology, vocalizations and genetic data have led to the recommendation that two species be recognized within this complex, the House Bunting Emberiza sahari in the west, and the Striolated Bunting Emberiza striolata (including the subspecies Emberiza striolata saturiator and Emberiza striolata 'jebelmarrae') in the east of the range. However, reportedly intermediate birds have been described from northern Darfur, Sudan, and the Ennedi Massif, northeast Chad, bringing the two-species hypothesis into question. Here, we attempt a more comprehensive geographic sampling of all taxa of E. sahari and E. striolata, and we report the results of an examination of purported intermediate specimens, as well as the re-examination of the long type series of the controversial taxon Emberiza striolata 'jebelmarrae' described from western Sudan. Our results confirm a marked east–west divergence in the House Bunting complex based on two mitochondrial DNA (mtDNA) markers, but surprisingly reveal that samples of E. striolata 'jebelmarrae' cluster with the western clade, whereas their morphology is clearly allied with that of other populations in the eastern clade. However, our analysis suggests that all of the specimens believed to be intermediate in morphology can be categorically placed with other examples of the western clade (E. sahari). At present, it is impossible to definitively explain the phylogenetic position of E. striolata 'jebelmarrae', but we hypothesize that the paraphyly in mtDNA is the result of introgression during the initial phase of secondary contact, and does not impinge on the decision to recognize two species. Complex spatio-temporal population patterns caused by late Pleistocene climate changes might have led to multiple secondary contact events between the eastern and western clades.
Zusammenfassung
Phylogeographie der Hausammern: ein Widerspruch zwischen Artgrenzen und der Verteilung der genetischen Vielfalt
Die Hausammer, Emberiza striolata, wurde traditionellerweise als eine polytypische Art betrachtet. Neuere taxonomische Revisionen basierend auf morphologischen, akustischen und genetischen Daten empfehlen dagegen eine Aufspaltung in zwei Arten, die Hausammer E. sahari im Westen und die Wüstenammer E. striolata (inklusive der Unterarten saturiator and 'jebelmarrae') im Osten des Verbreitungsgebietes. Aus der nördlichen Darfur-Region Sudans und dem Ennedi Massif im Nordosten Tschads sind aber scheinbar intermediäre Individuen beschrieben worden und lassen daher Zweifel an der Zwei-Arten-Hypothese aufkommen. In dieser Studie bearbeiten wir eine umfassendere geographische Stichprobe als bisherigen genetische Arbeiten und untersuchen zudem die mutmasslich intermediären Exemplare sowie die Typenserie des kontrovers diskutieren Taxons 'jebelmarrae', das aus dem Westen Sudans beschrieben wurde. Eine klare Ost-West Trennung innerhalb des gesamten Hausammer-Komplexes wird in unseren Analysen von zwei mitochondrialen Markern eindeutig unterstützt. Überraschenderweise finden sich die untersuchten Individuen von 'jebelmarrae' innerhalb der westlichen Gruppe (sahari), obwohl dieses Taxon morphologisch eindeutig der östlichen Gruppe (striolata) zugewiesen werden kann. Alle Exemplare mit vermeintlich intermediär ausgeprägten Merkmalen lassen sich aufgrund unserer Studie morphologisch eindeutig der westlichen Gruppe zuordnen. Die phylogenetische Position von 'jebelmarrae' bleibt weiterhin unklar. Die Paraphylie in den mitochondrialen Markern interpretieren wir als die Folge von Introgression zwischen der östlichen und der westlichen Gruppe während einer anfänglichen Phase von sekundärem Kontakt; sie widerspricht daher nicht der Anerkennung von zwei Arten. Klimatische Veränderungen während der letzten Phase des Pleistozäns führten vermutlich zu einer zeitlich und räumlich komplizierten Populationsgeschichte mit wiederholtem sekundärem Kontakt zwischen der westlichen und der östlichen Gruppe.
Access options
Buy single article
Instant access to the full article PDF.
USD 39.95
Price excludes VAT (USA)
Tax calculation will be finalised during checkout.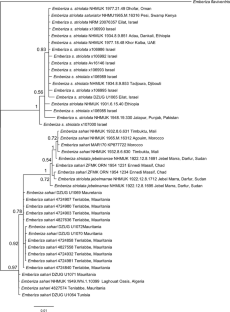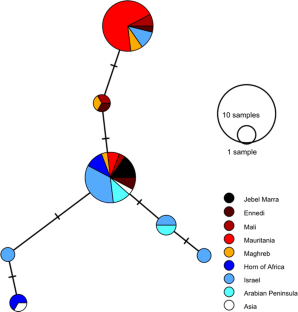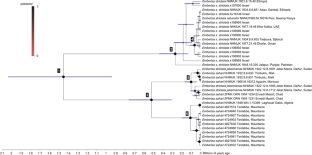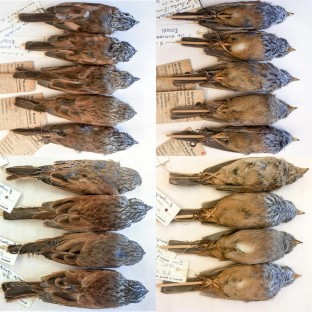 References
Alaei Kakhki N, Aliabadian M, Schweizer M (2015) Out of Africa: biogeographic history of the open-habitat chats (Aves, Muscicapidae: Saxicolinae) across arid areas of the Old World. Zool Scr 45:237–251

Aliabadian M, Roselaar CS, Nijman V, Sluys R, Vences M (2005) Identifying contact zone hotspots of passerine birds in the Palaearctic region. Biol Lett 1:21–23

Alström P, Olsson U, Lei F, Wang HT, Gao W, Sundberg P (2008) Phylogeny and classification of the Old World Emberizini (Aves, Passeriformes). Mol Phylogenet Evol 47:960–973

Bandelt HJ, Forster P, Rohl A (1999) Median-joining networks for inferring intraspecific phylogenies. Mol Biol Evol 16:37–48

Belkacem AA, Gast O, Stuckas H, Canal D, LoValvo M, Giacalone G, Packert M (2016) North African hybrid sparrows (Passer domesticus, P. hispaniolensis) back from oblivion–ecological segregation and asymmetric mitochondrial introgression between parental species. Ecol Evol 6:5190–5206

BirdLife International and Handbook of the Birds of the World (2016) Bird species distribution maps of the world. Version 6.0

Bouckaert R, Heled J, Kuhnert D, Vaughan T, Wu CH, Xie D, Suchard MA, Rambaut A, Drummond AJ (2014) BEAST 2: a software platform for Bayesian evolutionary analysis. PLoS Comput Biol 10:e1003537

Byers C, Olsson U, Curson J (1995) Buntings and sparrows: a guide to the buntings and North American sparrows. Pica, East Sussex

Carling MD, Brumfield RT (2008) Integrating phylogenetic and population genetic analyses of multiple loci to test species divergence hypotheses in Passerina buntings. Genetics 178:363–377

Darriba D, Taboada GL, Doallo R, Posada D (2012) jModelTest 2: more models, new heuristics and parallel computing. Nat Methods 9:772

Dejtaradol A, Renner SC, Karapan S, Bates PJJ, Moyle RG, Päckert M (2016) Indochinese-Sundaic faunal transition and phylogeographical divides north of the Isthmus of Kra in Southeast Asian Bulbuls (Aves: Pycnonotidae). J Biogeogr 43:471–483

del Hoyo J, Collar NJ (2016) HBW and BirdLife International illustrated checklist of the birds of the world volume 2: Passerines. Lynx, Barcelona

del Hoyo J, Elliott A, Sargatal J, Christie DA, de Juana E (eds) (2017) Handbook of the birds of the world alive. Lynx, Barcelona. http://www.hbw.com/. Accessed 14 Feb 2017

Douady CJ, Catzeflis F, Raman J, Springer MS, Stanhope MJ (2003) The Sahara as a vicariant agent, and the role of Miocene climatic events, in the diversification of the mammalian order Macroscelidea (elephant shrews). Proc Natl Acad Sci USA 100:8325–8330

Edwards SV, Beerli P (2000) Perspective: gene divergence, population divergence, and the variance in coalescence time in phylogeographic studies. Evolution 54:1839–1854

Edwards SV, Kingan SB, Calkins JD, Balakrishnan CN, Jennings WB, Swanson WJ, Sorenson MD (2005) Speciation in birds: genes, geography, and sexual selection. Proc Natl Acad Sci USA 102:6550–6557

Ellegren H (2007) Molecular evolutionary genomics of birds. Cytogenet Genome Res 117:120–130

Flot JF (2010) SegPHASE: a web tool for interconverting phase input/output files and fasta sequence alignments. Mol Ecol Resour 10:162–166

Förschler MI, Khoury F, Bairlein F, Aliabadian M (2010) Phylogeny of the mourning wheatear Oenanthe lugens complex. Mol Phylogenet Evol 56:758–767

Fry CH, Keith S (2004) The birds of Africa, vol 7. Academic, London

Funk DJ, Omland KE (2003) Species-level paraphyly and polyphyly: frequency, causes, and consequences, with insights from animal mitochondrial DNA. Annu Rev Ecol Evol Syst 34:397–423

Gaucher P, Paillat P, Chappuis C, SaintJalme M, Lotfikhah F, Wink M (1996) Taxonomy of the Houbara Bustard Chlamydotis undulata subspecies considered on the basis of sexual display and genetic divergence. Ibis 138:273–282

Gill FB, Donsker D (eds) (2007) IOC world bird list (version 7.1). doi:10.14344/IOC.ML.7.3

Grant PR, Grant BR (1992) Hybridization of bird species. Science 256:193–197

Guillaumet A, Crochet PA, Pons JM (2008) Climate-driven diversification in two widespread Galerida larks. BMC Evol Biol 8:22

Guindon S, Gascuel O (2003) A simple, fast, and accurate algorithm to estimate large phylogenies by maximum likelihood. Syst Biol 52:696–704

Haffer J (1977) Secondary contact zones of birds in northern Iran. Bonn Zool Monogr 10:1–64

Head MJ, Gibbard PL (2005) Early-middle Pleistocene transitions: an overview and recommendation for the defining boundary. In: Head MJ, Gibbard PL (eds) Early-Middle Pleistocene transitions: the land-ocean evidence. Geological Society, Bath, pp 1–18

Helbig AJ, Seibold I, Martens J, Wink M (1995) Genetic differentiation and phylogenetic relationships of Bonelli's Warbler Phylloscopus bonelli and green warbler P. nitidus. J Avian Biol 26:139–153

Helbig AJ, Knox AG, Parkin DT, Sangster G, Collinson M (2002) Guidelines for assigning species rank. Ibis 144:518–525

Hewitt GM (2004) Genetic consequences of climatic oscillations in the quaternary. Philos Trans R Soc Lond Ser B Biol Sci 359:183–195

Ho SYW, Lanfear R, Bromham L, Phillips MJ, Soubrier J, Rodrigo AG, Cooper A (2011) Time-dependent rates of molecular evolution. Mol Ecol 20:3087–3101

Holt B, Lessard JP, Borregaard MK, Fritz SA, Araujo MB, Dimitrov D, Fabre PH, Graham CH, Graves GR, Jonsson KA, Nogues-Bravo D, Wang ZH, Whittaker RJ, Fjeldsa J, Rahbek C (2013) An update of Wallace's zoogeographic regions of the world. Science 339:74–78

Irwin DE, Rubtsov AS, Panov EN (2009) Mitochondrial introgression and replacement between Yellowhammers (Emberiza citrinella) and Pine Buntings (Emberiza leucocephalos) (Aves: Passeriformes). Biol J Lin Soc 98:422–438

Jacobsen F, Omland KE (2011) Species tree inference in a recent radiation of orioles (Genus Icterus): multiple markers and methods reveal cytonuclear discordance in the northern oriole group. Mol Phylogenet Evol 61:460–469

Joseph L, Omland KE (2009) Phylogeography: its development and impact in Australo-Papuan ornithology with special reference to paraphyly in Australian birds. Emu 109:1–23

Katoh K, Misawa K, Kuma K, Miyata T (2002) MAFFT: a novel method for rapid multiple sequence alignment based on fast Fourier transform. Nucleic Acids Res 30:3059–3066

Kearns AM, Joseph L, Toon A, Cook LG (2014) Australia's arid-adapted butcherbirds experienced range expansions during Pleistocene glacial maxima. Nat Commun 5:3994

Kearse M, Moir R, Wilson A, Stones-Havas S, Cheung M, Sturrock S, Buxton S, Cooper A, Markowitz S, Duran C, Thierer T, Ashton B, Meintjes P, Drummond A (2012) Geneious basic: an integrated and extendable desktop software platform for the organization and analysis of sequence data. Bioinformatics 28:1647–1649

Kirwan GM, Shirihai H (2007) Species limits in the House Bunting complex. Dutch Bird 29:1–19

Kirwan GM, Atkinson PW, van den Berg AB, Shirihai H (2006) Taxonomy of the Crimson-winged Finch Rhodopechys sanguineus: a test case for defining species limits between disjunct taxa. Bull Afr Bird Club 13:136–146

Kirwan GM, Schweizer M, Ayé R, Grieve A (2009) Taxonomy, identification and status of Desert Sparrows. Dutch Bird 31:139–158

Knox AG, Collinson M, Helbig AJ, Parkin DT, Sangster G (2002) Taxonomic recommendations for British birds. Ibis 144:707–710

Korrida A, Schweizer M (2014) Diversification across the Palaearctic desert belt throughout the Pleistocene: phylogeographic history of the Houbara-Macqueen's Bustard complex (Otididae: Chlamydotis) as revealed by mitochondrial DNA. J Zool Syst Evol Res 52:65–74

Kulikova IV, Drovetski SV, Gibson DD, Harrigan RJ, Rohwer S, Sorenson MD, Winker K, Zhuravlev YN, McCracken KG (2005) Phylogeography of the Mallard (Anas platyrhynchos): hybridization, dispersal, and lineage sorting contribute to complex geographic structure. Auk 122:949–965

Lanfear R, Calcott B, Ho SYW, Guindon S (2012) PartitionFinder: combined selection of partitioning schemes and substitution models for phylogenetic analyses. Mol Biol Evol 29:1695–1701

Lerner HRL, Meyer M, James HF, Hofreiter M, Fleischer RC (2011) Multilocus resolution of phylogeny and timescale in the extant adaptive radiation of Hawaiian honeycreepers. Curr Biol 21:1838–1844

Li XL, Dong F, Lei FM, Alstrom P, Zhang RY, Odeen A, Fjeldsa J, Ericson PGP, Zou FS, Yang XJ (2016) Shaped by uneven Pleistocene climate: mitochondrial phylogeographic pattern and population history of White Wagtail Motacilla alba (Aves: Passeriformes). J Avian Biol 47:263–274

Lovette IJ (2005) Glacial cycles and the tempo of avian speciation. Trends Ecol Evol 20:57–59

Lynes AH (1924) XXXVI. On the birds of North and Central Darfur, with notes on the West-Central Kordofan and North Nuba Provinces of British Sudan. Ibis 66:648–719

Mackworth-Praed CW, Grant CHB (1955) Birds of Eastern and North Eastern Africa, vol 2. Longmans, London

Maslin MA, Brierley CM, Milner AM, Shultz S, Trauth MH, Wilson KE (2014) East African climate pulses and early human evolution. Quat Sci Rev 101:1–17

McCarthy EM (2006) Handbook of avian hybrids. Oxford University Press, Oxford

Meinertzhagen R (1954) Birds of Arabia. Oliver and Boyd, London

Nabholz B, Glemin S, Galtier N (2009) The erratic mitochondrial clock: variations of mutation rate, not population size, affect mtDNA diversity across birds and mammals. BMC Evol Biol 9:13

Nabholz B, Lanfear R, Fuchs J (2016) Body mass-corrected molecular rate for bird mitochondrial DNA. Mol Ecol 25:4438–4449

Niethammer G (1955) Zur Vogelwelt des Ennedi-Gebirges (Französisch Äquatorial-Afrika). Bonn Zool Beitr 6:29–80

Olsson U, Alstrom P, Svensson L, Aliabadian M, Sundberg P (2010) The Lanius excubitor (Ayes, Passeriformes) conundrum—taxonomic dilemma when molecular and non-molecular data tell different stories. Mol Phylogenet Evol 55:347–357

Olsson U, Yosef R, Alström P (2013) Assessment of species limits in African 'brown buntings' (Emberiza, Passeriformes) based on mitochondrial and nuclear sequence data. Ibis 155:534–543

Päckert M, Sun YH, Strutzenberger P, Valchuk O, Tietze DT, Martens J (2015) Phylogenetic relationships of endemic bunting species (Aves, Passeriformes, Emberizidae, Emberiza koslowi) from the eastern Qinghai-Tibet Plateau. Vertebr Zool 65:135–150

Panov EN, Rubtsov AS, Monzikov DG (2003) Hybridization between Yellowhammer and Pine Bunting in Russia. Durch Bird 25:17–31

Paynter RA, Storer RS (1970) Check-list of the birds of the world, vol 13. Harvard University Press, Cambridge

Peters JL, Zhuravlev Y, Fefelov I, Logie A, Omland KE (2007) Nuclear loci and coalescent methods support ancient hybridization as cause of mitochondrial paraphyly between gadwall and falcated duck (Anas spp.). Evolution 61:1992–2006

Price T (2008) Speciation in birds. Roberts, Greenwood Village

Rambaut A (2008) FigTree 1.4, published by the author

Rambaut A, Suchard MA, Drummond AJ (2013) Tracer version 1.6. http://tree.bio.ed.ac.uk/software/tracer/

Rheindt FE, Edwards SV (2011) Genetic introgression: an integral but neglected component of speciation. Auk 128:620–632

Rising JD, Jaramillo A, Copete JL, Madge SC, Ryan PG (2011) Family Emberizidae (buntings and New World sparrows). In: del Hoyo J, Elliot A, Christie DA (eds) Handbook of the birds of the world. Lynx, Barcelona

Rohwer S, Bermingham E, Wood C (2001) Plumage and mitochondrial DNA haplotype variation across a moving hybrid zone. Evolution 55:405–422

Ronquist F, Teslenko M, van der Mark P, Ayres DL, Darling A, Hohna S, Larget B, Liu L, Suchard MA, Huelsenbeck JP (2012) MrBayes 3.2: efficient Bayesian phylogenetic inference and model choice across a large model space. Syst Biol 61:539–542

Rozen S, Skaletsky HJ (2000) Primer3 on the WWW for general users and for biologist programmers. In: Krawetz S, Misener S (eds) Bioinformatics methods and protocols: methods in molecular biology. Humana, Totowa, pp 365–386

Sangster G, Knox AG, Helbig AJ, Parkin DT (2002) Taxonomic recommendations for European birds. Ibis 144:153–159

Sangster G, Collinson M, Helbig AJ, Knox AG, Parkin DT (2004) The taxonomic status of Macqueen's Bustard. Br Birds 97:60–67

Sangster G, Collinson JM, Crochet PA, Knox AG, Parkin DT, Votier SC (2013) Taxonomic recommendations for Western Palearctic birds: ninth report. Ibis 155:898–907

Schweizer M, Kirwan GM (2014) The phylogenetic affinities of the Socotra Bunting Emberiza socotrana. Ostrich 85:103–106

Schweizer M, Shirihai H (2013) Phylogeny of the Oenanthe lugens complex (Aves, Muscicapidae: Saxicolinae): paraphyly of a morphologically cohesive group within a recent radiation of open-habitat chats. Mol Phylogenet Evol 69:450-461

Shipham A, Schmidt DJ, Joseph L, Hughes JM (2015) Phylogenetic analysis of the Australian rosella parrots (Platycercus) reveals discordance among molecules and plumage. Mol Phylogenet Evol 91:150–159

Shirihai H, Gargallo G, Helbig AJ (2001) Sylvia warblers: identification, taxonomy and phylogeny of the genus Sylvia. Helm, London

Smith BT, Ribas CC, Whitney BM, Hernández-Baños BE, Klicka J (2013) Identifying biases at different spatial and temporal scales of diversification: a case study in the Neotropical parrotlet genus Forpus. Mol Ecol 22:483–494

Stephens M, Donnelly P (2003) A comparison of Bayesian methods for haplotype reconstruction from population genotype data. Am J Hum Genet 73:1162–1169

Tavares ES, Baker AJ, Pereira SL, Miyaki CY (2006) Phylogenetic relationships and historical biogeography of Neotropical parrots (Psittaciformes: Psittacidae: Arini) inferred from mitochondrial and nuclear DNA sequences. Syst Biol 55:454–470

Tobias JA, Seddon N, Spottiswoode CN, Pilgrim JD, Fishpool LDC, Collar NJ (2010) Quantitative criteria for species delimitation. Ibis 152:724–746

Trauth MH, Larrasoana JC, Mudelsee M (2009) Trends, rhythms and events in Plio-Pleistocene African climate. Quat Sci Rev 28:399–411

Traylor MA (1960) A new race of Emberiza striolata. Nat Hist Misc Chicago Acad Sci:1–2

Vaurie C (1956) Systematic notes on Palearctic birds. No. 23 Fringillidae: the genera Emberiza, Calcarius, and Plectrophenax. Am Mus Novit 1805:1–27

Wang WJ, Dai CY, Alstrom P, Zhang CL, Qu YH, Li SH, Yang XJ, Zhao N, Song G, Lei FM (2014) Past hybridization between two East Asian long-tailed tits (Aegithalos bonvaloti and A. fuliginosus). Front Zool 11:40

Weckstein JD, Zink RM, Blackwell-Rago RC, Nelson DA (2001) Anomalous variation in mitochondrial genomes of White-crowned (Zonotrichia leucophrys) and Golden-crowned (Z. atricapilla) Sparrows: pseudogenes, hybridization, or incomplete lineage sorting? Auk 118:231–236

Weir JT, Schluter D (2008) Calibrating the avian molecular clock. Mol Ecol 17:2321–2328

Weir JT, Haddrath O, Robertson HA, Colbourne RM, Baker AJ (2016) Explosive ice age diversification of kiwi. Proc Natl Acad Sci USA 113:E5580–E5587

Yuri T, Mindell DP (2002) Molecular phylogenetic analysis of Fringillidae, "New World nine-primaried oscines" (Aves:Passeriformes). Mol Phylogenet Evol 23:229–243
Acknowledgments
We are grateful to the following museum curators for permission to examine and sample specimen material: Sylke Frahnert and Pascal Eckhoff (Museum für Naturkunde, Berlin), Till Töpfer (ZFMK, Bonn), Fritz Geller-Grimm (MWNH, Wiesbaden), and Mark Adams, Hein van Grouw and Robert Prŷs-Jones (NHMUK, Tring). Original research by G. M. K. and H. S. on the taxonomy of E. striolata involved visits to several additional museums, whose curatorial staff are acknowledged in Kirwan and Shirihai (2007). The Israeli samples were from feathers taken by H. S., who is grateful to Yosef Kiat of the Israeli Bird Ringing Center (Israel Ornithological Center, Society for the Protection of Nature in Israel) for enabling studies of Striated Buntings in the hand during the annual ringing programme at the Dead Sea. Another sample was taken from the tissue collection of the Steinhardt Museum of Natural History and National Research Center, Department of Zoology, Tel Aviv University, with the help of Daniel Berkowic and Dr Roi Dor. M. S. thanks Elisa Badia (Lynx), Mark Balman (BirdLife), Tom Burri and Chris Sherry for their help with Fig. 1. Heiko Schmaljohann is financed by the German Research Foundation (SCHM 2647/1-2).
About this article
Cite this article
Schweizer, M., Shirihai, H., Schmaljohann, H. et al. Phylogeography of the House Bunting complex: discordance between species limits and genetic markers. J Ornithol 159, 47–61 (2018). https://doi.org/10.1007/s10336-017-1501-4
Received:

Revised:

Accepted:

Published:

Issue Date:

DOI: https://doi.org/10.1007/s10336-017-1501-4
Keywords