Abstract
Birds often mob potential predators, which alerts other prey individuals of the danger and drives the predator away. Participation in, or increased intensity of mobbing is often associated with breeding activity suggesting an important function in the defense of nests and young. Less is known about bird mobbing of snakes, however, although these are important predators of birds, particularly at nests in tropical forests. Here, we report observations of mobbing behavior, some escalating into fatal attacks, of snakes by individuals of a tropical bird species, the Fasciated Antshrike (Cymbilaimus lineatus). In addition, we conducted snake-model presentations when Fasciated Antshrike pairs had active nests, and when not nesting, to examine the extent that pairs maintain a mobbing response outside of the nesting period. Pairs approached the snake model on average within 59 s (range 15–120 s) and 0.9 m (0.1–5 m) with no difference with nesting status. Our observations of mobbing behavior and fatal attacks suggest that passerines can also present a threat to potential snake predators and that mobbing is likely important in influencing predation rate. Mobbing when not nesting may be important in predator deterrence in bird species with year-round residency, and could influence territory quality and reproductive success. Forest birds that hunt large insects or other potentially dangerous prey may have morphological and cognitive specializations that help them to effectively mount a successful attack against predatory snakes.
Zusammenfassung
Hassen und tödliche Angriffe auf Schlangen durch Zebraameisenwürger (Cymbilaimus lineatus) Häufig hassen Vögel auf potenzielle Prädatoren, wodurch andere Beuteindividuen vor der Gefahr gewarnt und der Beutegreifer vertrieben werden. Die Beteiligung am Hassen beziehungsweise eine verstärkte Hassintensität steht oft mit Brutaktivitäten im Zusammenhang, was auf eine wichtige Funktion bei der Verteidigung von Nestern und Jungvögeln hindeutet. Weniger ist über Vögel bekannt, welche auf Schlangen hassen, dabei stellen diese in Tropenwäldern bedeutende Prädatoren, speziell von Nestern, dar. Hier schildern wir Beobachtungen von Hassverhalten auf Schlangen durch Individuen einer tropischen Vogelart, dem Zebraameisenwürger (Cymbilaimus lineatus), von denen manche zu tödlichen Angriffen eskalierten. Darüber hinaus führten wir Versuche mit Schlangenattrappen durch, sowohl an Paaren mit aktiven Nestern als auch an nicht nistenden Paaren, um das Ausmaß zu bestimmen, zu dem Paare auch außerhalb der Nistperiode Hassverhalten zeigen. Die Paare näherten sich der Schlangenattrappe im Schnitt innerhalb von 59 s (Variationsbreite 15–120 s) auf 0,9 m (Variationsbreite 0,1–5 m), ohne Unterschiede bezüglich des Neststatus. Unsere Beobachtungen von Hassverhalten und tödlichen Angriffen legen nahe, dass Singvögel auch eine Bedrohung für potenzielle Schlangenprädatoren darstellen können und dass Hassverhalten wahrscheinlich einen wichtigen Einfluss auf die Prädationsrate nimmt. Außerhalb der Nistzeit könnte Hassverhalten bei Arten, welche ihre Reviere ganzjährig besetzen, wichtig für die Abschreckung von Beutegreifern sein und somit die Revierqualität und den Reproduktionserfolg beeinflussen. Waldvögel, die Großinsekten und andere potenziell gefährliche Beutetiere jagen, könnten über morphologische und kognitive Spezialisierungen verfügen, welche ihnen dabei helfen, effektiv einen erfolgreichen Angriff auf räuberische Schlangen zu starten.
Access options
Buy single article
Instant access to the full article PDF.
USD 39.95
Price excludes VAT (USA)
Tax calculation will be finalised during checkout.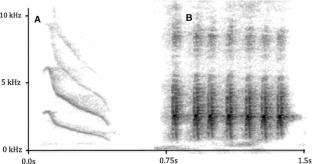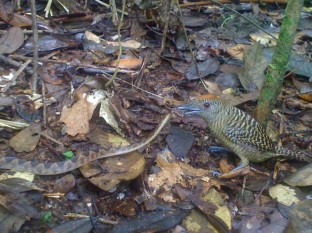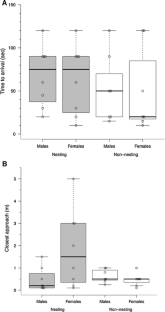 References
Barbour MA, Clark RW (2012) Ground Squirrel tail-flag displays alter both predatory strike and ambush site selection behaviours of Rattlesnakes. Proc R Soc B 279:3827–3833

Brawn JD, Angehr G, Davros N, Robinson WD, Styrsky JN, Tarwater CE (2011) Sources of variation in the nesting success of understory tropical birds. J Avian Biol 42:61–68

Clark RW (2005) Pursuit-deterrent communication between prey animals and Timber Rattlesnakes (Crotalus horridus): the response of snakes to harassment displays. Behav Ecol Sociobiol 59:258–261

Core Team R (2016) R: a language and environment for statistical computing. R Foundation for Statistical Computing, Vienna

Curio E (1978) The adaptive significance of avian mobbing. 1. Teleonomic hypotheses and predictions. Zeitschr Tierpsychol 48:175–183

Flasskamp A (1994) The adaptive significance of avian mobbing. V. An experimental test of the 'move on' hypothesis. Ethology 96:322–333

Frye GG, Gerhardt RP (2001) Apparent cooperative hunting in Loggerhead Shrikes. Wilson Bull 113:462–464

Gradwohl J, Greenberg R (1982) The breeding season of Antwrens on Barro Colorado Island. In: Leigh EG Jr, Rand AS, Windsor DM (eds) The ecology of a tropical forest. Smithsonian Institution Press, Washington, pp 345–351

Griesser M, Ekman J (2005) Nepotistic mobbing behaviour in the Siberian Jay, Perisoreus infaustus. Anim Behav 69:345–352

Keogh JS, DeSerto FP (1994) Temperature dependent defensive behavior of three species of North American colubrid snakes. J Herpetol 28:259–263

Maklakov AA (2002) Snake-directed mobbing in a cooperative breeder: anti-predator behaviour or self-advertisement for the formation of dispersal coalitions? Behav Ecol Sociobiol 52:372–378

Mercado JE, Terranova E, Wunderle JM (2002) Avian mobbing of the Puerto Rican Boa (Epicrates inornatus). Carib J Sci 38:125–126

Motta-Junior JC, Santos-Filho PDS (2012) Mobbing on the Striped Owl (Asio clamator) and Barn Owl (Tyto alba) by birds in southeast Brazil: do Owl diets influence mobbing. Ornitol Neotrop 23:159–168

Nijman V (2004) Seasonal variation in naturally occurring mobbing behaviour of Drongos (Dicruridae) towards two avian predators. Ethol Ecol Evol 16:25–32

Nocera JJ, Ratcliffe LM (2010) Migrant and resident birds adjust antipredator behavior in response to social information accuracy. Behav Ecol 21:121–128

Oniki Y (1975) The behavior and ecology of Slaty Antshrikes (Thamnophilus punctatus) on Barro Colorado Island, Panama Canal Zone. An Acad Bras Cienc 47:471–515

Owings DH, Morton ESM (1998) Animal vocal communication: a new approach. Cambridge University Press, Cambridge

Pavey CR, Smyth AK (1998) Effects of avian mobbing on roost use and diet of Powerful Owls, Ninox strenua. Anim Behav 55:313–318

Ridgely RS, Gwynne JA Jr (1989) A guide to the birds of Panama. Princeton University Press, Princeton

Robinson WD, Robinson TR (2001) Observations of predation events at bird nests in central Panama. J Field Ornithol 72:43–48

Robinson WD, Rompre G, Robinson TR (2005) Videography of Panama bird nests shows snakes are principal predators. Ornitol Neotrop 16:187–195

Shedd DH (1982) Seasonal variation and function of mobbing and related antipredator behaviors of the American Robin (Turdus migratorius). Auk 99:342–346

Shedd DH (1983) Seasonal variation in mobbing intensity in the Black-capped Chickadee. Wilson Bull 95:343–348

Sherman PW (1977) Nepotism and tile evolution of alarm calls. Science 197:1246–1253

Shine R, Olsson MM, Lemaster MP, Moore IT, Mason RT (2000) Effects of sex, body size, temperature and location on the antipredator tactics of free-ranging Garter Snakes (Thamnophis sirtalis, Colubridae). Behav Ecol 11:239–245

Smith NG (1969) Avian predation of coral snakes. Copeia 1969:402–404

Smith SM (1973) A study of prey-attack behaviour in young Loggerhead Shrikes, Lanius ludovicianus. Behaviour 44:113–141

Smith SM (1975) Innate recognition of coral snake pattern by a possible avian predator. Science 187:759–760

Smith SM (1976) Predatory behavior of young Turquoise-browed Motmots, Eumomota superciliosa. Behaviour 56:309–320

Smith JNM, Arcese P, Maclean JG (1984) Age, experience and enemy recognition by wild Song Sparrows. Behav Ecol Sociobiol 14:101–106

Templeton CN, Greene E (2007) Nuthatches eavesdrop on variations in heterospecific Chickadee mobbing alarm calls. Proc Natl Acad Sci USA 104:5479–5482

Welbergen JA, Davies NB (2008) Reed Warblers discriminate Cuckoos from Sparrowhawks with graded alarm signals that attract mates and neighbours. Anim Behav 76:811–822

Wheatcroft D, Price T (2013) Learning and signal copying facilitate communication among bird species. Proc R Soc B 280:20123070
Acknowledgements
We are grateful to N. Sarco, M. Barria, T. Hince, and J. Ortega for sharing their observations and photos of Antshrikes/snake attacks. We thank B. Schlinger and E. Leigh for helpful comments on previous drafts of this manuscript. We thank the E. Eisenmann Discovery Center for allowing us to conduct playback experiments on their property. We thank the Smithsonian Tropical Research Institute (STRI) Visitor's Office, especially Raineldo Urriola, and STRI Academic Programs for logistical support while doing fieldwork in Panama. We are grateful to the Panamanian Autoridad Nacional del Ambiente for providing research permits and to Authoridad del Canal de Panama for allowing access to sites near Gamboa. The experiments comply with current Panamanian laws.
Additional information
Communicated by O. Krüger.
About this article
Cite this article
Chiver, I., Jaramillo, C.A. & Morton, E.S. Mobbing behavior and fatal attacks on snakes by Fasciated Antshrikes (Cymbilaimus lineatus). J Ornithol 158, 935–942 (2017). https://doi.org/10.1007/s10336-017-1452-9
Received:

Revised:

Accepted:

Published:

Issue Date:

DOI: https://doi.org/10.1007/s10336-017-1452-9
Keywords