Abstract
Over-summering within or near the African wintering range by immature, non-breeding individuals occurs regularly in several species of long-distance migratory raptors, yet the extent of over-summering in Africa by adult birds remains unclear. In this study, we describe a case of an adult Montagu's Harrier over-summering in Africa, as revealed by GPS tracking. By relating detailed knowledge of the bird's movements to remotely sensed environmental data (normalized difference vegetation index, NDVI), we show that over-summering in this case was likely related to an exceptionally difficult breeding season the previous year rather than an effect of adverse weather conditions encountered during the winter or a failed attempt to migrate. Various factors are discussed as potential driving forces behind the bird's intra-African movements. Finally, we relate the documented case to a large number of North European Montagu's Harriers studied by telemetry and show that over-summering in Africa by adult individuals is indeed a rare event.
Zusammenfassung
Seltener Fall von Übersommerung eines adulten Wiesenweihenmännchens Circus pygargus in Westafrika enthüllt durch GPS-Tracking
Übersommerung innerhalb oder nahe ihrer afrikanischen Überwinterungsgebiete kommt bei immaturen, nicht-brütenden Individuen verschiedener langstreckenziehender Greifvogelarten regelmäßig vor. Das Ausmaß von Übersommerung bei adulten Vögeln in Afrika ist jedoch noch undeutlich. In dieser Studie beschreiben wir einen Fall von Übersommerung eines adulten Wiesenweihenmännchens in Afrika, der sich dank GPS-Verfolgung offenbarte. Durch die detaillierten Kenntnisse der Bewegungsmuster des Vogels in Beziehung zu setzen zu ökologischen Daten aus der satellitengestützten Fernerkundung (Normalized Difference Vegetation Index, NDVI), zeigen wir, dass die Übersommerung in diesem Fall wahrscheinlich eher im Zusammenhang mit einer außergewöhnlich schwierigen Brutsaison im vorausgegangenen Jahr stand, als eine Folge von widrigen Wetterbedingungen im Winter oder einem fehlgeschlagen Zugversuch war. Diverse Faktoren werden als potentielle treibende Kräfte hinter den inner-afrikanischen Bewegungen des Vogels diskutiert. Schließlich setzen wir den hier dokumentierten Fall in Bezug zu einer großen Anzahl von nordeuropäischen Wiesenweihen, die anhand von Telemetrie verfolgt worden sind und zeigen, dass Übersommerung eines adulten Individuums in Afrika in der Tat ein seltenes Ereignis ist.
This is a preview of subscription content, log in to check access.
Access options
Buy single article
Instant access to the full article PDF.
US$ 39.95
Price includes VAT for USA
Subscribe to journal
Immediate online access to all issues from 2019. Subscription will auto renew annually.
US$ 99
This is the net price. Taxes to be calculated in checkout.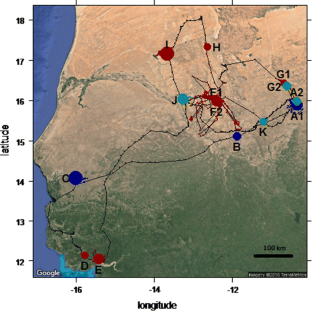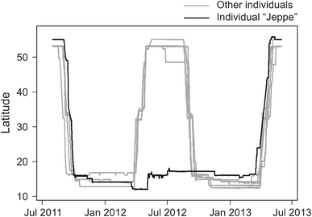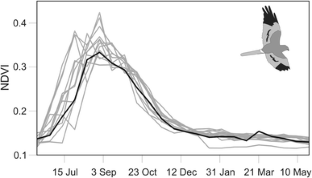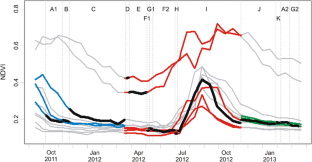 References
Bennetts RE, Kitchens WM (2000) Factors influencing movement probabilities of a nomadic food specialist: proximate foraging benefits or ultimate gains from exploration? Oikos 91:459–467

Bouten W, Baaij EW, Shamoun-Baranes J, Camphuysen KCJ (2013) A flexible GPS tracking system for studying bird behaviour at multiple scales. J Ornithol 154:571–580

Catry I, Dias MP, Catry T, Afanasyev V, Fox J, Franco AMA, Sutherland WJ (2010) Individual variation in migratory movements and winter behaviour of Iberian Lesser Kestrels Falco naumanni revealed by geolocators. Ibis 153:154–164

Daan S, Deerenberg C, Dijkstra C (1996) Increased daily work precipitates natural death in the kestrel. J Anim Ecol 65:539–544

DMI, The Danish Meteorological Institute (2011) Vejret i Danmark—sommer 2011. http://www.dmi.dk/vejr/arkiver/maanedsaesonaar/sommer2011/. Accessed 5 Nov 2016

Fransson T (2001) To analyse ringing recoveries in a national atlas—examples from the Swedish project. Ardea 89(1):21–30

García-Ripollés C, López-López P, Urios V (2010) First description of migration and wintering of adult Egyptian Vultures Neophron Percnopterus tracked by GPS satellite telemetry. Bird Study 57:261–265

Gschweng M, Kalko EKV, Querner U, Fiedler W, Berthold P (2008) All across Africa: highly individual migration routes of Eleonora's falcon. P R Soc B 275:2887–2896

Gwinner E (1996) Circadian and circannual programmes in avian migration. J Exp Biol 199:39–48

Hahn S, Bauer S, Liechti F (2009) The natural link between Europe and Africa—2.1 billion birds on migration. Oikos 118(4):624–626

Kerr JT, Ostrovsky M (2003) From space to species: ecological applications for remote sensing. Trends Ecol Evol 18(6):299–305

Klaassen RHG, Hake M, Strandberg R, Koks BJ, Trierweiler C, Exo K-M, Bairlein F, Alerstam T (2014) When and where does mortality occur in migratory birds? Direct evidence from long-term satellite tracking of raptors. J Anim Ecol 83:176–184

Limiñana R, Soutullo A, Urios V (2007) Autumn migration of Montagu's harriers Circus pygargus tracked by satellite telemetry. J Ornithol 148:517–523

Limiñana R, Soutullo A, Arroyo B, Urios V (2012a) Protected areas do not fulfil the wintering habitat needs of the trans-Saharan migratory Montagu's harrier. Biol Cons 145:62–69

Limiñana R, Soutullo A, Urios V, Reig-Ferrer A (2012b) Migration and wintering areas of adult Montagu's Harriers (Circus pygargus) breeding in Spain. J Ornithol 153:85–93

Loecher M, Ropkins K (2015) RgoogleMaps and loa: unleashing R graphics power on map tiles. J Stat Softw 63(4):1–18

Mellone U, Yáñez B, Limiñana R, Muñoz A-R, Pavón D, González J-M, Urios V, Ferrer M (2011) Summer staging areas of non-breeding Short-toed Snake Eagles Circaetus gallicus. Bird Study 58:516–521

Newton I (2010) Bird migration. Collins, London

Oppel S, Powell AN, Dickson DL (2009) Using an algorithmic model to reveal individually variable movement decisions in a wintering seaduck. J Anim Ecol 78:524–531

Österlöf S (1977) Migration, wintering areas, and site tenacity of the European Osprey Pandion h. haliaetus (L.). Ornis Scand 8:61–78

Rasmussen LM, Clausen MB (2011) Projekt Hedehøg 2011. DOF's arbejdsrapport fra Projekt Hedehøg, Dansk Ornitologisk Forening

Rasmussen LM, Clausen MB, Sørensen IH (2015) Projekt Hedehøg 2015. DOF's arbejdsrapport fra Projekt Hedehøg, Dansk Ornitologisk Forening

R Core Team (2014) R: a language and environment for statistical computing. R Foundation for Statistical Computing, Vienna, Austria. http://www.R-project.org/

Schlaich AE, Klaassen RHG, Bouten W, Bretagnolle V, Koks BJ, Villers A, Both C (2016) How individual Montagu's Harriers cope with Moreau's Paradox during the Sahelian winter. J Anim Ecol. doi:10.1111/1365-2656.12583

Strandberg R, Klaassen RHG, Hake M, Olofsson P, Thorup K, Alerstam T (2008) Complex timing of Marsh Harrier Circus aeruginosus migration due to pre- and post-migratory movements. Ardea 96(2):159–171

Thiollay J-M (1989) Distribution and ecology of palearctic birds of prey wintering in West and Central Africa. In: Meyburg B-U, Chancellor RD (eds) Raptors in the modern world. WWGBP, Berlin, pp 95–107

Thorup K, Tøttrup AP, Willemoes M, Klaassen RHG, Strandberg R, Vega ML, Dasari HP, Araújo MB, Wikelski M, Rahbek C (2017) Resource tracking within and across continents in long-distance bird migrants. Sci Adv. doi:10.1126/sciadv.1601360

Tøttrup AP, Klaassen RHG, Kristensen MW, Strandberg R, Vardanis Y, Lindström Å, Rahbek C, Alerstam T, Thorup K (2012) Drought in Africa caused delayed arrival of European songbirds. Science 7:1307

Trierweiler C, Koks BJ, Drent RH, Exo K-M, Komdeur J, Dijkstra C, Bairlein F (2007) Satellite tracking of two Montagu's Harriers (Circus pygargus): dual pathways during autumn migration. J Ornithol 148:513–516

Trierweiler C, Mullié WC, Drent RH, Exo K-M, Komdeur J, Bairlein F, Harouna A, de Bakker M, Koks BJ (2013) A Palaearctic migratory raptor species tracks shifting prey availability within its wintering range in the Sahel. J Anim Ecol 82:107–120

Trierweiler C, Klaassen RHG, Drent RH, Exo K-M, Komdeur J, Bairlein F, Koks BJ (2014) Migratory connectivity and population-specific migration routes in a long-distance migratory bird. P R Soc B 281:20132897

Tuck SL, Phillips HRP, Hintzen RE, Scharlemann JPW, Purvis A, Hudson LN (2014) MODISTools—downloading and processing MODIS remotely sensed data in R. Ecol Evol 4(24):4658–4668

Vansteelant WMG, Bouten W, Klaassen RHG, Koks BJ, Schlaich AE, van Diermen J, van Loon EE, Shamoun-Baranes J (2015) Regional and seasonal flight speeds of soaring migrants and the role of weather conditions at hourly and daily scales. J Avian Biol 46:25–39

Webster MS, Marra PP, Haig SM, Bensch S, Holmes RT (2002) Links between worlds: unraveling migratory connectivity. Trends Ecol Evol 17(2):76–83

Wind P, Pihl S (eds) (2004) The Danish red list, redlist.dmu.dk (updated April 2010). The National Environmental Research Institute, Aarhus University

Zwarts L, Bijlsma R, van der Kamp J, Wymenga E (2010) Living on the edge: wetlands and birds in a changing Sahel. KNNV Publishing, Zeist
Acknowledgements
We dedicate this article to the memory of Michael B. Clausen (1961–2017) and to his son Jeppe. We thank Villum Fonden, the Danish Nature Agency (ref. NST-304-00068) and DOF-BirdLife Denmark's Projekt Hedehøg for financial support to carry out the GPS tracking study in Denmark. In addition, thanks to all Danish farmers collaborating with us to protect the local breeding pairs of Montagu's Harrier, and to Willem Bouten and the UvA-BiTS team for technical advice. Michael B. Clausen, Lars M. Rasmussen and Mathilde Lerche-Jørgensen carried out essential fieldwork. We are grateful to Steffen Oppel and one anonymous reviewer for constructive comments, and to the Ringing Section at the Natural History Museum of Denmark for providing licenses for trapping and tagging adult Montagu's Harriers.
Ethics declarations
The authors declare that they have no conflict of interest.
Capturing, handling and tracking of harriers was carried out under license from the national authority (the Ringing Section at the Natural History Museum of Denmark).
Additional information
Communicated by N. Chernetsov.
About this article
Cite this article
Sørensen, I.H., Schlaich, A.E., Klaassen, R.H.G. et al. Rare case of an adult male Montagu's Harrier Circus pygargus over-summering in West Africa, as revealed by GPS tracking. J Ornithol 158, 753–760 (2017). https://doi.org/10.1007/s10336-017-1445-8
Received:

Revised:

Accepted:

Published:

Issue Date:
Keywords
GPS tracking

Remote sensing

Raptor migration patterns

Circus pygargus

Behavioural ecology

Over-summering