Abstract
Incubation is an energetically demanding phase of avian reproduction. Single-sex incubators are often faced with a direct conflict between incubation and foraging. We report an unusual incubation behavior of the Sichuan Partridge (Arborophila rufipectus), with long recesses of females and embryonic hypothermia, at Laojunshan National Nature Reserve, southwest China. The Sichuan Partridge is a globally endangered species that inhabits subtropical evergreen and deciduous broadleaf forests at 1100–2250 m a.s.l. Female Sichuan Partridges incubated eggs alone, and typically took one long incubation recess of 4.5 ± 1.2 h (mean ± SD) day−1. They left the nests at 7:36 a.m. (±50 min) and returned at 12:06 p.m. (±70 min). Nest attentiveness was 81.2 ± 5.2% of the entire incubation period. Females prolonged the recess duration and decreased nest attentiveness significantly in response to high disturbance risk and bad weather. Although eggs experienced ~4.2 h below 26 °C (the physiological zero temperature) for each recess, the total hatching rate was 88.4%, suggesting that embryonic hypothermia had minimal negative effect on the hatching rate. For Sichuan Partridge, the ability to withstand embryonic hypothermia may be an adaptation to cold montane environments.
Zusammenfassung
Untersuchungen zum ungewöhnlichen Inkubationsverhalten und zur Toleranz von Embryonen gegenüber Hypothermie beim Sichuan Waldrebhuhn ( Arborophila rufipectus )
Die Bebrütung ist eine energetisch stark beanspruchende Phase in der Reproduktion bei Vögeln. Arten, bei denen nur ein Geschlechtspartner die Bebrütung übernimmt, sind oftmals mit dem direkten Konflikt zwischen Bebrütung und Nahrungssuche konfrontiert. Wir berichten über das ungewöhnliche Inkubationsverhalten (lange Brutunterbrechungen des Weibchens und Embryo-Hypothermie) des Sichuan Waldrebhuhns (Arborophila rufipectus) im Laojunshan National Nature Reserve, Südwest-China. Das Sichuan Waldrebhuhn ist eine weltweit gefährdete Art, die subtropische immergrüne und sommergrüne breitblättrige Wälder besiedelt auf einer Höhe zwischen 1100–2250 m über dem Meeresspiegel besiedelt. Die Weibchen bebrüten das Gelege allein und unternehmen typischerweise eine lange Unterbrechung von 4,5 ± 1.2 Stunden (Mittelwert ± Standardabweichung) pro Tag. Sie verlassen das Nest um 7:36 Uhr (± 50 min) und kehren zurück um 12:06 Uhr (± 70 min). Die Anwesenheit auf dem Nest lag bei 81,2 ± 5,2% der gesamten Bebrütungsphase. Bei einer hohen Störungsrate und bei schlechtem Wetter verlängerten die Weibchen ihre Brutunterbrechungen und verringerten damit ihre Anwesenheit am Nest deutlich. Obwohl die Eier während jeder Unterbrechung ~4.2 Stunden Temperaturen unter 26 °C (die physiologische Null-Temperatur) ausgesetzt waren, lag die Schlupfrate bei 88,4%. Das deutet darauf hin, dass die Unterkühlung der Embryos nur einen geringen negativen Effekt auf die Schlupfrate hat. Die Fähigkeit, dass Embryos Unterkühlungen aushalten, könnte eine Anpassung des Sichuan Waldrebhuhns an seine kalte montane Umwelt sein.
Access options
Buy single article
Instant access to the full article PDF.
US$ 39.95
Tax calculation will be finalised during checkout.
Subscribe to journal
Immediate online access to all issues from 2019. Subscription will auto renew annually.
US$ 79
Tax calculation will be finalised during checkout.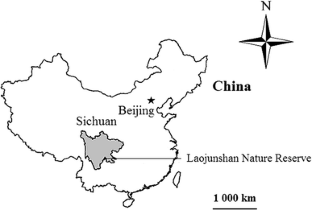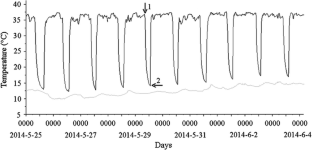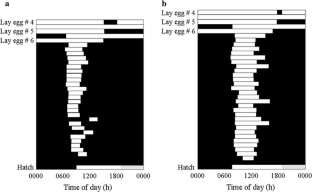 References
Arroyo B, Razin M (2006) Effect of human activities on Bearded Vulture behaviour and breeding success in the French Pyrenees. Biol Conserv 128:276–284. doi:10.1016/j.biocon.2005.09.035

Boersma PD, Wheelwright NT (1979) Egg neglect in the Procellariiformes: reproductive adaptations in the Fork-tailed Storm Petrel. Condor 81:157–165. doi:10.2307/1367282

Carey C (1980) The ecology of avian incubation. Bioscience 30:819–824. doi:10.2307/1308374

Conway CJ, Martin TE (2000a) Effects of ambient temperature on avian incubation behavior. Behav Ecol 11:178–188. doi:10.1093/beheco/11.2.178

Conway CJ, Martin TE (2000b) Evolution of passerine incubation behavior: influence of food, temperature, and nest predation. Evolution 54:670–685. doi:10.1554/0014-3820(2000)054[0670:EOPIBI]2.0.CO;2

Dai B, Dowell SD, Garson PJ, He FQ (2009) Habitat utilization by the threatened Sichuan Partridge (Arborophila rufipectus): consequences for managing newly protected areas in China. Bird Conserv Int 19:187–198. doi:10.1017/S0959270909007618

Deeming DC (2002) Avian incubation: behaviour, environment, and evolution. Oxford University Press, New York

Deeming DC, Birchard GF, Crafer R, Eady PE (2006) Egg mass and incubation period allometry in birds and reptiles: effects of phylogeny. J Zool 270:209–218. doi:10.1111/j.1469-7998.2006.00131.x

Drent RH (1975) Incubation. In: Farner DS, King JR (eds) Avian biology, vol 5. Academic Press, New York, pp 333–420

Du WG, Shine R (2014) The behavioural and physiological strategies of bird and reptile embryos in response to unpredictable variation in nest temperature. Biol Rev 90:19–30. doi:10.1111/brv.12089

Fu YQ, Dowell SD, Zhang ZW (2012) The application of temperature data loggers for remotely monitoring the nests of Emei Shan Liocichla (Liocichla omeiensis). Zool Sci 29:373–376. doi:10.2108/zsj.29.373

Greeney HF (2009) Unusual incubation rhythms of the Spotted Barbtail (Premnoplex brunnescens). J Ornithol 150:529–535. doi:10.1007/s10336-009-0372-8

Haftorn S (1988) Incubating female passerines do not let the egg temperature fall below the 'physiological zero temperature' during their absences from the nest. Ornis Scand 19:97–110. doi:10.2307/3676458

Ji T, He QQ, Jiang YX et al (2007) A short note on the nest of the Sichuan Partridge at Laojunshan Nature Reserve, Sichuan China. Chin J Zool 42:88. doi:10.3969/j.issn.0250-3263.2007.04.029

Jia CX, Sun YH, Swenson JE (2010) Unusual incubation behavior and embryonic tolerance of hypothermia by the Blood Pheasant (Ithaginis cruentus). Auk 127:926–931. doi:10.1525/auk.2010.09254

Johnsgard PA (1983) The Grouse of the World. University of Nebraska Press, Lincoln

Johnsgard PA (1988) The Quails, Partridges and Francolins of the world. Oxford University Press, Oxford

Jones G (1989) Optimizing time off the nest during incubation in female Swallows (Hirundo rustica). Funct Ecol 3:303–309. doi:10.2307/2389370

Korhonen L, Korhonen KT, Rautiainen M, Stenberg P (2006) Estimation of forest canopy cover: a comparison of field measurement techniques. Silva Fenn 40:577–588. doi:10.14214/sf.315

Li GY, Zhang QM (1992) The nests, eggs and calls of the Sichuan Hill Partridge (Arborophila rufipectus). Acta Zool Sin 38:108

Liao WB (2006) The study on habitat characteristics and vocalization of Sichuan Partridge (Arborophila rufipectus) in Laojunshan Nature Reserve in Sichuan, China. Dissertation, China West Normal University

Liao WB, Fuller RA, Hu JC, Li C (2008) Habitat use by endangered Sichuan Partridges (Arborophila rufipectus) during the breeding season. Acta Ornithol 43:179–184

Lill A (1979) Nest inattentiveness and its influence on development of the young in the Superb Lyrebird. Condor 81:225–231. doi:10.2307/1367621

Liu Z, Zhou W, Zhang R et al (2008) Foraging sites selection of Green Peafowl (Pavo muticus imperator) in different seasons in Shiyangjiang Valley of Upper Yuanjiang drainage, Yunnan. Biodivers Sci 16:539–546. doi:10.3724/SP.J.1003.2008.08098

MacDonald EC, Camfield AF, Jankowski JE, Martin K (2013) Extended incubation recesses by alpine-breeding Horned Larks: a strategy for dealing with inclement weather? J Field Ornithol 84:58–68. doi:10.1111/jofo.12006

Manlove CA, Hepp GR (2000) Patterns of nest attendance in female wood ducks. Condor 102:286–291. doi:10.2307/1369639

Martin TE (2002) A new view of avian life-history evolution tested on an incubation paradox. Proc R Soc B Bio Sci 269:309–316. doi:10.1098/rspb.2001.1879

Martin K, Wiebe KL (2004) Coping mechanisms of alpine and arctic breeding birds: extreme weather and limitations to reproductive resilience. Integr Comp Biol 44:177–185. doi:10.1093/icb/44.2.177

Martin TE, Auer SK, Bassar RD et al (2007) Geographic variation in avian incubation periods and parental influences on embryonic temperature. Evolution 61:2558–2569. doi:10.1111/j.1558-5646.2007.00204.x

McGowan PJK, Sharpe CJ, Boesman P (2014) Taiwan Partridge (Arborophila crudigularis). In: del Hoyo J, Elliott A, Sargatal J, Christie DA, de Juana E (eds) Handbook of the birds of the world alive. Lynx, Barcelona

Nuechterlein GL, Buitron D (2002) Nocturnal egg neglect and prolonged incubation in the Red-necked Grebe. Waterbirds 25:485–491. doi:10.1675/1524-4695(2002)025[0485:NENAPI]2.0.CO;2

Olson CR, Vleck CM, Vleck D (2006) Periodic cooling of bird eggs reduces embryonic growth efficiency. Physiol Biochem Zool 79:927–936. doi:10.1086/506003

Reid JM, Ruxton GD, Monaghan P, Hilton GM (2002) Energetic consequences of clutch temperature and clutch size for a uniparental intermittent incubator: the Starling. Auk 119:54–61. doi:10.1642/0004-8038(2002)119[0054:ECOCTA]2.0.CO;2

Spottiswoode C, Møller AP (2004) Genetic similarity and hatching success in birds. Proc R Soc B Biol Sci 271:267–272. doi:10.1098/rspb.2003.2605

Sun YH, Fang Y, Klaus S (2002) The application of data logger technique to the study of incubation rhythms of the Chinese Grouse. J Beijing Normal Univ (Nat Sci) 38:260–265. doi:10.3321/j.issn:0476-0301.2002.02.025

Sun YH, Jia CX, Fang Y, Zheng GM (2005) A preliminary study on the incubation rhythms of the Blue-eared Pheasant at Lianhuashan, Gansu China. Chin J Zool 40(4):29–33. doi:10.3969/j.issn.0250-3263.2005.04.006

Tatner P, Bryant DM (1993) Interspecific variation in daily energy expenditure during avian incubation. J Zool 231:215–232. doi:10.1111/j.1469-7998.1993.tb01913.x

Turner JS (1994) Time and energy in the intermittent incubation of birds' eggs. Israel J Zool 40:519–540. doi:10.1080/00212210.1994.10688770

Verhulst S, Oosterbeek K, Ens BJ (2001) Experimental evidence for effects of human disturbance on foraging and parental care in Oystercatchers. Biol Conserv 101:375–380. doi:10.1016/S0006-3207(01)00084-2

Webb DR (1987) Thermal tolerance of avian embryos: a review. Condor 89:874–898. doi:10.2307/1368537

Williams JB (1991) On the importance of energy considerations to small birds with gynelateral intermittent incubation. In: Bell BD (ed) Acta XX Congress International Ornithology. Christchurch, New Zealand, pp 1964–1975

Williams JB (1996) Energetics of avian incubation. In: Carey C (ed) Avian energetics and nutritional ecology. Chapman and Hall, London, pp 375–415

Zheng GM (2015) Pheasants in China. Higher Education Press, Beijing, pp 184–185
Acknowledgements
This work was funded by the National Natural Science Foundation of China (no. 31272330) and the Scientific Research Innovation Team Projects of Leshan Normal University. We thank Laojunshan Nature Reserve for allowing us to conduct this study. We thank Wencai Chen and Ming Xiang for assistance with the fieldwork. We thank Shangling Lou, Jianqiang Li and Hang Ye for helping with analyzing partial data. We thank Douglas Whitman for improving the English language. We greatly appreciate the comments and suggestions by two anonymous reviewers.
Ethics declarations
Conflict of interest
The authors declare that they have no conflict of interest.
Additional information
Communicated by O. Krüger.
About this article
Cite this article
Fu, Y., Dai, B., Wen, L. et al. Unusual incubation behavior and embryonic tolerance of hypothermia in the Sichuan Partridge (Arborophila rufipectus). J Ornithol 158, 707–715 (2017). https://doi.org/10.1007/s10336-016-1422-7
Received:

Revised:

Accepted:

Published:

Issue Date:
Keywords
Long recess

Parental investment

Physiological zero temperature

Hatching rate