Abstract
The global phylogenetic relationships of the extinct Scarlett's Shearwater (Puffinus spelaeus) from New Zealand are examined using ancient DNA sequencing and phylogenetic analyses. The cytochrome b sequences obtained confirm the distinctiveness of this taxon. It forms a strongly-supported clade with two other New Zealand species, suggesting a radiation of similar-sized species in this region. Molecular dating suggests Pleistocene divergences within this clade.
Zusammenfassung
DNA enthüllt die Verwandtschaftsverhältnisse des ausgestorbenen Scarlettsturmtauchers Puffinus spelaeus (Procellariiformes: Procellariidae)
Anhand von Sequenzen alter DNA und mittels phylogenetischer Analysen untersuchten wir die weltweiten phylogenetischen Verwandtschaftsverhältnisse des ausgestorbenen neuseeländischen Scarlettsturmtauchers (Puffinus spelaeus). Die ermittelten Cytochrom b-Sequenzen bestätigen die Abgrenzbarkeit dieses Taxons. Zusammen mit zwei anderen neuseeländischen Arten bildet es eine gut gestützte Klade, was auf eine Radiation von Arten ähnlicher Größe in dieser Region hindeutet. Die molekulare Datierung legt pleistozäne Aufspaltungen innerhalb dieser Klade nahe.
Access options
Buy single article
Instant access to the full article PDF.
US$ 39.95
Tax calculation will be finalised during checkout.
Subscribe to journal
Immediate online access to all issues from 2019. Subscription will auto renew annually.
US$ 79
Tax calculation will be finalised during checkout.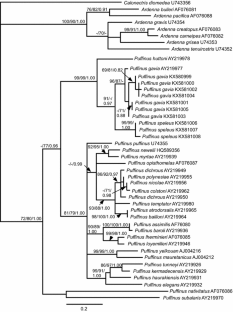 References
Austin JJ (1996) Molecular phylogenetics of Puffinus shearwaters: preliminary evidence from mitochondrial cytochrome b gene sequences. Mol Phylogenet Evol 6:77–88

Austin JJ, Bretagnolle V, Pasquet E (2004) A global molecular phylogeny of the small Puffinus shearwaters and implications for systematics of the Little-Aubudon's Shearwater complex. Auk 121:847–864

Bouckaert R, Heled J, Kühnert D, Vaughn T, Wu C-H, Xie D, Suchard MA, Rambaut A, Drummond AJ (2014) BEAST 2: a software platform for Bayesian evolutionary analysis. PLoS Comput Biol 10(4):e1003537. doi:10.1371/journal.pcbi.1003537

Brooke M (2004) Albatrosses and petrels across the world. Oxford University Press, Oxford

Croxall JP, Butchart SHM, Lascelles B, Stattersfield AJ, Sullivan B, Symes A, Taylor P (2012) Seabird conservation status, threats and priority actions: a global assessment. Bird Conserv Int 22:1–34

Dickinson EC, Remsen JV Jr (2013) The Howard and Moore complete checklist of the birds of the world, vol 1, 4th edn. Aves Press, Eastbourne

Gill BJ, Bell BD, Chambers GK, Medway DG, Palma RL, Scofield RP, Tennyson AJD, Worthy TH (2010) Checklist of birds of New Zealand, Norfolk and Macquarie Islands, and the Ross Dependency, Antarctica, 4th edn. Te Papa Press in association with the Ornithological Society of New Zealand, Wellington, p x + 501

Guindon S, Dufayard JF, Lefort V, Anisimova M, Hordijk W, Gascuel O (2010) New algorithms and methods to estimate maximum-likelihood phylogenies: assessing the performance of PhyML 3.0. Syst Biol 59:307–321

Holdaway RN, Worthy TH (1994) A new fossil species of shearwater Puffinus from the Late Quaternary of the South Island, New Zealand, and notes on the biogeography and evolution of the Puffinus gavia superspecies. Emu 94:201–215

Huelsenbeck J, Ronquist FR (2001) MrBayes: Bayesian inference of phylogeny. Biometrics 17:754–755

Kocher TD, Thomas WK, Meyer A, Edwards SV, Pääbo S, Villablanca FX, Wilson AC (1989) Dynamics of mitochondrial DNA evolution in animals: amplification and sequencing with conserved primers. Proc Natl Acad Sci USA 86:6196–6200

Larkin MA, Blackshields G, Brown NP, Chenna R, McGettigan PA, McWilliam H, Valentin F, Wallace IM, Wilm A, Lopez R, Thompson JD, Gibson TJ, Higgins DG (2007) Clustal W and Clustal X version 2.0. Bioinformatics 23:2947–2948

Maddison WP, Maddison DR (2015) Mesquite: a modular system for evolutionary analysis. Version 3.02. http://mesquiteproject.org. Accessed 20 Aug 2014

Newnham RM, Lowe DJ, Williams PW (1999) Quaternary environmental change in New Zealand: a review. Prog Phys Geogr 23:567–610

Posada D (2008) jModelTest: phylogenetic model averaging. Mol Biol Evol 25:1253–1256

Pyle P, Welch AJ, Fleischer RC (2011) A new species of shearwater (Puffinus) recorded from Midway Atoll, Northwestern Hawaiian Islands. Condor 113:518–527

Rambaut A, Drummond AJ (2009) Tracer v1.5. http://beast.bio.ed.ac.uk/Tracer. Accessed 22 Jan 2015

Ramirez O, Illera JC, Rando JC, Gonzalez-Solis J, Alcover JA, Lalueza-Fox C (2010) Ancient DNA of the extinct Lava Shearwater (Puffinus olsoni) from the Canary Islands reveals incipient differentiation within the P. puffinus complex. PLoS One 5(12):e16072

Sommer E, Bell M, Bradfield P, Dunlop K, Gaze P, Harrow G, McGahan P, Morrisey M, Walford D, Cuthbert R (2009) Population trends, breeding success and predation rates of Hutton's shearwater (Puffinus huttoni): a 20 year assessment. Notornis 56:144–153

Swofford DL (2002) PAUP*. Phylogenetic analysis using parsimony (*and other methods). Version 4. Sinauer Associates, Sunderland

Tennyson AJD, Martinson P (2007) Extinct birds of New Zealand (revised edition). Te Papa Press, Wellington

Tennyson AJD, Cooper JH, Shepherd LD (2015) A new species of extinct Pterodroma petrel (Procellariiformes: Procellariidae) from the Chatham Islands, New Zealand. Bull Br Ornithol Club 135:267–277

Weir JT, Schluter D (2008) Calibrating the avian molecular cloak. Mol Ecol 17:2321–2328

Welch AJ, Olson SL, Fleischer RC (2014) Phylogenetic relationships of the extinct St Helena petrel, Pterodroma rupinarum Olson, 1975 (Procellariiformes: Procellariidae), based on ancient DNA. Zool J Linn Soc 170:494–505

Worthy TH (1997) Quaternary fossil fauna South Canterbury, South Island, New Zealand. J R Soc N Z 27:67–162

Worthy TH (1998) Quaternary fossil faunas of Otago, South Island, New Zealand. J R Soc N Z 28:421–521

Worthy TH, Holdaway RN (1993) Quaternary fossil faunas from caves in the Punakaiki area, West Coast, South Island, New Zealand. J R Soc N Z 23:147–254

Worthy TH, Zhao JX (2006) A Late Pleistocene predator-accumulated avifauna from Kids Cave, West Coast, South Island, New Zealand. Alcheringa 30(S1):389–408
Acknowledgements
Thanks to two anonymous reviewers for their comments on the manuscript. LDS acknowledges the support of a Royal Society of New Zealand Rutherford Discovery Fellowship.
Ethics declarations
Conflict of interest
The authors declare that they have no conflicts of interest.
About this article
Cite this article
Tennyson, A.J.D., Shepherd, L.D. DNA reveals the relationships of the extinct Scarlett's Shearwater Puffinus spelaeus (Procellariiformes: Procellariidae). J Ornithol 158, 379–384 (2017). https://doi.org/10.1007/s10336-016-1416-5
Received:

Revised:

Accepted:

Published:

Issue Date:
Keywords
New species

Extinction

Puffinus

Shearwater

Procellariiformes

New Zealand