Abstract
We used sequences from one mitochondrial gene and six nuclear loci to confirm genetically the presumed identity of four large terns with an orange bill seen in Western Europe over the past decades. This multilocus genotyping (multilocus barcoding) approach confirmed that one bird was a Lesser Crested Tern Sterna bengalensis, as suspected based on its phenotype, and identified the three other birds as pure Elegant Terns Sterna elegans. This last result was again in accordance with the appearance of these birds even if their identity had long been considered as unproven. In comparison with traditional (single-locus) barcoding, our approach allowed us to unambiguously exclude that these birds were first-generation hybrids or backcrosses involving Elegant Terns or other species of orange-billed terns.
Zusammenfassung
Multi-locus DNS-Barcoding bestätigt das Vorkommen der Schmuckseeschwalbe ( Sterna elegan s) in Westeuropa Wir benutzten Sequenzen eines mitochondrialen Gens und von Intron-Regionen aus sechs Kernloci, um mit molekulargenetischen Methoden die bereits vermutete Identität von vier großen Seeschwalben mit orangenen Schnäbeln zu bestätigen, die in den vergangenen Jahrzehnten in Westeuropa gesehen worden waren. Mit diesem "multi-locus Barcoding"-Ansatz zur Bestimmung des Genotyps konnte bestätigt werden, dass einer der Vögel eine Rüppellseeschwalbe (Sterna bengalensis), die anderen drei eindeutig Schmuckseeschwalben (Sterna elegans) waren. Dieses Ergebnis entsprach dem Auftreten dieser Vögel, wenngleich ihre Identität lange als unbewiesen gegolten hatte. Im Vergleich zum sonst üblichen (single-locus) Barcoding erlaubte uns unser Ansatz, eindeutig auszuschließen zu können, dass die Vögel Hybriden in erster Generation waren oder Rückkreuzungen von Schmuckseeschwalben oder anderen Seeschwalben-Arten mit orangenen Schnäbeln.
This is a preview of subscription content, log in to check access.
Access options
Buy single article
Instant access to the full article PDF.
US$ 39.95
Price includes VAT for USA
Subscribe to journal
Immediate online access to all issues from 2019. Subscription will auto renew annually.
US$ 99
This is the net price. Taxes to be calculated in checkout.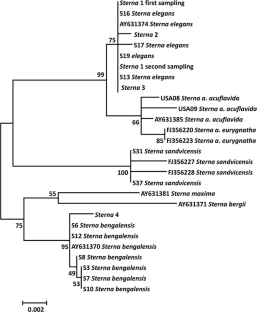 References
Boesman P (1992) Sierlijke Stern te Zeebruge in Juni-Juli 1988. Dutch Bird 14:161–169

BOU (2014) British Ornithologists' Union Records Committee: 42nd report (October 2013). Ibis 156:236–242

Bradić M, Costa J, Chelo IM (2011) Genotyping with Sequenom. In: Orgogozo V, Rockman MV (eds) Molecular methods for evolutionary genetics. Springer, Heidelberg, pp 193–210

Bridge ES, Jones AW, Baker AJ (2005) A phylogenetic framework for the Terns (Sternini) inferred from mtDNA sequences: implications for taxonomy and plumage evolution. Mol Phylogenet Evol 35:459–469

Collins CT (1997) Hybridization of a Cabot's and Elegant Tern in California. Western Birds 28:169–173

Cuppen E (2007) Genotyping by allele-specific amplification (KASPar). Cold Spring Harbor Protoc 2007. doi:10.1101/pdb.prot4841

Dies JI (2001) Bare-part colours of juvenile hybrid Lesser Crested × Sandwich Tern. Br Birds 94:42

Dies JI, Dies B (1998) Hybridization between Lesser Crested and Sandwich Terns in Valencia, Spain, and plumage of offspring. Br Birds 91:165–170

Efe MA, Tavares ES, Baker AJ, Bonatto SL (2009) Multigene phylogeny and DNA barcoding indicate that the Sandwich Tern complex (Thalasseus sandvicensis, Laridae, Sternini) comprises two species. Mol Phylogenet Evol 52:263–267

Gay L, Defos du Rau P, Mondain-Monval JY, Crochet PA (2004) Phylogeography of a game species: the Red-Crested Pochard (Netta rufina) and consequences for its management. Mol Ecol 13:1035–1045

Gutiérrez R (1998) Elegant Tern in Llobregat delta, Spain, in April 1993. Dutch Bird 20:1–5

Hebert PDN, Cywinska A, Ball SL, deWaard JR (2003) Biological identifications through DNA barcodes. Proc R Soc Lond B Biol Sci 270:313–321

Heslewood MM, Elphinstone MS, Tidemann SC, Baverstock PR (1998) Myoglobin intron variation in the Gouldian Finch Erythrura gouldiae assessed by temperature gradient gel electrophoresis. Electrophoresis 19:142–151

Jackson DG, Emslie SD, van Tuinen M (2012) Genome skimming identifies polymorphism in Tern populations and species. BMC Res Notes 5:94

Kimball RT, Braun EL, Barker FK, Bowie RCK, Braun MJ, Chojnowski JL, Hackett SJ, Han KL, Harshman J, Heimer-Torres V, Holznagel W, Huddleston CJ, Marks BD, Miglia KJ, Moore WS, Reddy S, Sheldon FH, Smith JV, Witti CC, Yuri T (2009) A well-tested set of primers to amplify regions spread across the avian genome. Mol Phylogenet Evol 50:654–660

McCarthy EM (2006) Handbook of avian hybrids of the world. Oxford University Press, New York

Milne P, McAdams DG (2005) Irish rare bird report. http://www.irbc.ie/reports/irbr/2005_IRBR.pdf. Accessed 4 Aug 2016

Moralez-Silva E, Del Lama SN (2014) Colonization of Brazil by the Cattle Egret (Bubulcusibis) revealed by mitochondrial DNA. NeoBiota 21:49–63

Moritz C, Cicero C (2004) DNA barcoding: promise and pitfalls. PLoS Biol 2:1529–1531

Paul RT, Paul AF, Pranty B, Hodgson AB, Powell DJ (2003) Probable hybridization between Elegant Tern and Sandwich Tern in west-central Florida: the first North American nesting record of Elegant Tern away from the Pacific Coast. N Am Birds 57:280–282

Saiki RK, Gelfand DH, StoffelS Scharf SJ, Higuchi R, Horn GT, Mullis KB, Erlich HA (1988) Primer-directed enzymatic amplification of DNA with a thermostable DNA polymerase. Science 239:487–491

Sangster G, Collinson JM, Crochet P-A, Knox AG, Parkin DT, SvenssonL Votier SC (2011) Taxonomic recommendations for British birds: seventh report. Ibis 153:883–892

Shannon TJ, McGowan RY, Zonfrillo B, Piertney S, Collinson M (2014) A genetic screen of the island races of Wren Troglodytes troglodytes in the North-east Atlantic. Bird Study 61:135–142

Slade RW, Moritz C, Heideman A, Hale PT (1993) Rapid assessment of single-copy nuclear DNA variation in diverse species. Mol Ecol 2:359–373

Sorenson MD, Ast JC, Dimcheff DE, Yuri T, Mindell DP (1999) Primers for a PCR-based approach to mitocondrial genome sequencing in birds and other vertebrates. Mol Phylogenet Evol 12:105–114

Tamura K, Stecher G, Peterson D, Filipski A, Kumar S (2013) MEGA6: molecular evolutionary genetics analysis version 6.0. Mol Biol Evol 30:2725–2729

van Duivendijk N (2010) Advanced bird ID guide: the Western Palearctic. New Holland, Turin

Velarde E, Rojo P (2012) Presumed hybrid Elegant × Cabot's Terns Thalasseus elegans × T. acuflavida in Isla Rasa, Gulf of California, Mexico. Mar Ornithol 40:25–29

Whitworth TL, Dawson RD, Magalon H, Baudry E (2007) DNA barcoding cannot reliably identify species of the blowfly genus Protocalliphora (Diptera: Calliphoridae). Proc R Soc Lond B Biol Sci 274:1731–1739

Wright S (1940) Breeding structure of populations in relation to speciation. Am Nat 74:232–248
Acknowledgments
We are very grateful to the following people who helped in various ways with sample collection: Jérome Fuchs and Eric Pasquet (National Museum of Natural History, Paris), Sharon M. Birks (Burke Museum of Naturel History of Seattle), Charlotte Francesiaz, Benjamin Vollot and Gilles Balança (Sandwich Tern, France), Charles Collins (Elegant Tern, USA), Arnaud Lenoble (Royal Tern, Guadeloupe), Lorien Pichegru (Crested Tern, South Africa), Abdulmaula Hamza (Lesser Crested Tern, Libya) and Clive Barlow (The Gambia). Marcio Efe and Eli Bridge helped with genotyping and shared unpublished sequences. We thank Juan Antonio Gómez for advice and Miguel Chardí and Francisco Javier García-Gans for field assistance in Valencia (Spain). Mathias Grandpierre (Société pour l'Etude et l'Aménagement de la Nature dans le Sud-Ouest) helped with fieldwork at the Banc d'Arguin (France). All the experiments comply with the current laws of the country in which they were performed.
Electronic supplementary material
Below is the link to the electronic supplementary material.
Appendix: sequences of the nuclear intron glyceraldehyde-3-phosphodehydrogenase (G3PDH)
Appendix: sequences of the nuclear intron glyceraldehyde-3-phosphodehydrogenase (G3PDH)
>Seq1 (organism = Sterna sandvicensis) S50, France, G3PDH
GAAGAACAGAAGTGCTGTCAGGACTGACCCATTTCTTGCATCCCCTTCGTCCTAATTTTCCTGCTCTTCTGCCCCATCTCACACAACTGAACCACTCAGCTTCCCATCCACTTCTAGTAAAGTAAGTAGGAAAAATTCCATACACCCTTCAAATACGGTAAGGAAAAGGCTACAGTCATTTCAGATAAGCAGCAACTTCACTCCACAGAAACTTCATAATATGTTGGAGCCACCCTACACAGCAGGGGTCTACGTTATGACCCCACACTGCCAACCTGGCAGTGATGAACAGGACAGAAGCCTGCAACTTGCCTGTGTCAGCTCCTCATCCCCCCCAGTGTCTCCCCCACCACCCCTTAAGGCTGCACCTACCAGGAAACCAGCTTGACAAAATGATC
>Seq2 (organism = S. sandvicensis) S54, France, G3PDH
GAAGAACAGAAGTGCTGTCAGGACTGACCCATTTCTTGCATCCCCTTCGTCCTAATTTTCCTGCTCTTCTGCCCCATCTCACACAACTGAACCACTCAGCTTCCCATCCACTTCTAGTAAAGTAAGTAGGAAAAATTCCATACACCCTTCAAATACGGTAAGGAAAAGGCTACAGTCATTTCAGATAAGCAGCAACTTCACTCCACAGAAACTTCATAATATGTTGGAGCCACCCTACACAGCAGGGGTCTACGTTATGACCCCACACTGCCAACCTGGCAGTGATGAACAGGACAGAAGCCTGCAACTTGCCTGTGTCAGCTCCTCATCCCCCCCAGTGTCTCCCCCACCACCCCTTAAGGCTGCACCTACCAGGAAACCAGCTTGACAAAATGATC
>Seq3 (organism = S. sandvicensis) S60, France,  G3PDH
GAAGAACAGAAGTGCTGTCAGGACTGACCCATTTCTTGCATCCCCTTCGTCCTAATTTTCCTGCTCTTCTGCCCCATCTCACACAACTGAACCACTCAGCTTCCCATCCACTTCTAGTAAAGTAAGTAGGAAAAATTCCATACACCCTTCAAATACGGTAAGGAAAAGGCTACAGTCATTTCAGATAAGCAGCAACTTCACTCCACAGAAACTTCATAATATGTTGGAGCCACCCTACACAGCAGGGGTCTACGTTATGACCCCACACTGCCAACCTGGCAGTGATGAACAGGACAGAAGCCTGCAACTTGCCTGTGTCAGCTCCTCATCCCCCCCAGTGTCTCCCCCACCACCCCTTAAGGCTGCACCTACCAGGAAACCAGCTTGACAAAATGATC
>Seq4 (organism = S. sandvicensis) S61, France,  G3PDH
GACGAACAGAAGTGCTGTCAGGACTGACCCATTTCTTGCATCCCCTTCGTCCTAATTTTCCTGCTCTTCTGCCCCATCTCACACAACTGAACCACTCAGCTTCCCATCCACTTCTAGTAAAGTAAGTAGGAAAAATTCCATACACCCTTCAAATACGGTAAGGAAAAGGCTACAGTCATTTCAGATAAGCAGCAACTTCACTCCACAGAAACTTCATAATATGTTGGAGCCACCCTACACAGCAGGGGTCTACGTTATGACCCCACACTGCCAACCTGGCAGTGATGAACAGGACAGAAGCCTGCAACTTGCCTGTGTCAGCTCCTCATCCCCCCCAGTGTCTCCCCCACCACCCCTTAAGGCTGCACCTACCAGGAAACCAGCTTGACAAAATGATC
>Seq5 (organism = Sterna elegans) S64, USA, G3PDH
GGCGAACAGAAGTGCTGTCAGGACTGACCCATTTCTTGCATCCCCTTCGTCCTAATTTTCCTGCTCTTCTGCCCCATCTCACACAACTGAACCACTCAGCTTCCCATCCACTTCTAGTAAAGTAAGTAGGAAGAATTCCATACACCCTTCAAATACGGTAAGGAGAAGGCTACAGTCATTTCAGATAAGCAGCAACTTCACTCCACAGAAACTTCATAATATGTTGGAGCCACCCTACACAGCAGGGGTCTACGTTATGACCCCACACTGCCAACCTGGCAGTGATGAACAGGACAGAAGCCTGCAACTTGCCTGTGTCAGCTCCTCATCCCCCCCAGTGTCTCCCCCACCACCCCTTAAGGCTGCACCTACCAGGAAACCAGCTTGACAAAATGATC
>Seq6 (organism = S. elegans) S67, UWBM69602, USA, G3PDH
GACGAACAGAAGTGCTGTCAGGACTGACCCATTTCTTGCATCCCCTTCGTCCTAATTTTCCTGCTCTTCTGCCCCATCTCACACAACTGAACCACTCAGCTTCCCATCCACTTCTAGTAAAGTAAGTAGGAAGAATTCCATACACCCTTCAAATACGGTAAGGAGAAGGCTACAGTCATTTCAGATAAGCAGCAACTTCACTCCACAGAAACTTCATAATATGTTGGAGCCACCCTACACAGCAGGGGTCTACGTTATGACCCCACACTGCCAACCTGGCAGTGATGAACAGGACAGAAGCCTGCAACTTGCCTGTGTCACCTCCTCATCCCCCCCAGTGTCTCCCCCACCACCCCTTAAGGCTGCACCTACCAGGAAACCAGCTTGACAAAATGATC
>Seq7 (organism = S. elegans) S68, UWBM70563, USA, G3PDH
GACGAACAGAAGTGCTGTCAGGACTGACCCATTTCTTGCATCCCCTTCGTCCTAATTTTCCTGCTCTTCTGCCCCATCTCACACAACTGAACCACTCAGCTTCCCATCCACTTCTAGTAAAGTAAGTAGGAAGAATTCCATACACCCTTCAAATACGGTAAGGAGAAGGCTACAGTCATTTCAGATAAGCAGCAACTTCACTCCACAGAAACTTCATAATATGTTGGAGCCACCCTACACAGCAGGGGTCTACGTTATGACCCCACACTGCCAACCTGGCAGTGATGAACAGGACAGAAGCCTGCAACTTGCCTGTGTCAGCTCCTCATCCCCCCCAGTGTCTCCCCCACCGCCCCTTAAGGCTGCACCTACCAGGAAACCAGCTTGACAAAATGATC
>Seq8 (organism = S. elegans) S69, UWBM69603, USA, G3PDH
GACGAACAGAAGTGCTGTCAGGACTGACCCATTTCTTGCATCCCCTTCGTCCTAATTTTCCTGCTCTTCTGCCCCATCTCACACAACTGAACCACTCAGCTTCCCATCCACTTCTAGTAAAGTAAGTAGGAAGAATTCCATACACCCTTCAAATATGGTAAGGAGAAGGCTACAGTCATTTCAGATAAGCAGCAACTTCACTCCACAGAAACTTCATAATATGTTGGAGCCACCCTACACAGCAGGGGTCTACATTATGACCCCACACTGCCAACCTGGCAGTGATGAACAGGACAGAAGCCTGCAACTTGCCTGTGTCAGCTCCTCATCCCCCCCAGTGTCTCCCCCACCACCCCTTAAGGCTGCACCTACCAGGAAACCAGCTTGACAAAATGATC
>Seq9 (organism = S. elegans) S70, UWBM70562, USA, G3PDH
GACGAACAGAAGTGCTGTCAGGACTGACCCATTTCTTGCATCCCCTTCGTCCTAATTTTCCTGCTCTTCTGCCCCATCTCACACAACTGAACCACTCAGCTTCCCATCCACTTCTAGTAAAGTAAGTAGGAAGAATTCCATACACCCTTCAAATACGGTAAGGAGAAGGCTACAGTCATTTCAGATAAGCAGCAACTTCACTCCACAGAAACTTCATAATATGTTGGAGCCACCCTACACAGCAGGGGTCTACGTTATGACCCCACACTGCCAACCTGGCAGTGATGAACAGGACAGAAGCCTGCAACTTGCCTGTGTCAGCTCCTCATCCCCCCCAGTGTCTCCCCCACCACCCCTTAAGGCTGCACCTACCAGGAAACCAGCTTGACAAAATGATC
About this article
Cite this article
Dufour, P., Pons, J., Collinson, J.M. et al. Multilocus barcoding confirms the occurrence of Elegant Terns in Western Europe. J Ornithol 158, 351–361 (2017). https://doi.org/10.1007/s10336-016-1380-0
Received:

Revised:

Accepted:

Published:

Issue Date:
Keywords
Genetic identification

Nuclear DNA

Hybridization

Long-range vagrancy