Abstract
Many birds exhibit territoriality, which is vital for obtaining resources for survival. Non-migratory birds maintain larger territories in winter than during reproduction, but the degree of their fidelity to these winter home ranges is less well-known. We evaluated the homing success and time of return to home through a field experiment in which we trapped and displaced 1239 individual birds of two tit species, Great Tit (Parus major) and Blue Tit (Cyanistes caeruleus), and retrapped 267 of them over two winters (a total of 40 trapping sessions). Displacement of the birds between two sites 7.8 km apart revealed strong fidelity to the winter home range in both species; birds returned on average within 4 weeks. Greater homing success was found in Blue Tits than in Great Tits (45.7 vs. 32.5 % retraps). More individuals returned home from an ecotone site, which included gardens with feeders, than from a forest site (40.9 vs. 29.2 %). Blue Tits homed approximately 1 week more quickly than Great Tits, and similar mean differences were observed when comparing males with females of both species using Kaplar–Meier survival functions. A parametric survival regression model indicated that the difference in homing time between species was not significant, but males of both species returned significantly sooner than females. Moreover, birds that originated from a site with greater food supply homed more quickly, and interaction of sex and site also showed a significant effect in this model. Our evidence suggests that winter territoriality of these woodland passerines is shaped potentially by all tested factors and is an important behavioural characteristic linked with their ability to find limited resources during the harsh period of the year.
Zusammenfassung
Bleiben oder gehen? Ausgeprägte Treue zum Winterfutterort bei kleinen Sperlingsvögeln, nachgewiesen mit einem Heimfindeexperiment Viele Vögel sind territorial, was für das Erlangen von Ressourcen zum Überleben entscheidend ist. Standvögel behaupten im Winter größere Reviere als während der Brutzeit, aber es ist kaum bekannt, wie stark ihre Treue zu diesen Winter-Aktionsräumen ist. In einem Freilandexperiment haben wir den Heimfindeerfolg und die Zeit bis zur Heimkehr untersucht. Wir haben 1239 Individuen zweier Arten, Kohlmeise (Parus major) und Blaumeise (Cyanistes caeruleus), gefangen und verfrachtet und 267 davon in zwei Wintern (insgesamt 40 Fangperioden) wiedergefangen. Die Verfrachtung der Vögel zwischen zwei 7.8 km entfernten Gebieten zeigte bei beiden Arten eine ausgeprägte Treue zum Winter-Aktionsraum; im Durchschnitt kehrten die Tiere nach vier Wochen zurück. Der Heimfindeerfolg war bei Blaumeisen höher als bei Kohlmeisen (45.7 vs. 32.5 % Wiederfänge). Mehr Individuen kehrten aus Saumbiotopen (inklusive Gärten mit Futterspendern) als aus Waldgebieten heim (40.9 vs. 29.2 %). Blaumeisen kamen etwa eine Woche schneller zurück als Kohlmeisen, und ähnliche durchschnittliche Unterschiede wurden beobachtet, wenn Männchen und Weibchen bei beiden Arten mittels Kaplan–Meier-Überlebensfunktionen verglichen wurden. Ein parametrisches Überlebens-Regressionsmodell zeigte, dass der Unterschied in der Heimfindezeit zwischen den Arten nicht signifikant war, jedoch die Männchen beider Arten signifikant früher als die Weibchen zurückkehrten. Darüber hinaus fanden Vögel, die aus einem Gebiet mit größerer Nahrungsverfügbarkeit stammten, schneller heim, und die Interaktion zwischen Geschlecht und Gebiet war in diesem Modell ebenfalls signifikant. Unsere Befunde deuten darauf hin, dass die Winterterritorialität dieser Wald-Sperlingsvögel möglicherweise von allen hier untersuchten Faktoren beeinflusst wird und ein wichtiges Verhaltensmerkmal darstellt, das mit ihrer Fähigkeit, in der rauen Jahreszeit knappe Ressourcen zu finden, zusammenhängt.
Access options
Buy single article
Instant access to the full article PDF.
US$ 39.95
Tax calculation will be finalised during checkout.
Subscribe to journal
Immediate online access to all issues from 2019. Subscription will auto renew annually.
US$ 79
Tax calculation will be finalised during checkout.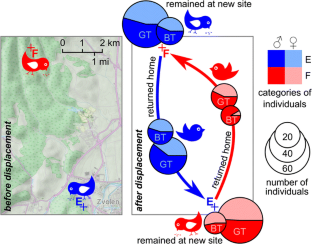 References
Adams ES (2001) Approaches to the study of territory size and shape. Annu Rev Ecol Syst 32:277–303

Báldi A, Csörgő T (1994) Roosting site fidelity of great tits (Parus major) during winter. Acta Zool Acad Sci Hung 40:359–367

Báldi A, Csörgő T (1997) Spatial arrangement of roosting great tits (Parus major) in a Hungarian forest. Acta Zool Acad Sci Hung 43:295–301

Belda JE, Barba E, Monrós JS (2007) Resident and transient dynamics, site fidelity and survival in wintering blackcaps Sylvia atricapilla: evidence from capture-recapture analyses. Ibis 149:396–404

Bélisle M, Desrochers A, Fortin MJ (2001) Influence of forest cover on the movements of forest birds: homing experiment. Ecology 82:1893–1904

Benvenuti S, Ioale P (1980) Homing experiments with birds displaced from their wintering ground. J Ornithol 121:281–286

Bolker BM (2008) Ecological models and data in R. Princeton University Press, New Jersey

Bridge ES, Kelly JF, Contina A, Gabrielson RM, Maccurdy RB, Winkler DW (2013) Advances in tracking small migratory birds: a technical review of light-level geolocation. J Field Ornithol 84:121–137

Brotons L (1997) Changes in foraging behaviour of the coal tit Parus ater due to snow cover. Ardea 85:249–257

Bumerl J (1974) Die raumorientierung einiger vertreter der gattung Parus. Acta Sci Natur Mus Bohem Merid České Budějovice 14 2:37–54

Catry P, Catry I, Catry T, Martins T (2003) Within and between-year winter-site fidelity of chiffchaffs Phylloscopus collybita. Ardea 91:213–220

Cepák J, Klvaňa P, Škopek J, Schröpfer L, Jelínek M, Hořák D, Formánek J, Zárybnický J (2008) Atlas migrace ptáků české a Slovenské republiky [czech and slovak bird migration atlas]. Aventinum, Praha

Chamberlain DE, Vickery JA, Glue DE, Robinson RA, Conway GJ, Woodburn JW, Cannon AR (2005) Annual and seasonal trends in the use of garden feeders by birds in winter. Ibis 147:563–575

Clarke AL, Saether BE, Roskaft E (1997) Sex biases in avian dispersal: a reappraisal. Oikos 79:429–438

Cowie RJ, Hinsley SA (1988) The provision of food and the use of bird feeders in suburban gardens. Bird Study 35:163–168

Cramp S (1993) The Birds of the western Palearctic, vol 7. Oxford University Press, Oxford

Creutz G (1949) Verfrachtungen mit Kohl—und Blaumeisen (Parus m. major und Parus c. caeruleus). Vogelwarte 15:78–93

Creutz G (1962) Das revierverhalten der kohlmeise ausserhalb der brutzeit. Der Falke Sonderh 4:75–79

Davies NB (1980) The economics of territorial behaviour in birds. Ardea 68:63–74

De Laet J (1984) Site-related dominance in the Great Tit Parus major. Ornis Scand 15:73–78

Desrochers A, Belisle M, Morand-Ferron J, Bourque J (2011) Integrating GIS and homing experiments to study avian movement costs. Landsc Ecol 26:47–58

Deutschlander ME, Beason RC (2014) Avian navigation and geographic positioning. J Field Ornithol 85:111–133

Dhondt AA (1966) A method to establish boundaries of bird territories. Gerfaut 56:404–408

Dhondt AA (1979) Summer dispersal and survival of juvenile great tits in southern Sweden. Oecologia 42:139–157

Dhondt AA (2012) Interspecific competition in birds. Oxford Univeristy Press, New York

East ML, Hofer H (1986) The use of radio-tracking for monitoring great tit Parus major behaviour: a pilot study. Ibis 128:103–114

Estoup A, Guillemaud T (2010) Reconstructing routes of invasion using genetic data: why, how and so what? Mol Ecol 19:4113–4130

Glutz UN, Bauer KM (1993) Handbuch der Vögel Mitteleuropas. Band 13/I Passeriformes 4. Teil. AULA, Wiesbaden

Gobeil JF, Villard MA (2002) Permeability of three boreal forest landscape types to bird movements as determined from experimental translocations. Oikos 98:447–458

Greenwood PJ, Harvey PH (1982) Natal and breeding dispersal in birds. Annu Rev Ecol Syst 13:1–21

Grubb TC (1987) Changes in the flocking behaviour of wintering English titmice with time, weather and supplementary food. Anim Behav 35:794–806

Hansen K (1978) Migration and dispersal in Danish great tits. Dansk Ornitol Foren Tidsskr 72:97–104

Harvey PH, Greenwood PJ, Perrins CM (1979) Breeding area fidelity of great tits (Parus major). J Anim Ecol 48:305–313

Hildén O, Saurola P (1982) Speed of autumn migration of birds ringed in Finland. Ornis Fenn 259:140–143

Jenni L, Winkler R (1994) Moult and ageing of European passerines. Academic Press, London

Johnson ML, Gaines MS (1990) Evolution of dispersal: theoretical models and empirical tests using birds and mammals. Annu Rev Ecol Syst 21:449–480

Johnstone I (1998) Territory structure of the robin Erithacus rubecula outside the breeding season. Ibis 140:244–251

Keiser JT, Ziegenfuss WS, Cristol DA (2005) Homing success of migrant versus nonmigrant dark-eyed Juncos (Junco hyemalis). Auk 122:608–617

Kempenaers B, Dhondt AA (1991) Competition between blue and great tit for roosting sites in winter: an aviary experiment. Ornis Scand 22:73–75

Koivula K, Lahti K, Orell M, Rytkönen S (1993) Prior residency as a key determinant of social dominance in willow tit (Parus montanus). Behav Ecol Sociobiol 33:283–287

Krištín A, Mihál I, Urban P (2001) Roosting of great tit, Parus major, and the nuthatch, Sitta europaea, in nest boxes in an oak-hornbeam forest. Folia Zool 50:43–53

Krištín A, Hoi H, Valera F, Hoi C (2007) Philopatry, dispersal patterns and nest-site reuse in lesser grey shrikes (Lanius minor). Biodiv Conserv 16:987–995

Kropil R (1996) Structure of the breeding bird assemblage of the fir-beech primeval forest in the West Carpathians (badín nature reserve). Folia Zool 45:311–324

Naef-Daenzer B (1994) Radiotracking of great and blue tits: new tools to assess territoriality, home-range use and resource distribution. Ardea 82:335–347

Naef-Daenzer B (2000) Patch time allocation and patch sampling by foraging great and blue tits. Anim Behav 59:989–999

Naef-Daenzer B, Grüebler MU (2014) Effects of radio-tag characteristics and sample size on estimates of apparent survival. Anim Biotelemetry 2:2

Nilsson ALK, Lindström A, Jonzen N, Nilsson SG, Karlsson L (2006) The effect of climate change on partial migration—the blue tit paradox. Glob Chang Biol 12:2014–2022

Nowakowski JK, Vähätalo AV (2003) Is the great tit Parus major an irruptive migrant in North-east Europe? Ardea 91:231–244

Papi F (1992) Animal homing. Chapman and Hall, London

Payevsky VA (2006) Mortality rate and population density regulation in the great tit, Parus major L.: a rewiew. Russ J Ecol 37:180–187

Pusey AE (1987) Sex-biased dispersal and inbreeding avoidance in birds and mammals. Trends Ecol Evol 2:295–299

R Core Team (2015) R: A Language and Environment for Statistical Computing. R Foundation for Statistical Computing, Vienna. http://www.R-project.org. Accessed 10 Dec 2015

Rabenold KN, Rabenold PP (1985) Variation in altitudinal migration, winter segregation, and site tenacity subspecies of dark-eyed juncos the southern appalachians. Auk 102:805–819

Sandell M, Smith H (1991) Dominance, prior occupancy, and winter residency in the great tit (Parus major). Behav Ecol Sociobiol 29:147–152

Stauss MJ, Burkhardt JF, Tomiuk J (2005) Foraging flight distances as a measure of parental effort in blue tits Parus caeruleus differ with environmental conditions. J Avian Biol 36:47–56

Therneau TM, Lumley T (2015) Survival analysis. http://cran.r-project.org/package=survival. Accessed 10 Dec 2015

Tokka I (2006) Space use by Great Tits in winter: a radiotracking study. Proceedings of Abstracts of the Edward Grey International Student Conference, Haren, Groningen

Veľký M, Krištín A (2010) Zmeny v aktivite sýkoriek na kŕmidlách počas zimy [changes in the activity of tits on bird tables during winter]. Tichodroma 22:25–32

Villard MA, Haché S (2012) Conifer plantations consistently act as barriers to movement in a deciduous forest songbird: a translocation experiment. Biol Conserv 155:33–37

Wells JV, Rosenberg KV, Dunn EH, Tessaglia DH, Dhondt AA (1998) Feeder counts as indicators of spatial and temporal variation in winter abundance of resident birds. J Field Ornithol 69:577–586

Winkel W (1974) Über verfrachtungem von kohl—und blaumeisen ausserhalb der brutzeit im nordwestdeutschen küstenraum. Vogelwarte 27:264–278

Winkel W, Frantzen M (1989) Ortstreue, emigration und lebensalter von kohlmeisen in braunschweiger raum. Vogelwarte 35:64–79

Ydenberg R (1984) Great tits and giving-up times: decision rules for leaving patches. Behaviour 90:1–24
Acknowledgments
We are grateful to Marek Veľký and Peter Tuček for field assistance. Milan Barna and Katarína Střelcová provided climatic data. We appreciate the improvements in English usage made by Peter Lowther through the Association of Field Ornithologists' program of editorial assistance. Valuable comments and suggestions of two anonymous referees helped to improve the manuscript. This study was supported by the Slovak Scientific Grant Agency VEGA (Grants 2/0097/16 and 2/0035/13). All handling and ringing was performed by experts provided with the appropriate permits issued by the Ministry of Environment of the Slovak Republic (No. 269/132/05-5.1pil and 7230/2008-2.1pil).
Additional information
Communicated by N. Chernetsov.
About this article
Cite this article
Krištín, A., Kaňuch, P. Stay or go? Strong winter feeding site fidelity in small woodland passerines revealed by a homing experiment. J Ornithol 158, 53–61 (2017). https://doi.org/10.1007/s10336-016-1362-2
Received:

Accepted:

Published:

Issue Date:
Keywords
Passerines

Tenacity

Displacement trial

Non-breeding period

Slovakia