Abstract
We examined migration routes and non-breeding sites of a poorly studied long-distance migrant, the Semi-collared Flycatcher Ficedula semitorquata, by tracking adult birds with geolocators from an eastern European breeding population across two subsequent years. All 11 birds migrated in a clockwise loop fashion where autumn migration routes lay east from the spring migration routes. Non-breeding sites were located in Eastern-Central Africa, i.e. Uganda, Tanzania, Burundi, Rwanda, and east DR Congo, where birds spent on average 128 days. Non-breeding sites of two birds were located outside of the currently estimated species' non-breeding range.
Zusammenfassung
Räumlich-zeitliche Verbreitung des wenig bekannten Halbringschnäppers Ficedula semitorquata im Jahresgang
Wir bestimmten Zugwege und Überwinterungsgebiete eines wenig bekannten Langstreckenziehers, des Halbringschnäppers Ficedula semitorquata. Mit Hilfe von Geolokatoren verfolgten wir adulte Vögel einer osteuropäischen Population während zweier aufeinanderfolgender Jahre. Alle 11 Halbringschnäpper zogen schleifenförmig im Uhrzeigersinn mit einer östlicheren Herbstzugroute und einer mehr westlichen Frühlingszugroute. Die Überwinterungsgebiete lagen im östlichen Zentralafrika (östlicher Teil der Republik Kongo) und Ostafrika (Uganda, Tansania, Burundi, Ruanda). Die Vögel verbrachten durchschnittlich 128 Tage im Überwinterungsgebiet. Zwei Vögel überwinterten ausserhalb des bisher angenommen Verbreitungsgebietes der Art.
This is a preview of subscription content, log in to check access.
Access options
Buy single article
Instant access to the full article PDF.
US$ 39.95
Price includes VAT for USA
Subscribe to journal
Immediate online access to all issues from 2019. Subscription will auto renew annually.
US$ 99
This is the net price. Taxes to be calculated in checkout.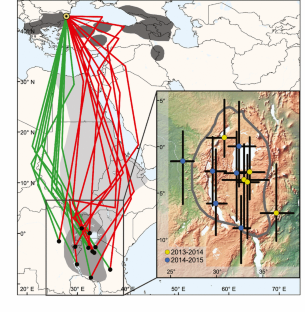 References
Adamík P, Emmenegger T, Briedis M, Gustafsson L, Henshaw I, Krist M, Laaksonen T, Liechti F, Procházka P, Salewski V, Hahn S (2016) Barrier crossing in small avian migrants: individual tracking reveals prolonged nocturnal flights into the day as a common migratory strategy. Scientific Reports 6, 21560

BirdLife International (2004) Birds in the European Union: a status assessment. BirdLife International, Wageningen, The Netherlands

BirdLife International and NatureServe (2011) Bird species distribution maps of the world. BirdLife International and NatureServe, Cambridge and Arlington

Cramp S, Perrins CM (1993) Handbook of the birds of Europe, the Middle East and Africa. The birds of the western Palearctic., vol. VII. Flycatchers to Shrikes. Oxford University Press, Oxford

Cresswell W (2014) Migratory connectivity of Palaearctic—African migratory birds and their responses to environmental change: the serial residency hypothesis. Ibis 156:493–510

Hahn S, Bauer S, Liechti F (2009) The natural link between Europe and Africa—2.1 billion birds on migration. Oikos 118:624–626

IUCN (2015) The IUCN red list of threatened species. Version 2015-3.1. http://www.iucnredlist.org. Accessed 24 November 2015

Klaassen RHG, Strandberg R, Hake M, Olofsson P, Tøttrup AP, Alerstam T (2010) Loop migration in adult marsh harriers Circus aeruginosus, as revealed by satellite telemetry. J Avian Biol 41:200–207

Lisovski S, Hahn S (2012) GeoLight—processing and analysing light-based geolocator data in R. Methods Ecol Evol 3:1055–1059

Lisovski MS, Bauer S, Emmenegger T (2012a) GeoLight: analysis of light based geolocator data. R package version 1.03

Lisovski S, Hewson CM, Klaassen RHG, Korner-Nievergelt F, Kristensen MW, Hahn S (2012b) Geolocation by light: accuracy and precision affected by environmental factors. Methods Ecol Evol 3:603–612

McKinnon E, Fraser K, Stutchbury B (2013) New discoveries in landbird migration using geolocators, and a flight plan for the future. Auk 130:211–222

Nilsson C, Klaassen RHG, Alerstam T (2013) Differences in speed and duration of bird migration between spring and autumn. Am Nat 181:837–845

Sætre GP, Borge T, Lindell J, Moum T, Primmer CR, Sheldon BC, Haavie J, Johnsen A, Ellegren H (2001) Speciation, introgressive hybridization and nonlinear rate of molecular evolution in flycatchers. Mol Ecol 10:737–749

Vickery JA, Ewing SR, Smith KW, Pain DJ, Bairlein F, Škorpilová J, Gregory RD (2014) The decline of Afro-Palaearctic migrants and an assessment of potential causes. Ibis 156:1–22
Acknowledgments
This study was funded by Czech Science Foundation (Grant No. 13-06451S) and is a complement to an ongoing 4-year privately-funded project by Johan Träff. The study complies with the current laws of Bulgaria.
Additional information
Communicated by N. Chernetsov.
Electronic supplementary material
Below is the link to the electronic supplementary material.
About this article
Cite this article
Briedis, M., Träff, J., Hahn, S. et al. Year-round spatiotemporal distribution of the enigmatic Semi-collared Flycatcher Ficedula semitorquata . J Ornithol 157, 895–900 (2016). https://doi.org/10.1007/s10336-016-1334-6
Received:

Revised:

Accepted:

Published:

Issue Date:
Keywords
Afro-Palearctic

Ficedula

Geolocator

Long-distance migration

Loop migration