Abstract
Sex identification of birds is relevant to studies of evolutionary biology and ecology and is often a central issue for the management and conservation of populations. The Ivory Gull Pagophila eburnea (Phipps, 1774) is a rare high-Arctic species whose main habitat is sea ice throughout the year. This species is currently listed Near Threatened by the IUCN, because populations have drastically declined in part of the species distribution in the recent past. Here we tested molecular sexing methods with different types of samples. Molecular sexing appeared to be very efficient with DNA extracted from muscle, blood, and buccal swabs, both for adults and young chicks. We also performed morphological analyses to characterize sexual size dimorphism in Ivory Gulls sampled in three distinct regions: Greenland, Svalbard, and Russia. Males were larger than females for all morphometric measurements, with little overlap between sexes. Discriminant analysis based on six morphometric variables correctly classified ~95 % of the individuals, even when using two variables only, i.e., gonys height and skull length. Therefore, both molecular and biometric methods are useful for sexing Ivory Gulls. Interestingly, our results indicate a male-biased sex ratio across all Ivory Gull populations studied, including two samples of offspring (67.8 % males).
Zusammenfassung
Genetische und morphologische Geschlechtsbestimmungsmethoden enthüllen ein zugunsten der Männchen verschobenes Geschlechterverhältnis bei der Elfenbeinmöwe Pagophila eburnea Die Bestimmung des Geschlechts hat Relevanz für Studien zur Evolutionsbiologie und Ökologie von Vögeln und ist oft von zentraler Bedeutung für Management und Schutz von Populationen. Die Elfenbeinmöwe Pagophila eburnea (Phipps, 1774) ist eine seltene hocharktische Vogelart, deren ganzjähriger Hauptlebensraum Meereis ist. Derzeit wird die Art bei der IUCN als potenziell gefährdet geführt, da es in der jüngeren Vergangenheit in Teilen ihres Verbreitungsgebietes zu drastischen Populationsabnahmen kam. Hier prüften wir molekulare Geschlechtsbestimmungsmethoden anhand verschiedener Probentypen. Die molekulare Geschlechtsbestimmung erwies sich als effizient für aus Muskelgewebe, Blut und Schnabelabstrichen gewonnener DNA, sowohl bei Adulten als auch bei kleinen Küken. Außerdem führten wir morphologische Analysen durch, um den geschlechtsspezifischen Größendimorphismus bei Elfenbeinmöwen aus drei verschiedenen Regionen, nämlich Grönland, Spitzbergen und Russland, zu charakterisieren. Bezüglich aller morphometrischen Maße waren die Männchen größer als die Weibchen und es gab nur geringe Überschneidungen zwischen den Geschlechtern. Diskriminanzanalysen auf der Grundlage von sechs morphometrischen Variablen konnten etwa 95 % der Individuen korrekt zuordnen, selbst wenn nur zwei der Variablen verwendet wurden, z. B. Gonyshöhe und Kopf-Schnabellänge. Daher eignen sich sowohl molekulare als auch biometrische Methoden zur Geschlechtsbestimmung bei Elfenbeinmöwen. Interessanterweise deuten unsere Ergebnisse ein zugunsten der Männchen verschobenes Geschlechterverhältnis über alle untersuchten Elfenbeinmöwenpopulationen hinweg an, darunter auch zwei Proben von Jungtieren (67,8 % Männchen).
Access options
Buy single article
Instant access to the full article PDF.
USD 39.95
Price excludes VAT (USA)
Tax calculation will be finalised during checkout.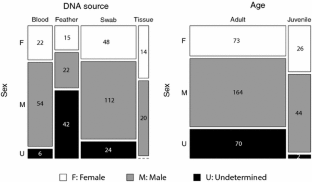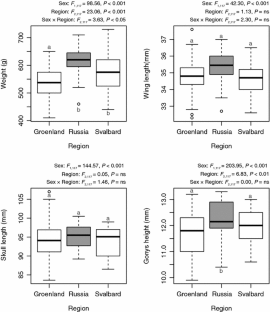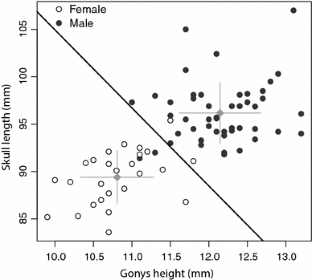 References
Aguirre JI, Arana P, Teresa Antonio M (2009) Testing effectiveness of discriminant functions to sex different populations of mediterranean Yellow-Legged Gulls Larus michahellis michahellis. Ardeola 56:281–286

Arima H, Ohnishi N (2006) Usefulness of avian buccal cells for molecular sexing. Ornithol Sci 5:139–143

Arizaga J, Aidalur A, Herrero A, Galicia D (2008) Sex differentiation of Yellow-Legged Gull (Larus michahellis lusitanius): the use of biometrics, bill morphometrics and wing tip coloration. Waterbirds 31:211–219

Arnold KE, Orr KJ, Griffiths R (2003) Primary sex ratios in birds: problems with molecular sex identification of undeveloped eggs. Mol Ecol 12:3451–3458

BirdLife International (2012) Pagophila eburnea. In: IUCN 2013. IUCN Red List of Threatened Species. Version 2013.2. http://www.iucnredlist.org Accessed 23 Jan 2014

Bosch M (1996) Sexual size dimorphism and determination of sex in Yellow-Legged Gulls. J Field Ornithol 67:534–541

Bosman DS, Vercruijsse HJP, Stienen EWM, Vincx M, De Neve L, Lens L (2012) Effects of body size on sex-related migration vary between two closely related gull species with similar size dimorphism. Ibis 154:52–60

Braune BM, Mallory ML, Grant Gilchrist H, Letcher RJ, Drouillard KG (2007) Levels and trends of organochlorines and brominated flame retardants in Ivory Gull eggs from the Canadian Arctic, 1976 to 2004. Sci Total Environ 378:403–417

Broquet T, Berset-Braendli L, Emaresi G, Fumagalli L (2007a) Buccal swabs allow efficient and reliable microsatellite genotyping in amphibians. Conserv Genet 8:509–511

Broquet T, Menard N, Petit E (2007b) Noninvasive population genetics: a review of sample source, diet, fragment length and microsatellite motif effects on amplification success and genotyping error rates. Conserv Genet 8:249–260

Brubaker JL, Karouna-Renier NK, Chen Y, Jenko K, Sprague DT, Henry PFP (2011) A noninvasive, direct real-time PCR method for sex determination in multiple avian species. Mol Ecol Resour 11:415–417

Buckman AH, Norstrom RJ, Hobson KA, Karnovsky NJ, Duffe J, Fisk AT (2004) Organochlorine contaminants in seven species of Arctic seabirds from northern Baffin Bay. Environ Pollut 128:327–338

Bush K, Vinsky M, Aldridge C, Paszkowski C (2005) A comparison of sample types varying in invasiveness for use in DNA sex determination in an endangered population of Greater Sage-Grouse (Centrocercus uropihasianus). Conserv Genet 6:867–870

Casey AE, Jones KL, Sandercock BK, Wisely SM (2009) Heteroduplex molecules cause sexing errors in a standard molecular protocol for avian sexing. Mol Ecol Resour 9:61–65

Chochi M, Niizuma Y, Takagi M (2002) Sexual differences in the external measurements of Black-Tailed Gulls breeding on Rishiri Island, Japan. Ornithol Sci 1:163–166

Corthals A, Martin A, Warsi OM, Woller-Skar M, Lancaster W, Russell A, Davalos LM (2015) From the field to the lab: best practices for field preservation of bat specimens for molecular analyses. PLoS ONE 10:e0118994

Croxall JP (1995) Sexual size dimorphism in seabirds. Oikos 73:399–403

Danchin E, Giraldeau L-A, Cézilly F (eds) (2008) Behavioral ecology. Oxford University Press, Oxford

Dawson DA, Brekke P, Dos Remedios N, Horsburgh GJ (2015) A marker suitable for sex-typing birds from degraded samples. Conserv Genet Resour 7:337–343

Dechaume-Moncharmont F-X, Monceau K, Cezilly F (2011) Sexing birds using discriminant function analysis: a critical appraisal. Auk 128:78–86

Endler JA, Mielke PW (2005) Comparing entire colour patterns as birds see them. Biol J Linn Soc 86:405–431

Erikstad KE, Bustnes JO, Lorentsen S-H, Reiertsen TK (2009) Sex ratio in lesser black-backed gull in relation to environmental pollutants. Behav Ecol Sociobiol 63:931–938

Erikstad KE, Moum T, Bustnes JO, Reiertsen TK (2011) High levels of organochlorines may affect hatching sex ratio and hatchling body mass in arctic glaucous gulls. Funct Ecol 25:289–296

Filzmoser P, Gschwandtner M (2014) mvoutlier: multivariate outlier detection based on robust methods. R package version 2.0.4

Fisk AT, Moisey J, Hobson KA, Karnovsky NJ, Norstrom RJ (2001) Chlordane components and metabolites in seven species of Arctic seabirds from the Northwater Polynya: relationships with stable isotopes of nitrogen and enantiomeric fractions of chiral components. Environ Pollut 113:225–238

Fridolfsson A, Ellegren H (1999) A simple and universal method for molecular sexing of non-ratite birds. J Avian Biol 30:116–121

Galarza A, Hidalgo J, Ocio G, Rodriguez P (2008) Sexual size dimorphism and determination of sex in Atlantic Yellow-Legged Gulls Larus michahellis lusitanius from northern spain. Ardeola 55:41–47

Gallardo CE, Correa C, Morales P, Saez PA, Pastenes L, Mendez MA (2012) Validation of a cheap and simple nondestructive method for obtaining AFLPs and DNA sequences (mitochondrial and nuclear) in amphibians. Mol Ecol Resour 12:1090–1096

Gilchrist HG, Strøm H, Gavrilo MV, Mosbech A (2008) International Ivory Gull conservation strategy and action plan vol No. 18. Conservation of Arctic Flora and Fauna International Secretariat, Circumpolar Seabird Group, Akureyri

Gilg O, Boertmann D, Merkel F, Aebischer A, Sabard B (2009) Status of the endangered Ivory Gull, Pagophila eburnea, in Greenland. Polar Biol 32:1275–1286

Gilg O, Strøm H, Aebischer A, Gavrilo MV, Volkov A, Miljeteig C, Sabard B (2010) Post-breeding movements of the northeast Atlantic Ivory Gull Pagophila eburnea populations. J Avian Biol 41:532–542

Gouy M, Guindon S, Gascuel O (2010) SeaView version 4: a multiplatform graphical user interface for sequence alignment and phylogenetic tree building. Mol Biol Evol 27:221–224

Griffiths R, Double MC, Orr K, Dawsons RJG (1998) A DNA test to sex most birds. Mol Ecol 7:1071–1075

Handel CM, Pajot LM, Talbot SL, Sage GK (2006) Use of buccal swabs for sampling DNA from nestling and adult birds. Wildl Soc Bull 34:1094–1100

Herring G, Ackerman JT, Eagles-Smith CA, Takekawa JY (2010) Sexing California gulls using morphometrics and discriminant function analysis. Waterbirds 33:79–85

Hobson K, Fisk A, Karnovsky N, Holst M, Gagnon J-M, Fortier M (2002) A stable isotope (d13C, d15N) model for the North Water foodweb: implications for evaluating trophodynamics and the flow of energy and contaminants. Deep Sea Res Part II 49:5131–5150

Hogan FE, Cooke R, Burridge CP, NormanO JA (2008) Optimizing the use of shed feathers for genetic analysis. Mol Ecol Resour 8:561–567

Krull CR, Ranjard L, Landers TJ, Ismar SMH, Matthews JL, Hauber ME (2012) Analyses of sex and individual differences in vocalizations of Australasian gannets using a dynamic time warping algorithm. J Acoust Soc Am 132:1189–1198

Lefort M, Boyer S, Barun A, Emami Khoyi A, Ridden J, Smith VR, Sprague R, Waterhouse BR, Cruickshank R (2015) Blood, sweat and tears: non-invasive vs. non-disruptive DNA sampling for experimental biology. PeerJ PrePrints 3:e1580

Lucia M, Verboven N, Strøm H, Miljeteig C, Gavrilo M, Braune BM, Boertmann D, Gabrielsen GW (2015) Circumpolar contamination in eggs of the high-arctic Ivory Gull Pagophila eburnea. Environ Toxicol Chem 34:1552–1561

Mawhinney K, Diamond T (1999) Sex determination of Great Black-Backed Gulls using morphometric characters. J Field Ornithol 70:206–210

McDonald PG, Griffith SC (2011) To pluck or not to pluck: the hidden ethical and scientific costs of relying on feathers as a primary source of DNA. J Avian Biol 42:197–203

Meissner W (2007) Differences in primary molt and biometrics between adult and second-year Black-Headed Gulls in Puck Bay (Southern Baltic). Waterbirds 30:144–149

Miljeteig C, Strom H, Gavrilo MV, Volkov A, Jenssen BM, Gabrielsen GW (2009) High levels of contaminants in Ivory Gull Pagophila eburnea eggs from the Russian and Norwegian Arctic. Environ Sci Technol 43:5521–5528

Miller EH, Williams J, Jamieson SE, Gilchrist HG, Mallory ML (2007) Allometry, bilateral asymmetry and sexual differences in the vocal tract of Common Eiders Somateria mollissima and King Eiders S. spectabilis. J Avian Biol 38:224–233

O'Reilly KM, Wingfield JC (2001) Ecological factors underlying the adrenocortical response to capture stress in arctic-breeding shorebirds. Gen Comp Endocrinol 124:1–11

Paetkau D, Shields GF, Strobeck C (1998) Gene flow between insular, coastal and interior populations of Brown Bears in Alaska. Mol Ecol 7:1283–1292

Palomares LE, Arroyo BE, Marchamalo J, Sainz JJ, Voslamber B (1997) Sex- and age-related biometric variation of Black-Headed Gulls Larus ridibundus in Western European populations. Bird Study 44:310–317

Pidancier N, Miquel C, Miaud C (2003) Buccal swabs as a non-destructive tissue sampling method for DNA analysis in amphibians. Herpetol J 13:175–178

R Development Core Team (2014) R: a language and environment for statistical computing. R Foundation for Statistical Computing, Vienna

Reid SM, Kidd A, Wilson CC (2012) Validation of buccal swabs for noninvasive DNA sampling of small-bodied imperiled fishes. J Appl Ichthyol 28:290–292

Robertson BC, Gemmell NJ (2006) PCR-based sexing in conservation biology: wrong answers from an accurate methodology? Conserv Genet 7:267–271

Sheldon LD, Chin EH, Gill SH, Schmaltz G, Newman AEM, Soma KK (2008) Effects of blood collection on wild birds: an update. J Avian Biol 39:369–378

Tamura K, Stecher G, Peterson D, Filipski A, Kumar S (2013) MEGA6: molecular evolutionary genetics analysis version 6.0. Mol Biol Evol 30:2725–2729

Venables WN, Ripley BD (2002) Modern applied statistics with S. fourth edition. Springer, New York

Voss M, Shutler D, Werner J (2010) A hard look at blood sampling of birds. Auk 127:704–708

Wellbrock AHJ, Bauch C, Rozman J, Witte K (2012) Buccal swabs as a reliable source of DNA for sexing young and adult Common Swifts (Apus apus). J Ornithol 153:991–994

West SA (2009) Sex allocation. Princeton University Press, Princeton

West SA, Sheldon BC (2002) Constraints in the evolution of sex ratio adjustment. Science 295:1685–1688

Yannic G, Sermier R, Aebischer A, Gavrilo MV, Gilg O, Miljeteig C, Sabard B, Strom H, Pouive E, Broquet T (2011) Description of microsatellite markers and genotyping performances using feathers and buccal swabs for the Ivory Gull (Pagophila eburnea). Mol Ecol Resour 11:877–889

Yannic G, Aebischer A, Sabard B, Gilg O (2014) Complete breeding failures in Ivory Gull following unusual rainy storms in North Greenland. Polar Res 33:22749

Yannic G, Yearsley J, Sermier R, Dufresnes C, Gilg O, Aebischer A, Gavrilo MV, Strøm H, Mallory ML, Morrison RIG, Gilchrist HG, Broquet T (2016) High connectivity in a long-lived high-Arctic seabird, the Ivory Gull Pagophila eburnea. Polar Biol 39(2):221–236

Yoon J, Lee S-H, Joo E-J, Na K-J, Park S-R (2013) Sexual differences in post-hatching Saunders's gulls: size, locomotor activity, and foraging skill. Zool Sci 30:262–266
Acknowledgments
We are grateful to Emmanuelle Pouivé, to the late John Lau (Station Nord), and to David Paetkau and collaborators (Wildlife Genetics International Inc.) for logistic assistance. We also thank Jacques Hausser for answering our questions regarding linear discriminant function analysis. We thank two anonymous referees for their comments on a previous version of this manuscript. This work was supported by grants from foundation Ellis Elliot (Switzerland), Société vaudoise des Sciences naturelles (Switzerland), and Nos Oiseaux (Switzerland) to GY, by a foundation Agassiz (Switzerland) grant to TB and by Nicolas Perrin's research group (Department of Ecology and Evolution, University of Lausanne). Field work in Greenland was supported by the National Geographic Society, Prix Gore-Tex initiative, Fondation Avenir Finance, the Arctic Ocean Diversity Census of Marine Life Project, CNES, CLS, the Groupe de Recherche en Écologie Arctique (GREA), and F. Paulsen. The fieldwork in Norway and Russia was funded by the Norwegian Ministry of Environment, the Norwegian Polar Institute, Arctic and Antarctic Research Institute. The project was part of the work plan of the Joint Norwegian-Russian Commission on Environmental Protection. The work in Russia was part of the Russian IPY 2007/2008 program. Canadian fieldwork was supported by Environment Canada and Natural Resources Canada (PCSP). We thank the Commanding Officers and members of CFS Alert, as well as staff at the Environment Canada Weather Station at Alert, for this generous support.
About this article
Cite this article
Yannic, G., Broquet, T., Strøm, H. et al. Genetic and morphological sex identification methods reveal a male-biased sex ratio in the Ivory Gull Pagophila eburnea . J Ornithol 157, 861–873 (2016). https://doi.org/10.1007/s10336-016-1328-4
Received:

Revised:

Accepted:

Published:

Issue Date:

DOI: https://doi.org/10.1007/s10336-016-1328-4
Keywords