Abstract
Antarctoboenus carlinii nov. gen. nov. sp. is a large-sized falconiform bird from the La Meseta Formation (Lower Eocene) at Seymour (Marambio) Island, West Antarctica. The holotypical tarsometatarsus was originally assigned to Falconidae and its affinities to Polyborinae were pointed out. Detailed osteological and comparative analyses of the Antarctic specimen allowed recognition of the new taxon as a member of stem group Falconidae, i.e. it is supposed to belong to the early radiation of the falconiform lineage. Antarctoboenus carlinii is distinguished from members of crown group Falconidae by having a very shallow sulcus extensorius, a large foramen vasculare distale, an undistinguishable tendinal attachment for the m. adductor digiti II, and short trochlea metatarsi II, among its main diagnostic characters. Purported phylogenetic relationships between A. carlinii and Polyborinae are based on plesiomorphic characters retained in the tarsometatarsus of the latter clade. Our conclusions reinforce the hypothesis about the Neotropical or Austral origin of Falconidae supported by previous molecular phylogenies.
Zusammenfassung
Ein der Stammgruppe Falconidae angehörender Vogel aus dem Untereozän der Antarktis und die frühe südliche Radiation der Falken
Antarctoboenus carlinii nov. gen. nov. sp. ist ein großer falkenartiger Vogel aus der La Meseta Formation (Untereozän) auf der Seymour-Insel (Isla Marambio) in der Westantarktis. Der Holotyp-Tarsometatarsus wurde ursprünglich den Falconidae (Falkenartigen) zugeordnet, und seine Ähnlichkeiten mit den Polyborinae (Geierfalken) wurden hervorgehoben. Detaillierte osteologische und vergleichende Analysen des Antarktis-Exemplars ermöglichten es, das neue Taxon als ein Mitglied der Stammgruppe Falconidae anzuerkennen, d.h. es gehört vermutlich der frühen Radiation der Falconiformes-Abstammungslinie an. Antarctoboenus carlinii unterscheidet sich von den Mitgliedern der Kronengruppe Falconidae durch mehrere diagnostische Merkmale, u.a. einen sehr flachen sulcus extensorius, ein großes foramen vasculare distale, einen undeutlichen Sehnenansatz für den m. adductor digiti II und kurze trochlea metatarsi II. Angebliche phylogenetische Beziehungen zwischen A. carlinii und Polyborinae basieren auf plesiomorphen Merkmalen, die im Tarsometatarsus der Polyborinae erhalten sind. Unsere Schlussfolgerungen stärken die Hypothese eines Neotropen- oder Austral-Ursprungs der Falconidae, die auch von bisherigen molekularen Stammbäumen gestützt wird.
Access options
Buy single article
Instant access to the full article PDF.
US$ 39.95
Tax calculation will be finalised during checkout.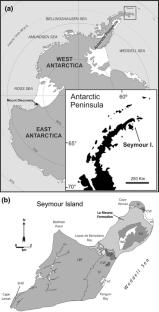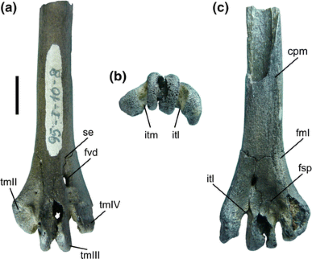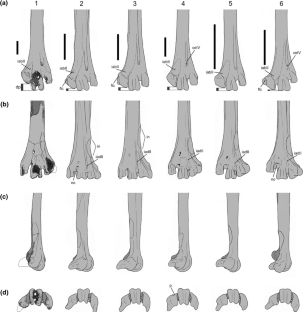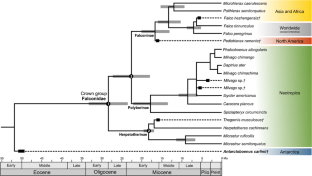 References
Ameghino F (1895) Sur les Oiseaux fossiles de Patagonie. Bol Inst Geogr Arg 15:301–660

Baumel J, Witmer LM (1993) Osteologia. In: Baumel J, King A, Breazile J et al (eds) Handbook of avian anatomy: nomina anatomica avium. Publ Nuttall Orn Cl, Massachusetts, pp 45–132

Becker JJ (1987) Revision of "Falco" ramenta Wetmore and the Neogene evolution of the Falconidae. Auk 104:270–276

Brodkorb P (1964) Catalogue of fossil birds. Part II. Anseriformes through Galliformes. Bull Florida State Mus 8:195–335

Cenizo M, Tassara D (2013) Nuevos registros fósi-les del Halcón Plomizo (Falco femoralis Temminck, 1822; Falconidae) en el Pleistoceno del centro-este de Argentina. Historia Natural 3:13–30

Cenizo M, Tambussi CP, Montalvo CI (2012) Upper Miocene continental birds from the Cerro Azul Formation in Pampean Region (South-Central Argentina). Alcheringa 36:47–68

Chiappe LM (1991) Fossil birds from the Miocene Pinturas Formation of Southern Argentina. J Vert Paleontol 11:21A–22A

Emslie SD, Guerra Correa C (2003) A new species of penguin (Spheniscidae: Spheniscus) and other birds from the late Pliocene of Chile. Proc Biol Soc Wash 116:308–316

Ericson PGP (2008) Current perspectives on the evolution of birds. Contrib Zool 77:109–116

Ericson PGP (2012) Evolution of terrestrial birds in three continents: biogeography and parallel radiations. J Biogeogr 39:813–824

Ericson PGP, Anderson CL, Britton T et al (2006) Diversification of Neoaves: integration of molecular sequence data and fossils. Bio Lett 2:543–547

Feduccia A (1996) The origin and evolution of birds. Yale University, New Haven and London

Ferguson-Lees J, Christie DA (2001) Raptors of the World. Houghton Mifflin Company, Boston

Fuchs J, Chen S, Johnson JA, Mindell DP (2011) Pliocene diversification within the South American forest-falcons (Falconidae: Micrastur). Mol Phylogenet Evol 60:398–407

Fuchs J, Johnson JA, Mindell DP (2012) Molecular systematics of the caracaras and allies (Falconidae: Polyborinae) inferred from mitochondrial and nuclear sequence data. Ibis 154:520–532

Fuchs J, Johnson JA, Mindell DP (2015) Rapid diversification of falcons (Aves: Falconidae) due to expansion of open habitats in the Late Miocene. Mol Phylogenet Evol 82:166–182

Griffiths CS (1999) Phylogeny of the Falconidae inferred from molecular and morphological data. Auk 116:116–130

Griffiths CS, Barrowclough GF, Groth JG, Mertz L (2004) Phylogeny of the Falconidae (Aves): a comparison of the efficacy of morphological, mitochondrial, and nuclear data. Mol Phylogenet Evol 32:101–109

Hackett SJ, Kimball RT, Reddy S et al (2008) A phylogenomic study of birds reveals their evolutionary history. Science 320:1763–1767

Harrison CJO (1982) A new tiny raptor from the Lower Eocene of England. Ardea 70:77–80

Harrison CJO (1984) Further additions to the fossil birds of Sheppey: a new falconid and three small rails. Tert Res 5:179–187

Jarvis ED, Mirarab S, Aberer AJ et al (2014) Whole-genome analyses resolve early branches in the tree of life of modern birds. Science 346:1320–1331

Jollie M (1976) A contribution to the morphology and phylogeny of the Falconiformes. Pt. I. Evol Theor 1:285–298

Jollie M (1977a) A contribution to the morphology and phylogeny of the Falconiformes. Pt. II. Evol Theor 2:115–208

Jollie M (1977b) A contribution to the morphology and phylogeny of the Falconiformes. Pt. III. Evol Theor 2:209–300

Jollie M (1977c) A contribution to the morphology and phylogeny of the Falconiformes. Pt. IV. Evol Theor 3:1–142

Lambrecht K (1933) Handbuch der Palaeornithologie. Verlag Gebrüder Borntraeger, Berlin

Li Z, Zhou Z, Deng T, Li Q, Clarke JA (2014) A falconid from the Late Miocene of northwestern China yields further evidence of transition in Late Neogene steppe communities. Auk 131:335–350

Marenssi SA, Santillana SN, Rinaldi CA (1998) Stratigraphy of La Meseta Formation (Eocene), Marambio Island, Antarctica. In: Casadío S (ed) Paleógeno de América del Sur y de la Península Antártica. Revista de la Asociación Paleontológica Argentina, Publicación Especial 5, pp 137–146

Mayr G (2005) The Paleogene fossil record of birds in Europe. Biol Rev 80:515–542

Mayr G (2006) A new raptorial bird from the Middle Eocene of Messel, Germany. Historical Biol 18:95–102

Mayr G (2009) Paleogene fossil birds. Springer, Heidelberg

McCormack JE, Harvey MG, Faircloth BC et al (2013) A phylogeny of birds based on over 1500 loci collected by target enrichment and high-through put sequencing. PLoS One 8:e54848

Montes M, Nozal F, Santillana S, Marenssi S, Olivero E (2013) Mapa Geológico de Isla Marambio (Seymour), Antártida; escala 1:20.000. 1ª edición. Serie Cartográfica

Mourer-Chauviré C (2006) The avifauna of the Eocene and Oligocene Phosphorites du Quercy (France): an updated list. Strata 13:5–149

Noriega JI, Areta JI, Vizcaíno SF, Bargo MS (2011) Phylogeny and Taxonomy of the Patagonian Miocene Falcon Thegornis musculosus Ameghino, 1895 (Aves: Falconidae). J Paleo 85:1089–1104

Olson SL (1976) The affinities of the falconid genus Spiziapteryx. Auk 93:633–636

Olson SL (1985) The fossil record of birds. In: Farner DS, King JR, Parkes KC (eds) Avian biology, vol 8. Academic Press, New York, pp 79–238

Peters DS (1988) Fossil birds from the oil shale of Messel (Lower Middle Eocene). In: Ouellet H (ed) Acta XIX Congressus Internationalis Ornithologici. University of Ottawa, Ottawa, pp 2056–2064

Peters DS (1991) Zoogeographical relationships of the Eocene avifauna from Messel (Germany). In: Bell B, Cossee RO, Flux JEC et al (eds) Acta XX Congressus Internationalis Ornithologici. New Zealand Ornithological Congress Trust Board, Christchurch, pp 572–577

Reguero MA, Goin F, Acosta Hospitaleche C, Dutra T, Marenssi SA (2013) Late Cretaceous/Eocene West Antarctica Biota and Its Intercontinental Affinities. Springer Briefs in Earth System Sciences

Remsen JV, Cadena CD, Jaramillo A et al (2008) A classification of the bird species of South America. Proposal no. 383. http://www.museum.lsu.edu/~Remsen/SACCBaseline.html. American Ornithologists' Union

Tambussi CP, Acosta Hospitaleche C (2007) Antarctic birds (Neornithes) during the Cretaceous-Eocene times. Rev Asoc Geol Arg 62:604–617

Tambussi CP, Degrange F (2013) South American and Antarctic Continental Cenozoic Birds: Paleobiogeographic Affinities and Disparities. Springer Briefs in Earth System Sciences

Tambussi CP, Noriega JI, Santillana S, Marenssi S (1995) Falconid bird from the Middle Eocene La Meseta Formation, Seymour Island. West Antarctica. J Vert Paleontol 15:55A

Tonni EP (1980) The present state of knowledge of the Cenozoic birds of Argentina. Contr Sci Mus Nat His Los Angeles 330:104–114

Wang N, Braun EL, Kimball RT (2012) Testing hypotheses about the sister group of the Passeriformes using an independent 30 locus dataset. Mol Biol Evol 29:737–750

Wetmore A (1922) Remains of birds from caves in the Republic of Haiti. Smithson Misc Collect 74:1–4

Wetmore A (1936) Two new species of hawks from the Miocene of Nebraska. Proc USA Nat Mus 84:73–78

Wetmore A (1960) A classification for the birds of the world. Smithson Misc Collect 139:1–37

White CM, Olsen PF, Kiff LF (1994) Family Falconidae (Falcons and Caracaras). In: del Hoyo J, Elliot A, Sargatal J (eds) Handbook of the Birds of the World, vol 2., New World Vultures to GuineafowlLynx Edicions, Barcelona, pp 216–275

Wink M, Sauer-Gürth H (2004) Phylogenetic relationships in diurnal raptors based on nucleotide sequences of mitochondrial and nuclear marker genes. In: Chancellor RD, Meyburg BU (eds) Raptors Worldwide. World Working Group on Birds of Prey, Berlin; and MME/BirdLife Hungary, Budapest, pp. 483–498

Yuri T, Kimball RT, Harshman J et al (2013) Parsimony and model-based analyses of indels in avian nuclear genes reveal congruent and incongruent phylogenetic signals. Biology 2:419–444
Acknowledgments
We thank Y. Davies (MACN), P. Tubaro (MACN), H. Alvarenga (MHNT), and S. Bogan (FHN) for assistance during our visits to collections under their care. We especially acknowledge the Instituto Antártico Argentino and Fuerza Aérea Argentina, which provided logistical support for our participation in the Antarctic fieldwork. Finally, we thank B. Lindow and an anonymous reviewer for their helpful comments on the manuscript.
Additional information
Communicated by J. Fjeldså.
About this article
Cite this article
Cenizo, M., Noriega, J.I. & Reguero, M.A. A stem falconid bird from the Lower Eocene of Antarctica and the early southern radiation of the falcons. J Ornithol 157, 885–894 (2016). https://doi.org/10.1007/s10336-015-1316-0
Received:

Revised:

Accepted:

Published:

Issue Date:
Keywords
Fossil bird

Falconiformes

Paleogene

Seymour Island

Stem lineage

Antarctoboenus carlinii